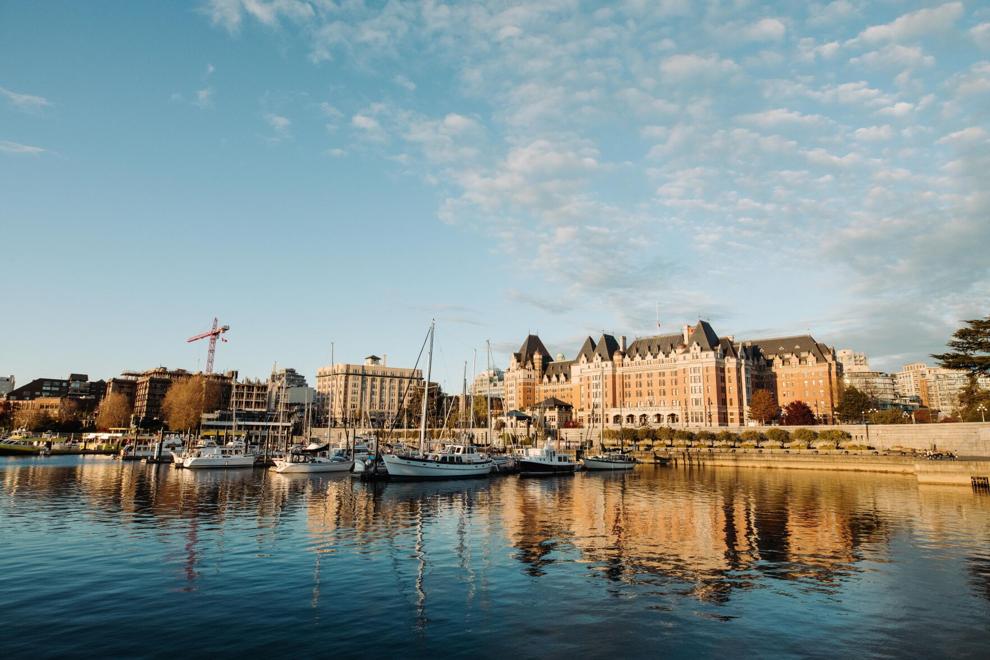 It's time to pack your bags for an adventure in Victoria, B.C. The charming seaside city sits on the rugged southern end of Vancouver Island and is known for its English-style customs, abundant gardens, and friendly people. Another great thing about Victoria is how walkable it is. Whether you prefer long or short treks, you can discover your own path around Victoria.
---
Getting There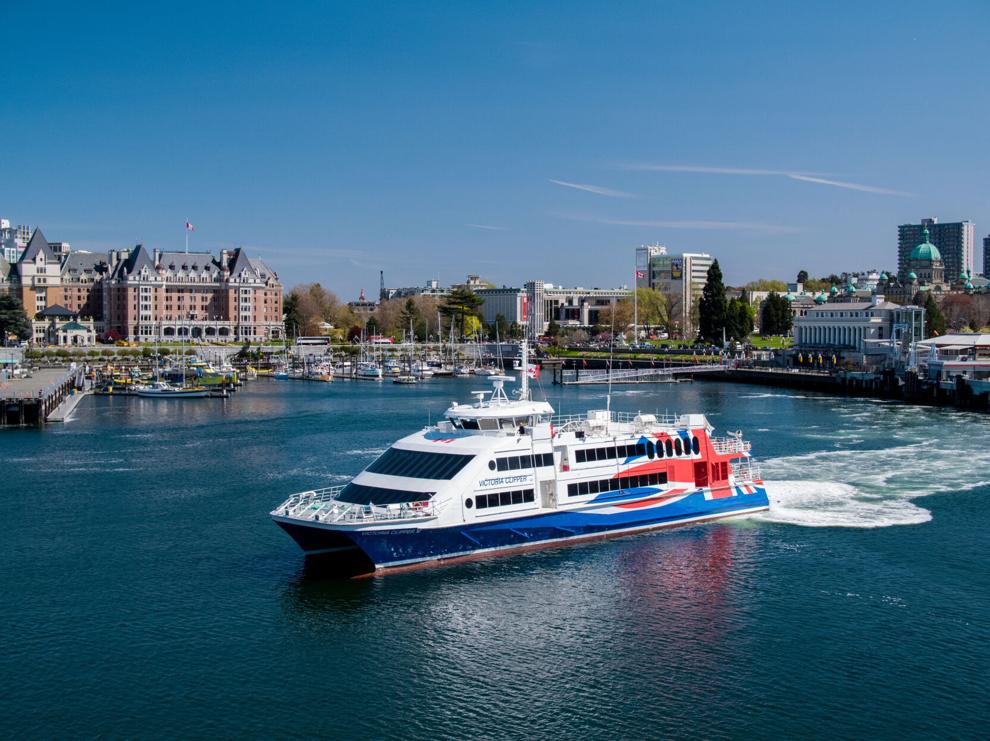 Off to Victoria, B.C., by Sea
From Seattle, you can hop on the Victoria Clipper to Victoria, B.C., or, if you head to the Olympic Peninsula, you can take the Black Ball Ferry from Port Angeles and arrive in Victoria in about 90 minutes.
Only a short distance from either departure, but a world away from Washington, Victoria combines modern, world-class attractions with its legacy as the provincial capital of British Columbia. The city core is peppered with heritage sites, like the Parliament buildings, The Empress Hotel, Craigdarroch Castle, and Beacon Hill Park. The city's gateway for those arriving by boat is the Inner Harbour, downtown, with easy access on foot to many main attractions and tour operators.
From Seattle, Victoria is doable in a day, and, even better for those wanting a more substantive visit, over a few days. The Clipper Vacations pier on downtown Seattle's waterfront is the home port to the Victoria Clipper V, which makes daily trips to Victoria and back. The Victoria Clipper V is a 167-foot, high-speed catamaran that transports 525 passengers on the scenic sailing up Puget Sound and across the Strait of Juan de Fuca to Victoria.
From Port Angeles, take the M.V. Coho passenger and vehicle ferry with a quick trip through the Strait of Juan de Fuca. There is a cafeteria to grab a warm drink so you can go outside and take in the beauty of the ride. There also is a duty-free store, gift shop, and pet-friendly areas if you are bringing your pup on an adventure.
On a day trip to Victoria, explore the city's walkable downtown, enjoy Afternoon Tea at The Fairmont Empress, visit the Royal B.C. Museum, take a walking tour of the city's food scene or heritage sites, or ride a double-decker bus to the famous Butchart Gardens.
Whatever you choose, Clipper Vacation's website offers a money- and time-saving package combining passage on the Victoria Clipper V with an attraction of your choosing. And go to cohoferry.com if you are interested in taking Black Ball Ferry from Port Angeles. It has packages that include spending time in Port Angeles and Victoria, and many include special deals and savings.
Arriving by Seaplane with Kenmore Air 
One scenic way to get to Victoria is by Kenmore Air seaplane. Arriving by seaplane offers amazing views and gets you to B.C. faster than any boat. Upon arrival, you'll step onto the Seaplane Terminal and clear Customs, then it's adventure time in the compact downtown, where you'll find historic and modern attractions.
---
What to Do, Where to Walk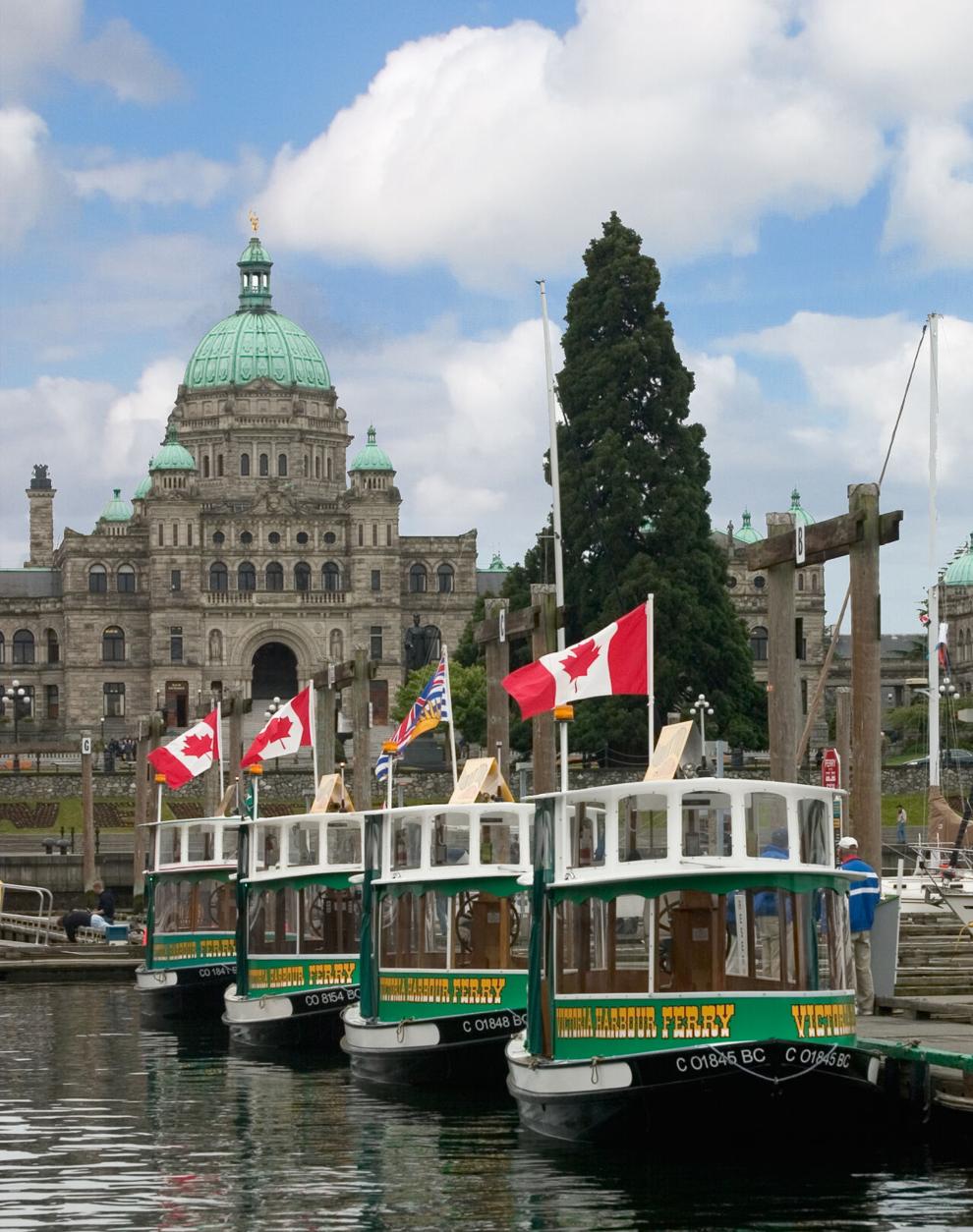 Venice Has Gondolas, and Victoria Has Pickle Boats
Venice has its gondolas, and for more than 30 years (and counting), visitors and locals in Victoria have been captivated by the iconic Victoria Harbour Ferries, or "pickle boats."
This fleet of passenger ferries operates out of Victoria's Inner Harbour, home of the iconic Fairmont Empress Hotel and the Parliament buildings. Typically, visitors will catch the ferry at the foot of the Empress and take a water taxi to Fisherman's Wharf for the famous fish 'n' chips or join a tour to learn about the history and future of this beautiful seaside city. In its years of service, the boats have traveled more than 1.5 million kilometers, carried more than 4 million passengers, and have been captained by more than 600 men and women. The Victoria Harbour captains are a big reason that 300,000 visitors flock to the boats every year. Among this diverse group of captains are retirees from politics, the military, and industry who love to share their pride of place with visiting passengers.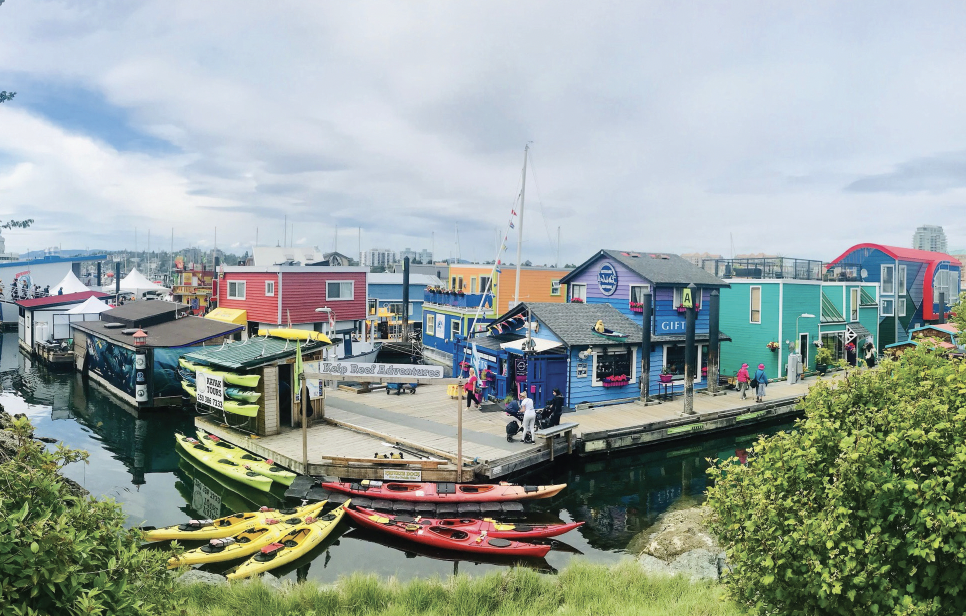 Victoria is home to many exceptional restaurants and microbreweries, and Victoria Harbour Ferry has partnered with several of the best pubs and restaurants along the waterfront to offer the hugely successful waterfront Pickle Pub Crawl.
If free is in your budget, every summer weekend, the ferries put on a free must-see "water ballet" show in the Inner Harbour. For details about the tours, taxis, and Pickle Pub Crawl, or to plan a visit to Victoria, head here.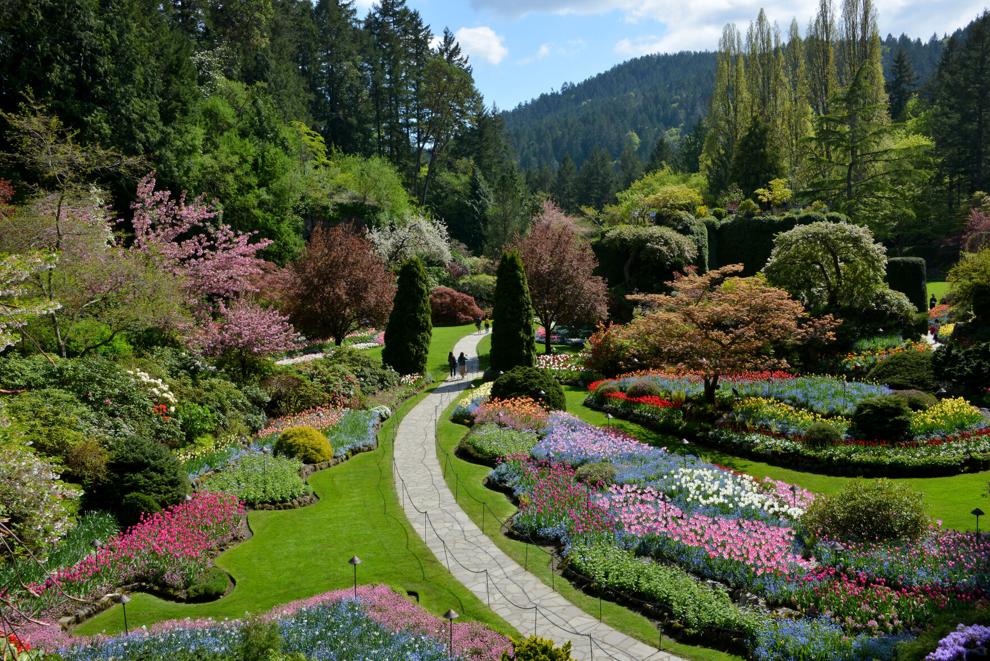 Springtime in The Butchart Gardens
There are few better places to witness the display of seasonal changes than at The Butchart Gardens, and in spring the gardens burst with new color and life. No visit to Victoria, B.C., is complete without a trip to these gardens. Regulars return as on a pilgrimage, and for good reason.
The 55-acre Butchart Gardens is made up of five separate gardens: the iconic Sunken, Italian, Mediterranean, Japanese, and Rose. Each is a spectacular display on its own, and when toured one after another, it makes a day trip well worth taking.
Once you arrive, start at The Gardens' Waterwheel Square. There, you can stop by the Visitor Information Center and pick up a map to plan your walking route, browse the on-site shop, and grab refreshments in the coffee shop. Or stop in for a casual lunch in the former greenhouse, now The Blue Poppy Restaurant. For a fine-dining experience, reserve a table for lunch in the dining room of the original residence overlooking the Italian Garden.
Regular tour buses depart from Victoria's Inner Harbour, making it easy to go to and from Butchart Gardens. Learn more about visiting Butchart Gardens here. Clipper Vacations offers Victoria overnight packages and even day trips from Seattle that tour Victoria and The Butchart Gardens, including transportation via high-speed catamaran; book here.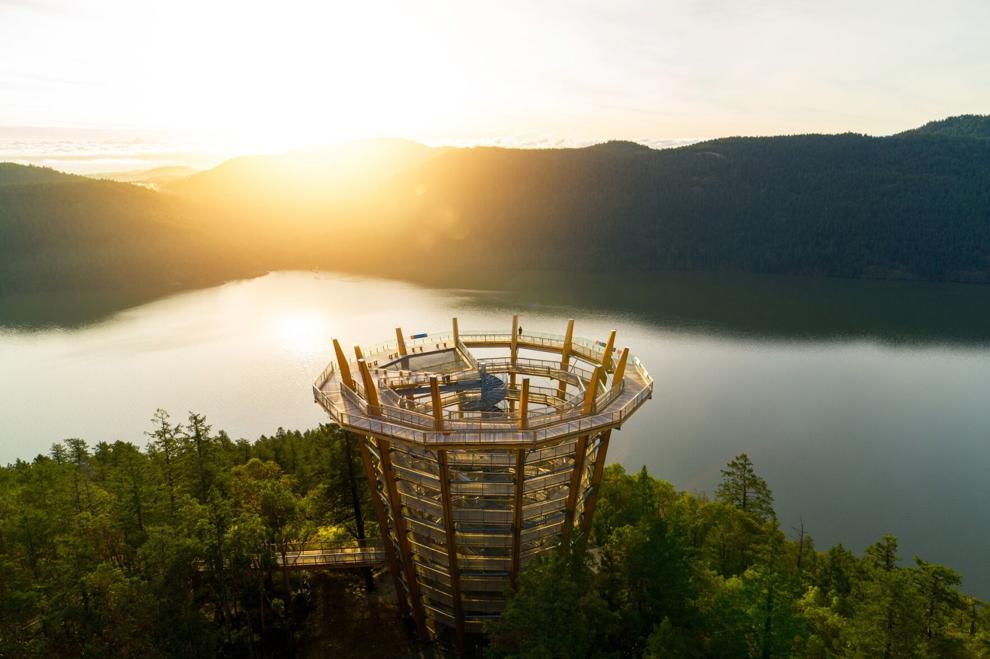 Iconic Views Above Sea Level
You'll have your work cut out for you at Malahat SkyWalk, Vancouver Island's newest attraction. Just a 30-minute drive from Victoria, this outdoor adventure lives inside an old-growth forest. A spiral wooden ramp leads up to a viewing deck for panoramas over sea inlets and mountains. The attraction is accessible to all ages and abilities.
Visitors begin their 360-degree-view Skywalk journey by strolling down an elevated boardwalk platform. The TreeWalk path is a 1,968-foot elevated wooden walkway flanked by arbutus trees and takes about 10 to 15 minutes (though it might take longer with the incredible views and informational signs). Once you reach the end of the walkway, you'll come face to face with the Spiral Tower, whose lookout requires a 130-foot ascent. At 820 feet above sea level, the views let you drink in a vista of forests, mountains, islands, fjords, and an estuary of the Salish Sea. You'll also spot Saturna Island; the San Juan and Olympic islands; and, on an especially clear day, Mount Baker. Extra points if you see any eagles and falcons soaring.
Don't miss the Adventure Net at SkyWalk. The 900-square-foot net is suspended atop the SkyWalk Tower and can be walked or laid on. It's an exhilarating way to experience the spiraling structure. Your reward for bravely walking up the tower is zipping down on the 64-foot slide, which can take you at speeds up to 25 kilometers an hour. Those not wanting to seek that thrill needn't worry; that's not the only way back down. Simply walk down the same spiral ramp you ascended. Before you leave, be sure to check out the café in the Welcome Centre and pick up a chocolate custard brioche.
Explore Like a Local
Victoria is full of world-class attractions; the unequivocal gems are The Butchart Gardens, Royal B.C. Museum, and The Fairmont Empress's afternoon teas. Fisherman's Wharf, a short walk from both downtown Victoria and the cruise ship terminal, is another highlight. This colorful collection of floating homes, restaurants, and businesses is a haven for exploring, whale-watching, paddling, great eats, and much more.
Known as the City of Gardens, Victoria also lives up to its name not just with the celebrated Butchart Gardens, but also the Abkhazi Garden in the Fairfield neighborhood, the Government House Gardens in Rockland, Hatley Park in Colwood, Finnerty Gardens in Rockland, and the horticulture Centre of the Pacific in Saanich.
Sidney is another favorite day-trip destination. Located at the north end of the Saanich Peninsula, near the BC Ferries terminal and the airport, Sidney offers boutiques, galleries, and restaurants, all on Beacon Avenue. Other attractions worth checking out are the Sidney Pier, Seaside Sculpture Walk, and the Shaw Centre for the Salish Sea.
Northwest Travel & Life contributed to this story.