My eyes streamed with delicious tears of laughter, an all-too-rare moment of utter happiness. I should have been crying tears of pain and embarrassment — I'd just slipped and fallen in the river, thanks to the precarious combination of Teflon-like rocks that were beyond slippery and an afternoon of passing around the wine bottle. But, at that moment, I didn't care, because someone grabbed my hand and I just took a beat to float. That was the point of this rafting trip, after all — a return to the present.
"Wine and Food on the River" is a series of rafting trips up the Grande Ronde or Snake rivers in northeast Oregon, facilitated by Grant Richie, owner of the Minam Store, Motel, and Raft Rentals. Richie partners with Walla Walla-based Chef Andrae Bopp, who works his culinary magic in the camp kitchen — think ceviche, crawfish etouffe, and huge handmade marshmallows with salted caramel sauce. The wine component features a different Walla Walla winemaker each trip who provides several cases of his wine for campers' enjoyment — in this case, winemaker Cameron Kontos (Kontos Cellars) brought the juice, along with his Young Guns winemaker buddies Greg Matiko (Skylite Cellars) and Justin Basel (Solemn Cellars).
Richie's mission is simple. "I want people to get rid of the distractions of life for a few days — the 24-hour news cycle, constant buzzing of cellphone with texts and alerts — and connect to what it's like to be human again." He wants to free people from their boxes and artificial lights so they can actually see — the canyon, the river, the wildlife, that beautiful night sky without city lights drowning out its brilliance.
The great thing about a trip with a chef and a winemaker is the insurance that all the gastronomic pleasure centers will be satisfied. Responsibilities basically amount to how to stuff one's possessions into a dry bag. Group bonding began even before we pushed off the shore, as the lack of cell service forced us to dust off our long-dormant bantering skills.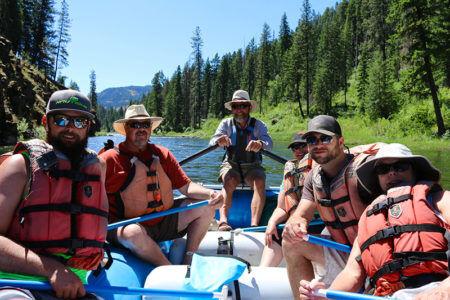 Photos by Julie Arnan
With the gear expertly divided and loaded onto several rafts, the time came to choose a boat. Since we were the largest group, the winemaker crew opted for the work boat (meaning our assistance in rowing would occasionally be required). Our guide, who introduced himself as Rumpelstiltskin, radiated twinkly mischief.
We practiced the basics for a bit — forward row, turning, synchronizing with the lead rower, and how to pee in a cold river while everyone watches. The raft glided through the river, canyon walls showing green and brown, forested areas interspersed with rocks and scrubby shrubs. Ahead, we watched the white head of an eagle circling, soaring and finally diving toward the river to catch its lunch.
Periodically, people called out other creatures they spotted: mink, deer, mountain goats, and a curious amount of unsubstantiated muskrat sightings. Butterflies and dragonflies careened through our airspace, often landing for a stroke or two on someone's hat.
It wasn't long before we left the Minam River and joined the Grande Ronde under an old train bridge. The river flows in a northerly direction. Our three-day journey would take us nearly 40 miles through a ravine canyon without a road until the take-out point.
A couple of hours later, we scored a prime campsite. The crew tied up the rafts, and we all stumbled out. The wet rocks were very slippery, and the beach was littered with ankle-twisters 30 feet up the bank. We formed a "fire bucket brigade line" like we'd done it a million times before — only one stop in, and we were already becoming a tribe. We unloaded tents, cots, sleeping mats, chairs, and dry bags while Chef set up the kitchen.
With my tent erected and cot assembled, I threw on my swimsuit and headed down to the river. Some past visitor had constructed a little rock retaining wall to make a small, protected pool. The winemaker had stashed several bottles of his white wine in the river to keep it cool. The row of dragonfly wings on the Kontos label looked oddly at home, as if alighting on the stones.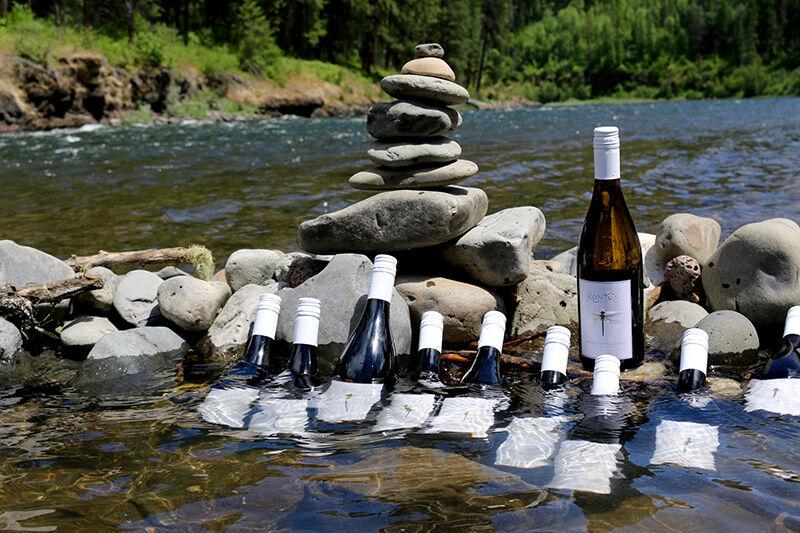 The folks on our raft had already had so many laughs, I decided it was time to spread the love and meet the rest of the crowd. I dragged a camp chair into the shallow pool next to a mother/daughter duo. The mother introduced herself as Gretchen, a tennis coach in Texas and survivor of a midlife crisis. Atop her head was a cap that joyously pronounced, "Yay! Adventure!" She booked the trip to celebrate her daughter Marin's 21st birthday. It took about five minutes to become intimately acquainted in the way that women seem to do by instinct, sharing stories on a golden summer afternoon with feet dangling in a cool stream.
When the dinner bell tinkled from the kitchen, I pulled on a sweater and pants. Evening on the river cooled swiftly. We arranged chairs around the table, and Kontos kicked off the meal with an introduction to his wines. While the wine was being poured, the first course arrived — a jewel-toned watermelon salad with pickled red onion slivers, scallions, feta, black pepper, and a balsamic reduction. Everyone relaxed as the sky darkened overhead and the river rushed by.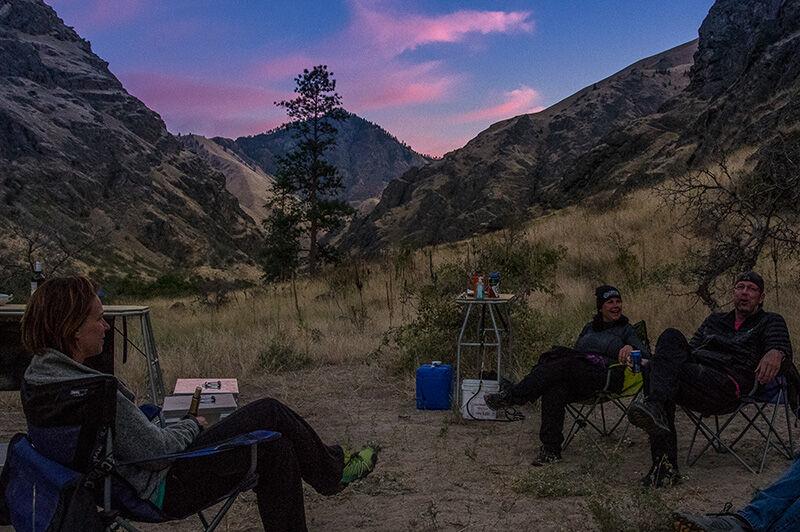 "That is what it is all about for me," said Richie. "When people relax and begin to take it all in, enjoy themselves, and the place they are in. It is this idea of being present, connected, and plugged into the moment, the people, and the place."
After dinner, we were encouraged to continue our merriment with a rousing game of bocce ball made especially challenging by the uneven terrain and not a small amount of wine. The stars popped out in the narrow slit of sky visible between the canyon walls. Some campers settled in for a serious stargazing session, but most were drawn to their beds, lulled to sleep by a day on the river and the great outdoors.
"That is what it is all about for me, when people relax and begin to take it all in, enjoy themselves, and the place they are in. It is this idea of being present, connected, and plugged into the moment, the people, and the place." 
— Grant Richie
The next morning, I was up before the sun peeked over the ridge of the canyon. People stumbled out of bed over the next hour, and Chef made sure the coffee pot stayed full. We stood around shooting the breeze, getting our "laughers" warmed up for the day, until massive plates of omelets were foisted upon us. Richie's own chickens provided the farm-fresh eggs that were stuffed with cheese, sausage, and spinach — a meal designed to fuel a day of packing up, rafting, and unpacking again.
The morning was spent tearing down camp and repacking the boats. Finally, we were back on the river. Our trusty guide made our trip exciting when rocks and rapids allowed for some good splashes.
The Grande Ronde River teemed with butterflies, and our boat was a magnet for dragonflies. Time passed pleasantly with an occasional swim break. Being hauled back into the raft was an exercise in humility — there's just no graceful way to do it, and everyone ends up looking like a beached whale heaved onto the side of the boat, shorts clinging in all the wrong places.
A short few hours into the float, we made it to the next campsite and repeated the water brigade line to haul the gear up a small hill. Chef set out a simple sandwich spread for lunch while we set up tents and cots. Some of us women decided to wash our hair in the river, which led to more than one slip, slide, and splash. Clean and feeling sleepy, I gave in to an afternoon nap.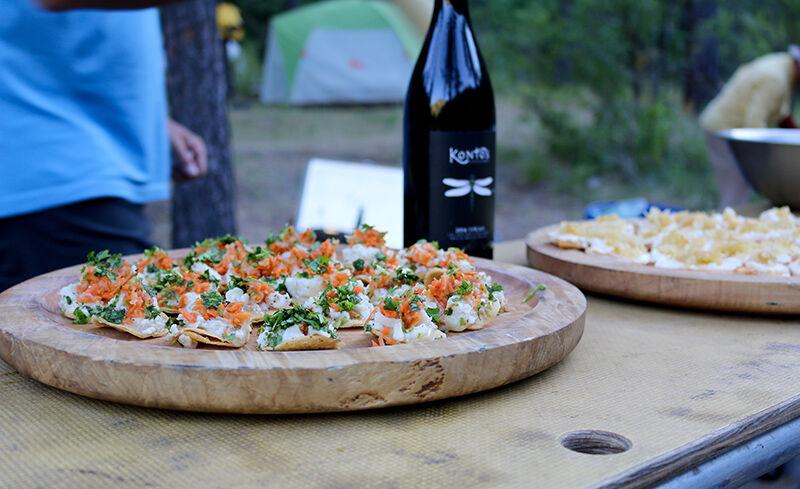 By the time I finally roused, Chef was back in the kitchen frying shrimp toasts — addictively crisp and chewy, salty with shrimpy brine. I played hostess for a bit, shuttling shrimp toast and smoked turkey sliders with Crystal-infused aioli around the table. Kontos opened the night's wines — a single varietal Cabernet Sauvignon and the Alatus (meaning "with wings"), a popular Bordeaux-style blend named for his grandfather's 63-foot sailboat.
Behind us, Chef was grilling his famous corn salad fashioned after Mexican elote — a grilled cob of corn generally seasoned with chili powder, lime juice, and mayo. He cuts the kernels off the cob for the corn salad, adding housemade aioli, lime juice, Parmesan cheese, and a dusting of cayenne. This grilled corn salad is where it's at.
The final course was a hearty red crawfish etouffee served over rice. Just when we thought the dinner show was over, I looked back and saw Chef toasting a grid of s'more materials industrial-style with a blowtorch — handmade graham crackers, squares of dark chocolate, bricks of fresh marshmallows, all drizzled with salted caramel sauce.
After dinner, we sat around the campfire. Gretchen pulled out her guitar and began plucking a tune. It wasn't long before a harmonica and a shaker egg were passed around. Matiko made up a ditty about our rafting shenanigans to the tune of Leonard Cohen's "Hallelujah" that had everyone laughing to the point of tears. The fire burned low, and those of us still clinging to one last laugh finally shuffled off to bed.
The final morning of our float dawned. I sat with my new tribe of women in a line of camp chairs looking out over the river. We were discussing some recent health issues when a hummingbird zoomed to a halt directly in front of me. The bird hovered midair for a time that seemed to extend past a polite hello. "You've had a visitation!" exclaimed Gretchen, assuring me this was a good omen for my health.
After our final breakfast of French toast with Walla Walla berries, cream, and bacon, we loaded the gear back onto the boats and posed for a group photo, looking a touch ragged but like we had been thoroughly alive for a few days. As we pushed off for the last time, the mood was more subdued. The magic of the canyon was still there, offering us glimpses of mountain goats in the craggy black rocks, but "real life" loomed in the distance.
On the long drive back to the Minam Motel, where our cars were parked, two thoughts kept me occupied: I can't wait to take a shower, and I want more days of my life to be filled with "present" moments. I want more life on the river.