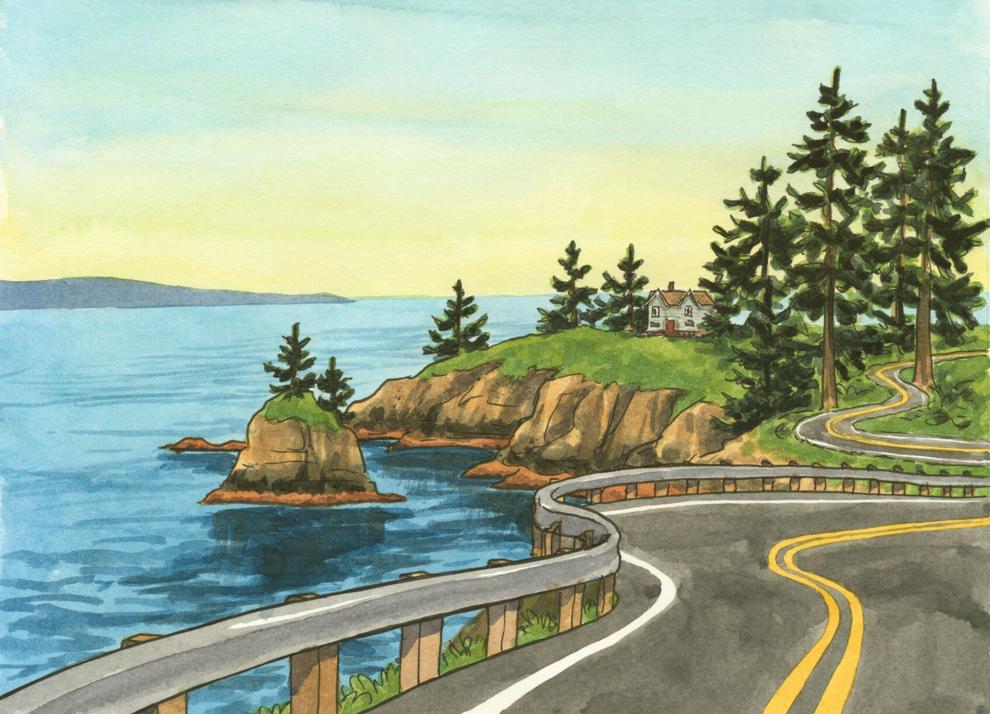 When it came to imagining our annual travel issue, visions from a canon of buddy road trip movies and television shows danced in our heads. Classic team-ups like Thelma and Louise in their blue 1966 Ford Thunderbird convertible or Duke and Gonzo heading to Vegas in a rented red 1971 Chevy Impala convertible intermingled with more contemporary duos like Psych's Shawn and Gus in "the blueberry" (an early-aughts Toyota Echo) and Supernatural's Winchester brothers in "Baby" (a black 1964 Chevy Impala).
While we could have divorced these pop culture references from our final product, we decided to lean into the nerdiness of all things mainstream — and a little bit obscure, too. — JK
Editor's note: This road trip guide lists several filming locations that are private residences. When visiting these treasured abodes, please be respectful of the homeowners' property and privacy.
---
Bruce Lee Lives On
The great Bruce Lee founded the Seattle-based Jun Fan Gung Fu Club in 1960. After several mission and branding adjustments over the years, the organization now welcomes anybody, regardless of experience. "We are now laying the foundation for the future … so that all of Bruce Lee's accomplishments will not be lost, and his brilliance can benefit all for generations to come," shifu Taky Kimura said on the institute's website. Visit or enroll at 605 Eighth Ave. S. — BP
Twilight is Eternal in Forks
It's not every day that a basically anonymous town transforms from a "who" to a "them" among American cities practically overnight. But it happened to the two-stoplight, 4,000-ish-population Forks, Washington — and things have never been the same since.
For more than 15 years, Forks has been somewhat synonymous in the popular imagination not with the logging or correctional facilities that once were its utmost landmarks but Twilight, the juggernaut young adult franchise masterminded by Stephenie Meyer about a teenage girl who, at the beginning of the series, unhappily moves to the tiny town to live with her dad. Her life is changed forever when she falls for a vampire.
We're about 10 years removed from the last Twilight movie, and two since the last Twilight-related book. (That was Midnight Sun, which is Twilight from Edward the vampire's perspective.) Forks has the good humor — and sense — to continue playing up the connection as much as possible.
The city's official website has a Twilight page replete with an online store (a Chuckesmée pin can be yours for $45), and if you head to the nearby Rainforest Arts Center, you can peruse key costumes and props featured in the movies. Bella's truck eternally rests outside the visitor information center. Twilight Lodgings, which opened in 2003, happily boasts that two of its available-for-rent cabins were used in Eclipse and the split-in-half Breaking Dawn movies.
Times change. R. Patz is a superhero now, K. Stew is a newly minted Oscar nominee, and you're no longer quite as earnestly invested in this cross-generational (and interspecies?) romance. But in Forks, Twilight is forever. — BP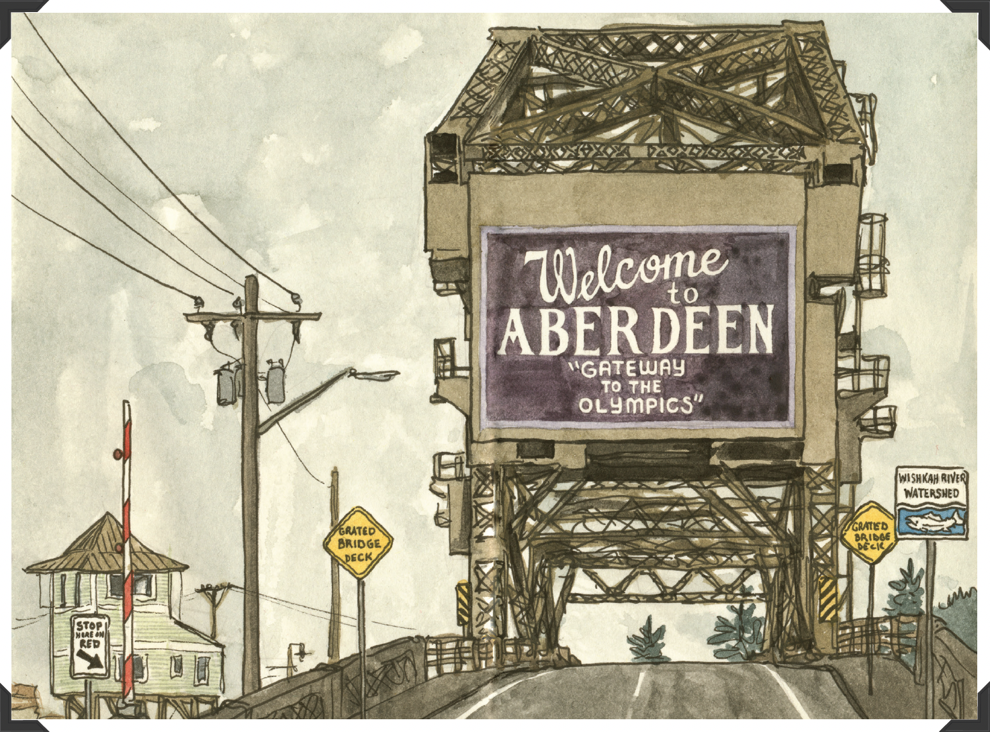 Aberdeen: 'Come As You Are'
Upon entering the town of Aberdeen, motorists will notice the nod to Nirvana's music on the town's welcome sign, which reads, "Come As You Are," after the song of the same name. In fact, bits and pieces of Nirvana can be found plastered all throughout the historic logging town.
First on the itinerary is a trip to the childhood home of Nirvana's frontman, Kurt Cobain, at 1210 E. First St., where he lived for much of his youth. In 2020, the state Department of Archaeology and Historic Preservation approved the small green dwelling as a culturally significant building and landmark, which helps the home's new owners in an effort they are undertaking to turn it into a museum.
From there, head down East First Street toward Young Street for a block or two. When you hit the foot of the Young Street Bridge there, you'll be at the Kurt Cobain Memorial Park. There are a couple of memorial tributes there as well. Cobain was rumored to have spent nights sleeping under the bridge itself, with songs like "Something in the Way" off Nevermind written there, too. You can find the lyrics to that song etched into an aluminum plaque in the park.
In 2021, graphic and musical artist D.S. Bradford created a colorful and immersive augmented reality experience for the park. Once visitors have arrived at the park's geographic coordinates (46.984256, -123.805505, to be exact), they can access the VR portal via a smartphone. If you're feeling peckish by the end of your Cobain-inspired tour, feel free to pop into one of Aberdeen's nearby restaurants, such as Breakwater Seafood and Chowder House or Billy's Bar & Grill. (Tip: Check out Nirvana: Taking Punk to the Masses — a one-of-a-kind exhibit on view at the MoPOP in Seattle — while you're in the area, too.) — HW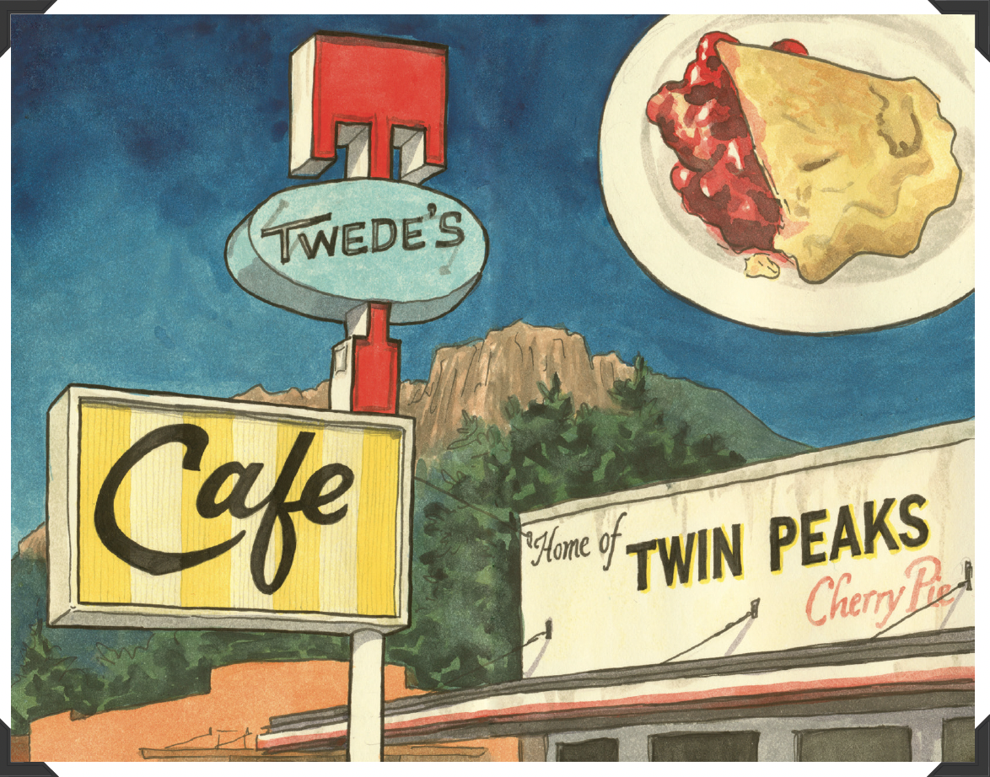 'A Place Both Wonderful and Strange'
Since it first aired in 1990, Twin Peaks has experienced an ongoing growth in its cult following that has led many to the Pacific Northwest, where the show largely was filmed. Fans continue to solve the Twin Peaks mystery in real life from North Bend to Snoqualmie to Fall City.
The mystery-horror series created by David Lynch and Mark Frost quickly captured viewers' attention, and although cancelled in 1991, has maintained its reputation as an all-time-great show. In 1992, New Line Cinema released the prequel film Twin Peaks: Fire Walk with Me, and 25 years later, the highly anticipated third season, Twin Peaks: The Return, hit Showtime. Twin Peaks remains such a touchstone for North Bend and Snoqualmie that both have proclaimed Feb. 24 Twin Peaks Day.
Just like special agent Dale Cooper in the show's pilot episode, you too can drive by the real-life location where the iconic "Welcome to Twin Peaks" sign appears during the opening credits of the show, with Mount Si as the backdrop. Fans will be sure to hear Angelo Badalamenti's theme song playing in their heads while taking in the view.
The fictional White Tail Falls, which appears in the show's title montage, is the majestic Snoqualmie Falls, located by & Salish Lodge and Spa, which also was used in the show as the Great Northern Hotel.
If you need a little pick-meup, head over to Twede's Café — or, rather, the famous Double R Diner — for a slice of famous cherry pie and a "damn fine" cup of hot black coffee. Drive through the Snoqualmie Valley to the "Twin Peaks" Sheriff's Office, which was one of the most recognizable sets in all of Twin Peaks. The building now operates as the DirtFish Driving School, so you probably won't see those donuts piled high on the tables, but you can make some donuts of your own if you take a class. — SQ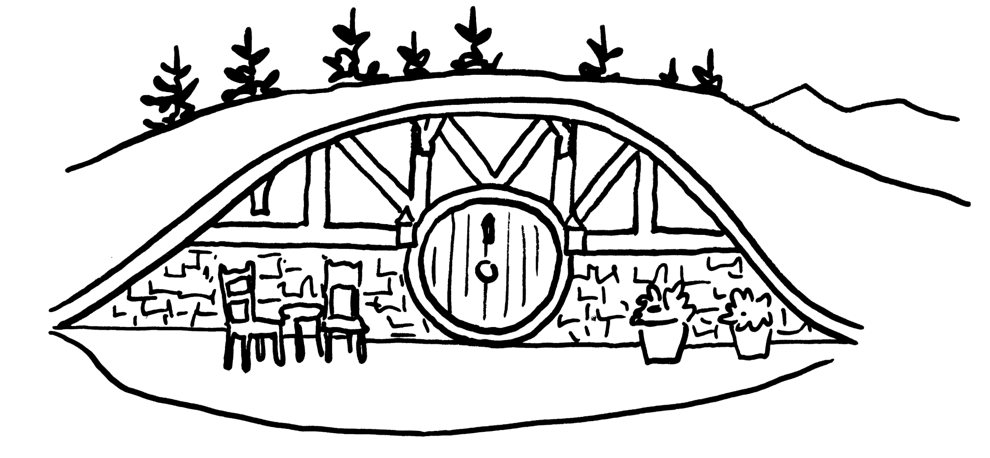 Hobbit Houses to Experience
The Hobbit and Lord of The Rings fans can satisfy their yen for shire life and experience Middle Earth right here in our backyard without journeying all the way to New Zealand. Set out on an adventure to Brothers Greenhouses in Port Orchard to see the tiny house, or take the ferry to Orcas Island to stay in the magical Forest House. Take a road trip to Orondo by the Columbia River to stay in the Earthen Home built right into the hillside. — SQ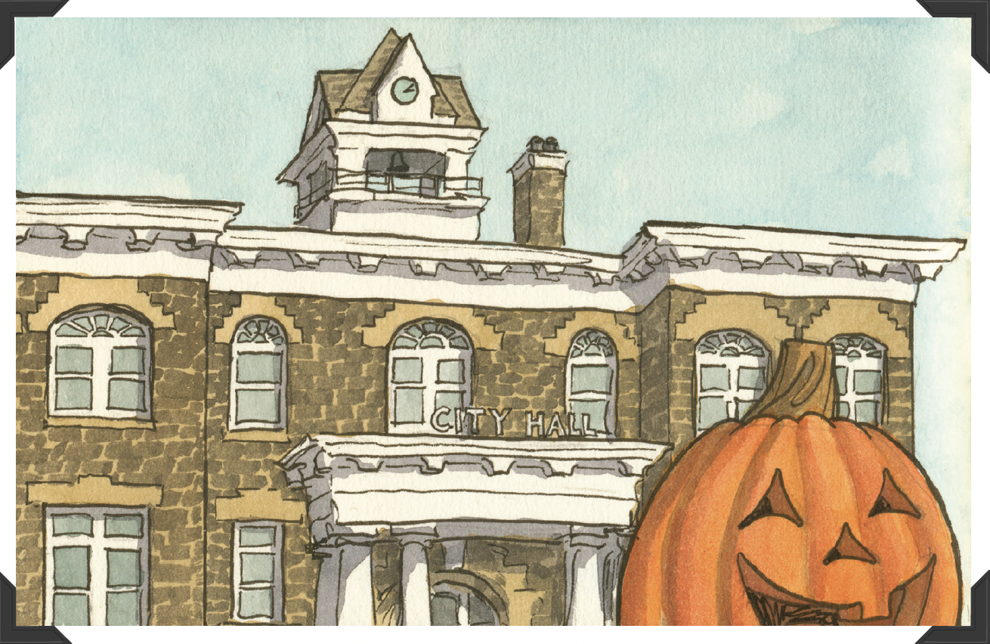 All Things Halloween
I was, as Dylan from the 1998 Disney Channel original movie Halloweentown would say, an "impressionable young child" who genuinely believed this Halloween-themed fantasy land was real. I dreamed of the day when a red-velvet-caped Debbie Reynolds would whisk me away to start my training as a witch.
Though being part of the Cromwell family might remain a daydream, visiting Halloweentown can be a reality.
St. Helens, Oregon, served as the backdrop to the 1998 cult classic and has since transitioned into The Spirit of Halloweentown every year for a monthlong celebration of the holiday and movie.
One of the most instantly recognizable landmarks is the lighted giant jack-o-lantern in the town center. Cast members are known to make appearances, too. Though The Spirit of Halloweentown isn't an exact replica of the set, it does feature spooky-themed attractions, such as a haunted house, a museum of oddities, an alien exhibit, a costume contest, an official gift shop, various performances, numerous photo ops, and more.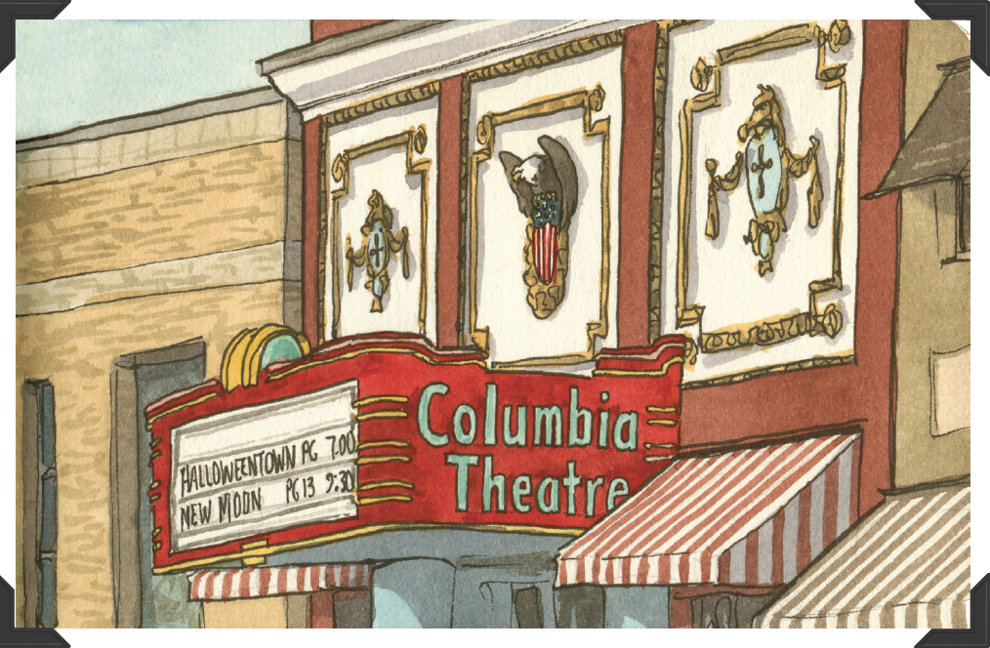 Oh, and did I mention that St. Helens also was a filming location for Twilight? Though the fall-time festival is primarily focused on the Disney movie, Twilight fans can partake in a walking tour of the town that highlights locations from both Twilight and Halloweentown.
While not a prime destination for a summer road trip, The Spirit of Halloweentown will be returning this year starting Sept. 17 and will run through Oct. 31. Like any other city, The Spirit of Halloweentown is open 24 hours a day, though the main attractions are open at full capacity during weekends. — MM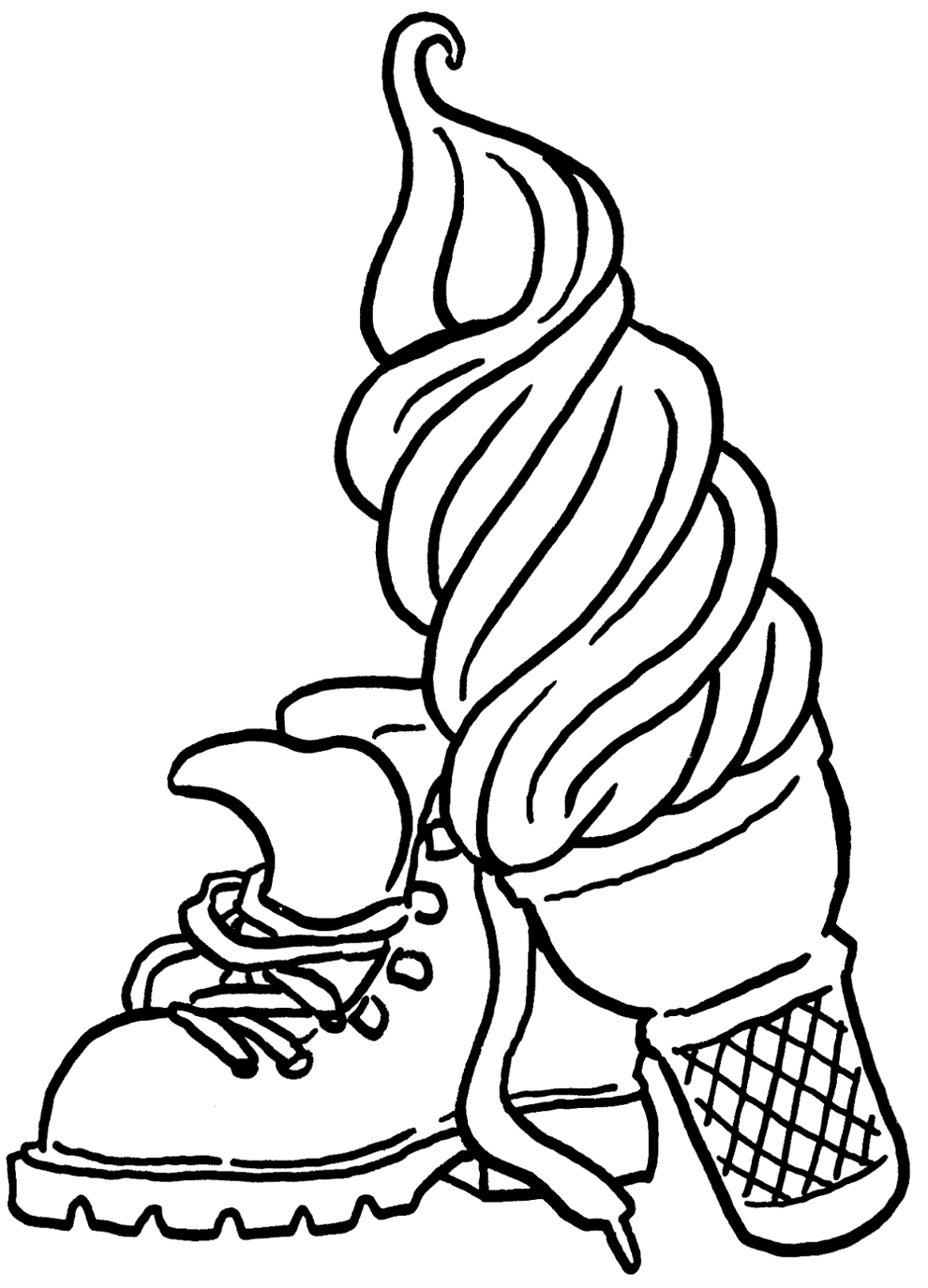 Get a Cone, and Get Wild 
When author Cheryl Strayed was nearing the end of her 1,100-mile trek across the Pacific Crest Trail, she started hearing rumblings through the "trail grapevine" about a must-visit stop. After completing her journey, Strayed went to East Wind Drive-In in Cascade Locks, Oregon, for one of its "famously large ice cream cones." She ordered a chocolate vanilla twist. "It was the last money I had in the world," Strayed wrote in her book, Wild. In the years since that September 1995 morning, the Portland resident has returned many times with her family. — JK

'Never Say Die'
"Hey, you guys!" It's time to go on an epic adventure filled with mysterious maps; crooked crooks; creepy caves; "booty," err, booby traps; forever friendships; and the treasure of One-Eyed Willy. That's right; we're headed to the Goon Docks in Astoria, Oregon. Be sure to grab your best buds and pack plenty of Baby Ruth bars for the 21/2-hour drive.
Since this is a pop culture-inspired road trip, we recommend starting at the Oregon Film Museum at the Clatsop County Jail. While there, guests can get their mug shots taken, leave a letter for the Goonies, and get in front of a green screen to film their own short.
Next, stop for a round of bowling at the delightfully midcentury Lower Columbia Bowl. Spend the time going 10 frames, or wait by Chuck's window, hoping for a car chase to whiz past. Tip: Purchase a lottery ticket, and the bowling alley will keep the free soda refills coming all day.
If bowling-alley fare isn't going to cut it, we hear good things about Astoria's Wet Dog Café. There's also the Rogue Ales Public House in the old Bumble Bee Tuna cannery, where guests can grab a bite and try one of the sour and barrel- aged brews unique to the Astoria location.
Fuel up at what used to be the Stop-n-Snack minimart — featured briefly in the car-chase scenes — and today is coffee roastery Astoria Coffee Co. before heading out of town for the next leg of the journey.
About 40 minutes south, travelers will find Ecola State Park, where The Goonies was shot. Unfortunately, the film's Lighthouse Lounge restaurant cannot be found there, as it was constructed and torn down solely for the film, but Goonies will enjoy checking out one of the state's best beaches and the popular Haystack Rock.
At the end of the day, hang your baseball cap at one of several charming lodging options. The Atomic Motel is a retro, kitschy-cool roadside inn with lots of midcentury modern flair that is totally Instagram-worthy. We also like the chic, modern Norblad Hotel. It has been thoughtfully restored from its early-20th-century heyday and is pet-friendly.
While this trip might not end with literal pirate's gold, the treasure is the journey, the memories, and the friendships. — JK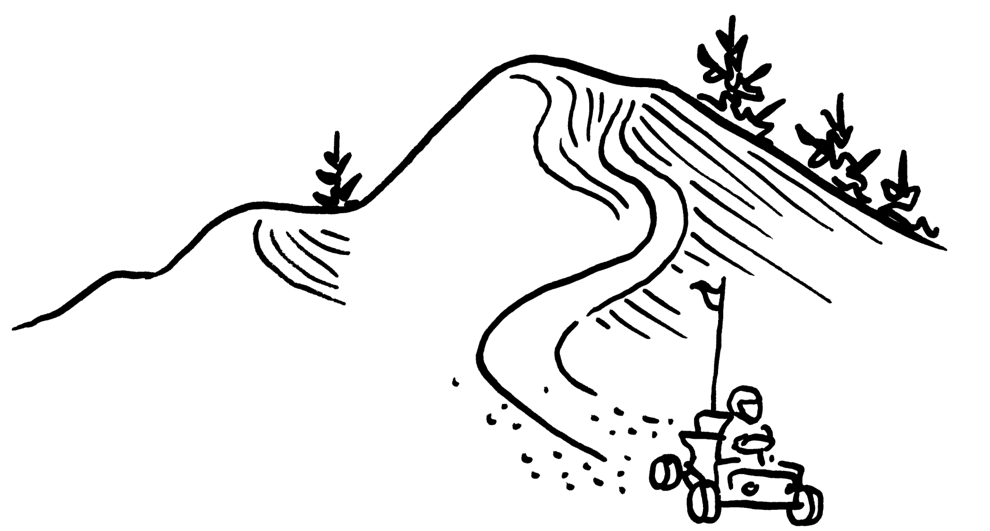 Journey to the Planet Arrakis
The sweeping sand dunes of the planet Arrakis might look a little familiar to those who have explored the Oregon Dunes National Recreation Area just outside Florence, Oregon. Pacific Northwest-born novelist Frank Herbert was inspired by this local landscape in his worldmaking efforts in his series, Dune. The Oregon Dunes National Recreation Area runs about 40 miles long throughout the coast. The safest way to explore the dunes is by ATV, dirt bike, or any other off-highway vehicle. However, there are a few hiker-only areas — most notably the Dellenback Dunes, which provide the most Dune-like experience, as they features striking sand formations that stretch for several miles in most directions. — MM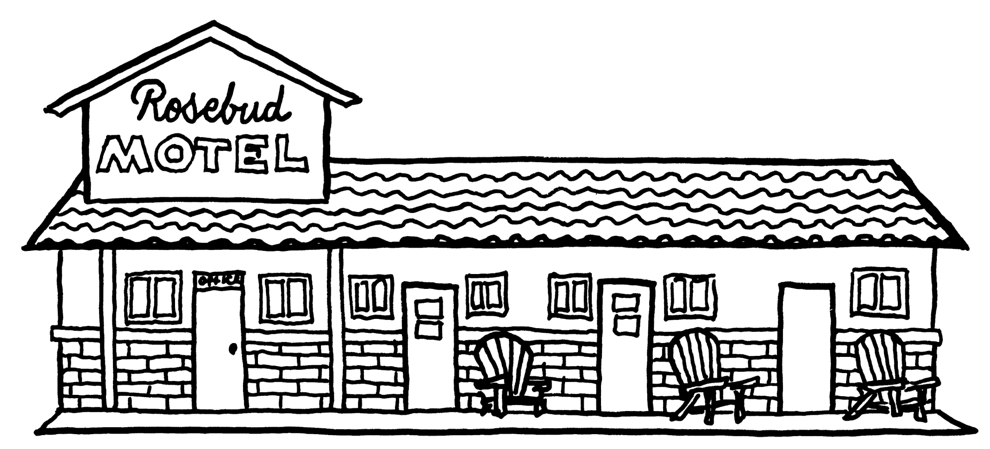 Mini Motels in Queen Anne 
Make like Alexis Rose and walk yourself over in your fanciest pair of kicks to Seattle's Queen Anne neighborhood this holiday season to see a mini motel replica of the Rosebud Motel. This destination might not be available for a summer road trip, but for a few weeks every year, resident Richard Knowles handcrafts a roadside motel from pop culture and displays it in his front yard. Previous displays have included the Rosebud Motel from fan favorite Schitt's Creek as well as Hitchcock's Bates Motel from Psycho. The house is located on Tenth Avenue West near Bothwell Street. Keep up with the homeowner's Instagram to be on the lookout for the next pop-up motel. — HW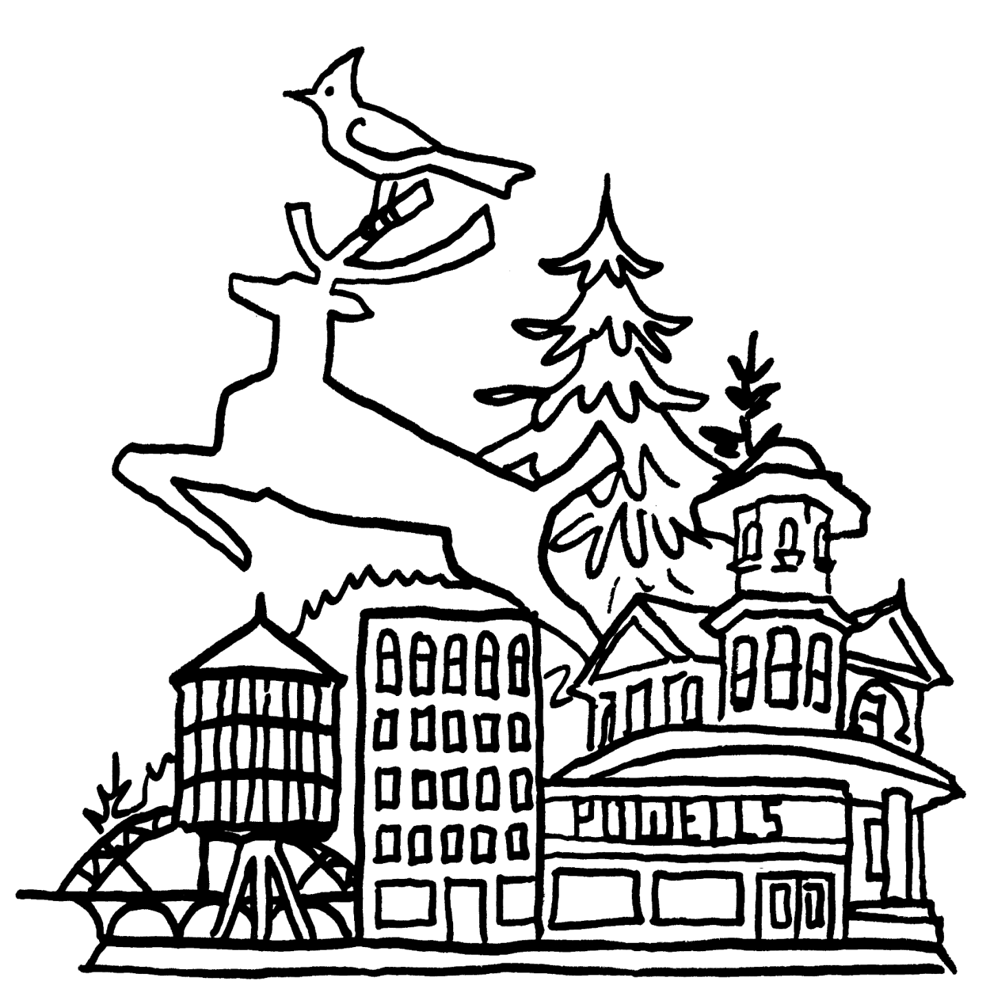 'Keep Portland Weird'
Some of television's best shows were filmed in Portland — namely Portlandia (a bit of a giveaway) and Grimm. Take a tour around the city and see where some of your favorite scenes were filmed. A few of our favorites include Powell's Books, which was included in Portlandia's opening credits, and the Lion and the Rose Victorian Bed & Breakfast located at 1810 N.E. 15th Ave. For Grimm sites, we'd recommend the police station (U.S. Custom House) on Northwest Eighth Avenue and, of course, Nick and Juliette's home on Northeast Prescott Street. — MM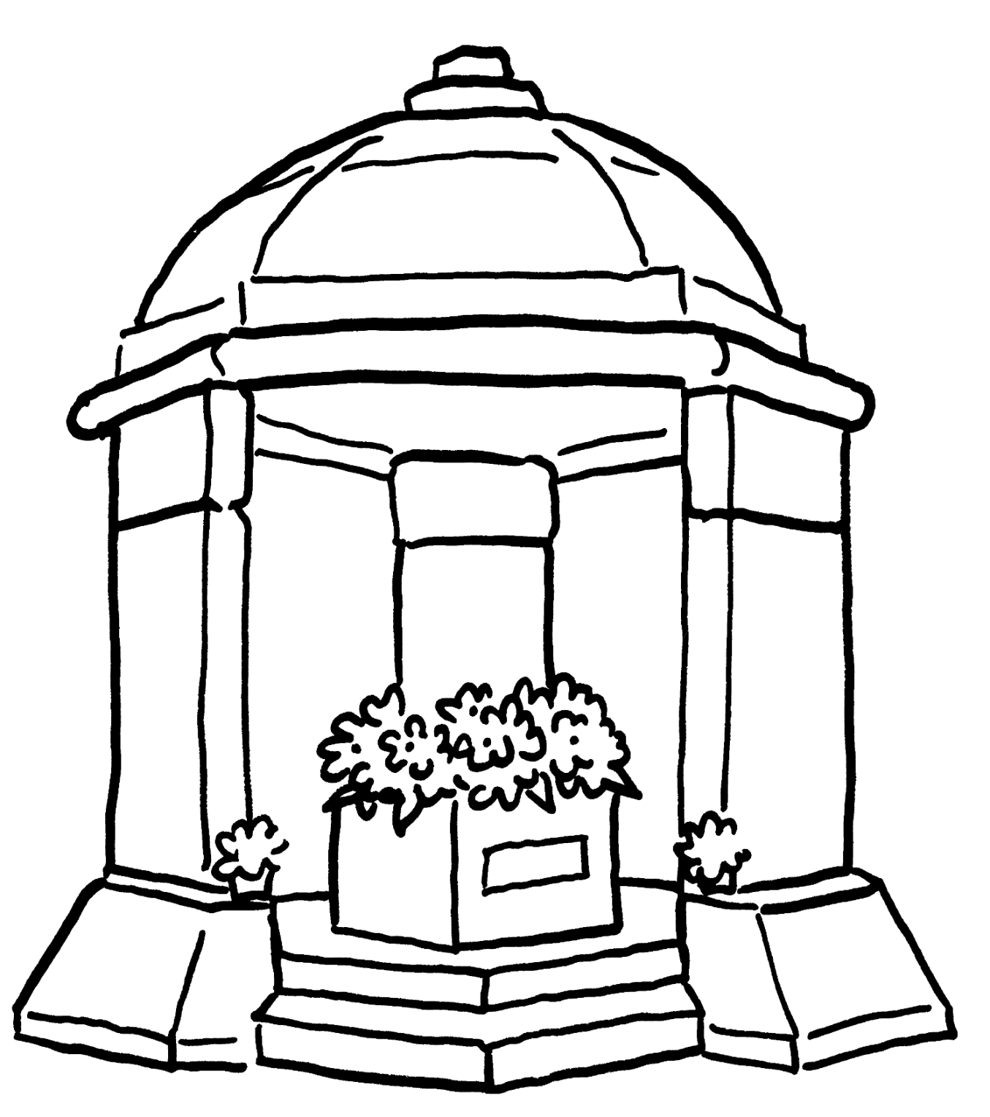 'Somewhere Over the Rainbow'
If you're in the Seattle area and want to pay respects to one of the foremost rock stars to emerge from the Emerald City, stop by Renton's Greenwood Memorial Park and Cemetery, where there sits a gargantuan, artfully sliced dome monument erected in honor of the late Jimi Hendrix. Though his remains were covertly moved to a different location in 2002 — the day before his 60th birthday — Hendrix's parents rest at the memorial's center. — BP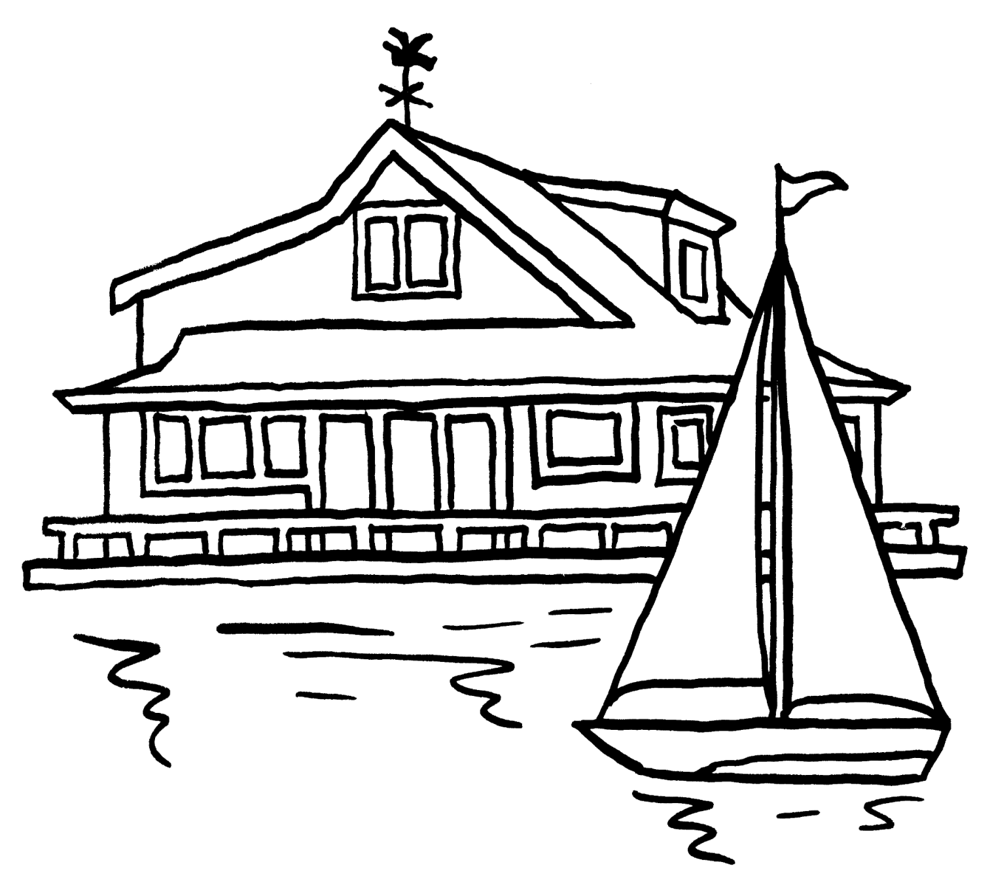 You + The Sleepless House = MFEO
Watching 1993's Sleepless in Seattle is the ultimate '90s Seattle bingo card. Nearly every scene showcases popular local sites, including Lake Union, Gas Works Park, Pike Place Market, Alki Beach, and others. But none other than the Lake Union houseboat Sam and Jonah Baldwin lived in is as closely connected to the romcom. The houseboat, located at 2460 Westlake Ave. N. on Lake Union, is still there. It has undergone interior renovations and had several owners, but the outside looks relatively frozen in time "like … magic." — MM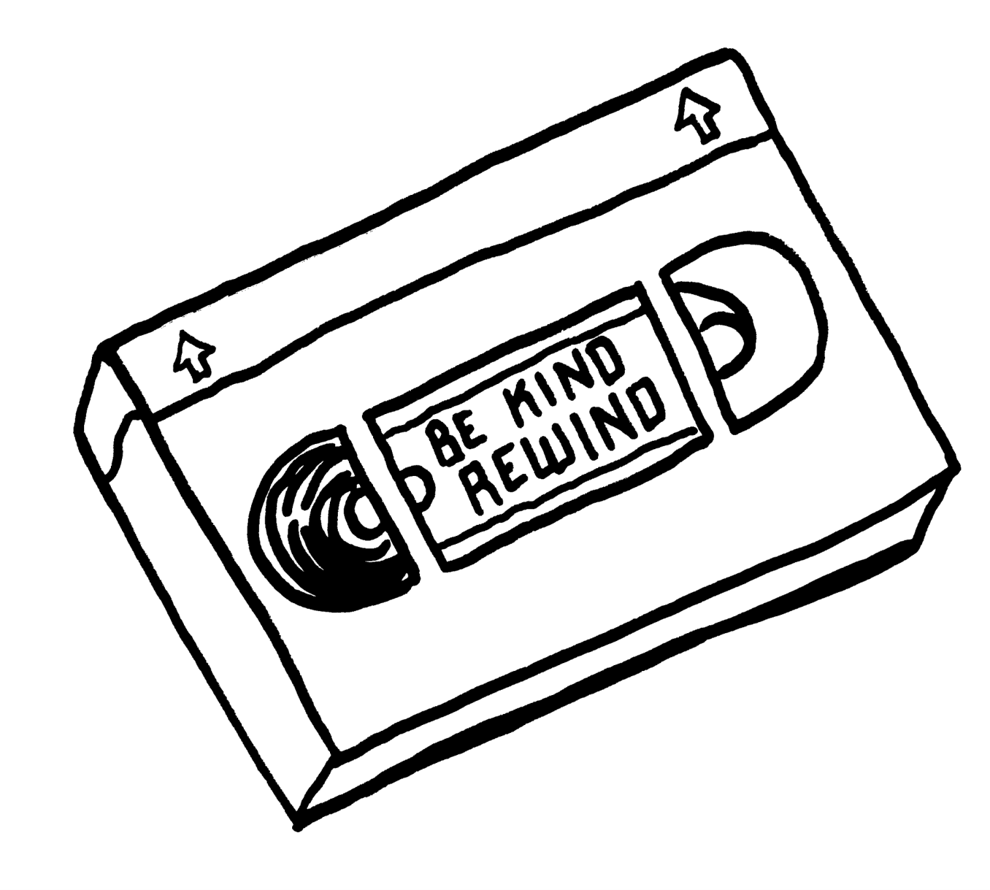 Just Another Friday Night in Bend
Located in Bend, Oregon, the last Blockbuster has become a major tourist mecca for millennial parents who grew up in the video-rental chain's heyday. In addition to actively renting classics and new releases, the Bend Blockbuster acts as a living history museum for the defunct chain, with displays of vintage Blockbuster swag, VCRs and VHS tapes, and actual costume and movie prop paraphernalia. While most out-of-area visitors do not do overnight rentals, movie theater candy and assorted blue and yellow logoed items abound. Visitors also can have their own souvenir member card made for a small fee. — JK
The Crib from the Cradle
The trashy and fun "blank from hell" movie (Fatal Attraction, Single White Female) so mystifyingly popular three decades ago is, let's just say because of word count, problematic. Tasked to pick a favorite among the fraught bunch, though, mine is probably The Hand That Rocks the Cradle, largely shot in Tacoma and Seattle. If in the former, stop by the main couple's house, still roosted at 808 N. Yakima Ave., alongside the infamous greenhouse built for the movie. — BP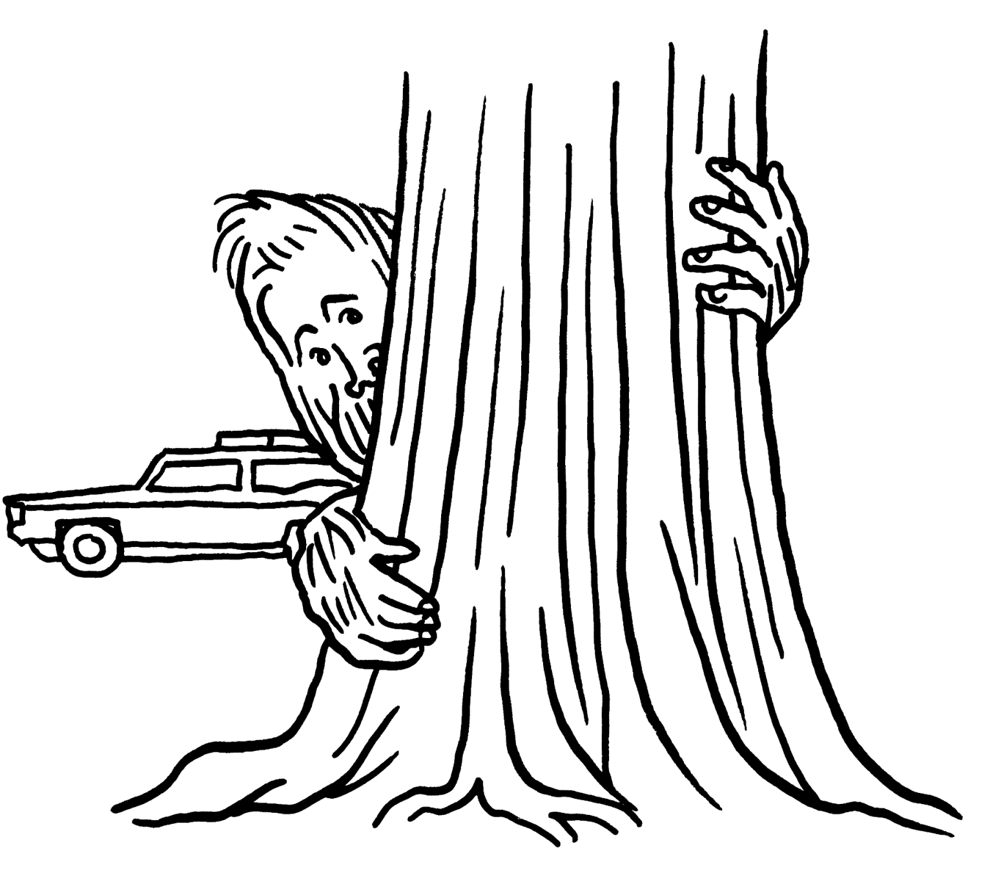 You Won't 'Believe Your Eyes'
The Pacific Northwest is known for its beautiful mountains, and apparently Bigfoot sightings (you can ask the Henderson family about that one). Released in 1987, Harry and the Hendersons shows beautiful sights locals know and love. Get lost searching for Bigfoot around North Bend; have a campfire at the Hendersons' campsite near Kachess Lake; admire Seattle's Space Needle; take a ride to the town of Index; or see the Henderson house at 4214 Burke Ave. in Seattle. — SQ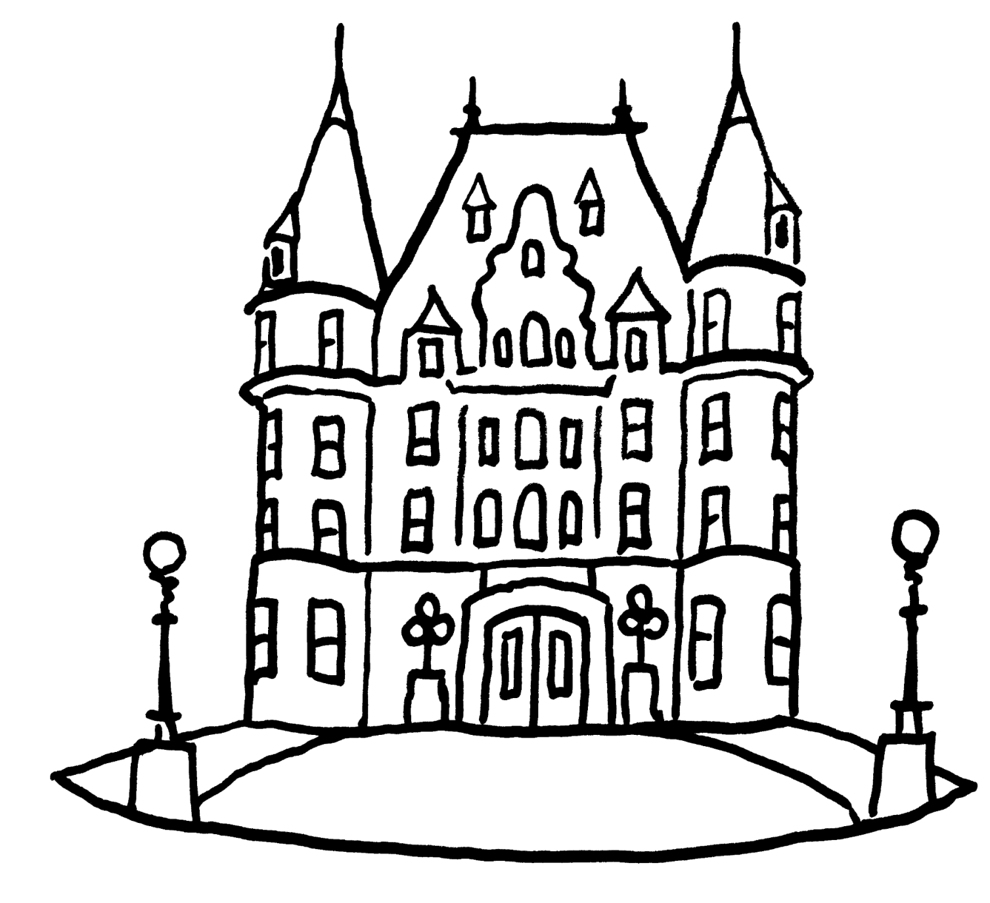 'I Burne, I Pine, I Perish'
When the romantic comedy 10 Things I Hate About You hit theaters in 1999, it was an instant hit among teens and introduced the world to a Seattle now past the grunge phase for which it remains arguably most famous. The killer soundtrack, dreamy heartthrobs quoting Shakespeare, and the "tempestuous" Kat (Julia Stiles) helped give Seattle new life. To re-create this angsty teen drama, enjoy the views at Gas Works Park in Seattle and pose with the Fremont Troll. In the South Sound, visit Tacoma's Stadium High School to re-create Patrick's (Heath Ledger) extravagant solo performance, or swing by the Stratford home at North 28th Street. — SQ
Willy in the Wild
The hit 1993 film Free Willy was shot in various locations across the Pacific Northwest, including some in San Juan County's very own Friday Harbor. Islandgoers are not likely to re-create the famous jumping scene, but if they are lucky, whale watchers can catch an orca breaching on the Salish Sea. For a more close-up experience, step over to the Friday Harbor Ferry Landing to board one of the many boats offering orca sightings, such as San Juan Safaris or Maya's Legacy Whale Watching. — HW
---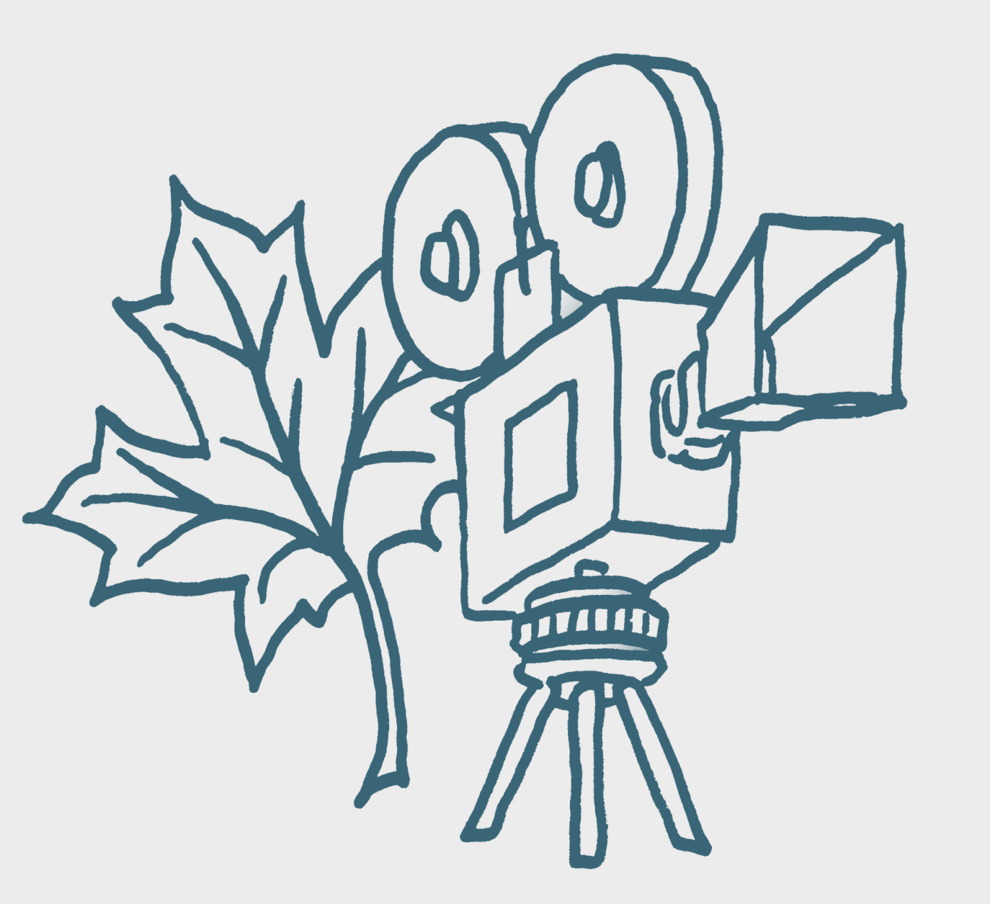 Just Over the Border
The pop culture goodness doesn't end at the margin of our country. Known as the "Hollywood of the North," Vancouver, British Columbia, has stood in for locales near and far in countless movies for decades. Blockbuster movie titles such as Jumanji, The Butterfly Effect, Happy Gilmore, Deadpool, Night at the Museum, and more have been filmed in part or in whole there. Television shows often are filmed there, too. Here are a few day trips inspired by some of our favorite classic shows. — Joanna Kresge
Once Upon a Time
Fans familiar with the seven-season ABC fairytale-retelling hit Once Upon a Time will recall that the northeastern coastal hamlet existed only as the Evil Queen's curse on the people of the Enchanted Forest (primarily Snow White and Prince Charming), placing them in the doldrums of contemporary life in a Groundhog Day-esque scenario. Almost half of the show's scenes were filmed outdoors in the village of Steveston, British Columbia, prompting fans from near and far to visit the sleepy town. While the town's iconic clocktower was added in post-production, and most of the interiors were shot on a sound stage, visitors still can take a stroll down Storybrooke's main street (Moncton Street), grab a burger at Granny's Diner (Cannery Café), have afternoon tea at Mr. Gold's Pawnbrokers (Mr. Gold Gelato, Tea, & Event), and purchase a fresh loaf at Storybrooke Country Bread (Romania Country Bread). Head a block over to check out the pier where Hook's Jolly Roger (the Lady Washington) was once moored, too. Oh, and dearies, don't forget to stop in at the Storybrooke Museum and Post Office to learn about the village's history before, during, and after Once.
Psych
"C'mon, son!" Did you really think Psych was filmed in Santa Barbara? Even without the finger-to-the-forehead maneuver, any (fake) psychic detective worth their salt should have noted by now the evergreens where there should be palm trees, and rocky beaches where there should be sandy shores. As it happens, the Psych office — also known as the White Rock Museum and Archives — as well as the boardwalk and nearby pier are a scant 3.5 miles from the Peace Arch border crossing from Blaine, Washington. While you're unlikely to spot Shawn and Gus pursuing Pierre Despereaux down the slopes in Whistler anytime soon, you will still see leftover vestiges from the show's filming all over the town of White Rock. So, slice up some pineapple for the road, hop in the blueberry, and see if you can sleuth out other "Santa Barbara" hot spots.
Supernatural
You can hardly turn a corner in Vancouver without stumbling across places where Supernatural's Sam and Dean have trodden. After all, it was one of the primary filming locations of the show. Superfans interested in exploring more obscure filming locations can hit up YouTube tours for specifics on several Supernatural backdrops. For brevity, we'll stick to the big ones, the first of which is the entrance to the Men of Letters bunker — where the brothers Winchester hang their hats in later seasons — located in Vancouver's Bates Park just below the Second Narrows Bridge. We'd also be remiss not to share where to find the playground that serves as the series' gateway to heaven, also known as Ladner Harbour Park in the town of Delta, B.C. The sandbox appears to have been added in postproduction, but the rest of the structures are intact.
X-Files
The truth isn't out there — it's right here. While many of the later seasons of the hit paranormal show were filmed in Los Angeles, the first several seasons of X-Files — as well as the subsequent movies and reboot — were filmed in and around Vancouver. Most notable are the two residences of the iconic agents Mulder and Scully. Head to 1615 Tralfalgar St. in Vancouver to visit The Wellington and gaze up to see whether there's a masking tape "X" in Mulder's window. Then, take a ride over to 1419 Pendrell St. to check out the home of everyone's favorite medical doctor turned FBI paranormal doubter. And speaking of Scully, no X-phile will want to pass up the chance to rescue the skeptic from the clutches of Duane Barry by riding the iconic Skyline Mountain (Grouse Mountain) Skyride, as seen in the "Ascension" episode in season two. Depending on the time of the year, passengers can pay extra to climb on the car's roof and "surf" like Mulder for the duration of the 2,800-foot journey.
---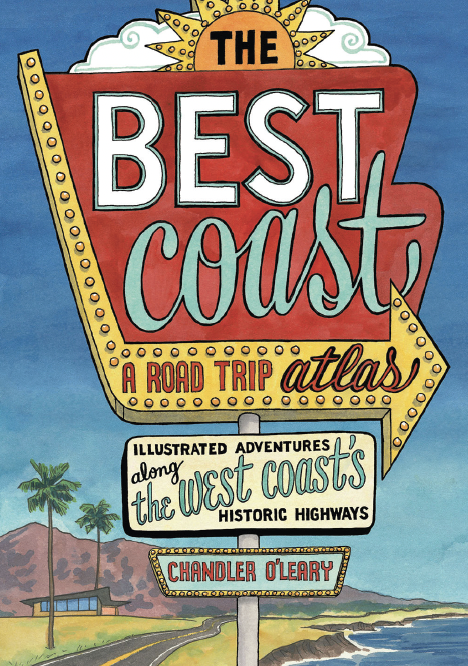 Illustrations by Tacoma artist and author Chandler O'Leary. For more road trip inspiration, check out her book, The Best Coast: A Road Trip Atlas: Illustrated Adventures Along the West Coast's Historic Highways. Sasquatch Books | $25