Moonlight reflecting off rocks and water bodies creates magical scenes that can transform trails you already know into new experiences. When the moon is full, it illuminates some trails, making them easier to navigate after dark.
To best utilize the light of the full moon, you will want to pick trails that are bright and sunny during the day. (Shady trails during the day are too dark at night.) It also is a good idea to stick to trails that you know so that you can be aware of any potential hazards, like steep drop-offs, tree roots, and slippery sections.
Some popular trails for moonlight hikes are the Naches Peak Loop at the top of Chinook, or Gold Creek Pond, located near Snoqualmie pass on I-90. However, any trail on which you feel safe and confident can be hiked at night.
The most essential way to maximize your night-sky viewing is to get as far away from cities and sources of artificial light as possible. The mountains usually provide better star views than coastal beaches because foggy marine layers can interfere. On a clear night, however, you can enjoy some stunning views from ocean beaches, too.
Other Night Hike Tips
Check online for the times that the moon will rise and set. Sometimes you might start a hike before the moon rises or finish it after the moon sets, so it is important to have headlamps for flashlights and spare batteries.
The best headlamps for night hiking and stargazing have red lens options. If your flashlight or headlamp does not have a red lens, you can create one by using red cellophane taped over the lens. A great source of red cellophane is craft or party stores, or dollar stores that sell clear party favor bags. This will make it easier on the eyes of your fellow hikers, and will reduce interference with others taking photos.
Best Places for Stargazing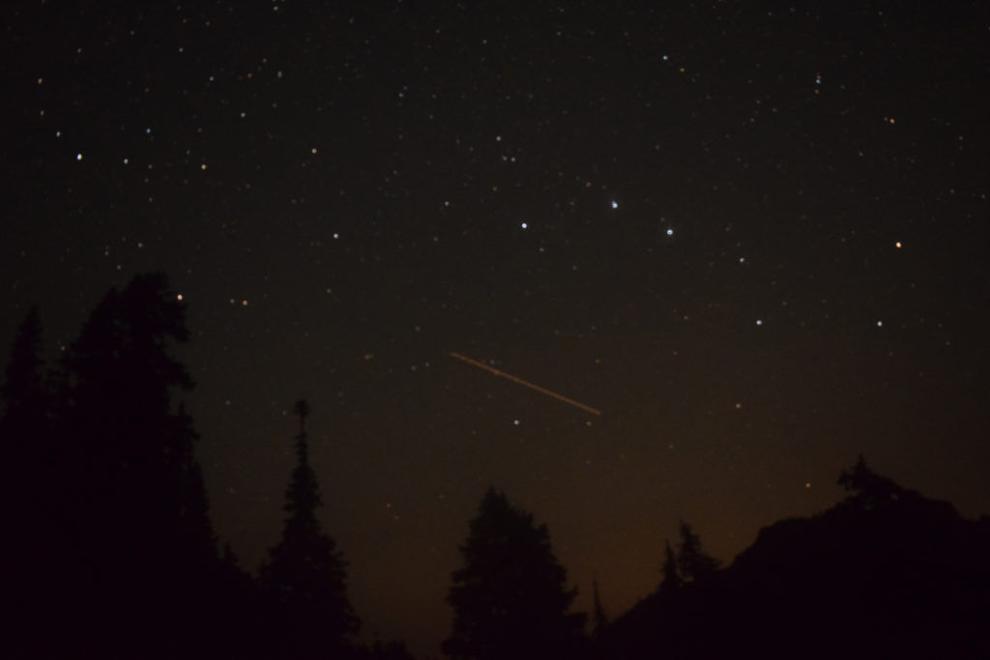 If you are looking to take a hike or just sit and stargaze, make sure you go somewhere dark. Even too-bright moonlight and parking lot lights can interfere, so plan accordingly.
Some favorite places to view the stars are Covington Community Park; Lake Kachess off I-90 near Snoqualmie Pass; Sunrise, Paradise, or Tipsoo Lake at Mount Rainier National Park; and Lake Wenatchee State Park.
There are several phone apps available that will allow you to point your smartphone at the night sky to identify constellations.
Also, you don't need a fancy camera to take awesome night photos or timelapse shots of the stars; most smartphones can do it. 
When shooting with any camera at night, you will want a tripod and a self-timer or remote release to avoid moving the camera.
Be it a moonlight hike or sitting in camp chairs or lying on an air mattress near an alpine lake — just remember to keep looking up.
Track the moon phases at timeanddate.com. For more information about hiking at night, go to the Washington Trails Association Dark Places Digest at wta.org.
---
What to Bring:
The 10 essentials, mountaineers.org

Extra warm clothing, hat, gloves, and maybe a blanket.

Camp chair or sleeping pad.

Headlamp with red lens or red cellophane to put over headlamp or flashlight lens, and extra batteries.

Warm drinks and snacks.