The ribbons of pavement that stretch across the Northwest don't have deadlines. There are no trains to catch, no planes to board, and no tickets to keep track of or security lines to file into. It's just the dusty highway, awaiting explorers. We've mapped trips across the state and beyond, geared for different personalities — from the adrenaline junkie to the geology nerd. So pack your bags (and more importantly, snacks), crank the tunes, and roll down the windows. Adventure calls.
By Lauren Foster, Margo Greenman, Karen Miller, Joanna Kresge, Natalie Deford, and Shelby Rowe Moyer
---
ROAD TRIP #1 
Geeks at the Wheel
By Joanna Kresge
There used to be a day when the word "geek" was derogatory. Individuals branded as "geeks" or "nerds" were ostracized and seen as socially awkward outcasts — albeit often highly intelligent ones. Society has since embraced geeks as we become increasingly dependent on the technology all around us. Virtual reality fanboys, gamers, computer-building savants, STEM enthusiasts, and aspiring engineers are just a few of the stereotypical smarty-pants travelers that might crave a vacation that also exercises the mind.
Living Computers: Museum + Labs
This museum is one of the more-forgotten historical collections in our region, and also one of the most interesting. This SoDo-based gallery provides patrons a hands-on experience with fully restored technology from the 1960s to the present, including a collection of supercomputers, mainframes, minicomputers, microcomputers, robotics, virtual reality, and artificial intelligence. Not only will these antiquated machines bring about a heavy dose of nostalgia, but they also document the period of development for local tech titan Microsoft. Seattle
Museum of History & Industry
OK, so it isn't a terribly long road trip over the bridge to MOHAI — which blends the Puget Sound's rich history with innovative technological advances — but you should definitely make the trip if you haven't visited this museum. Exhibits like the Boeing B-1 plane and Rainier Brewing company's "R" are mainstays, and there are rotating exhibitions throughout the year. Seattle
Geocaching HQ
If you are a fan of geocaching, you know that Geocaching HQ is the mecca for geocachers around the world. Dig through a life-sized pirate chest of goodies, and sign the official log. If you are a geography nut or a coder, you might also find HQ particularly interesting. Employees often come out and talk tech with guests. Check online before you go; public hours vary. Seattle
Future of Flight Aviation Center and Boeing Factory Tour
The Boeing Factory is fascinating enough as it is, recognized by the Guinness Book of World Records as the largest building in the world by volume at 472 million cubic feet, and covering 98.3 acres. Add in tours to experience new aviation innovations being built, coupled with family workshops and informational displays, and you've got an experience worth flying (or driving) in for. Everett
SPARK Museum of Electrical Invention
They say that lightning doesn't strike in the same place twice, yet at this museum, lightning strikes several times a day as visitors experience the marvel of electricity and other innovations like telephones, light bulbs, and radios. Bellingham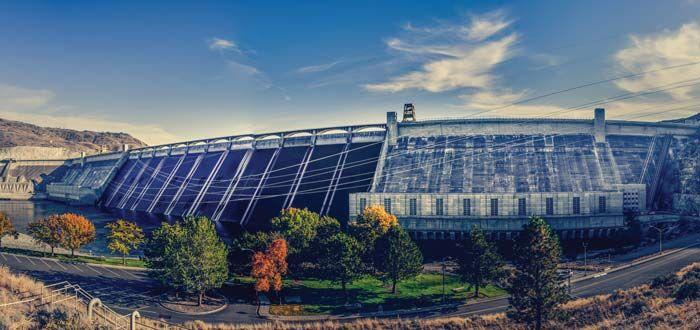 Grand Coulee Dam
This dam serves as one of the main irrigation, flood-control, and hydroelectric dams on the Columbia River. Stop by for a free 50-minute guided tour, where you'll get an up-close glimpse of the pump-generating plant, concluding with a ride across the top of the dam. Also check out a variety of hands-on exhibits at the visitors center, or stick around after dark for the One River, Many Voices laser light show. Grand Coulee
Tour Wild Horse Renewable Energy Center
See clean, renewable energy in the making. The 149 wind turbines at Wild Horse, one of the Northwest's largest solar-power installations, can generate up to 273 megawatts of electricity. And you can tour it with an energy expert.
"(The tours) are kind of like a Wind 101," said Andrea Nesbitt, education coordinator. "We give you a little bit of everything … we have (turbine) components out on the ground, we have a generator, a transformer, and a blade for people to look at just so they can get a sense of scale."
Free tours of the wind turbines are held at 10 a.m. and 2 p.m. daily during open season, which runs now through Nov. 15. But there's more to do at Wild Horse than gawk at the massive windmills.
"A lot of people just show up and read the displays, which vary from everything from the landscape ecology to the Native American history of the area, and then a lot of it is focused on wind and solar technology," said Nesbitt.
Visitors can go online and obtain a free access permit to park, hike, mountain bike, bird watch, or ride horses throughout the massive property. Or they can simply drive through the site, stopping occasionally to take a quick selfie or landscape photograph before moving on.
If visitors are lucky, they might spot a herd of elk or deer, which begin migrating back into the mountains in early summer. A little less luck is needed for clear skies during summer months, which allow guests to take in the stunning 360-degree views.
"Our visitors center is at 3,500 feet, so we are actually higher than Snoqualmie Pass," Nesbitt said. "On a clear day, you can see Mount Rainier, Mount Adams, and Mount Hood in Oregon. You can see all the way across the Columbia Basin as well, and you can look down on to the Columbia River Gorge." Ellensburg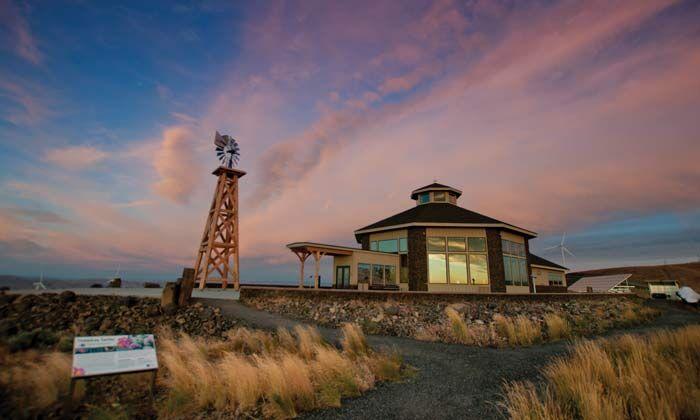 B Reactor at the Hanford Site
Did you know that aspects of the infamous Manhattan Project got their start right here in Washington? The B Reactor at the Hanford Site was the world's first full-scale plutonium production reactor. The plutonium produced there was used for the world's first nuclear detonation, the Trinity Test, as well as for the atomic bomb dropped on Nagasaki, Japan, which triggered the end of World War II. Now a National Historic Landmark, you can visit the B Reactor and take a free tour. Tour days and times vary; check the B Reactor's website before you go. Hanford
Goldendale Observatory State Park
Astronomy and astrology nerds will be over the moon for this observatory that sits atop a 2,100-foot hilltop. This facility has one of the largest and most accessible public telescopes in the country, dedicated to year-round telescope viewing and science education. Goldendale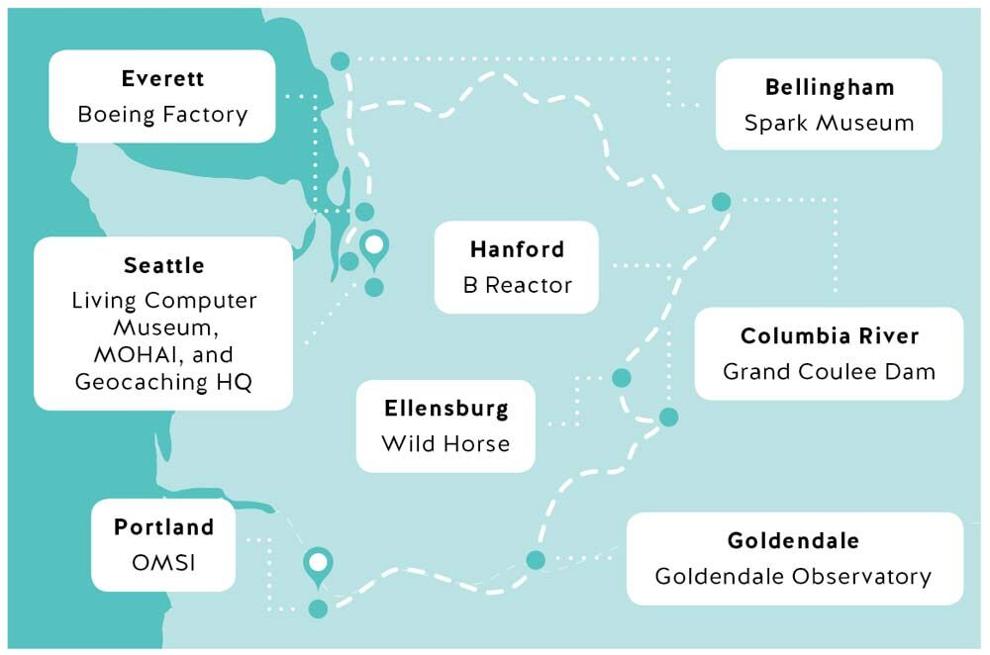 Oregon Museum of Science and Industry
So many OMSI exhibits are aimed at educating children, but adults and children alike will love it. Patrons can program a robot, design a flying machine, track a hurricane, view Earth from a satellite, excavate fossils, and rocket through the galaxy on a motion simulator. Naval geeks and fans of The Hunt for Red October will love climbing aboard the USS Blueback Submarine, the U.S. Navy's last non-nuclear, fast-attack submarine. End the day with a visit to Theory, OMSI's on-site restaurant, where science meets food when executive chef Ryan Morgan invites guests into the kitchen to teach them all about Theory's emphasis on health and wellness. Portland
---
Stay the Night
Sleep perched in the treetops or down in a teepee
Hunker Down in a Hut 
Rolling Huts offers a modern alternative to camping. Six transportable structures sit in Washington's Methow Valley with views of the Okanogan Mountains. The huts are elevated so that when it snows or rains, the weather doesn't affect the structures. They're built with a small refrigerator, microwave, fireplace, and Wi-Fi. Each hut has a portable toilet with bathrooms; showers are located inside the central barn. Winthrop
Test out a Teepee
Feel far away but relatively close to home. Guests at AYH Ranch experience the Northwest by cuddling up in historic teepees and cabins. They call it a "western-themed camping experience." Vashon Island
Lighthouses at Cape Disappointment
Settle in one of the three historic keepers' quarters at North Head Lighthouse, perched above the waves that crash into the cliffs. While you don't sleep in the lighthouse itself, the quarters are just up the path. Watch for whales from the cliffs! You can also stay in other state lighthouses through stayatawashingtonlighthouse.org. Rates upon request. Various locations
Desert Yurts 
If you're interested in camping but not roughing it, Cave B Resort has yurts nestled among its vineyards. A 10-minute walk from the Cave B Inn, the yurts are out in the open but with a king-sized bed, a private bathroom, refrigerator, and air-conditioning. If you go, be sure to step outside when the sun goes down. On a clear night, the sky is filled with stars. Quincy
Airstream Island Glamping 
Lakedale Resort rents out a fully renovated 1978 Excella Airstream on a lakefront campsite. Only available May through September, the trailer has a double bed, a kitchenette, refrigerator, and microwave. There's also a sofa that converts into a full-size sleeping option for kids. Guests also get access to the granola and pancakes at the continental breakfast in the mess tent. San Juan Island
A Classroom in a Schoolhouse 
In 2004, the McMenamin brothers transformed a 1936 Catholic schoolhouse into a hotel called Old St. Francis School. Some of the classrooms are now guest rooms. And in true McMenamins fashion, there are callbacks to the building's former life with decorations and historic photos of the school. Bend, Oregon
Drift off in a Thought Bubble 
Free Spirit Spheres has three orbs that hang in a secluded forest. They range in size but sleep two to three people. Visitors climb winding staircases up tree trunks to unwind in one of these floating rooms. Round windows look out onto groves of cedar and fir trees. Vancouver Island, Canada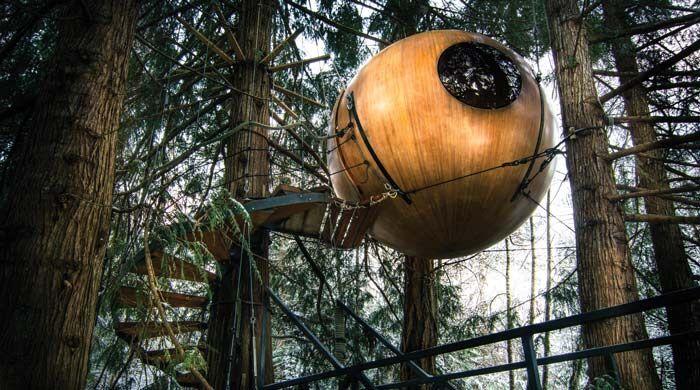 ---
Podcasts to Ponder
The trip will fly by with these favorites.
Based in Seattle, a podcast about facing fears and exploring the unknown.
PNWcast Stories from the Pacific Northwest — pieces of history, fresh ideas, and forgotten accounts.
Daily nuances discussed, like how fortune cookies came to be.
So good, it was voted a 425 staff favorite. "It's like taking a phenomenally acted audio tour through a science and technology museum for adults," said marketing designer Cheyne Brooking.
History retold with tidbits of overlooked details or misunderstandings.
Narrative storytelling and scientific research explain how "invisible forces" — ideas, beliefs, assumptions, and emotions — control human behavior.
Stories about how the internet shapes us and how we shape the internet.
Musicians dissect their songs and share what went into their creation.
The historic and cultural roots of frightening folklore.
HBO's Girls creator Lena Dunham focuses on all things female.
Widow Nora McInerny knows pain. Her podcast dives into subjects people tend to avoid.
True stories unravel over multiple episodes.
The founders behind famous companies share their successes and failures.
---
ROAD TRIP #2 
Rock Your World
By Lauren Foster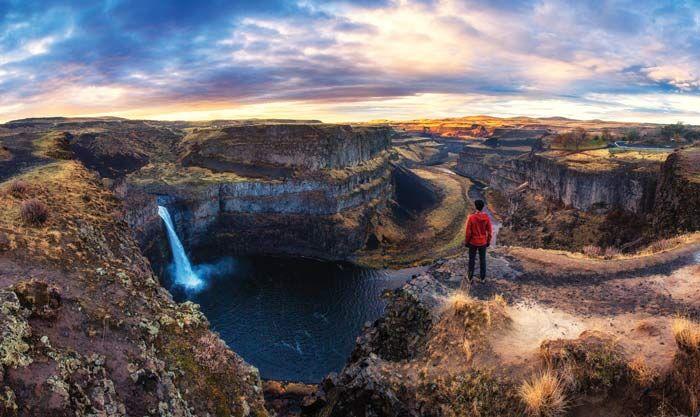 From the dewy rainforests of the Olympic Peninsula to the snowy peaks of the Cascades, Washington is home to some of the most remarkable scenic regions in the country. And if you dig deep, those landscapes are all clues into how the Northwest evolved millions of years ago. "(The geology in Washington), it's so diverse. We have such a mishmash of different stuff happening. All of it's pretty spectacular, and all of it is fairly new," said geology professor and author Eugene Kiver. Visit Washington's stunning scenery through a rock fanatic's point of view. From iconic volcanoes to hidden gems, here are some of the many geological sites to explore.
Goldmyer Hot Springs
Take a dip in all-natural hot tubs. Goldmyer Hot Springs, about 25 miles east of North Bend, has several natural geothermic hot-water pools (one is in a cave) that cascade down. You have to hike in to reach the rugged campsites. Snoqualmie region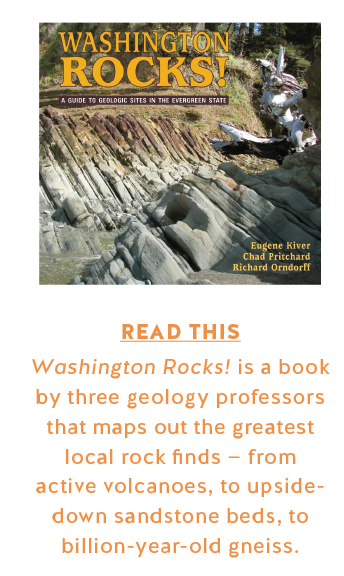 Ellensburg Blue Agates
These cornflower blue stones, deposited in the region during the last Ice Age, are one of the rarest agates in Washington — only found in Kittitas County. Ellensburg
Trees of Stone
Ginkgo Petrified Forest is one of the most unusual fossil forests in the world. About 15 million years ago, the area was a lush forest with lakes and wetlands. But when a lava flow swept through the region, it covered the trees and vegetation. Gradually, the tree trunks, protected by water and mud, became rock. The Trees of Stone Interpretive Trailhead guides visitors to nearly two dozen petrified logs along the 1-mile loop. The Ginkgo Petrified Forest Interpretive Center has indoor exhibits that dive deep into these fascinating rock formations. Vantage
The Grand Canyon of Washington
Live volcanoes and mossy evergreens on the western side of Washington tend to shape the scenic perception of the state. But oh, the beauty that lies east. Palouse Falls State Park is home to an extraordinary waterfall that plunges nearly 200 feet down a jagged canyon wall. It's been designated Washington's official state waterfall. The miles of vertical rock that zigzag from the falls are just as impressive to geology nerds. Ice Age floods, known as the Missoula Floods, helped carve out what some call The Grand Canyon of Washington.
The Palouse Tribe has its own legend of how the canyon and falls took shape. According to Washington State Parks and Recreation Commission's summary of the native story, the Palouse River once flowed smoothly into the snake river until four brothers set out to spear the mythical creature "Big Beaver." Every time the creature was wounded, he clawed out the valleys of the canyon.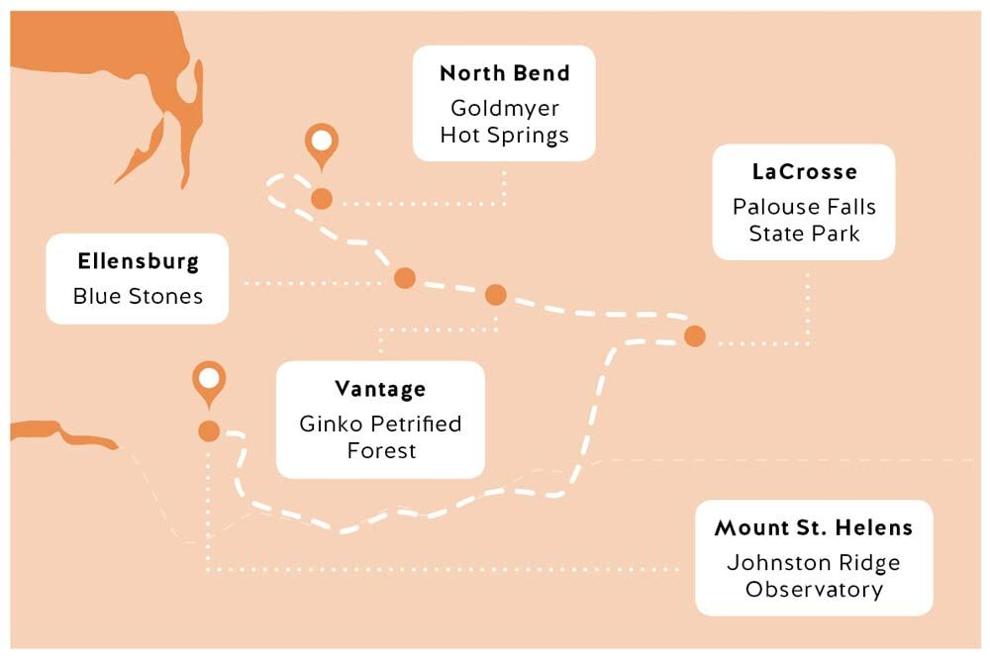 The quick hike to the viewpoint of the falls has interpretive panels about the Ice Age Floods. LaCrosse
Climb Mount St. Helens with a Geologist
May 18, 1980 was a historic day in Northwest history. As an earthquake caused hot gas and rock inside Mount St. Helens to spew, ash filled the sky and was detected around the globe. If you're into volcanoes, the eruption of Mount St. Helens is a captivating episode in the history of the Northwest. The Mount St. Helens Institute hosts summits of the live volcano led by a trained geologist. The trip starts Friday night with a bonfire and history lesson on the mountain. Then climb to the rim with a geology guide who can point out the relevance of the rocks and walk you through what happened when the volcano erupted.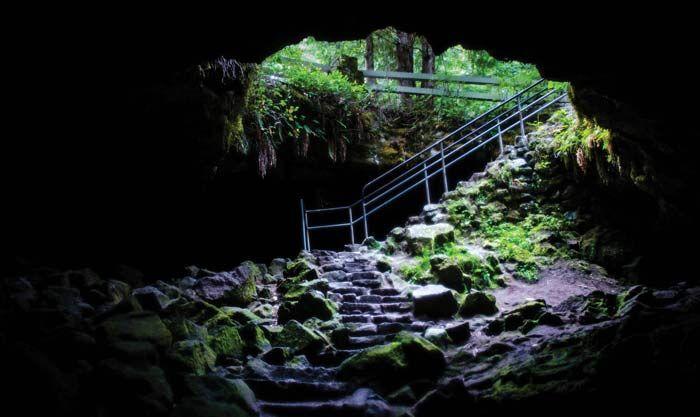 If you're into the geology but not up for the hike, Johnston Ridge Observatory has displays that tell the biological, geological, and human story of the Mount St. Helens eruption. There, you can watch films and listen to ranger talks. Also, the view is absolutely gorgeous. And be sure to venture into the Ape Cave. The 2,000-year-old lava tube descends into the Earth, where it's cold, drippy, and full of fascinating rock formations. Mount St. Helens
Hunt for Rocks with a Pro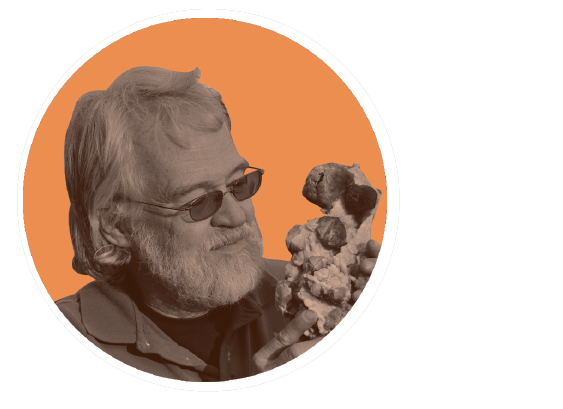 is a retired geologist who takes families on educational trips to collect cool rocks. His house in Ravensdale is full of them. He used to take his wife's third-grade classes to treasure hunt for gems. When he realized how fun it was, he turned the field trips into a business. Rock-collecting adventures with Jackson can range from an excavation in your backyard to trips that take a couple of days across the Cascades. He takes explorers to rock collecting locations, and to his rock mine, Rock Candy.
"People don't really have to be into rocks — they just have to be into nature and learning something different."
"People are into rocks," he said. "But an awful lot of our trips, they don't really have to be into rocks — they just have to be into nature and learning something different."
Jackson, who has been in the area since 1971, said that there aren't as many places to hunt for rocks anymore. Costco now covers one of his favorite spots in Issaquah. If you find a rock but can't figure out what it is, take a picture and email it to Jackson. He's been helping kids identify their rocks for decades. geologyadventures.com
---
425 Staff Road Trip Playlist
Check out some of these roll-down-the-window-worthy jams curated for you by the staff of 425 magazine.
---
Fuel Up
Calories don't count during road trips, right? Stop by these joints for a burger, fries, and a large milkshake.
If you've been to Bellingham, you've probably heard of Boomer's. The quintessential drive-in has to-die-for burgers and waffle fries. It also features a rotating milkshake flavor of the month. Bellingham
The Gourmet Burger Shop
The shop serves up burgers piled so high you'll have to devise a first-bite game plan. If you want a veggie option, there's also a potato burger with truffle mayo. Heaven! Gig Harbor
Indulge in breakfast all day. The Reef, as locals call it, dishes up all the comfort food staples, including chicken and waffles and biscuits and gravy. Just looking for a snack? They have gooey chili-cheese tots and fries. Olympia
Chicken strip baskets, "world-famous" French fries, and a lakefront view: This spot doesn't get much better. It's got all the classic fixtures of an old-school diner with some lighter fare for those who don't want fried food. Lake Chelan
Lefty's Burger Shack
Be sure to get an order of "frings," a mixture of fries and onion rings — so good! And people rave about the burgers. Bask in the sun at one of the picnic tables while you enjoy your lunch. Oh, and did we mention it's surf-themed? University Place
Mmmm, beer-battered fries. The family-owned restaurant takes pride in dishes served up with the freshest ingredients. A favorite is the "world-famous prawns," a half-pound of jumbo prawns served with house-made tartar sauce. Lighthouse is working to lessen its environmental impact with compostable cups and by recycling cooking oil. Aberdeen
Every road trip needs at least one ice cream stop. There are 18 milkshake flavors to choose from, or grab a decadent malt. Of course, they have all the other food items you'd expect with Coney-style dogs and hefty cheeseburgers. Various locations
Flipping Out Burgers and Fries
Some say the best burger they've ever had is from this hidden jewel. Located in a strip mall, Flipping Out is known for its perfectly grilled, not-too-thick, not-too-thin, burgers. Love crispy fries? Try their sweet potato, straight-cut, or waffle fries. There's also a tasty veggie burger for the herbivores in the car. Tacoma
---
ROAD TRIP #3 
Thrill Seekers
By Lauren Foster and Natalie Deford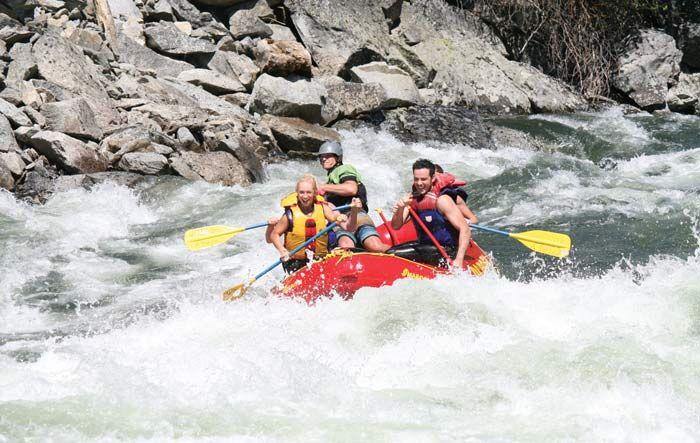 This road trip is for those who like to let loose in their free time. Luckily for all you daredevils, the Northwest is the perfect place to test your nerve. Here's how to get your adrenaline pumping.
Deep-sea Fishing in Anacortes
Jolly Mon Charters isn't messing around when it comes to fishing. The company describes its trips as "a rod-bending, reel-screaming, adrenaline pumping good time." Out to sea you'll hunt for salmon, halibut, lingcod, rockfish, and crab and shrimp. The crew doesn't take you fishing. It teaches you fishing. jollymonanacortes.com
Zip Lining near Lake Chelan 
Glide over bare mountain cliffs along the Columbia River on one of the fastest zip lines in North America. One of Tunnel Zip Lines'lines stretches 880 feet! tunnelziplines.com
Whitewater Rafting the Wenatchee River
There's nothing like riding whitewater rapids along one of the most beautiful rivers in the state. Osprey Rafting Co. offers a "High Adventure" trip that will take you through Triple Shot and over Tenley Falls. But it's intense. You must be 16 or older and a strong swimmer and paddler. ospreyrafting.com
Skydiving in Shelton 
Jump out of a plane and free fall over Western Washington with Skydive Kapowsin. Thrill-seekers tandem jump from 13,000 feet and drop at about 120 miles per hour. At 5,000 feet, the instructor will open your parachute. After that you can help steer it, drifting down to the ground for 4-6 minutes. skydivekapowsin.com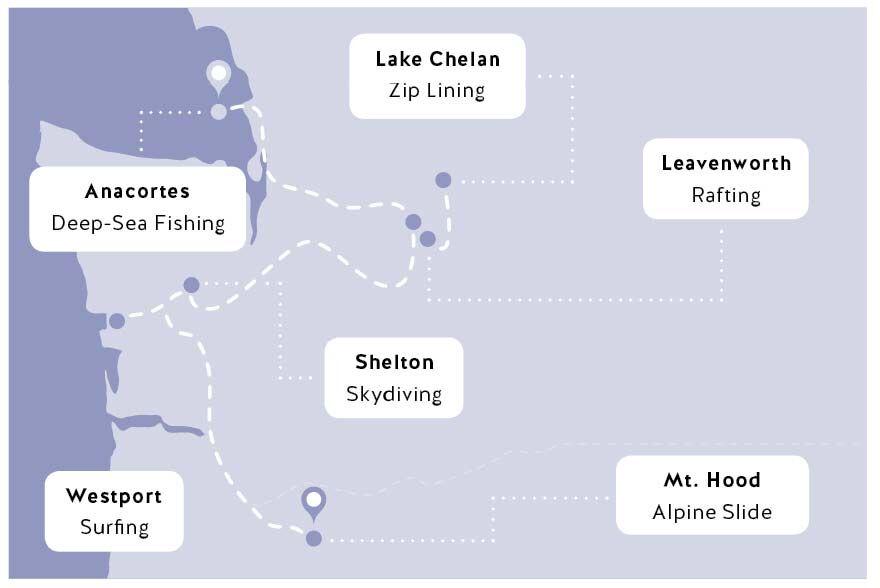 Surfing in Westport 
Riding waves at Westport can be an exciting adventure. Experienced coaches at Big Foot Surf take visitors out to the local break and teach them how to ride waves. Hang 10, dudes. bigfootsurf.com
The Alpine Slide at Mt. Hood Adventure Park 
Race down a half-mile dual alpine slide full of S-curves and hairpin turns at Mt. Hood Adventure Park. It's like luging down the mountain going about 20 miles an hour. If it gets too scary, there are brakes you can use to slow down. skibowl.com/summer
---
Mountaineering Talks and Trips

Lisa Hayek, 27, has been involved with The Mountaineers her whole life. Her parents met on a singles hike with the organization in the '80s, and would often take her on hiking and backpacking trips growing up. "It was always my family norm, and I got more and more adventurous as I got older," she said.
Hayek is a wiz on where to venture in the South Puget Sound area and along the coast. She's a backpacking and hiking trip leader for the Tacoma branch of The Mountaineers, and was recently named chair of the Backpacking and Hiking Committee.
She said her longest backpacking trip locally was five nights and 77 miles in the Olympic Mountains, including Hayden Pass, where she found herself away from the trails in total seclusion, peace, and tranquility. She was surrounded only by snow and beautiful mountain scenery with no signs of human life anywhere. Here are some hiking and backpacking trips in our state that she recommends for various skill levels:
"I got more and more adventurous as I got older."
Dungeness Spit
A very accessible hike for intermediate-level hikers, Dungeness Spit is a journey along the sand-bar peninsula that encloses Dungeness Bay near Sequim. The trail is flat, and you can walk the 5.5 miles out to a lighthouse, which has a small museum, and then hike back to shore. Be careful to check the tide tables. This is a great beachy hike for all ages. Plus, you can always turn around and go back if the 11 miles round-trip is too far. You'll still get to take in all the beauty. Olympic Peninsula 
Island Lake and Rainbow Lake
This is a great lake hike that takes you from the trailhead just off I-90 to four different alpine lakes in a gentle 10-mile round trip. You'll pass Talapus Lake, Olallie Lake, and Rainbow Lake, and then reach Island Lake. All of the lakes are beautiful, and any of them would make a great place to stop for lunch or a quick swim. Snoqualmie region 
Mount Ellinor
Hiking Mount Ellinor is more challenging — with an intense grade at times — but if you take the trail to the top, the view is stunning. You'll be dazzled by a 360-degree panorama of the Olympics and Lake Cushman, plus you may even see some mountain goats. At 6.2-miles round trip, this hike can be accessed from two different trailheads, so you can choose to start your ascent lower or higher and modify the length of your hike. Olympic Peninsula
---
Weird Authors Get Real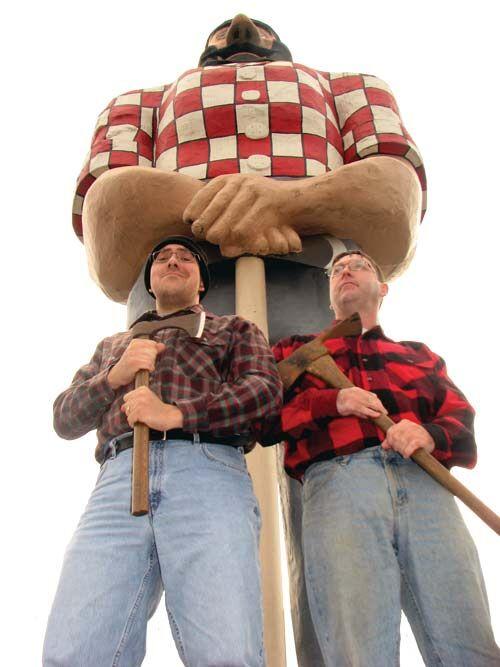 No one understands off-the-beaten-path destinations better than Jeff Davis and Al Eufrasio, better known as the authors of the Weird books: Weird Washington, Weird Oregon, and more. We asked the intrepid travelers about their favorite sights, haunts, and road trip snacks.
Why do you seek out the "weird" side of cities and communities?
Al Eufrasio: There are a few reasons: appreciation of local folklore that might not be known elsewhere. Official written history sometimes avoids details considered too silly, trivial, or shameful — or it misses interesting, but more localized details. And ultimately, "off the beaten path" is not just a location; it's a state of mind.
Jeff Davis:I suppose I am into weird stuff because I am weird myself, and like sometimes attracts like. I remember as a kid going to the library and waiting for the most recent books on the paranormal to be put on the shelves. When I got older, I started driving to some of the locations, or planned vacations around Washington's weird or unique locations.
What is your favorite place in Washington or Oregon?
JD:I know this will sound a little corny, but my favorite place for the odd and unusual is Vancouver, Washington, my hometown. While many people think of Vancouver as a suburb of Portland, I have to disagree. Vancouver is older than Portland, and has had time to develop a unique character. I particularly like the Vancouver Barracks. The U.S. Army was there for over 150 years, and there are many stories of ghosts, and many larger-than-life people associated with the old army post.
AE: I would have to say the Washington coast in general, particularly Ocean Shores and Long Beach. Not only are there unusual spots and tourist traps to be found; in some areas, low population and/or rainy weather create a forlorn, almost desolate atmosphere. In Oregon, I enjoy the outskirts of Portland and some of the surrounding communities. Portland's Forest Park is the largest urban forest in the United States, with a "witch's castle" as a notable destination. There are roadside attractions of the "giant" variety — a Paul Bunyan statue, giant candles, a giant rabbit — in abundance. A roadside B-17 bomber and a small-scale Statue of Liberty in the area also contribute to a pretty fun road trip.
If readers were going to visit one only one weird site, what should it be?
JD: I would suggest San Juan Island. They could stay at the Hotel de Haro, which has its own ghosts. They could also visit the beautiful and mysterious McMillin family tomb in the nearby cemetery.
AE:I would have to recommend Long Beach. The oceanside community is definitely a summer town and has to compete for attention with places like Portland and Astoria. As a result, the locals have traditionally unleashed their weird sense of humor with attractions like the World's Largest Frying Pan andMarsh's Free Museum (don't ask; just visit). Longtime residents are happy to regale you with tales of local eccentrics, such as the fondly remembered owner of a local tavern who wore hot pants at an advanced age and regularly engaged in various antics.
What is the weirdest ghost experience you've had? 
JD: I have had many weird experiences at haunted locations. One that sticks out was so subtle that I did not realize it was happening until it was over. I was at the Grant House, at the Vancouver Barracks. The house has existed since 1849, and over the years was the Post Commander's residence, Post Headquarters, officers' mess, library, and is now a restaurant. I was interviewing one of the servers about the employee's ghostly experiences. I had come in early on a Sunday before they were open for business, so we could talk quietly. We were on the second floor, in the rooms used by Alfred Sully, one of the resident ghosts, when he was alive. We were interrupted several times by the sound of someone walking around and making noise on the ground floor. It was so disturbing; the server went out to tell whoever it was, to stop. The only other person in the building was the cook, who was in the kitchen, and he did not make the noise. That left only Alfred Sully as the disturbing force.
"off the beaten path" is not just a location; it's a state of mind."/aside-center]
what are your favorite road-trip snacks, tunes, or rituals?
AE: I'm a Jersey boy, so anything Bruce Springsteen un-bunches my traveling pants. The Eagles and other classic rock, '80s music, and occasionally some comedy or podcasts. My own rituals include more snack and restroom stops than are probably advisable. Cheddar cheese popcorn, snack mix, and similar barely-edibles tide me over between destinations.
---
ROAD TRIP #4
Time Traveler 
By Shelby Rowe Moyer
They say history has a way of repeating itself, but we hope that's not the case with some of the spookier spots on this road trip. Visit a ghost town, a former mental hospital, and one of the most ornate tombs in the state. History purists will also enjoy a native six-part art installation that follows the path of Lewis and Clark. Dust the cobwebs off your historical and cultural knowledge of our beautiful state, and we're certain you'll learn something new.
Afterglow Vista
The astounding McMillin family mausoleum is unlike any other tomb site. A forested trail leads to a seven-column, open-air rotunda with an oversized limestone table in the middle and six chairs surrounding it, each holding a family member's ashes. Every piece of the meticulously designed tomb is symbolic of former limestone worker John S. McMillin's religion, philosophy, and family. Hear the whole history in a podcast episode of Lore, "Dinner at the Afterglow." San Juan Island
Haunted Hikes
This wouldn't be a true historic road trip if we didn't throw in some ghost appeal. The Washington Trails Association highlights some of the state's spookiest spots to jaunt along. Our favorite is the Northern State Ghost Town, a 5-mile, low-elevation walk through the Northern State Mental Hospital near Sedro-Woolley, which closed about 40 years ago. It was once the largest facility for the mentally ill, and was established in 1909 after Western State was criticized for overcrowding. Active buildings are off-limits, but much of the property is open to the public. Sedro-Woolley
From June 18 through Sept. 4, the museum's featured exhibit highlights the Elwah River's rebirth after the dam was removed. Guided tours walk you through the history of the Suquamish people, and there are several nearby attractions, including the gravesite of Chief Seattle. Suquamish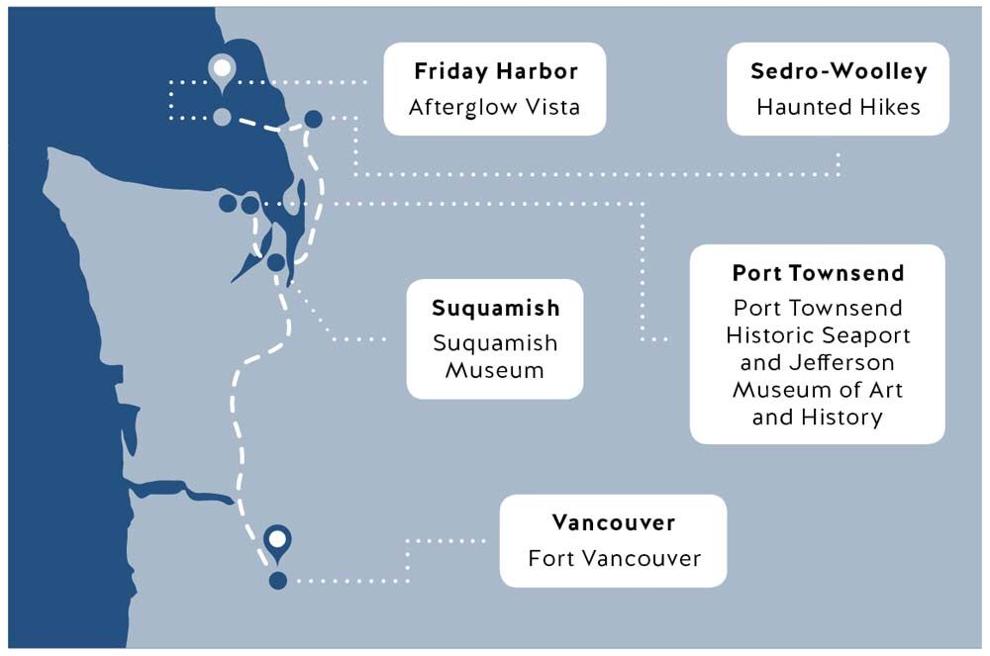 Port Townsend Historic Seaport
The city is just as quaint as it sounds and features a plethora of summer entertainment perfect for a weekend getaway. For history buffs, an enticing aspect is the town's waterfront, which is recognized as one of three Victorian Seaports on the National Register of Historic Places. Explore the city's history as a "bustling" seaport with rows of Victorian homes at the Jefferson Museum of Art and History. Take advantage of warmer weather with a walking tour through the downtown and uptown districts. Stop by the Visitor's Center for a map of historic sites. Port Townsend
Fort Vancouver
Four historic sites tell the stories of the community, economy, conflict and settlement at Fort Vancouver National Historic Site. Dip into life in the 1800s with fur trade exhibits, tours through the preserved McLoughlin House, and a glimpse into the old military post. Vancouver
Tracing Native History Through the Steps of Lewis and Clark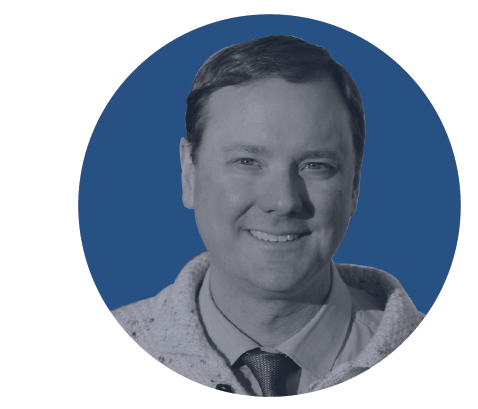 Spanning 438 miles, a six-site public art installation reinterprets the expedition of Lewis and Clark. It was created through collaboration between the Pacific Northwest Tribes and renowned artist
Inspiration behind the installations, known as "The Confluence Project," began in the 1990s with conversations about the Lewis and Clark bicentennial and how it should be celebrated. But for the native communities, it wasn't a celebration, said
Colin Fogarty,
Confluence Project executive director. The founding chairman of the project and former chairman of the Confederated Tribes of the Umatilla Indian Reservation, Antone Minthorn, proposed the question: What is the legacy of Lewis and Clark, and what legacy does the native community hold today?
"Lewis and Clark didn't discover this place," Fogarty said. "They met people and those descendants are moving forward, and have their sovereignty, and are doing well; thank you very much. They weren't erased. That's what was going through (Minthorn's) mind."
Minthorn thought the project should focus on the Native American story, rather than Lewis and Clark. A Vietnam-era veteran, Minthorn knew of artist Maya Lin because she designed the Vietnam Veterans Memorial. She, too, wasn't interested in doing a tribute to Lewis and Clark in the classic sense, but was intrigued by suggestions from native leaders — to focus on historic native culture.
The installations might not be what you expect. They're not overstated pieces that jut out in contrast to the surrounding landscape. Lin's designs are minimalistic and flow naturally with the environment. The project leads travelers from the mouth of the Columbia River to Hell's Canyon, with sites in Washington and Oregon. At the third site, the Sandy River Delta near Portland, those walking along the trail will stumble upon a bird blind that lists all the animals Lewis and Clark came across and the species' status today. The story stems from the men trekking through the area, cold, hungry, and blocked in by fog. The birds were so boisterous, it left them sleepless that night. The enclosure is meant to be a reminder of what was once there.
"A lot of big fans of Maya Lin have this expectation to see something akin to the Vietnam Veterans Memorial," Fogarty said. "It's much more subtle. It's a different story. Her work is an invitation to have your own personal experience. She's not telling you, 'This is what you should think or feel.' Her work is to find your own response."
Fogarty recommends travelers visit the sites over several days. Start in Portland and travel up to Cape Disappointment, then spend a couple days traveling east. He encourages people to go toCelilo Park, even though the site isn't set for completion until 2018. It was the epicenter of commerce for Native Americans for generations. The Confluence Arc is an elevated walkway that harkens back to traditional fishing platforms.
The Confluence Project is also centered around education, bringing native educators into classrooms and hosting community events to elevate indigenous voices. confluenceproject.org
---
ROAD TRIP #5
Architecturally Driven
By Margo Greenman
A well-designed structure can tell a story describing a place and time in history, or serve as a physical representation of the ideals and values of a culture. While much architecture has deeper-rooted meaning behind it, some buildings are celebrated solely for their aesthetic features. From the grandiose to the quirky, Washington has it all.
State Capitol Tours
No Washington state architecture roundup would be complete without mention of the Washington State Capitol Campus. More than just visually stunning, a tour of the campus provides visitors with insight into the history and workings of our local government. Guided public tours are offered at the Washington State Legislative Building on weekdays and weekends. Olympia
Cape Disappointment Lighthouses
Sharing a border with the Pacific Ocean and graced with additional shoreline thanks to the expansive Puget Sound, Columbia River, and other water systems, many bridges, dams, and lighthouses also can be found throughout the state. If you want to experience two lighthouses in one trip, visit Cape Disappointment State Park in Ilwaco. Here you'll find the state's oldest lighthouse, Cape Disappointment Lighthouse, as well as North Head Lighthouse. Don't forget your Discover Pass. Cape Disappointment State Park 
Bridges and Dams
For a look at one of the region's most iconic bridges and an example of one of the area's many dams, travel south to the Washington-Oregon border along the Columbia River. Made popular by Cheryl Strayed's book Wild, the Bridge of the Gods is a compelling crossing that is interesting from both an aesthetic and engineering perspective. The bridge is open 24 hours a day; 365 days a year; and costs $1 to cross by foot, bicycle, or motorcycle, and $2 by car. The Bonneville Lock and Dam is a 10-minute drive away. Construction of this dam began in the late 1930s with two additional powerhouses added in 1981 and 1993, and in 1987 a portion of the dam was declared a National Historic Landmark. Columbia River Gorge National Scenic Area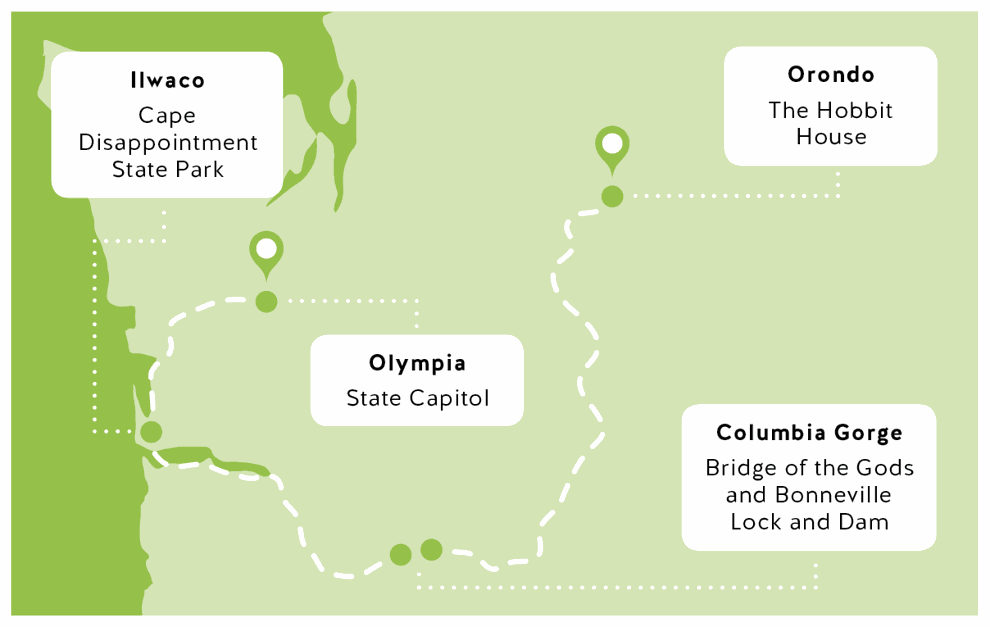 The Hobbit House
If you're looking for something a little more out of the ordinary, Washington offers that, too. One such example is the Underground Hygge in Orondo. Built right into the Columbia River Gorge, this whimsical site looks like a scene straight out of Lord of the Rings. The best part? You can stay there. The Underground Hygge can be booked via Airbnb and is about $200 per night. Orondo
---
Drawing from Nature
When looking at what sets local architecture apart, J. Philip Gruen, associate professor and director of the School of Design and Construction at Washington State University, said nature comes to mind.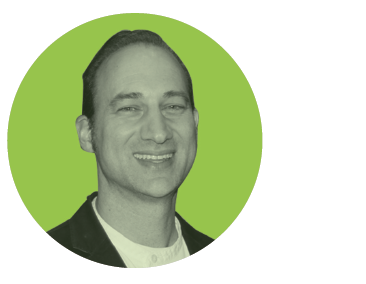 "In the state of Washington, and probably the Pacific Northwest more generally, there seems to be a kind of consciousness for designers to work perhaps more conscientiously with trying to connect materials and structure and the natural environment," he said.
Features like exposed wood and large windows are common in Pacific Northwest architecture, and Gruen said this style dates way, way back.
"One of the things that's really interesting to me as a historian is to look back to the beginning — or what we might think of as the beginnings or what there's evidence of surviving from the past — and the native groups here using the same kind of thing," Gruen said. "Working with the sun and rain and designing and building in ways that make the most comfortable places."
Gruen said historically this especially is evident in Coast Salish culture, and can be seen at the Makah Cultural & Research Center in Neah Bay, where a replica longhouse is on view, along with other artifacts representative of the coastal tribe's culture.
"In Washington, there seems to be a kind of consciousness for designers to … connect materials and structure and the natural environment."
Today, Gruen said local builders still are influenced by the Pacific Northwest and its surroundings, but now the trend is to build structures that are constructed with not only local materials, but sustainable ones as well. A great example of this is the Bullitt Center in Seattle. Dubbed the greenest commercial building in the world, the Bullitt Center appropriately opened on Earth Day in 2013 and is home to several eco-conscious tenants who share a common vision of reducing their carbon footprints.
---
Wacky Festivals
Quirky, strange, or in places you've never heard of — here are some festivals to check out this summer and fall.
Prosser Scottish Fest and Highland Games
Prosser, June 3
Ocean Park, June 17-18
Waterville, July 7-8
Sequim, July 21-23
Darrington, July 21-23
Pacific Northwest Mushroom Festival
Lacey, July 29-30
Mossyrock, Aug. 4-6
Pullman, Aug. 18-19
Morton, Aug. 10-13
Washington State International Kite Festival
Long Beach, Aug. 21-27
Cowlitz Prairie Grange Threshing Bee
Toledo, Aug. 26-27
Spokane,
Aug. 30-Sept. 4
Richland, Sept. 15-16
Edmonds, Sept. 15-17
Dungeness Crab & Seafood Festival
Port Angeles,
Oct. 6-8
Shelton, Oct. 7-8
---
ROAD TRIP #6
Chasing Legends
By Karen Miller
It's no secret that the Northwest has made its mark on the arts and entertainment world. From Cobain to Hendrix to Edward and Bella, there are plenty of legends to celebrate on a road-trip pilgrimage. For those about to rock the road, we salute you.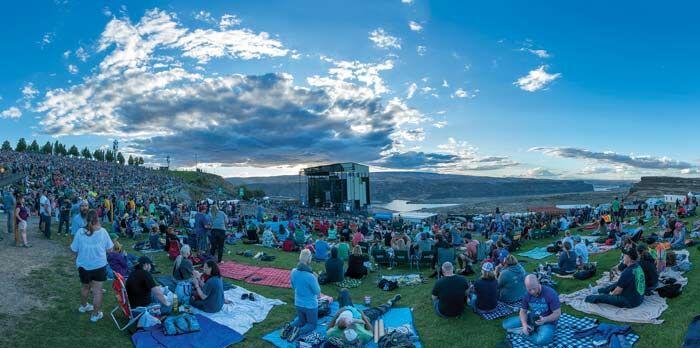 Pay Tribute to Hendrix
Start your journey on the Eastside by paying homage to one of Seattle's greatest musicians, Jimi Hendrix. On the Greenwood Memorial Park grounds, there's a monument commemorating Hendrix.
"For years, Hendrix was just buried with a flat gravestone," said local rock critic Gene Stout.
Now, the marker is more shrine-like and decorated with the image of Hendrix, his autograph, and quotes from him.
"It's quite a sight," said Stout.
If you're in the mood for more Jimi history and tribute, scoot over to Seattle to see MOPOP, which was built partially in tribute to Hendrix and has a permanent exhibit about his life.
"He was one of the greatest guitarists in rock and roll … he really pushed the whole game forward," Stout said. Renton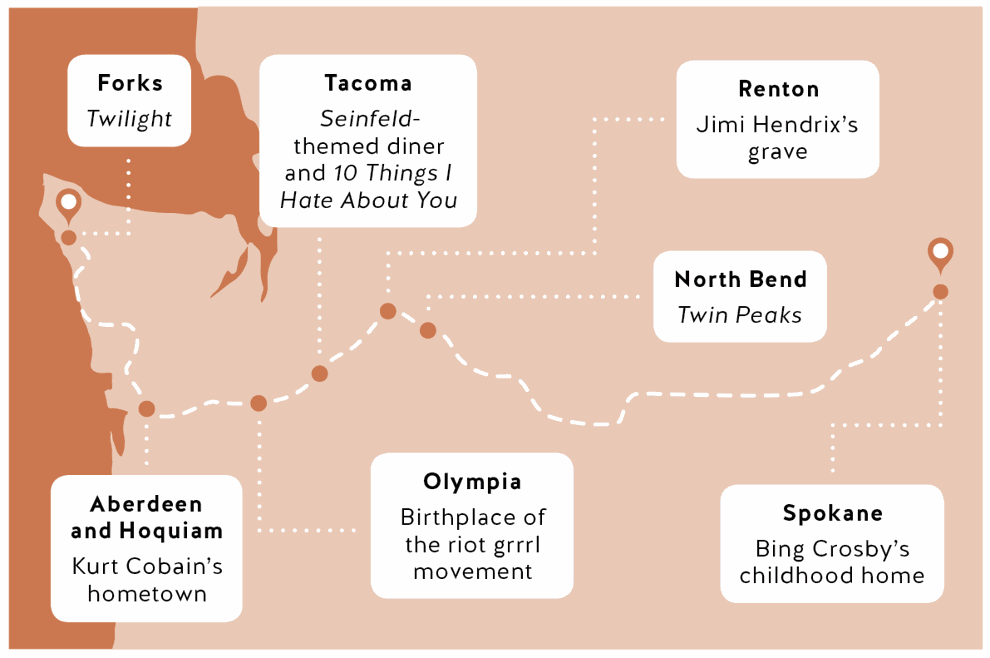 "Come As You Are" 
No Northwest legends road trip would be complete without a stop in Kurt Cobain's hometown, Aberdeen. When you drive into the town, you'll see a sign bearing the words of one of Nirvana's most-famous songs: Come As You Are. There are plenty of other Cobain landmarks in Aberdeen and Hoquiam, including his childhood home. You can even find photos of the band at the McDonald's on Wishkah Street. Aberdeen and Hoquiam
Twilight Fun 
OK; We get it: This teen heartthrob movie about vampires and werewolves can be polarizing, but it has done wonders for the city of Forks, on the Olympic Peninsula. Author Stephenie Meyer based her popular Twilight novels in Forks and now each year in September, the city hosts a "Forever Twilight in Forks" festival that celebrates both Meyer and her series. Visit forkswa.com/twilight for more information and to download a map of Twilight destinations. Forks
Be a Riot Grrrl in Olympia
Head down Interstate 5 and pay tribute to the great riot grrrl rock band Sleater-Kinney. Blend in like a local and pronounce it right: "SLAY-ter Kinney." After you've selfied a street sign, head to downtown Olympia, a place that was a 1990s hot bed for bands like Bikini Kill, Sleater-Kinney, and Heavens to Betsy. Olympia
Enjoy a Seinfeld-themed meal
A fan of one of the '90s greatest sitcoms? Surround yourself with Seinfeld memorabilia while you dine at Tacoma's Little Jerry's. Dine on breakfast and lunch favorites that are inspired by Seinfeld episode names, like "The Maestro" or "The Nap." What could be better than a restaurant inspired by the name of Kramer's chicken that was inspired by Jerry's name? Tacoma
10 Things I Hate About You in Tacoma
Remember that scene where Heath Ledger sings to Julia Stiles in 10 Things I Hate About You? You can visit the cinema classic's fancy castle-like Stadium High School. Tacoma
Twin Peaks Tour
Once you're back on the Eastside, make one final stop at Twede's Café for a slice of pie and a cup of coffee, just like in the classic mystery TV show Twin Peaks. North Bend 
Bing Crosby's Hometown 
Maybe you're in the mood to head east to Spokane to pay tribute to a great crooner from a bygone era: Bing Crosby. See the Bing Crosby Theater, visit his childhood home, and head to Gonzaga University to see the Bing Crosby Collection. At the library, you can see memorabilia at the Crosbyana Room. Spokane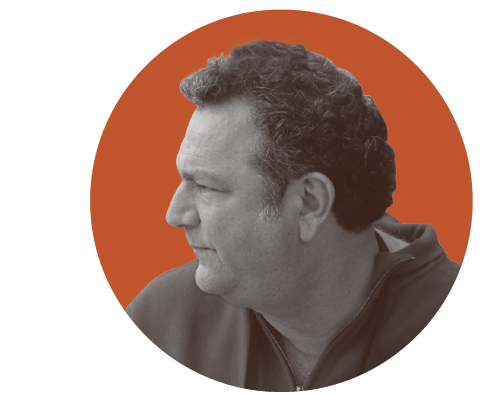 Each year since 1997, the
Dave Matthews Band has played a show at The Gorge
in George. Local rock critic Gene Stout said it's a spectacle to see the Seattle transplant Matthews play in Eastern Washington. "It's like seeing the (Denver) Broncos play at Mile High Stadium," said Stout. The Dave Matthews Band plays every Labor Day Weekend, so it's easy to plan ahead. The band usually plays multiple shows over the weekend. If you need tunes in the car on the way there, pick up the 2002 live album,
The Gorge. Grant County.