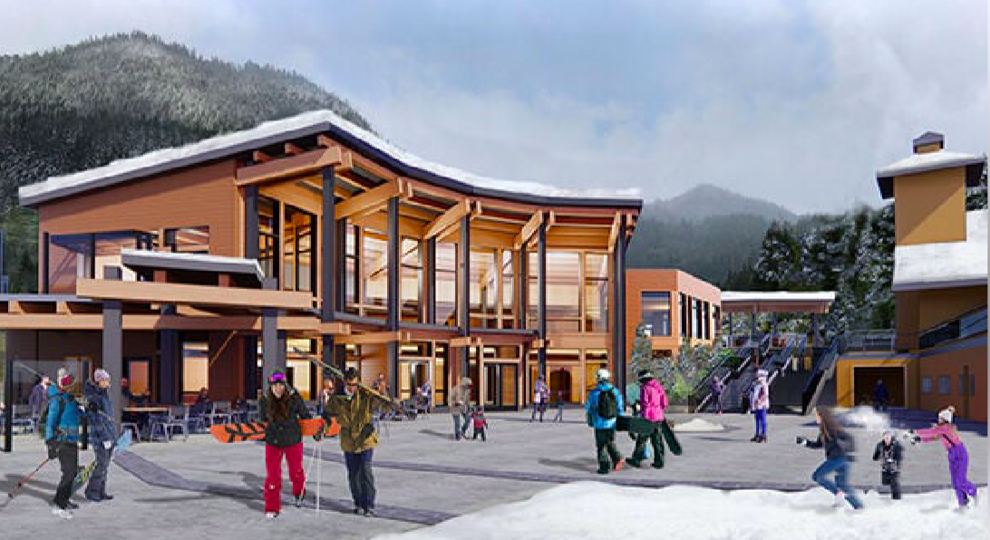 Skiers and snowboarders visiting Crystal Mountain ski resort this season will see the beginnings of a $100 million, multiyear redevelopment and expansion project dubbed "Reimagine Crystal" that calls for new lodges, a hotel, more lift capacity, a summertime ropes course, and additional parking.
Crystal's parent company, Denver-based Alterra Mountain Co., announced the project in 2022 as part of a broader package of improvements planned at several of its Western resorts.
Crystal's project is the largest in its 60-year history, said Emma Brice, Crystal's communications coordinator. The resort, billed as Washington's largest, with 2,600 acres of skiable terrain, opened in 1962, and a lot has happened in its market area since then.
"Our community is growing," Brice said. "There is an increased demand for skiing, and we really want to focus on highlighting Crystal and making it an amazing guest experience. And I think by offering more space, more amenities and guest services, and access, we're trying to make it the best ski and snowboarding experience for guests that we can."
Timelines for some of Crystal's projects are still being refined and could phase in over the next five to seven years, pending U.S. Forest Service and other approvals, but guests already will notice additional parking. The lower part of a new two-tier parking lot, G Lot, is open. The upper tier will open spring 2023. Combined, the two will add about 350 parking spots, Brice said.
Visitors also will notice work has begun on Mountain Commons, a new 25,000-square-foot, $26 million base lodge that will open next fall for the 2023–24 season. The two-story building will replace the existing skier services building and will include a new guest services and ticketing experience, retail, dining, and more. According to Crystal's Reimagine blog, the first level will include an open-concept café, retail, and restrooms. The second floor will house two new dining areas, including a pizzeria, and smokehouse bar and grill. Mountain Commons will connect to the Cascade Lodge for easy access to Brand X rentals and demos, and the Crystal kids facility.
Another new project, an aerial adventure course in the Discovery Meadow base area, will open in summer 2023. It will feature rope bridges, treetop ladders, barrel crossings, and other challenges for the entire family, according to Brice.
Reimagine Crystal also calls for a new Summit House near the top of the Mount Rainier Gondola. The 14,000-squarefoot facility, at elevation 6,872 feet, will replace the existing Summit House and feature two floors of dining and retail space. It will seat 350 indoor guests, and up to 560 with outdoor capacity, the blog said. Timing for that project is not yet finalized, Brice said.
Another Reimagine project calls for a 100-room hotel at the base area. Timing for that also is not finalized. A hotel could bring in more weekday visitors who park and stay until late Sunday or Monday, alleviating traffic on State Route 410, as well as providing more summertime lodging options for guests, including Mount Rainier National Park visitors, according to Frank DeBerry, Crystal's president and chief operating officer.
Finally, lift upgrades to expand uphill capacity also are planned, but timelines are still being studied, DeBerry and Brice said.