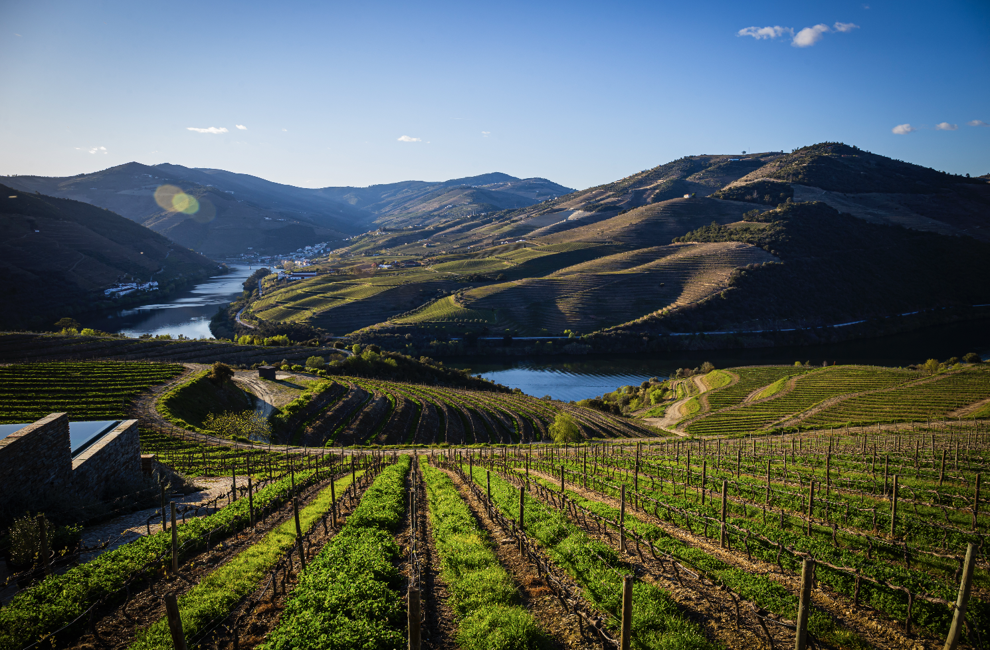 For me, the most unexpected thing about Portugal was not how full of stunning nature and incredible gastronomy it was but the humility and kindness of its locals.
When residents spoke of their objectively world-class wines and dishes, I was touched by the quiet pride in their enduring cultural heritage and customs, and the way every restaurant, bar, and bakery I visited made me feel like a guest welcomed into someone's home for a meal and conversation.
There's a lot to experience in a 35,000-square-mile country home to some 10 million people. Yet despite the surplus of space to explore, Portugal remains one of Europe's least-sought-after vacation destinations. I spent a month eating and imbibing cross-country to see what the often-overlooked country had to offer.
---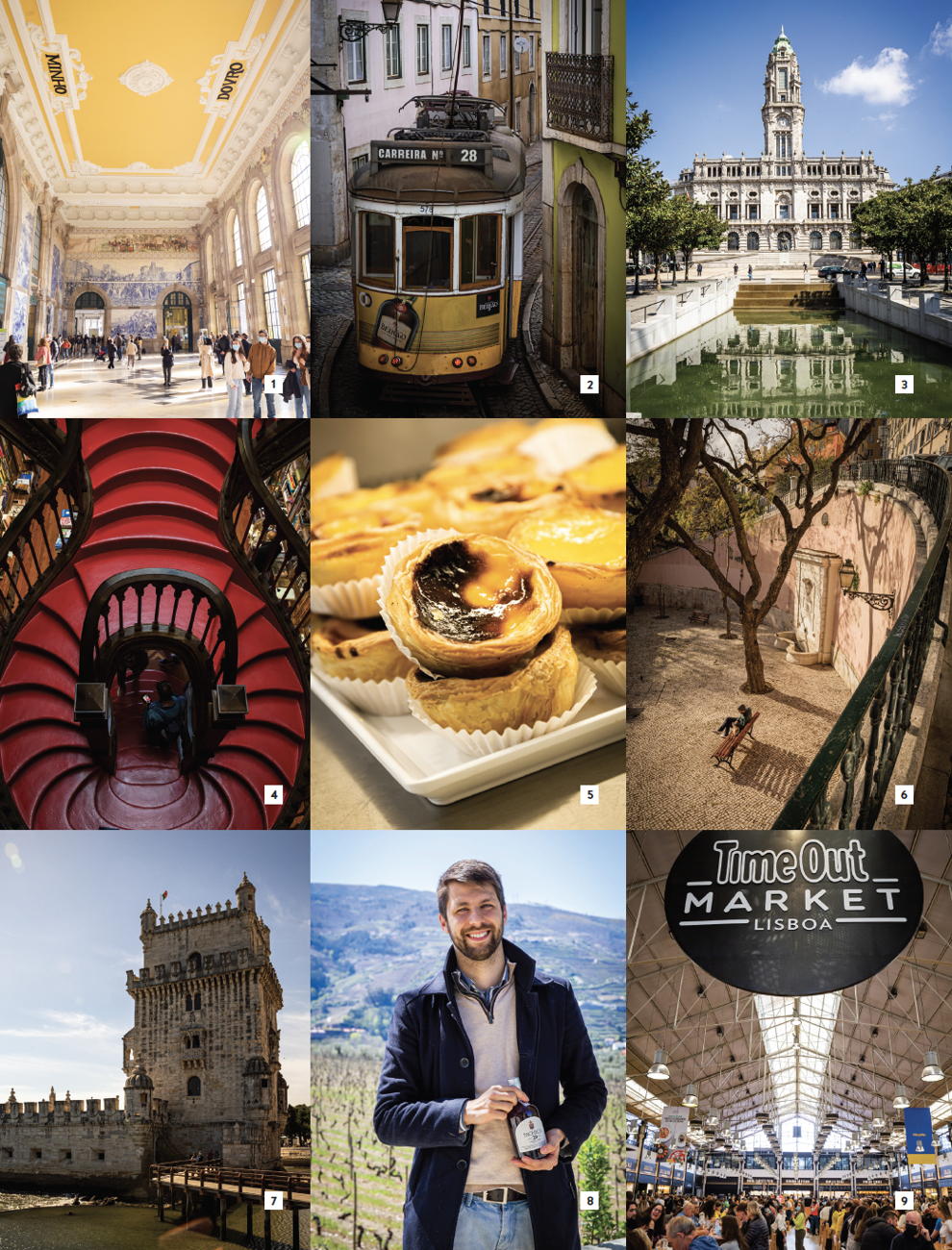 As I trekked from Porto to the Douro Valley, perused the Algarve and Alentejo regions, and then made my way to Lisbon, I was reminded of what a slower traveling pace can bring out in me: a deep sense of inner peace; an excitement about exploring and navigating a different culture; and the elation of experiencing something new for the first time — something crucial to my work as a photographer.
There were a few places where my senses were especially heightened — where I felt quickly meaningful connections with the locals. Open markets, tiny hole-in-the-wall eateries and bars, busy square kiosks, and intimate wine tastings were among the spaces where I tended to find them.
As a Brazilian, I couldn't avoid the lasting connection between Brazil and Portugal (Brazil was a colony of Portugal from 1500-1822) as I wandered, evoked by the colonial architecture; the cobblestoned streets; and alleys, familiar aromas, and tastes.

The Portuguese, like Brazilians, are not in a hurry; when you're invited in, you enjoy the ride at your own pace.
I felt instantly at ease in Porto. It's considered by many one of Portugal's most desirable cities; I also was able to speak my native language to the Uber driver there. This walkable city's history and charm immediately won me over.
After a few days of exploring the beautiful historic center, it was time to hit the road toward Lisbon, through the stunning Douro Valley.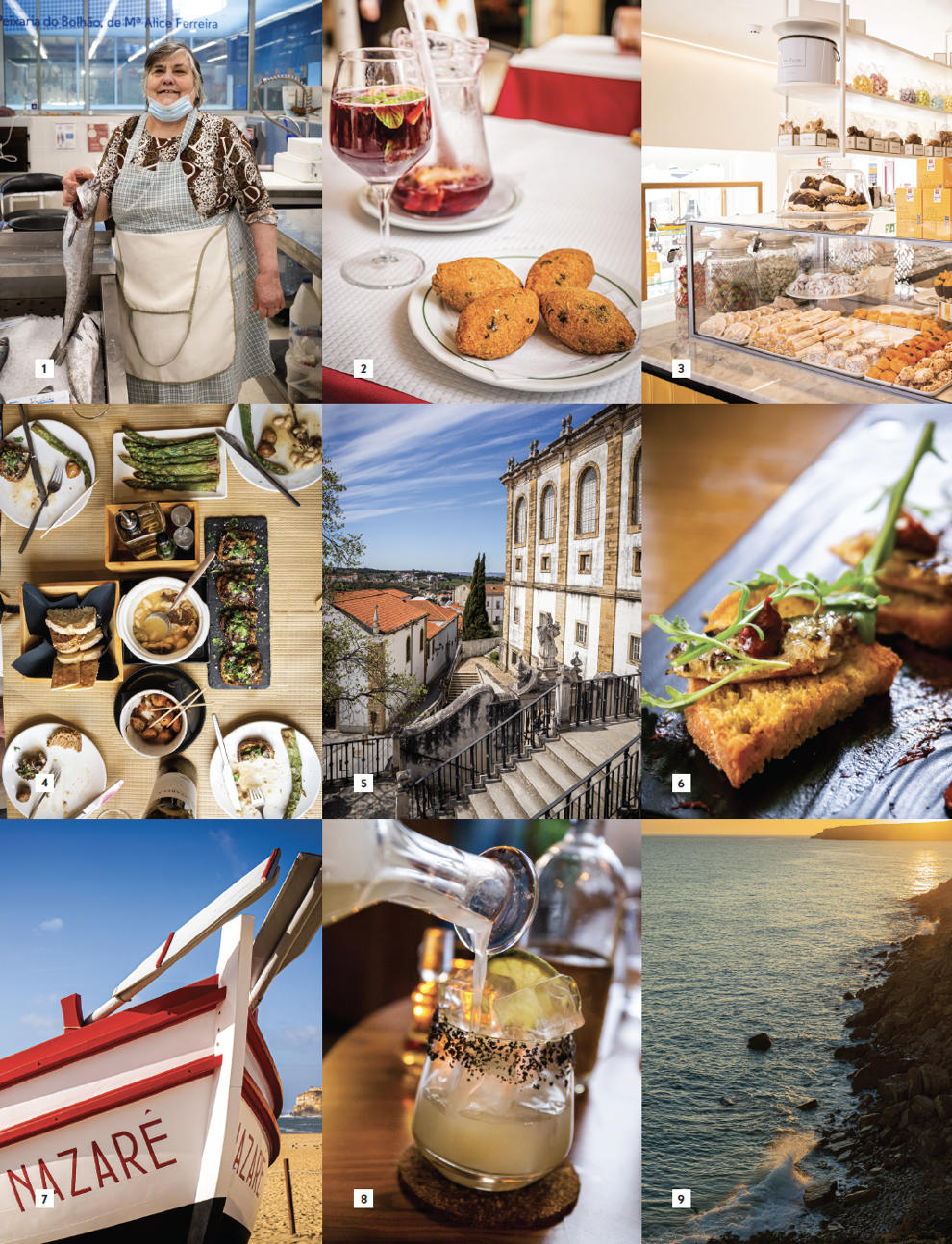 I stayed in other places, like Coimbra, a university town with ancient flair and prodigious historical buildings. (Essentially, though, that's all there is to it.) I had one of the best meals of the trip there, complemented by an intimate Fado presentation. Fado is a traditional style of serenading — very much a Portuguese cultural heritage — and requires its own specific type of guitar. The Fado played in Coimbra also is unique to the city, where male students stroll at night donning raven-black capes while howling words of sadness and heartbreak to the moon and wind.
Because of my longtime predilection for the beach and sunny days, the highlight of the trip for me was Nazaré, a small beach village famous for 100-foot waves equally admired and feared by professional surfers worldwide.

The oceanfront lower part of the beach is flat and breezy, but the upper area, known as Sitio, has century-old buildings and an old lighthouse atop a cliff turned into a surf museum. The lighthouse has become a gathering place for visitors coming to watch surfer daredevils every winter (November-March) looking to break records and find fame.
Understanding some of the history and culture of any country I visit is always as important as the simple pleasures of sightseeing. Slow traveling makes room for that. In Portugal, there are several walled towns and castles scattered all over the cardinal points, brimming with history and tradition.
I spent some time in three of the most famous ones: Sagres, Sintra, and Obidos. It was humbling to stroll through the cobblestone streets, their surfaces scarred and slick from distress caused by the inexorable passage of time.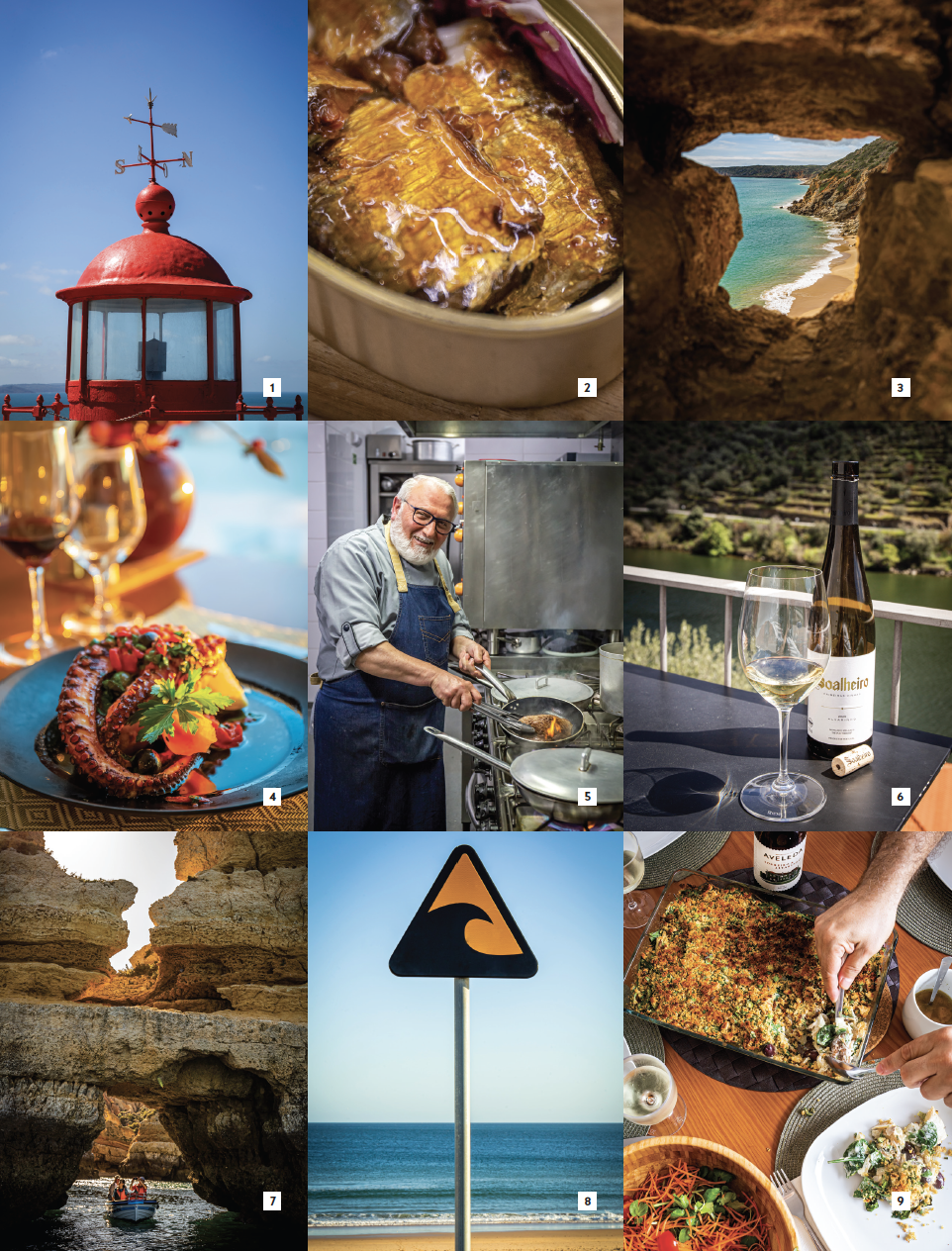 We headed to Evora, a place as old as ancient Rome. (Some ruins are still up.) It sits in the center of the country, in the Alentejo region, and is considered by many "the Tuscany of Portugal." Though the comparison might help some prepare for what to expect, I nonetheless find it unfair and a little insulting — suggesting the area's beauty isn't singular enough on its own to compliment on its own terms.

Known as the city of seven hills, Lisbon offers a swath of neighborhoods whose appeal is wide-ranging. Alfama and Chiado bustle with activity and tourism; the lovely, though hilly, Principe Real is better suited to those seeking a more authentically local stay. After a long and depleting period of economic downfall, the city has seen an impressive rehabilitation of its buildings and sites; prices across the board remain fairly low compared to other European capitals.
The food scene celebrates tradition but is also welcoming of eclecticism, with more progressive places offering simple fare in addition to innovative twists on typical dishes. Despite the seven steep hills for which Lisbon is known, the city is walkable and with robust transportation options including a subway, buses and trams, and a ferry boat system that goes back and forth across the River Tejo.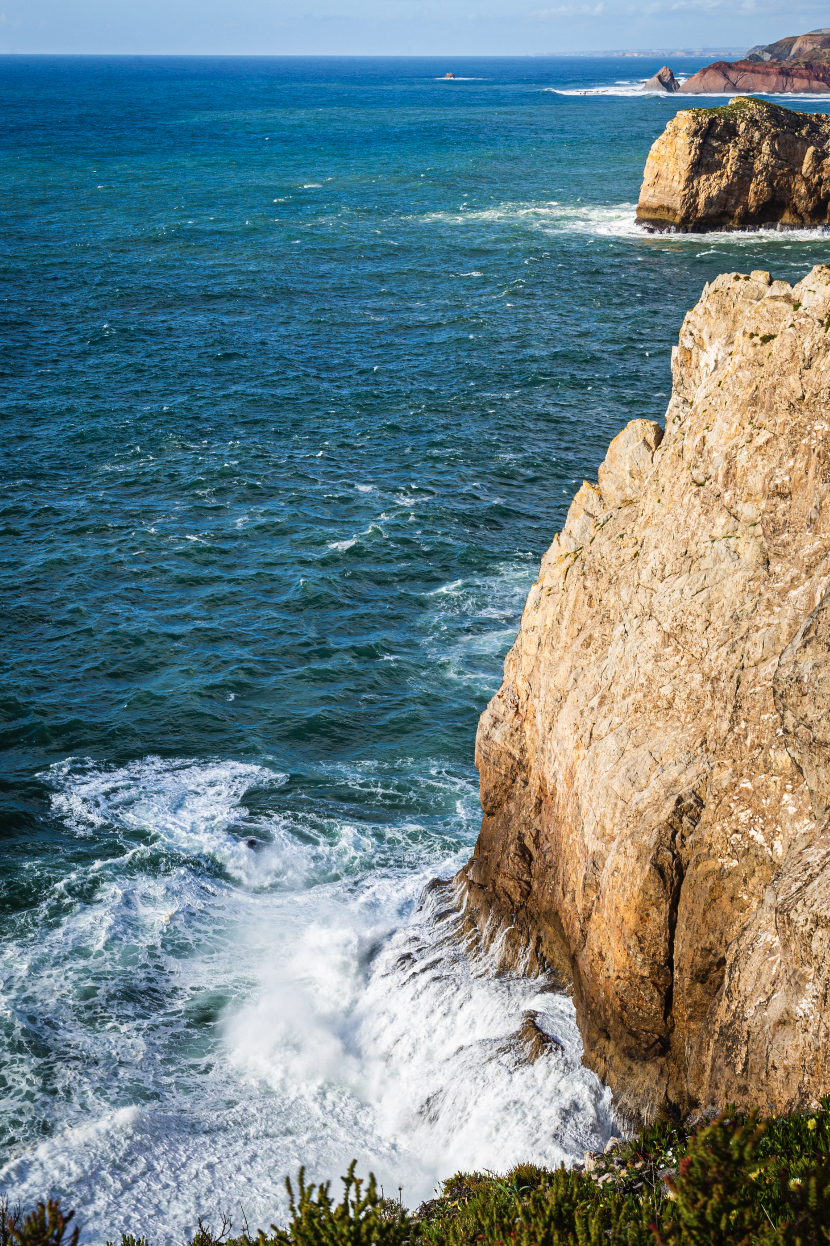 The Algarve region of Lagos, which we visited last, is a perfect spot for those longing for sandy beaches and more nightlife. As a beach-lover, Praia da Salema, just a few miles away, also stunned me with a jaw-dropping sunset.
Portugal may not be as conventionally glamorous as France or Italy. But it offers any type of traveler myriad unforgettable — and affordable — options. The time spent there sparked in me a rare curiosity that had temporarily been drowned in the malaise of the pandemic. I left both satisfied and with a strong sense of wanting more.

---
What We Ate and Drank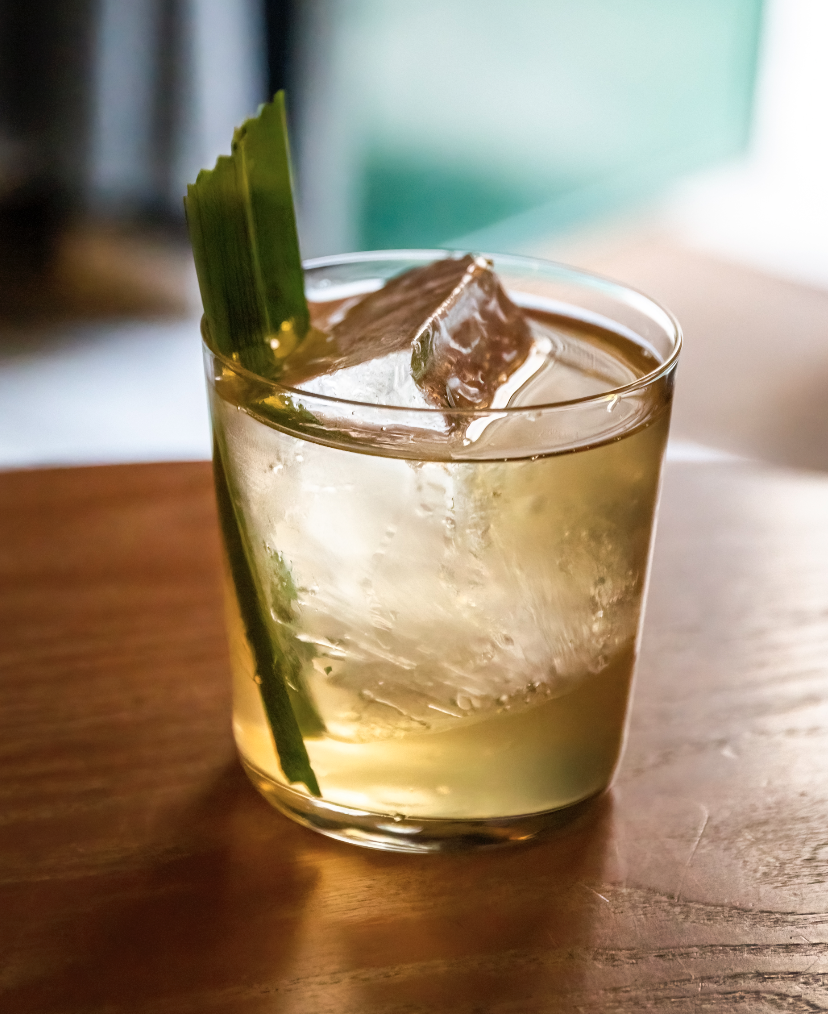 Onda Cocktail Room and Copa Bar 
We found Onda Bar by watching People of Lisbon on YouTube. Inconspicuously located downhill on a dimly lit cobblestone street in the Graça neighborhood of Lisbon, Onda offered an unforgettable cocktail experience. The inviting, chic décor was encircled with dark blue-toned walls; the living room was dotted with mod furniture, moody lighting, and of course, a small bar that made you feel as if you were a guest at an exclusive soirée.
That feeling of exclusivity was heightened by the fact that only a dozen or so guests could comfortably be accommodated inside. (Extra sitting pods spill into the sidewalk — a common occurrence in Portugal.) The cocktails from the small but disparate menu featured bold twists on classics such as margaritas and bloody marys. We splurged and shared six of the creative, surprising, and perfectly balanced drinks. My favorite was a whiskey-based cocktail cleverly named Into the West, inspired by the aromas of the west of Portugal and seasoned with eucalyptus and cedar. It tickled my senses, just as promised.
On our way out, we bumped into Onda's owner, a high-spirited Irish expat named Peter. (Joana, his Brazilian beau, was our hostess.) After snapping a relaxed portrait of the duo, I left happy and a little inebriated.
Peter, it turns out, used to co-own another funky bar in town, called Copa, with another Brazilian, Rafael. Copa specializes in cachaça, a clear spirit distilled in Brazil, and its cousins, rum and pisco. We nearly missed the entrance on a narrow side street; when we entered, we were plunged into a moody atmosphere with a bar perched next to the entrance. In the adjacent parlor, groups of people lounged to the sounds of Brazilian tunes.
My favorite cocktail there was the White Rabbit, a creamy and fizzy version of a pisco sour made with white chocolate and kombucha. I also enjoyed the Electric Zombie, a cocktail on the opposite side of the spectrum that changed flavor as you sipped. The mix of cinnamon cachaça, passionfruit, and absinthe disquietingly but thrillingly made the tongue tingle before lightly numbing it.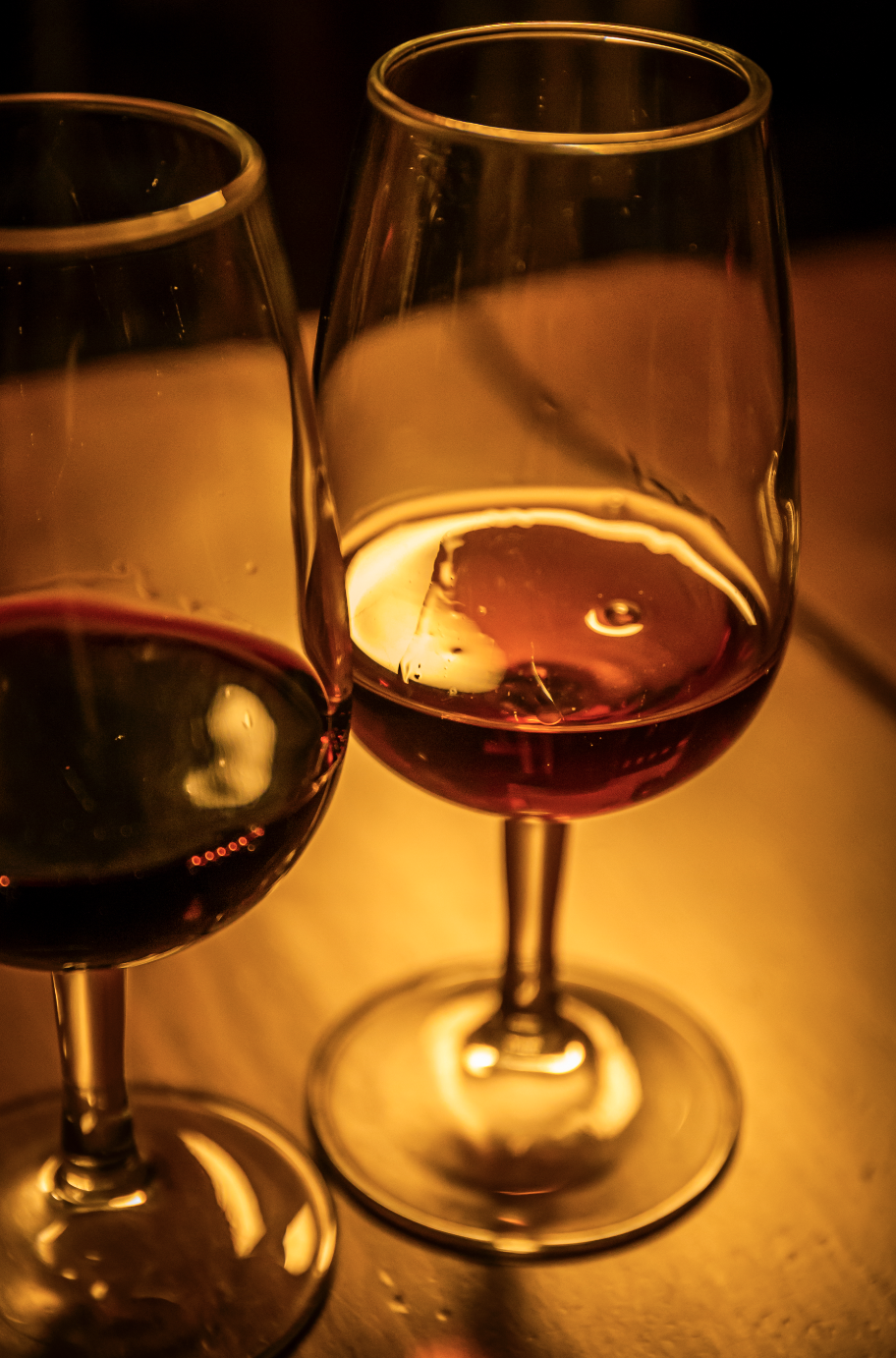 Vinho Verde, Port, and Reds
If you aren't a wine connoisseur, Portugal is a perfect place to go wine tasting: The atmosphere is easygoing rather than elitist, and the varietals are consistently interesting. Historians have said that the area had been used for grape-growing before the Romans arrived.
I was surprised by the overall high quality and relatively low cost per bottle. The reds made with Touriga Nacional and Touriga Franca grapes are deep and velvety; the Alvarinho and Loureiro used in vinho verde ("green wine") provide refreshing tartness and acidity with a slight fizz, resembling a light bubbly. Soalheiro was the best one.
Then there was Porto-derived port wine. Once you cross the bridge to the small, hilly town of Vila Nova de Gaia from Porto, there are several additional options to taste astounding port wines from the many cellars and old warehouses around. I made the point to seek out wines difficult to find in the U.S., so I headed uphill to Taylor's, founded in 1692. While it's certainly worthwhile to compare ports from the same cellar, I found that I got the best value out of finding a tasting room in town where you could mix and match wines and ports from different producers.
Located on a sharply inclined, cobblestone street, The Touriga Wine Shop in Porto was almost hidden. Once inside, we learned about the different regions, terroirs, and unique varietals. Most things are fairly close together in Portugal, so it didn't take long to get to the stunning grounds of Quinta Pacheca just off the Port Wine Route. An attentive, beaming host showed us the way through an eclectic flight, finishing with an award-winning 20-year tawny port to die for.
Our aim was to reach Quinta do Ventozelo, a large countryside lodging close to vineyards and orchards, before dusk. The place grows its own grapes and olives. Both yield superb wines and oil; the herbs and ingredients used in the excellent restaurant Cantina are all found on the property.
In Evora, we enjoyed spectacular wines from Pera- Grave Vineyards. For something totally different, I recommend a ginjinha, a rich, syrupy liqueur made of tart cherries and served everywhere.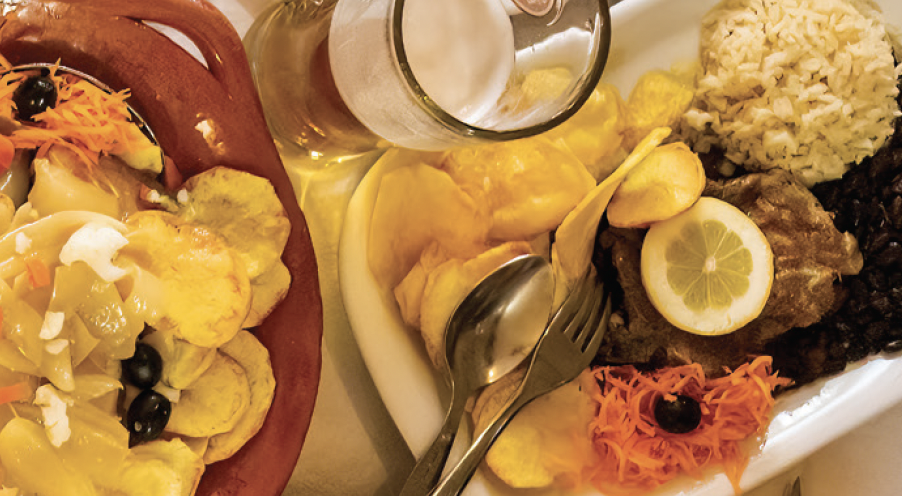 Bacalhau and More Delicious Bites
My goal was to have as many variations of bacalhau as possible. Bacalhau is a salted cod venerated by the Portuguese, who have spent hundreds of years perfecting the dish. Curiously, though, it all comes from Norway and Iceland.
The best bacalhau dish I had on the trip was in Porto, at Taberna de Santo Antonio. Taberna de Santo Antonio is a tiny and unpretentious eatery with limited seating and an equally small kitchen. More sophisticated and traditional is Restaurante Abadia, where I tried an incredible version of the famous Bacalhau a Gomes de Sá, prepared with sauteed potatoes and lots of olive oil. A visit to the (temporary) Mercado Temporario Bolhão yielded a most delightful taste of canned sardines — another Portuguese specialty.
In Lisbon, during an excellent and informative Taste of Lisbon — Food and Culture Tour, we got the 411 on where to go to taste the town's most authentic bites. The croquettes de bacalhau from hole-in-the-wall O Buraco Snack were served hot and sizzling over a healthy portion of tomato rice. A side of refreshing vinho verde was an unexpected but welcome addition.
For a taste of everything unmissable in Lisbon, I recommend hitting the bustling Time Out Market. There, you can park yourself in one of the long shareable tables and crowd-watch while splurging on croquettes, local wines, and small signature dishes from famous local chefs.
Whatever happens, don't miss the iconic pastel de nata (custard tart) from Manteigaria. For an unfussy but top-tier seafood experience, also be sure to try a shared table at the busy Cervejaria Ramiro (which, notably, is featured in the Netflix series "Somebody Feed Phil"). We ate all the crab, lobster, and prawns we could; chatted with the American couple across the table; and watched as a live lobster tried to escape its demise when caught from the freshwater tank next to us. For dessert, we had prego, a massive slab of juicy tenderloin on a bun.
With the sunset bathing everything in a moody glow, we had what felt like an out-of-body experience at Pangeia in Nazaré, where we savored the grilled octopus prepared by chef Carlos Ferreira.
The best thing about our quick stop in the medieval fantasylike walled town of Óbidos was the brand-new Real Petiscos, which puts a tasty twist on the Brazilian feijoada, a black bean stew with chunks of bacalhau.
In Coimbra, we found a little gem of a place tucked in a narrow and steep alley called Taverna Fangas Maior, which had the absolute best tapas.
When we arrived the day before Easter in traditional Évora, we were met with lots of tourist activity. Luckily, we managed to score a tiny table at the wonderful Taska Fina, run by the lovely Dona Marina. We tried her life-changing lagartinhos: fried strips of fresh pork served with potatoes.
On Easter, we were served a baked bacalhau meal prepared by a friend and an accomplished expat photographer.
And in Lagos, we had big, juicy burgers at the über-popular Nahnahbah, a place so popping that you'd better make a reservation if you want to get a spot.
---
Rodrigo DeMedeiros is a longtime contributor to 425 Magazine. He and his wife, Gretchen, now divide their time between the Eastside and different destinations around the world, experiencing life to the fullest.