When Camisha Jackson made her first pair of earrings, they were for herself — a birthday present. And she hadn't even wanted to make them: She only did so because she was unhappy with the pair that she originally bought for herself.
"I ordered these earrings for myself for my birthday, and months and months went by before she finally sent me the earrings," Jackson said. "And I got the earrings, and I'll never forget — I actually still have them to this day — how terribly they were made. I was so angry, and I thought, 'You know what? I'm going to have these earrings, and I'm going to figure out how to make them myself.'"
So, she went to the craft store, bought some books on jewelry-making, and got working. What resulted was a pair of earrings and a bracelet to match, which she wore out for the first time to the store to get more supplies for a second pair — only to have someone approach her immediately, with compliments galore.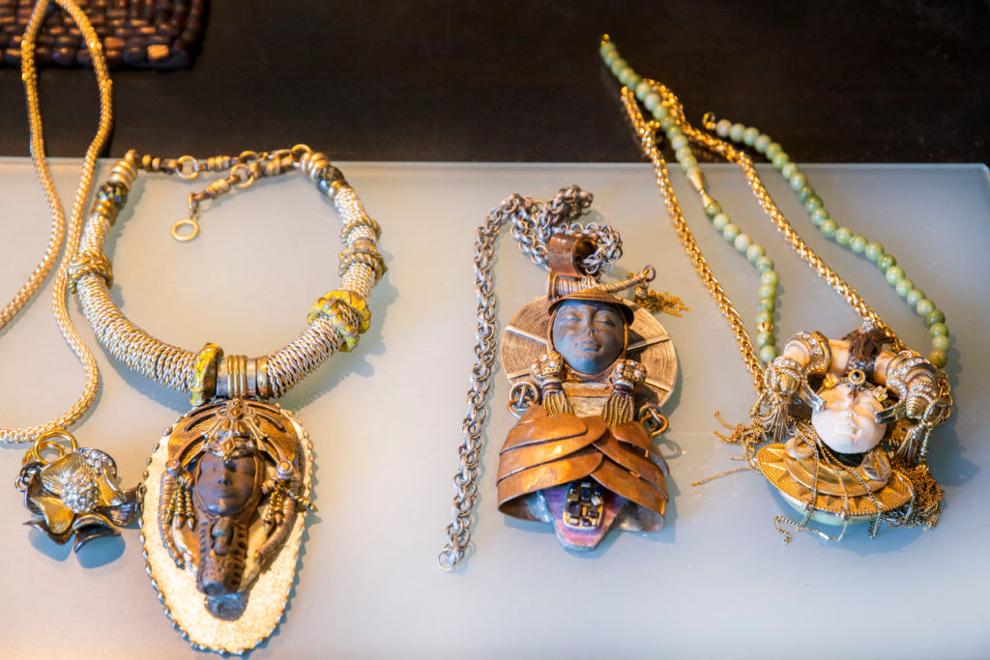 "She asked me where I got them, and I said that I made them," Jackson said. "She asked if I had a store, and I said no. Well, I ended up selling her the bracelet right there on the spot, right off of me."
A similar thing happened with another pair of earrings, when a friend bought them off her at a concert. Thinking she might be on to something, she made a few more pieces and put them up on Etsy. For a few months, the results were somewhat disappointing.
Then, she was messaged by someone at the Smithsonian Institute.
"They were in the planning stages for the African American History Museum, and they were having a big weeklong event to promote and make money for this thing. And so, they asked me if they could put in a bigger order, and then they put in an order for 4,000 pieces of jewelry."
A lot of tears, panic, trial and error, and close to 4,000 jewelry pieces later — she was able to negotiate it down slightly due to the turnaround time being only several months — Jackson got a huge check from the Smithsonian, plus only about 100 of her pieces back — the rest of them had sold. So, she went into jewelry full-time under the business name Lunaversoul in 2007. She has never looked back. Since then, her work has been featured continually on fashion runways around the country, in many of 425's biannual fashion shoots, and on everyday people for whom she also purposely makes her designs accessible.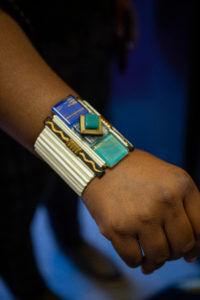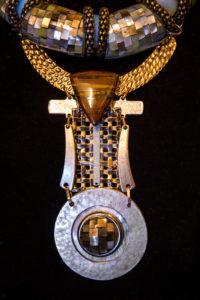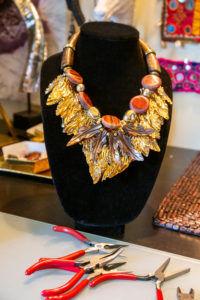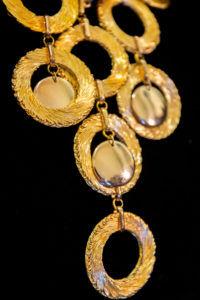 What were you doing before you discovered your talent in jewelry-making?
I was working as a video game artist at a company in Seattle. I was still in college at the time, and my son was really little, probably around 1. All I had ever wanted to do was draw and paint, since I was 2 years old — I come from a family of artists. And I mixed that with computers so I could, you know, make money.
I spent so many years trying to get into that line of work, and I had finally gotten the job I wanted. All these different opportunities started happening with the jewelry, and I had to choose which to stick with. I do miss working in that industry, but I don't regret making this decision. Now I'm just creating in a different way.
What was it like, taking that first leap into being a business owner?
You know, I started off just making things for myself. I thought, you know, let me just make things for myself and see how that goes, and maybe later I'll try to start a business. After I taught myself, I had this boyfriend come over, and he was like, "You're not very good at this. You shouldn't start a business." At first, I was like, "OK, maybe I shouldn't." But then I thought about it for a good hour or so, and I was like, "No, I'm going to try this."
After I got the check from the Smithsonian, that's when I was really like, "OK; I should go into business." And I put the 98 pieces they sent back to me, and I started Lunaversoul. But I mean, I literally started the business with like $25 and some Vistaprint business cards.
What does your process look like when you create?
I don't think I have a very typical process. I don't follow anything really technical or have rules, like some people do. A lot of people went to school for jewelry-making, have degrees, and I don't. I usually will put my music on, get in the zone, and then I'll just kind of grab whatever feels good. It's very disorganized: I just dump everything out on the table and mess it all up and start grabbing. I don't do sketches; I just have these big ideas in my head, and then I figure out how to make it happen as I go.
There's a lot that inspires my pieces: other cultures, colors, architecture. I'll see a person on the street and create something for them. Or design something based off of a video game character. I love science fiction, fantasy, Afrofuturism. I love when things are flexible and I can take them apart, make them bigger, play with the design, change it.
Despite the fact that you had a career doing what you had always wanted to do, it almost seems like you were steered into jewelry-making. Is that what it felt like to you?
You know, I think what this whole thing has taught me is that there can be a difference between what you want to do and what you're supposed to do. I was heartbroken to leave this thing I had worked so hard for to do something that was so unsure. But because this is what I was meant to be doing, everything just fell into place, and everything continues to fall into place. I have faith in what I'm doing, so even when I'm scared or unsure now, I just dive in headfirst and trust that I'll know what to do.