What is a feminist?
The literal definition is simple — equality of the sexes. Grappling with what that means on an individual level, though, is a lot more complicated. If you're a woman who believes in equality, are you supposed to reject or embrace your femininity? This internal and social struggle manifested externally in the clothes women wore — or refused to wear.
Feminist movements span some 170 years, and throughout that timeline, women's fashion changed dramatically. The overarching question, though, has been basically the same: What does it mean to be a woman, and how should women dress?
To learn more, we spoke with Clara Berg, the curator of collections for the Museum of History & Industry.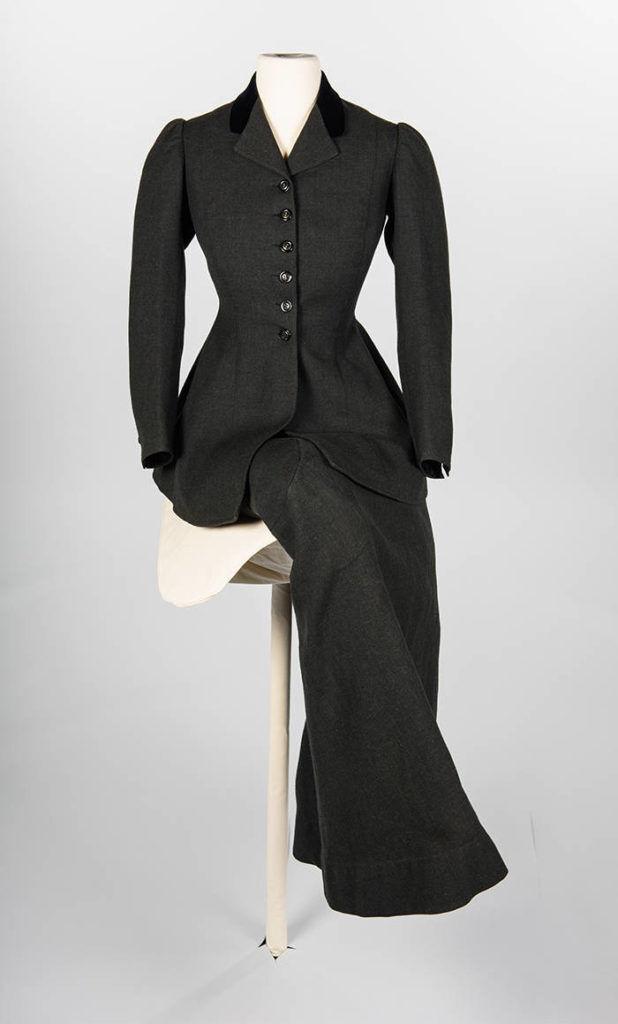 First Wave: 1848–1920
Slavery in the U.S. wouldn't be abolished for another 17 years, but on July 19, 1848, hundreds of women gathered in New York for the first Women's Rights Convention.
During the mid-19th century, many women wore heavy, cumbersome dresses that required a second set of hands to put on and take off, said Berg.
But as we moved closer to the 1900s, matching separates became more common as more women began participating in sports and working as secretaries. The matching suits women wore for horseback riding and cycling — bicycles became all the rage in the 1890s — are akin to the suits they wore to women's equality marches.
"Suits for women didn't really exist in the 19th century," Berg said. "Women in the mid-19th century weren't out and about on their own very much. A proper lady visited people or was at events or was at home. But she didn't walk around the city. The suit is for going out in the world and doing business."
According to historical research, suffragists were often portrayed in cartoons as unattractive and masculine. To help counter that narrative, white became a common suffragist color, in part because it symbolizes femininity and purity — a way of counteracting anti-suffragist propaganda.
Second Wave: 1963–1980s
Betty Friedan's 1963 publishing of The Feminine Mystique was a landmark book for many women struggling to find fulfillment as the idealized homemaker, especially after the independence they had gained during World War II.
When the war effort ended in 1945, women were ushered back into the home and into ultra-feminine fashion with zipper-backed dresses and form-cinching underthings.
There's nothing wrong with a woman who wants to express her own intellect, Friedan argues. The problem is a society that prefers limiting a woman's existence.
And thus, decades' worth of internal turmoil is released with loud rejections of traditional feminity during the early years of the second-wave feminist movement, Berg said. Red lips and high heels became effigies of oppression.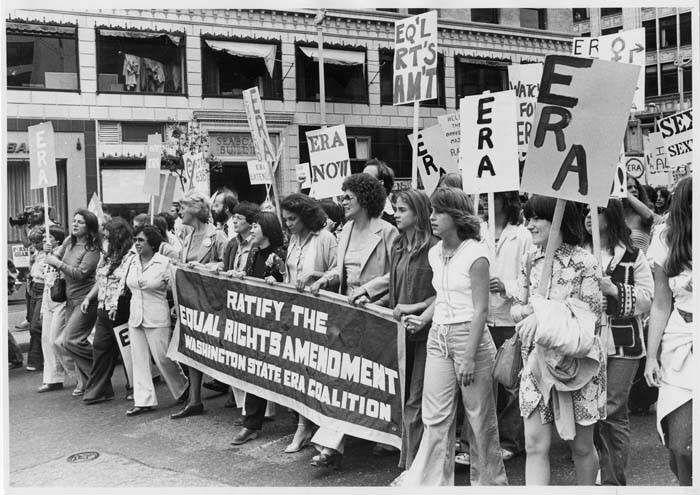 As we entered the '80s, however, the dialogue started to change. Moods about how women should dress ebbed and flowed dramatically, Berg said. Some felt that wearing pantyhose and skirts betrayed the feminist movement. Others wanted to embrace the feminine things they loved and still wield power and have equality.
Iconic designer Diane von Furstenberg's wrap dress is a perfect example of this melding of beliefs. The wrap dress is feminine and functional — effortless, chic dressing for powerhouse women.
"In every era, you have women who like the feminine things and think, 'Do I have to give this up to be a feminist?'" Berg said. "But you also have women who hate all the makeup. Some have a louder voice in different periods of history."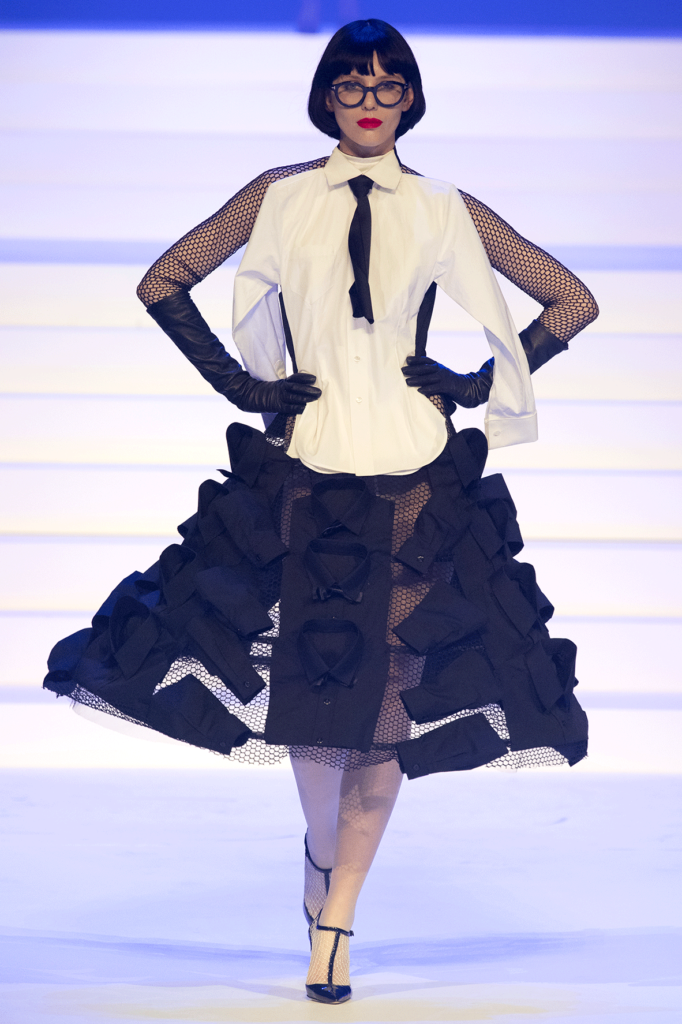 Third Wave: 1991 to Now?
The timeline for third-wave feminism is hazy, and some even argue that we're currently in a digital fourth wave. What is clear, however, is that the third wave was ignited by the testimony of Anita Hill against current Supreme Court Justice Clarence Thomas when she alleged in 1991 that he had sexually harassed her at work. His appointment enraged and emboldened a wave of women to run for political seats the following year and was dubbed by media "the Year of the Woman."
Attitudes around women's fashion are much kinder now, Berg said. A woman's choice of style is less socially flammable than it was during the '60s and '70s.
"I think that the one thing that defines this wave is that there's a big emphasis on how women can wear lipstick and heels and be a feminist, or you can wear none of that and be a feminist," Berg said. "It's about choice and self-definition and rejecting the binary of masculine and feminine."Clothing as a symbol of equality is currently as multifaceted as contemporary women.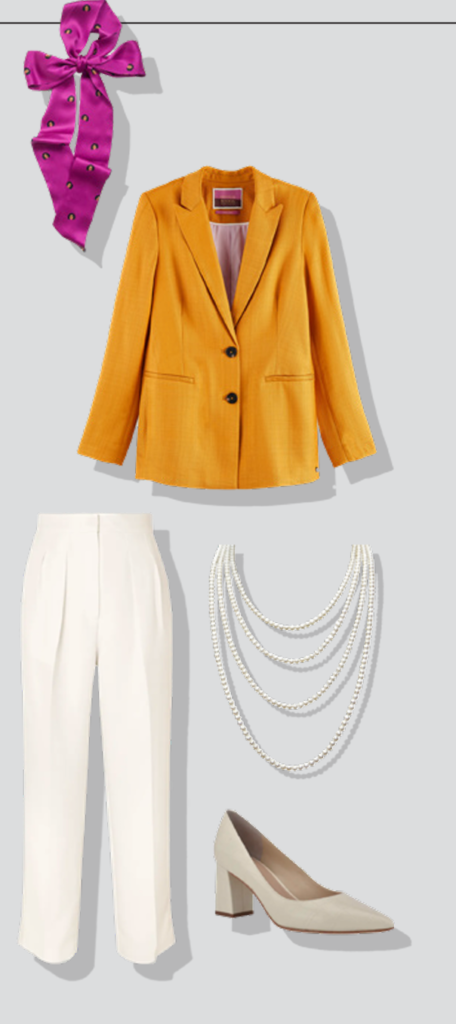 WEAR YOUR SUFFRAGIST PRIDE  
Purple, white, and gold were the colors of the U.S. National Woman's Party. Purple symbolized loyalty and constancy. White was emblematic of purity and quality. Gold was considered the color of light and life. Don your pride for Women's History Month with a sharp ensemble.
Scotch and Soda Twill Blazer, $248, nordstrom.com; Roksanda Pleated Straight-Leg Pant in Ivory; $1,295, net-a-porter.com; andieanderin Queen of Media Pussy Bow Necktie, $64; andieanderin.com; Macy's 100" Cultured Fresh Water Pearl Endless Strand Necklace in White, $99, macys.com; Marc Fisher Zala Block Heel in Lilac, $160, Nordstrom