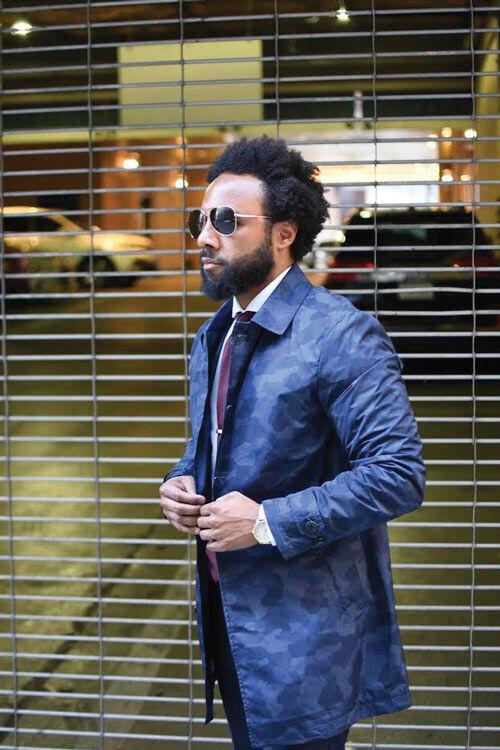 Curtis Bright isn't sheepish about it — he's the best-dressed probation counselor for Seattle Municipal Court. "I've kind of set the bar pretty high here for some of our male staff. It is kind of funny because I do dress in suits at work, and people are like, 'Why are you so dressed up?'" It's because he likes fashion. Originally from Alaska, Bright moved to Seattle with his family in 1996. For about four years, he's dabbled in the menswear world. In March, he launched his own style blog, The Bright Report. His friend and photographer Blake Gillies takes photos of his military-meets-classic suiting outfits. Follow him on Instagram @curtisbright.
How would you describe your own style? Classic with a modern sensibility.
Any tips for guys? Focus on fit. Spend a little bit of money on reworking the fit of some of your favorite things rather than buying something new. It makes a world of difference.
Are men paying more attention to the way they dress? I think so. Here especially, there's an influx of people in the region creating a wave of new style inspiration. I'm excited to see how this changes the fashion landscape in the PNW.
Style
Bag Filson Tote with Zipper
Shoe Brick+Mortar Cordovan Wingtips
Sweater J.Crew Cotton Textured Stitch Cardigan
Coat Beckett & Robb Navy Quilted Flannel Jacket. Itís basically a blazer that can be worn as a coat during winter months.
Shirt Suitsupply Blue Plain Curved Cutaway
Local Favorites
new Clothing The Bespoke Clothier in Bellevue
Vintage/Used clothing E. Smith Mercantile in Pioneer Square
Restaurant Monsoon East in Bellevue
Inspiration
Designer The Royal Navy and U.S. Navy. Much of modern menswear is drawn directly from military uniforms.
TV show Super Soul Sunday
MovieFinding Vivian Maier
Book Susan Cain's Quiet: The Power of Introverts in a World That Can't Stop Talking
Following @thegafapastatroupe and @tomoyoshi_takada
Fashiondecade 1960s
Local designer Yenni Song of Brick+Mortar
Styleicon Paul Newman