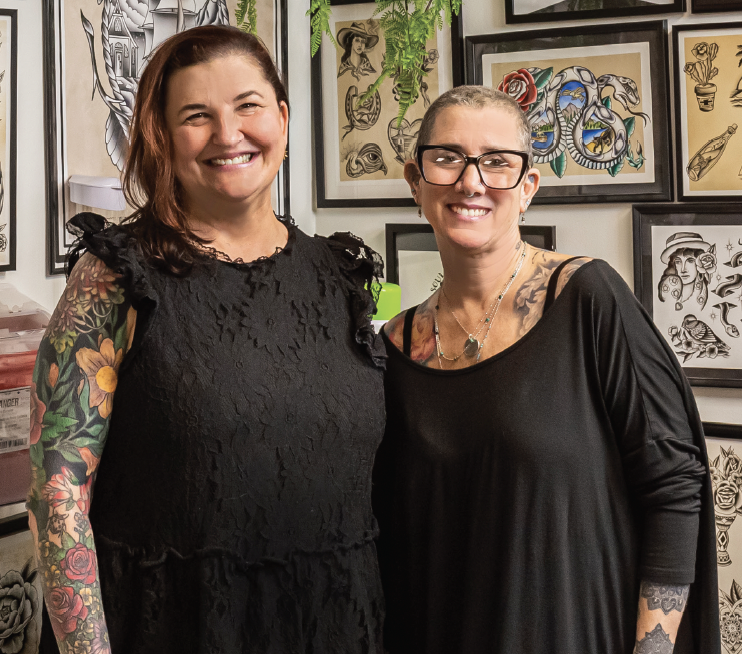 The May-June 2023 edition of our sister publication 425 Business is the Women in Business issue. Below is the third feature, on Skin and Soul Tattoo and Piercing co-owners and -founders Darcy Kovacs and Michelle Richmond. Read the previous feature from the issue here. 
It was at the tail end of an economic recession, and in a particularly male-dominated industry, that Darcy Kovacs and Michelle Richmond first opened Skin and Soul.
In 2010, no one believed that a tattoo shop would stick in the sleek city of Bellevue, according to the pair. But, more than a decade later, the two are already outgrowing their second location and are ready to transition the shop into its third expansion.
We caught up with the duo to hear about what they've learned in their time owning the shop and how they're prepping for their next move.
---
This interview has been condensed for length and clarity. 
How did you two meet?
R: We both grew up in Bellevue and met at Bellevue Junior High School — when there used to be a junior high in Bellevue (they're now called middle schools). (To Kovacs) What did we finally decide for how long we've known each other, Darcy?
K: Well, you're 59. So (more than) 40 years.
R: Yup, so a long time we have been in the 425 area.
How did you get interested in tattooing and piercing?
K: After we had both graduated at Bellevue College, I moved to California for a couple years, got married and then came back to raise my children. When it was time for us to go back to work, we were just really tired of working for other people. Growing up in this area, we were very in tune with the Nordstrom customer-first mentality and how you treat people. … We saw a niche, and we gave it a shot.
R: It just happened to be at the worst time economically. Everybody told us that we shouldn't do it or, "No, we will not lend you any money." So, we scraped together enough funds to get the door open, and 13 years later, here we are.
What is it about tattooing and piercing that appealed to you both?
R: I think we have similar answers. I think we both have always been very creative and our own people. Also, when I was married, I felt like I wasn't being who I really wanted to be, and there was a point in our late 20s that we both said, "Let's just go get a tattoo," and I think that just opened the floodgates. After we had gotten our first tattoos, Darcy and I were sitting at a Starbucks, and she looked over and out the window — we had known about this little weird space for our entire lives — it was empty and for lease. Darcy looked at me and said, "We should open a tattoo shop," and knowing that we had many more tattoos in our future, I literally looked at her and said, "OK."
What has your experience been working in an industry that is comprised of only about 25% women?
R: I think the experience itself has been good. I think other than from the very beginning, where we had men who owned tattoo shops tell us things like, "Good luck" or "Don't get a (tattoo) gun" — really the dumbest stuff. Thank goodness we trusted each other enough to know that there was room for this, and if we did it correctly, we could make it work. And we just didn't waver from that.
K: Also, being female business owners, we try to support other women-owned businesses. For example, if we find out that one of our vendors is female-owned, we try to give them what support we have because we know how hard it can be.
What advice would you give young women trying to break into the piercing and tattoo industry?
K: I would say, "Trust your gut, and stick with it." Just like anything in life, if it's something you really want, you're going to have obstacles. Surround yourself with people who are likeminded, the kind of environment you want, and hope for the best.
R: Yes. "Persevere, persevere, and persevere again — don't let anybody sway you." There's a lot of amazing female artists out there. Just keep looking; you'll find your spot.
What's next for Skin and Soul?
K: In the next month or so, we'll be in our new location. We'll be a few miles from our current location, hopefully near the Spring District. We have 11 artists now — we'll be adding one or two more — and we now have three piercers. We couldn't be happier or feel more grateful. It's just — wow.