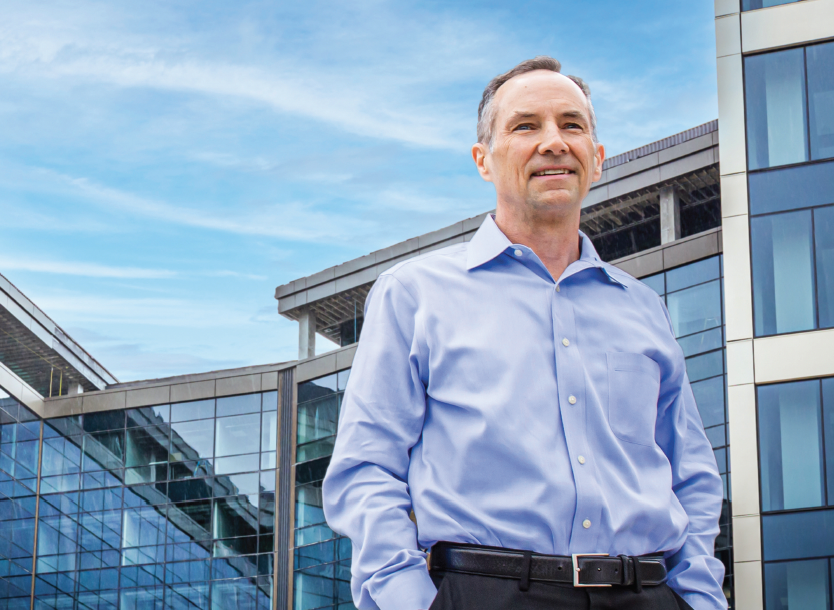 Unless you've shopped at the Costco Wholesale Corp. warehouse in Issaquah or live in the Eastside city, you may not have noticed Costco's low-rise office buildings on Lake Drive that house the headquarters of the third-largest global retailer, which reported $223 billion in net sales last fiscal year and is No. 11 on the Fortune 500.
Costco's corporate home in Issaquah is clearly visible now to anyone driving along Interstate 90, thanks to a new campus addition. The culmination of years of planning and construction, the addition rises 125 feet above the north side of the freeway and spans 624,788 square feet. The nine-story property is anticipated to begin receiving its first employees in June, pending a certificate of occupancy from the city. They will mark the start of a roughly two-month, floor-by-floor move-in of about 3,750 employees.
Those employees aren't moving far — a short walk from their current workspaces spanning three mostly three-story buildings. As they empty their former offices, those spaces will be remodeled this year and perhaps into early 2024, and other Costco staff, primarily IT workers now located in leased buildings elsewhere in town, will move in. IT staff tally about 2,200 people. Costco has about another 1,000 headquarters employees in other Issaquah locations, pushing its total Issaquah head count toward 7,000, about 85% of whom will now work at the newly expanded main campus.
"This is a company that is built on relationships with each other, and so we just feel like it's better to be together in physical space that allows for in-person communication and collaboration — and so this gives us the space to be able to do that," said Patrick Callans, executive vice president-administration. Callans' broad portfolio of responsibilities includes overseeing the construction department and corporate campus. The company also has implemented a hybrid work schedule for most employees that appears likely to remain permanent. It's three days in the office, two remote, with a more flexible hybrid setup for IT staff.
"It seems to be working pretty well for us, so we don't have any intentions to change even as we move into the new building," Callans said. "I think employees like the ability to have a hybrid schedule. They understand the need, I think, to be together, but they also very much appreciate the ability to not do a commute one or two days a week … and I don't see any near-term reasons to change it."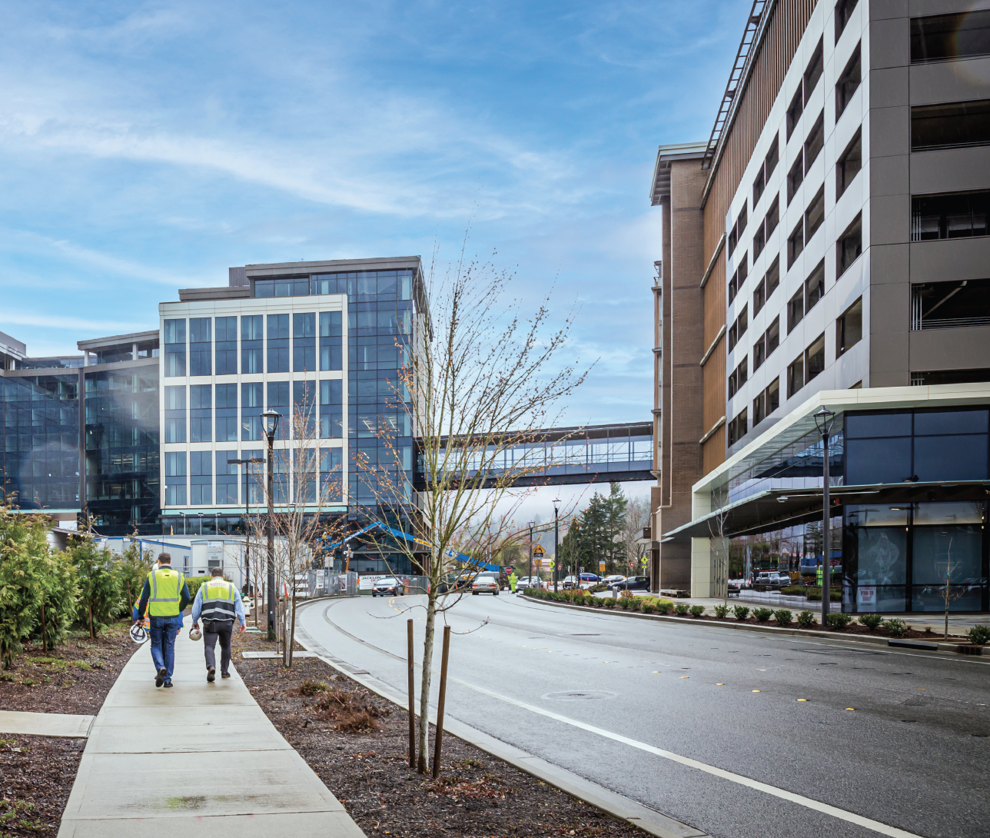 Executive staff do not work remotely, working either in the office or traveling to Costco sites.
"We value proximity, for lack of a better word, so this allows us to support our business," Callans said of the project. "We feel like it's necessary for us to do this … but we're also a company that sort of prides itself on being not fancy, and informal, and simple. We need this space, and the space is going to be very nice, but really what we're trying to do is just support our operations throughout the country and throughout the world."
Those operations are massive and complex: 848 warehouses in 14 countries as of the end of Costco's fiscal second quarter on Feb. 12, and 304,000 employees worldwide (about 95% of those in its warehouses), 68.1 million member households, and 123 million total cardholders, among just a few metrics.
"We're a big company, and our focus is really on our retail locations and support for our retail locations, and so if this gathering of people together here in Issaquah, Washington, allows us to support the business and support the company better … we're gonna do it," said Callans, who's been with the company 29 years, joining in 1994, a year before it left Kirkland for Issaquah.
The office tower (really two towers connected from the fourth floor up) is known internally as Building 4 and faces about two or three more months of work as interior furnishing and finishes for office, dining, and other spaces are completed, but some levels were nearly completed in mid-March. Building 4 is connected via skywalk to Building 5, a parking garage that also contains an employee fitness center and exhibition/meeting space. Building 5 is open and in use. The projects — Building 5 launched in April 2019 and Building 4 in January 2020 — were delayed about six months by COVID disruptions and the concrete strike, Callans said.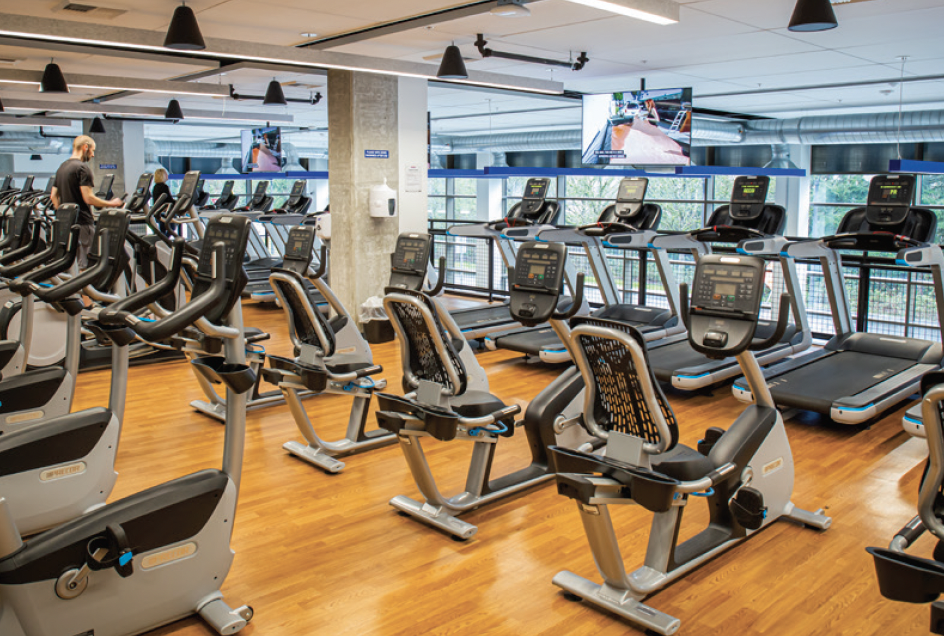 He declined to reveal the expansion's total cost but called it a "significant investment."
Numbers provided by the city give some idea of the cost involved. The city determines permit fees based on valuation, and it values the Building 4 office project at $146.4 million, and the Building 5 garage project at about $67.5 million, for a total of almost $214 million.
For such a large company, Costco seems to fly somewhat under the radar, not tooting its corporate horn or churning out press releases but letting its warehouse clubs do the "talking" by following the company's mission of providing members with quality goods and services at the lowest prices.
And while the steel and glass headquarters expansion abutting I-90 might seem counter to the company's utilitarian image through its warehouse clubs with concrete floors and racks stacked high with merchandise, the new facilities are built to be functional, efficient, and sustainable, while also providing employees myriad benefits. Some of those include in-house dining/snack options; outdoor seating on ground-level decks, upperlevel balconies with sweeping views of Issaquah and nearby mountains, and a planned grass area with picnic tables facing the city's Pickering Trail that rings Issaquah Creek and nearby wetlands, and connects to Emily Darst Park, a five-minute walk away. The office tower also includes a nine-story staircase that's open and wide, encouraging stair-climbing (there also are 12 passenger elevators), and the new two-floor fitness facility in Building 5 open most hours of the day and night.
Desks in the new building all include electric- powered stand-up options, and everyone will work in cubicles. Even executives have the same furniture, just larger desks. They don't sit behind closed doors, but in open environments, like everyone else. Rooms with doors are reserved for conferences or meetings, not as private silos for directors, VPs, EVPs, or even the CEO. A Building 4 fact sheet notes: "Zero private offices."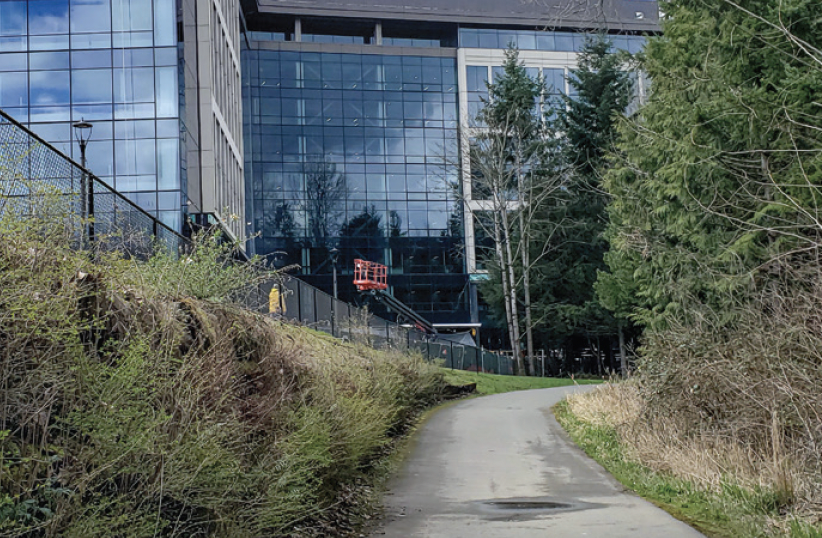 The common furniture and open seating, no matter one's title, reflect the company's functional and open culture, said Matthew Stull, director of corporate facilities, during a March tour of the new buildings. He pointed out simple finishes, from bathroom stall doors to sinks and countertops, that are nice, but not over the top.
As Callans noted, "We try to be really good at what we know how to do, which is buy stuff and sell stuff. We do try to keep a low profile; it's hard to do when you're sort of comprising the skyline of Issaquah, Washington, now. But truly, we're not trying to make a splash or a statement. … It'll be very nice space for us, but we don't want to let that have us lose sight of the fact that we're a simple, low-cost operator — that's kind of what's in our blood."
Added Callans, "We want to create space that's going to be nice for our employees, but we don't want to do anything that's fancy; that's just not us."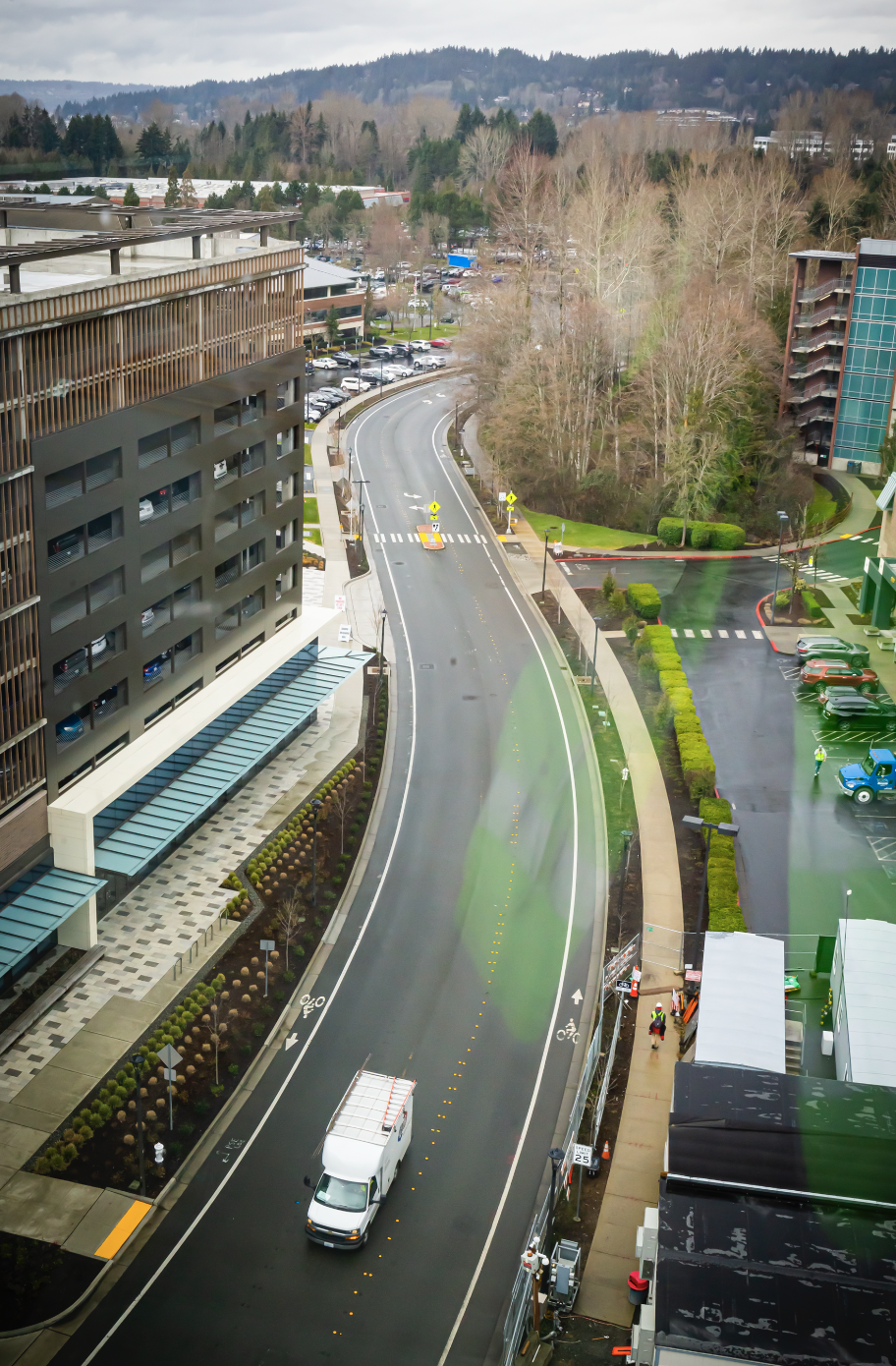 Efficient, functional, pleasing
Seattle-based MG2 designed the headquarters addition. Brian Bonar, a principal in the Seattle office of MG2 and principal in charge of the Costco project, said the new buildings are some of the first developed to that scale in Issaquah's urban core and said it was a challenge to get that much office building on a 4.5-acre site.
MG2 was in charge of the architectural design, cost management, interior design, master planning, space planning, and navigating entitlements with the city. Costco and the city signed a development agreement in 2014 that approved 1.5 million square feet of new office space, so the latest project consumes about 40% of that, leaving room for future growth at Costco-owned sites in the Pickering Place development it occupies.
Jackson Dean Construction of Maple Valley is the project's general contractor bringing MG2's designs to life. It does work for Costco around the country.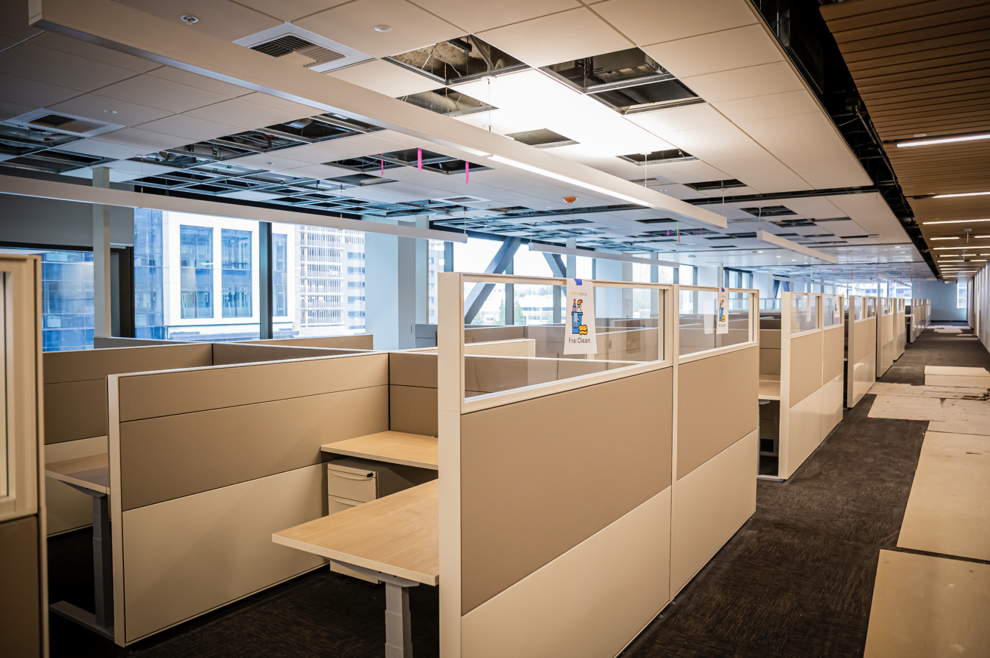 "It's well-stated, but the efficiency and the functionality of it is something that stands out," Bonar said. "That's got to resonate beyond the architecture of the building itself and the aesthetics; it's got to marry up with their culture."
"It's a very unique building," he said. "There's geometries to it that (are) largely driven by the site and the orientation that sort of runs through the entire design, but again, the open floor plates, of giving them flexibility for the space in the future, but then also providing areas of amenity now."
What's Bonar most proud of in the project?
"I would say it's always about the journey and … being able to facilitate a project of this scale to meet their end goals and to grow their business — that's something that we're extremely proud of," Bonar said. "But then it's sort of an integrated effort with the city as well as far as taking what their requirements are, what the community input is, and then taking the client goals to designing something that fits their needs and serves them in the future. It's a really big responsibility and opportunity. And I think that within this urban core and really having the first building out there that was going to represent what the city's expectations are, but then also resetting something for Costco, I think that's what has been most enjoyable about the project and … rewarding."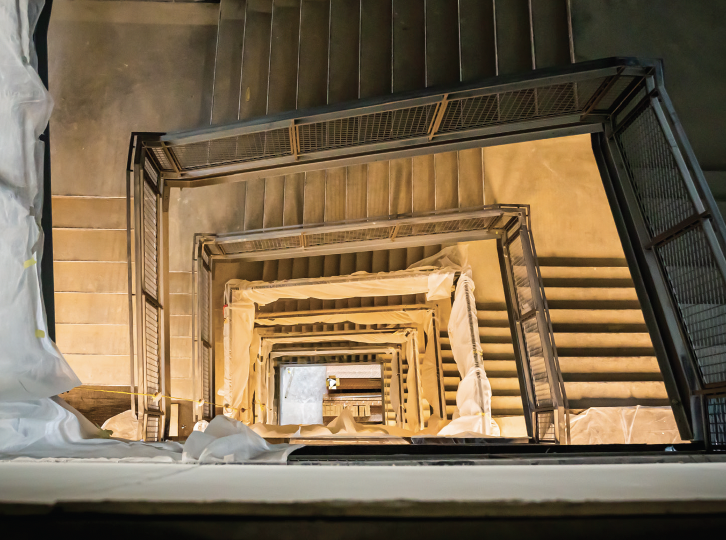 'An absolutely fabulous investor'
Issaquah Mayor Mary Lou Pauly praised Costco's work on and around its campus, including agreeing years ago to share the cost of road improvements to and from its campus not only to more efficiently move its employees, but also to benefit the community's travels to, from, and through Pickering Place, which, beyond Costco, includes a Lowe's Home Improvement store and PCC Community Markets' Issaquah store. Costco agreed to pay 48% of $56 million in transportation improvements in the city, or almost $27 million, primarily for three projects.
Those included East Lake Sammamish Parkway work from Black Nugget Road to Southeast 62nd Street for additional travel lanes, updates to sidewalks, bike lanes, and landscaping; Southeast 62nd Street upgrades, which included realigning and widening 62nd, new trail segments, new sidewalks, and new bike facilities, reconstructing a regional trail crossing, a roundabout at the intersection of Southeast Fourth/221st Place Southeast /62nd; 1,500 feet of new roadway, including a new 1,000-foot bridge, environmental improvements, and other elements; and improvements to the 12th Avenue Northwest/17th Avenue Northwest/Northwest Sammamish Boulevard intersection. That last project, expected to be completed this year, will add a left-turn lane onto 17th Avenue Northwest, among other enhancements to improve the busy intersection's function.
Costco also paid about $430,000 for a traffic signal at 10th Avenue Northwest and Lake Drive without asking the city for help to pay for it, Pauly said.
"They've been an absolutely fabulous investor in their own neighborhood, and the projects that we partnered on have provided great benefits to the community," said Pauly, who's watched Costco grow significantly since she moved to Issaquah in 1993.
Costco moved to Issaquah from Kirkland in 1995, Callans said. The company started in Seattle in 1983 with its first warehouse, where its first office also was located. The office soon thereafter relocated to Kirkland, hence Costco's private label with that name, before moving to Issaquah.
What's Pauly think of Costco's latest project?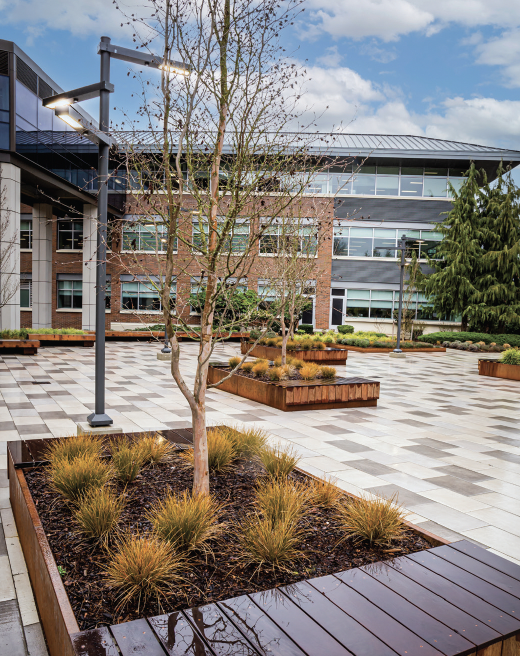 "My husband is a general contractor — he has his own critical eye — he's made great, positive comments about it," Pauly said. "I think, with an unexperienced eye, that it looks fantastic, and being very familiar with the design codes and design regulations, that building should be in our book. That's an example of how to do it right; that's an example of what Issaquah is hoping to do throughout that entire I-90 corridor."
As inevitable growth occurs on the Eastside and as East Link light rail is projected to connect to the city around 2041, taller infill buildings are envisioned along the freeway, she noted. She doesn't expect future buildings to be as tall as Costco's — more in the four- to six-floor range, due to the significant cost of support pilings required under buildings in the area, which has a high water table and unstable soils.
"We don't believe that the most important views that you get are when you're coming down I-90," she said. "Having the taller structures closer to I-90 and farther away from the toes of the foothills allows everybody in town to enjoy views of the foothills. So I think they're in the right place. I think they're a great example of what we were hoping was going to be built in these really prominent areas," she said of Costco's project, also lauding the four-story project on the south side of I-90 that was completed in 2020 and leased in 2021 to REI Co-op.
She envisions a light rail station possibly located near Costco, and ideally a pedestrian, bike, bus, and car tunnel under I-90 connecting to a future mixed-use urban village on the south side of the highway, where buildings are generally lower-slung but envisioned to be in the four- to five-story range as more development and infill occurs on that side of the freeway.
Costco's design also takes advantage of its location.
"The one thing Costco has done is not push back and say Costco wants to do Costco the Costco way," Pauly said. "They've really appreciated the gorgeous setting they have, and they have really fit in and added some fabulous architecture into a real naturalized area, and it all looks great together."
---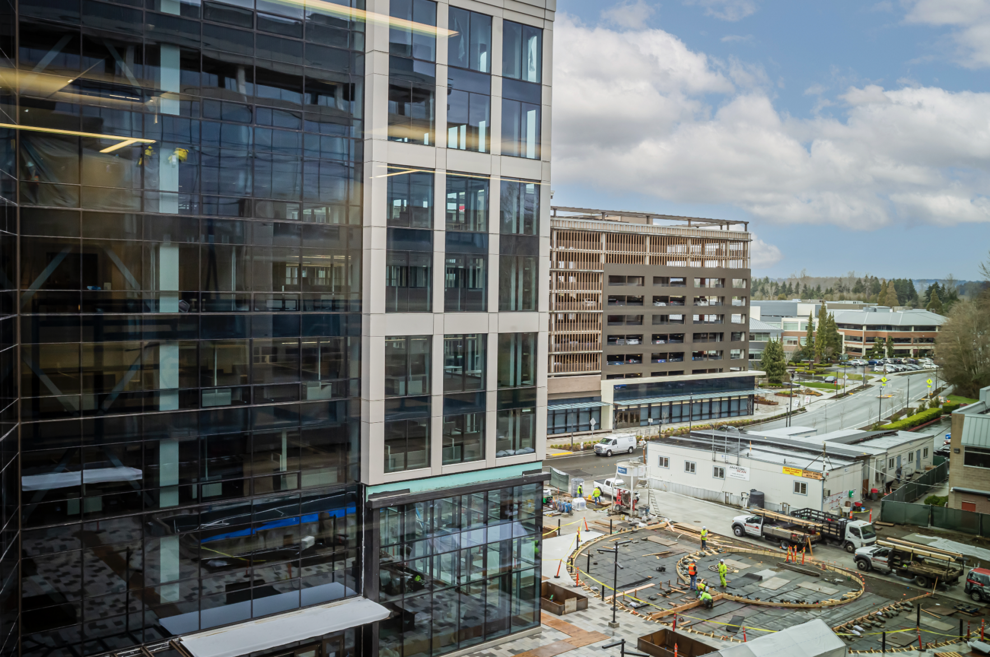 Costco's Issaquah Footprint
13 owned or leased buildings comprising: Main corporate campus, 999 Lake Drive, at Pickering Place, which includes Buildings 1, 2, 3 along Lake Drive and the new addition of Buildings 4 and 5 at the corner of Lake Drive and Southeast 62nd Street. Building 5 is mostly a parking garage but includes a fitness facility and exhibition/meeting space. The current campus also includes the Trading Building call center and an existing parking garage.
Costco also owns four other neighboring properties in Pickering Place, including the former Regal Cinebarre movie theater that is used for meetings, and next to that a former Barnes & Noble and Leathers furniture store, and former University of Washington health clinic currently used for offices with roughly 150 employees. All could be future redevelopment sites for Costco.
The company also leases two buildings on Southeast 51st Street, the former Spacelabs Healthcare building and one at Sammamish Park Place, both just east of Lake Sammamish State Park. It also leases Lake Place 1 on Northwest Sammamish Road and owns the neighboring Lake Place 2, just south of the state park's main entrance. Most of roughly 2,200 Costco IT employees work at the leased Spacelabs and Park Place sites and will move to Buildings 1, 2, and 3 on the main campus in Pickering Place. Lake Place 2 contains many of Costco Travel's 1,000 employees, who will remain there, with others in the main campus call center and three buildings, including the former Barnes & Noble, it bought earlier.
Charts below list some of the features of the new headquarters addition. (Sources: Costco, MG2, City of Issaquah)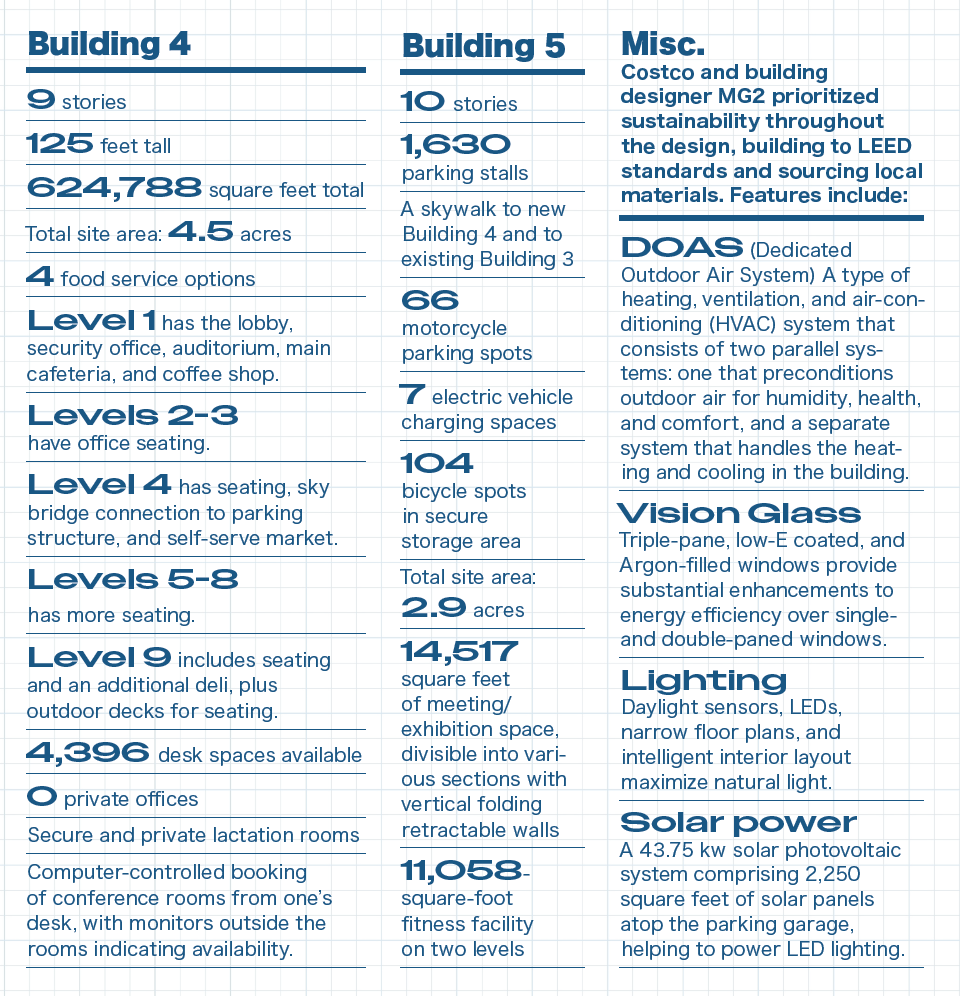 This story originally appeared in the May-June edition of our sister publication 425 Business.