The idea of "green cleaning" can leave much to be desired for those who use natural cleaners: dedicated practitioners might find themselves sacrificing efficacy for sustainability.
Kristi Lord and Lindsay Droz are hoping to wipe the slate clean, as it were, with the launch of Capitol Hill-based L'Avant Collective, an eco-luxe line of cleaning products featuring hand and dish soap, multipurpose cleaner, and cleaning wipes intended to keep your home spotless.
Inspiration struck the co-founders just over three years ago after they realized the DIY cleaning elixirs they were experimenting with (think macerating vinegar) lacked oomph and the common chemical-infused products could harm their children and four-legged friends. The executives-turned-entrepreneurs decided to recruit a chemist, who had worked for one of the world's largest natural cleaning brands, to give L'Avant a leg up.
It's natural to feel skeptical of a new green-cleaning brand. Many have, after all, experienced the lackluster performance of a store-bought natural cleaner. But the secret to L'Avant's plant-based success lies in science and the proprietary formula that took three years to develop. One of the grease-cutting ingredients in L'Avant's natural dish soap, for instance, are long-chain fatty acids — otherwise known as surfactants — that are derived from coconut oil and act as a foaming agent. Long story short: there are lots of grease-cutting bubbles.
Lord and Droz said that L'Avant products have one of the highest pH levels among natural cleaners, which means it's more effective at removing grime. The proof is in the potion: a third-party test showed L'Avant's dish soap outperformed many of its industry-leading counterparts.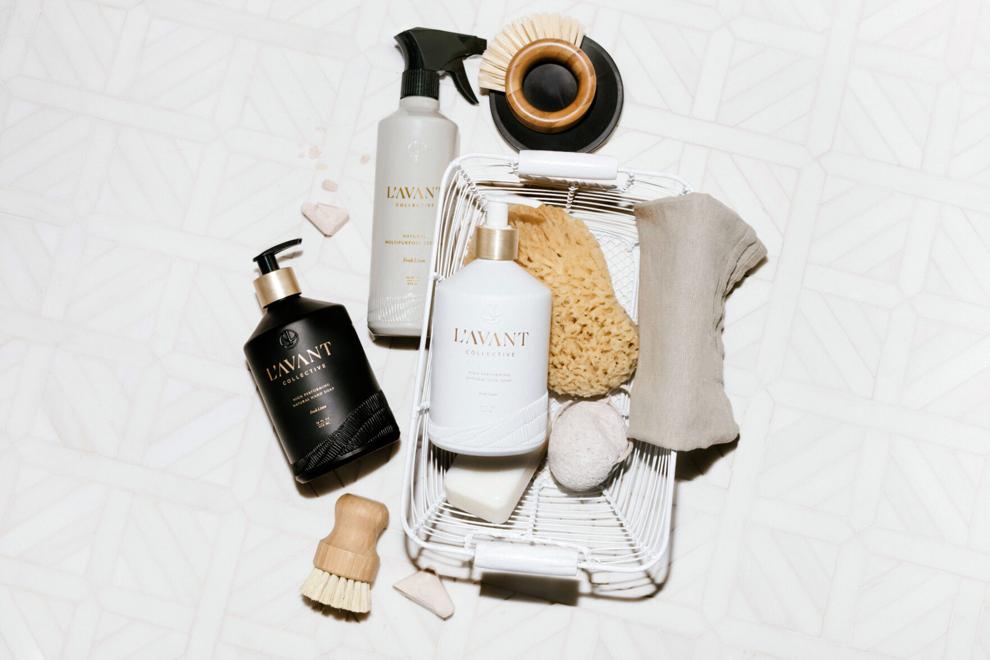 The brand exclusively uses natural fragrances and omits common ingredients such as parabens, phosphates, and artificial colors.
Cleaning fortitude aside, what sets L'Avant Collective even further apart is its founders' mission to redefine our perception of cleaning at home. Each castile comes in beautifully designed glass and post-consumer recycled plastic refillable black and ivory bottles. They're meant to be displayed nicely on the counter instead of hiding underneath the kitchen sink.
While the pandemic has placed a bigger burden on women to maintain the home, Lord says that her products were designed to appeal to both men and women.
"We want to build a community of home equity," she said.   
After trying out L'Avant Collective, it's safe to say you'll stick together like soap and water.
Prices range from $5-$85 and retail in-store at Frenchy's Day Spa and Penelope and the Beauty Bar.