The Reudinks live on a suburban street in Issaquah, just up the road from Lake Sammamish. Their block is lined with expensive homes that tend to safely toe the line between traditional and modern. But the Reudink's house is different. Behind their wooden fence is a property loaded with personality — a place that reflects the family's colorful charisma.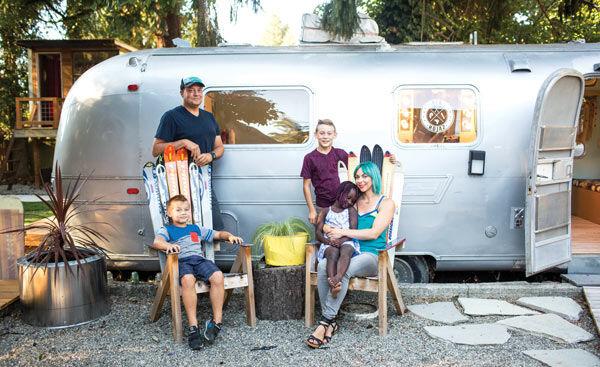 There's something magnetic about the family. Mom Delanah dyes her hair a rainbow of colors that highlight her alternative style. Dad Mike would rather build a lawn chair out of used skis than set foot in an uppity furniture store. Their daughter Essie, adopted from Uganda, is sassy and will break into dance if her dad gives her a beat. Her two older brothers, Huck and Finn — yes, like the Mark Twain character — tear it up on their skateboards. Even their gentle speckled German Shorthaired Pointer Mango is a sweetheart with a personality.
Mike and Delanah don't know how to define their style. "Eclectic?" Delanah said, with some hesitation.
"Oh, I hate that word," said Mike. "I hate that word eclectic, it just sounds so …"
"Scattered?" she said.
"Yeah! I like things to be neat. If something's going to be crazy, it's got to be clean-looking. Things can't be lopsided," said Mike.
"Everything has to be something that won't offend anybody. So, when it was our turn, it was time to do whatever we wanted."- Mike Reudink
The Reudinks make recycling look cool. Their kitchen countertop is made out of an old bowling alley lane, and their dining and living room floor is made of a former Bally Total Fitness basketball court. And it looks beautiful. The colors blend, the construction is well done, and everything goes together in a neat package.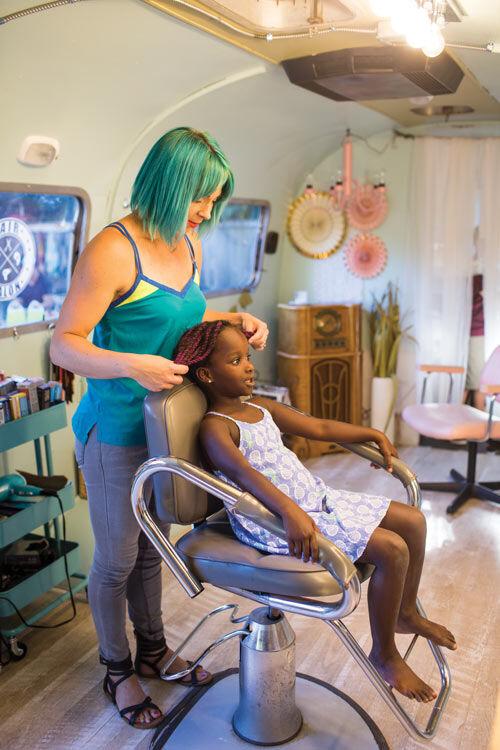 For years, Mike and Delanah flipped houses. They remodeled them in a way that would appeal to the masses, which meant using lots of neutral colors and staying away from experimental design. They sold the homes, but never got a chance to make a house their home. Until now.
"Everything is Bellevue beige," Mike said. "Everything has to be something that won't offend anybody. So, when it was our turn, it was time to do whatever we wanted."
When the Reudinks saw their house for the first time, it was "just a little shack" with a backyard full of dirt and blueberry bushes. But they loved the location: a short jaunt from the lake and with access to great schools. They saw themselves there.
While Mike was settling into their new home with their sons, Delanah was in Uganda adopting Essie. For months she lived there, sorting out logistics and legal criteria before bringing their girl home.
The couple met with architect Mark Haizlip of Alloy Design Group in Seattle to create an open floorplan. As house flippers, they were confident about the remodel, although it ended up being the most difficult job to date. During construction the house was cold, which was a jolt for Essie, who had known only an equatorial climate. One morning, "Our olive oil was frozen on the kitchen counter," said Delanah.
During the holidays, a construction worker fell through the first-floor ceiling onto their Christmas tree. It took about a year to get the house in comfortable shape. They did it on a budget and sought out recycled and used supplies from Habitat for Humanity, the University of Washington Surplus Store, and construction site boneyards.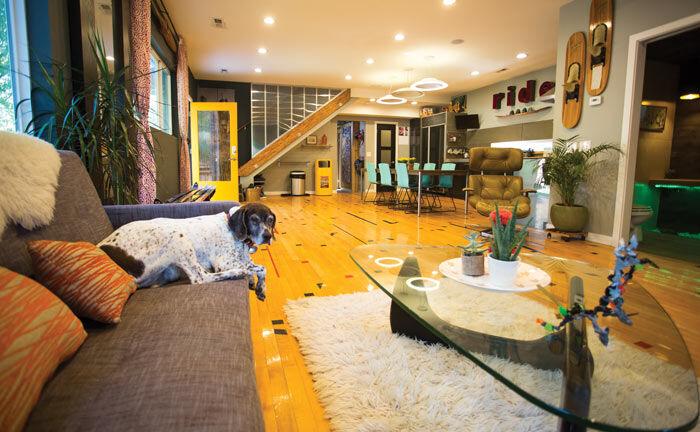 "(Recycling is) fun, for one thing. It's good for the environment. And you can get things a lot cheaper, but it doesn't mean it's going to be easier. It takes a lot more work, usually," said Mike.
The family loves long summer evenings outside, under the stars. That's where they spend most of their time when the weather is good. They often have big dinners around their outdoor table, and sleepovers in their "cabana."
They love what they've built. Their space is a lot like them, evolving and uninterested in trying to achieve mainstream status quo. 
Click to expand the images below