The waterfront town of Gig Harbor just over the Narrows Bridge is charming year-round, but it really shines in summertime. Steve and Caryn Di Domenico bought their home there in June 2018 — a home perched on a hill with spectacular views of the sparkling Colvos Passage below.
When they bought the 3,320-square-foot home, they already knew they would remodel it. Built in 1998, it was ready for an update, and they really wanted to maximize those stellar views — which meant removing some walls and moving essential spaces around on the main floor.
No big deal, right? Well, if you watch just about any reality home-renovation show, chances are, there will be some unforeseen drama along the way. This was no exception.
They strategized the remodel for two months — and they were grateful they took the time to hire a designer, Richard Landon, and a builder, Chris Dunayski and his Gordon T. Jacob team: professionals who knew what to do and figured out how to do it. The Di Domenicos' dream home became reality.
"Landon really changed our whole world by suggesting moving the kitchen. He had a couple of other ideas that were game-changers, as well," the couple noted.
But there was a point when they weren't sure whether a wall — basically blocking their view from where the new kitchen was going in — actually could be removed.
"That was a very hard time, trying to imagine what that would be like if we would have had to leave that wall in place," Caryn said.
Luckily, that crisis was averted, and the new open floorplan flows smoothly, from the gourmet kitchen fit for a chef — featuring both a wine bar and coffee bar on either end — to the spacious dining room, comfortable living room, and bonus seating area.
You can gaze at the beauty — which changes with the wind, the weather, the season, and sometimes in a moment — outside, from wherever on this main floor you may be. It's all lovely.
---
DOUBLE DUTY
The kitchen island offers extra seating. It also doubles as a workspace with a killer view.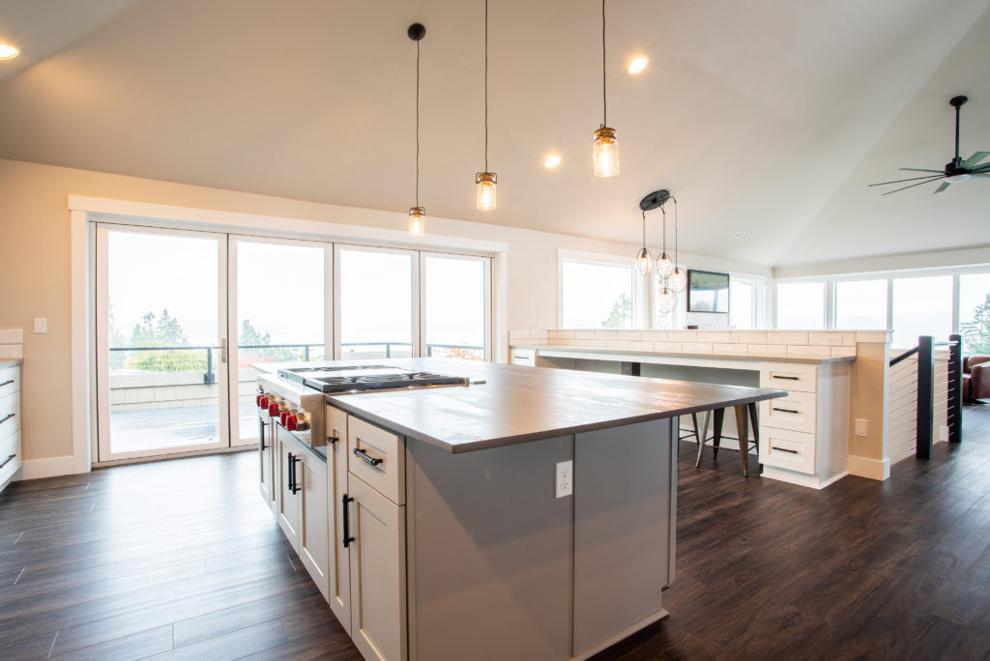 PICTURE PERFECT
The Frame TV by Samsung looks like a framed painting or photo of your choice when you're not watching a show.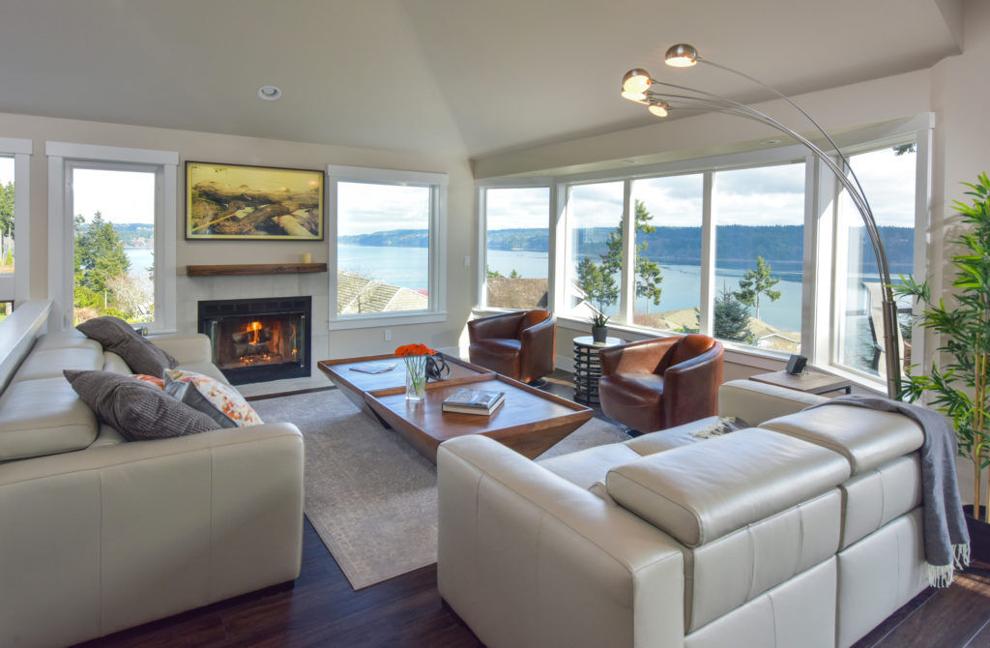 PADDLES UP
The couple enjoys taking their kayaks down a neighborhood trail to the water. It's a special treat when they spot whales.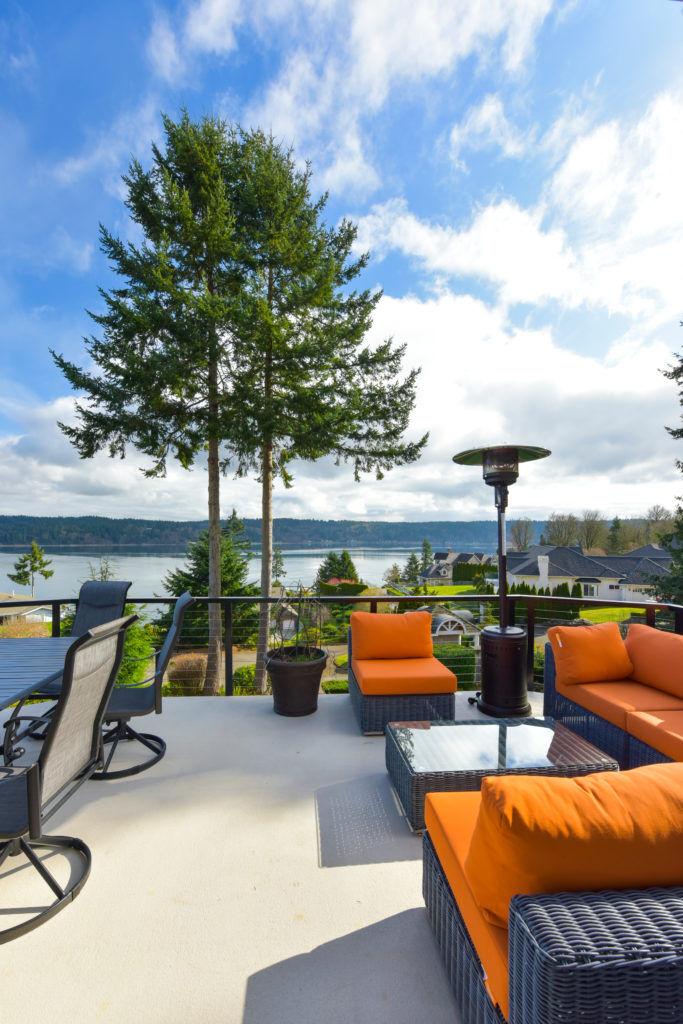 WHIP IT
This coffee bar can do it all — and it looks snazzy, to boot. Makes you want to make a latte for fun, right?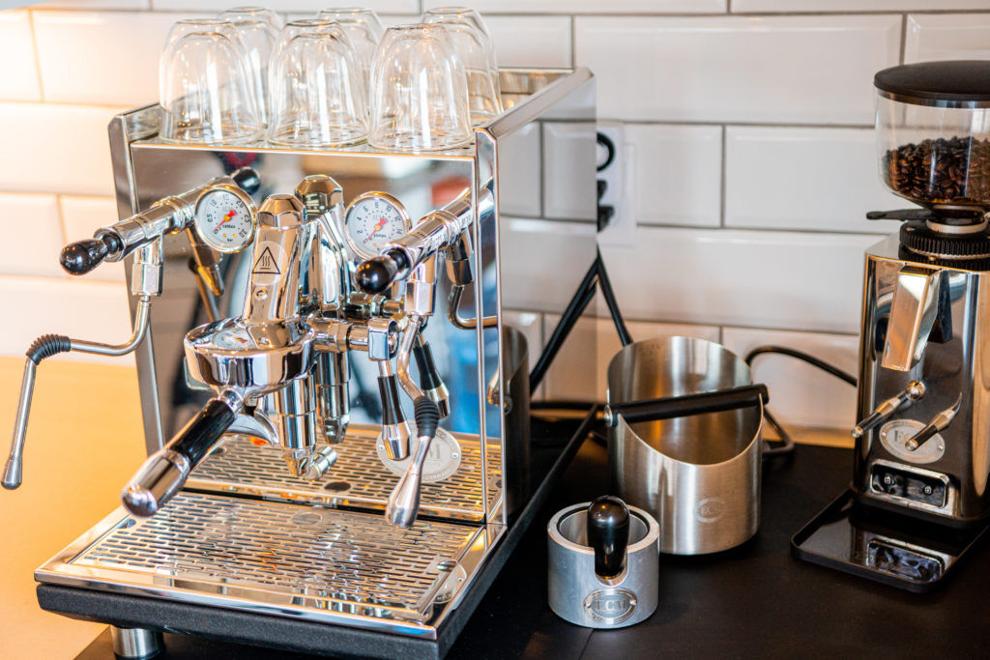 PEDAL POWER
Check out these custom barstools that highlight their love of biking — whimsical touches like this make a house a home.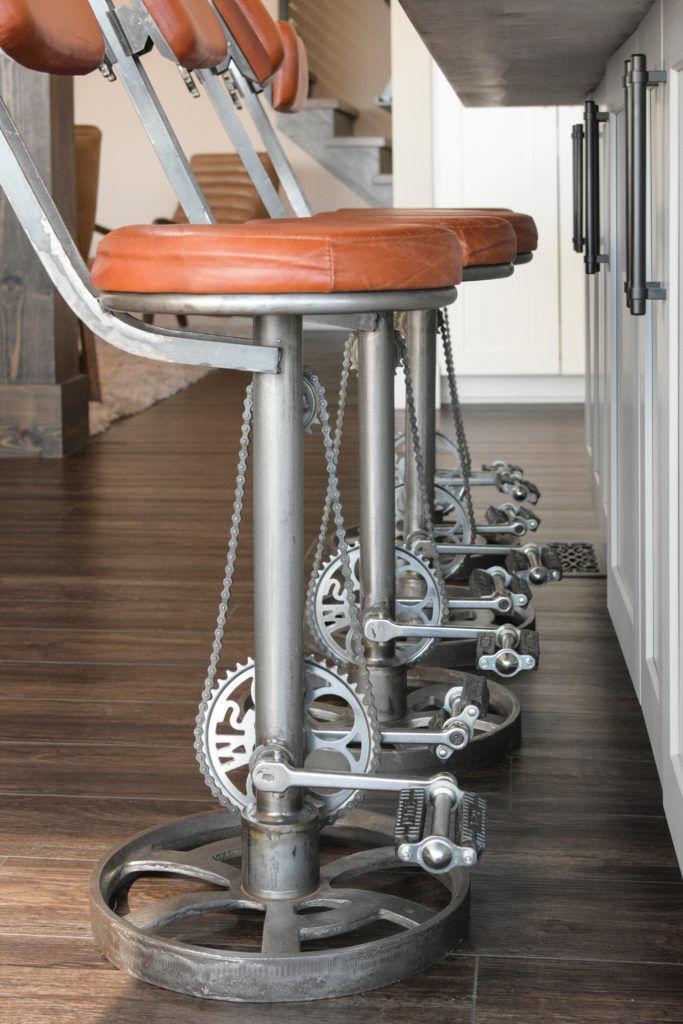 DURABLE AND PRETTY
The Dekton counters are heat-resistant. Made with a combo of raw materials, they look lovely and are virtually indestructible. They are growing in popularity and also can be used outdoors!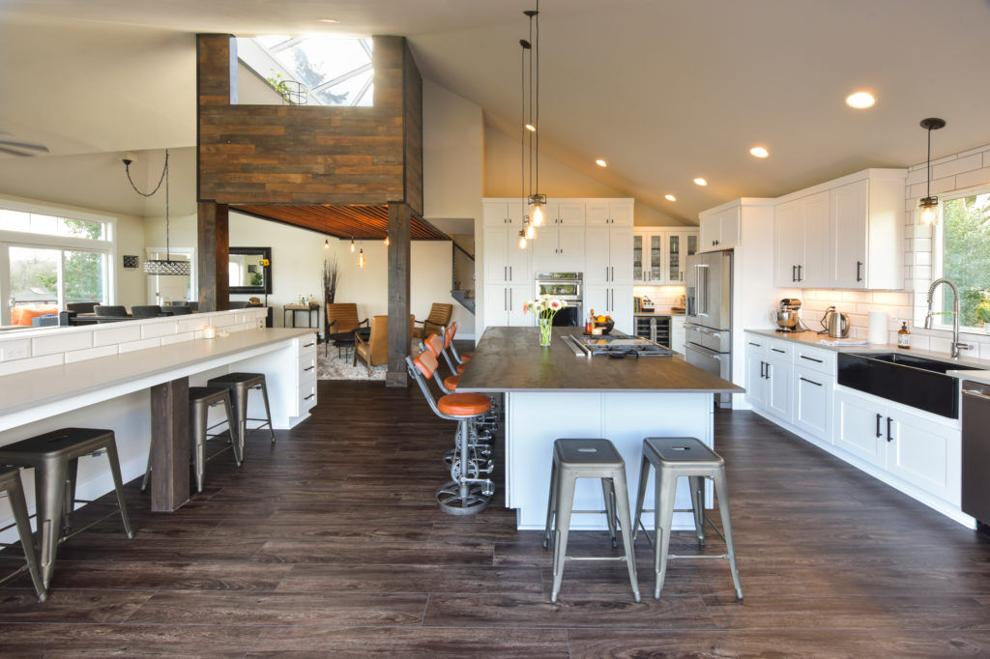 SPACE FOR EVERYONE
The couple has a blended family of seven — all adult kids, and their plus ones. "It was important for us to find a place where our kids would want to come and visit, and spend the holidays together," Caryn said.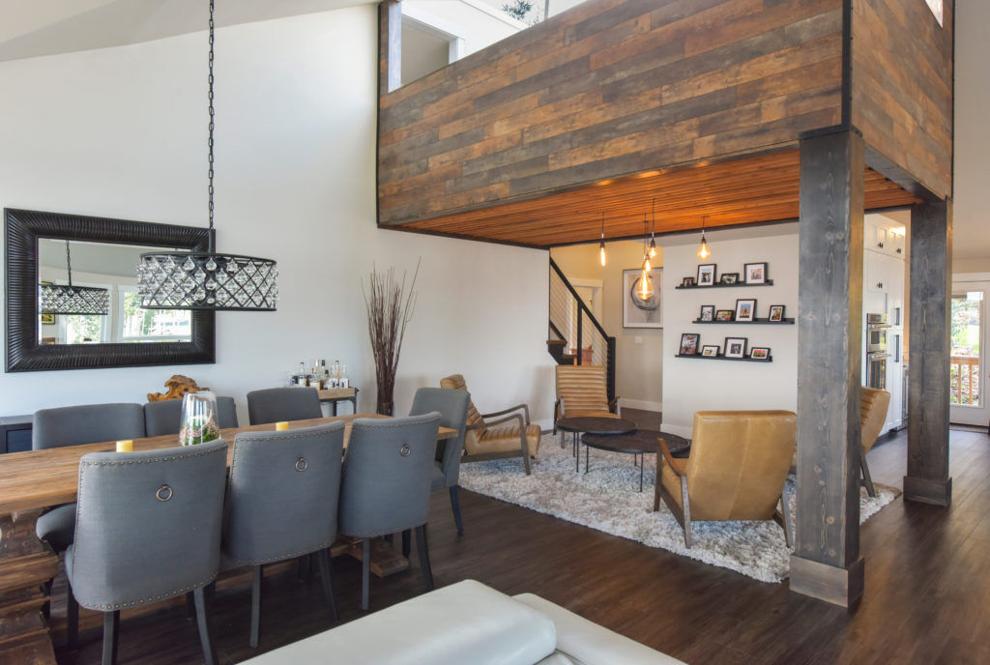 MAKE IT SHINE
The light fixtures and other details throughout the home are interesting and beautiful. Many were sourced from websites like Wayfair and overstock.com.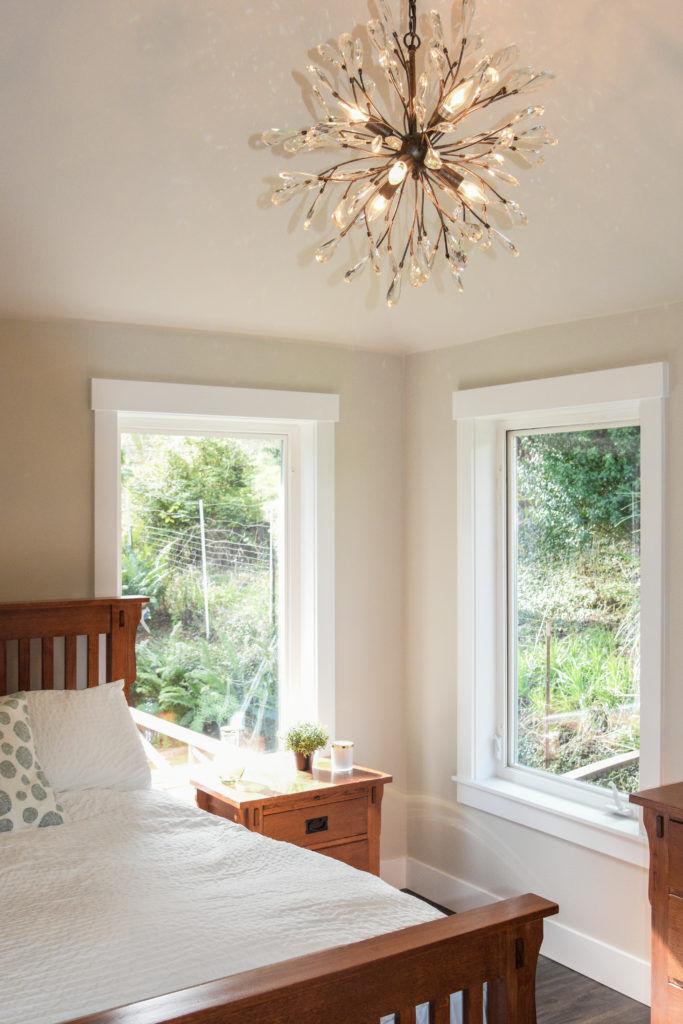 LOOK UP!
There is a balcony above the main floor. It is topped with a beautiful glass ceiling that was ordered from the U.K. At night, you can lie there and look up at the Milky Way. During the day, you can look down into the main living space or out toward the water. It's a sunny, happy place for a tomato plant, too.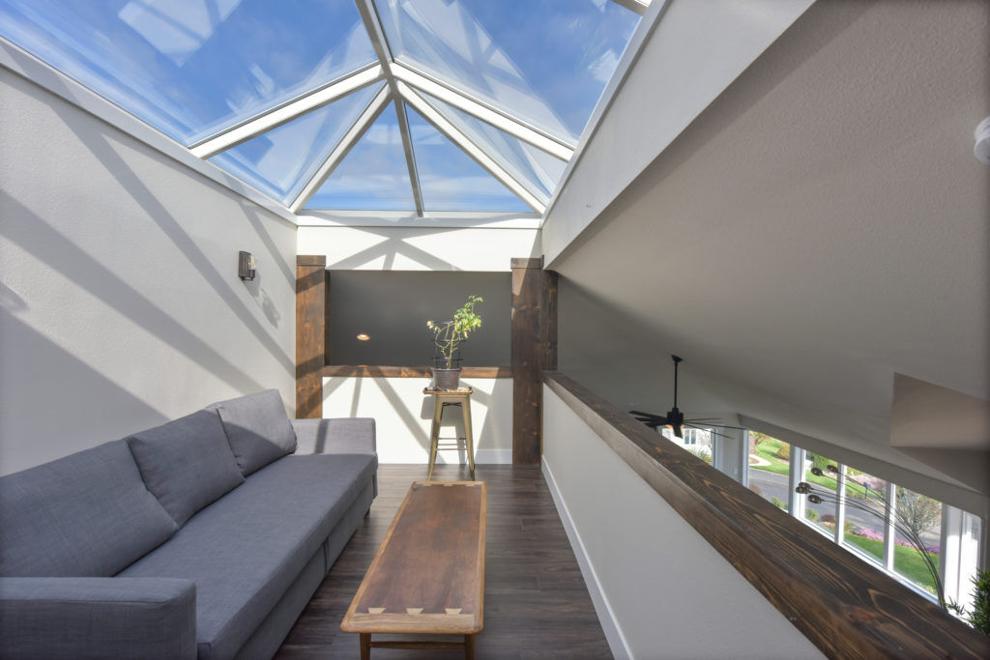 PERMANENT VACATION
They wanted a home that felt more like they were always on vacation. They both sold homes in King County and bought this forever home in Gig Harbor and are enjoying the small-town feel of their city.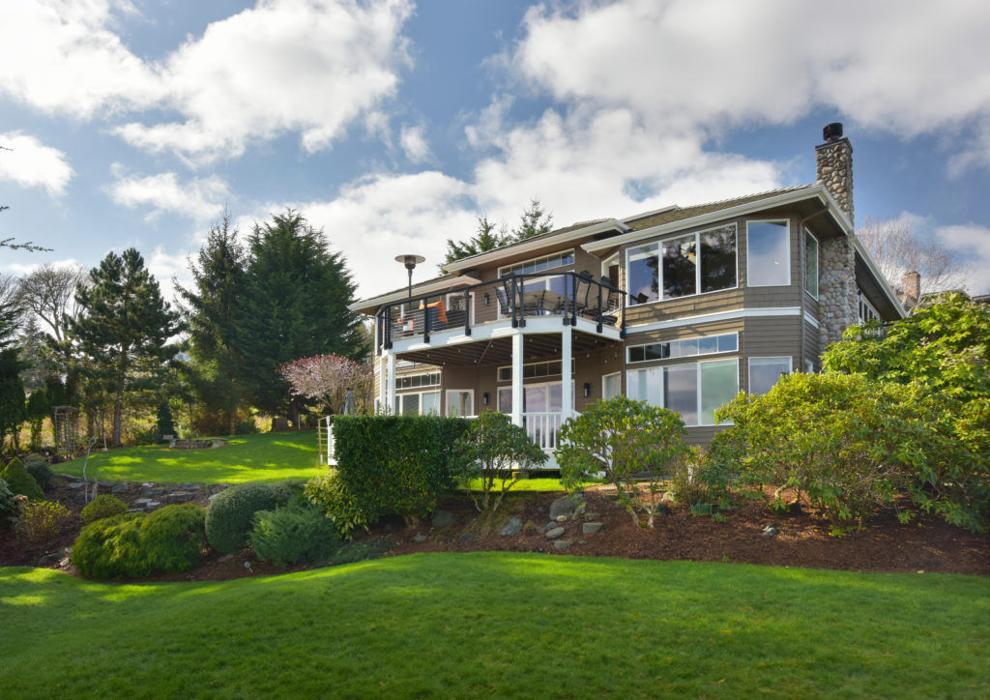 LIVING THROUGH THE CHAOS
A remodel of this magnitude is no picnic. But for this couple it wasn't too bad, since there is a full mother-in-law living space on the bottom floor where they could go!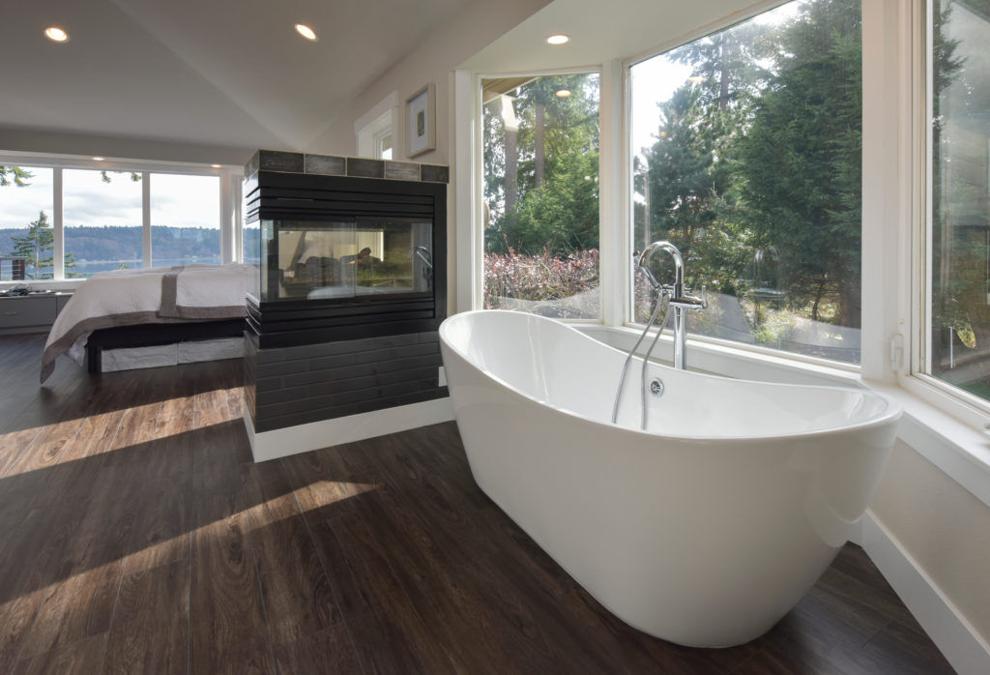 ---
Lessons Learned Through the Remodeling Process
You have a vision — but don't hold on to it so tightly that it drives you crazy. Sometimes the home and the people you are working with have a better idea during the process — be open to it.
Hire a designer first — it's worth the investment and will save you headaches and heartache.
Figure out your budget — and then make sure you leave wiggle room for surprises. They are bound to pop up. (See lesson No. 1.)
Resources:
Architect/Designer — Richard Landon
Builder/Remodeling Company— Gordon T. Jacob
Deck — Decks Northwest LLC
Doors — Panoramic Doors
Balcony Skylight — Made for Trade in the United Kingdom
OtherSources — CFM (Contractor Furnishing Mart); TREE; Crescent Lighting; overstock.com; Wayfair; and Amazon for some other lights, cabinet pulls, etc. Ballard Reuse for some hardware, etc.
Pro Tip
Make sure you can communicate well with your builder. There are a lot of moving parts to a remodel; and you want to be able to understand what's going on and why. Check references; and go with someone you can trust.