By Stacy Moser 
Cougar Mountain, part of the stunning Issaquah Alps mountain range southeast of Seattle, is one of the most-hiked peaks in Washington state. King County officially named 3,000 acres of its forests a regional wildland park in 1985, preserving its beauty for generations to come.
At the base of Cougar Mountain lies the picturesque community of Issaquah, known for its "Wild West" history and charming ambience, a destination not only for intrepid outdoor enthusiasts but also big-city foodies in search of culinary adventure.
It comes as no surprise that Issaquah was ranked by commercialcafe.com as the top Seattle commuter town in 2019, based on its commute time, low crime rate, housing affordability, and school district rating.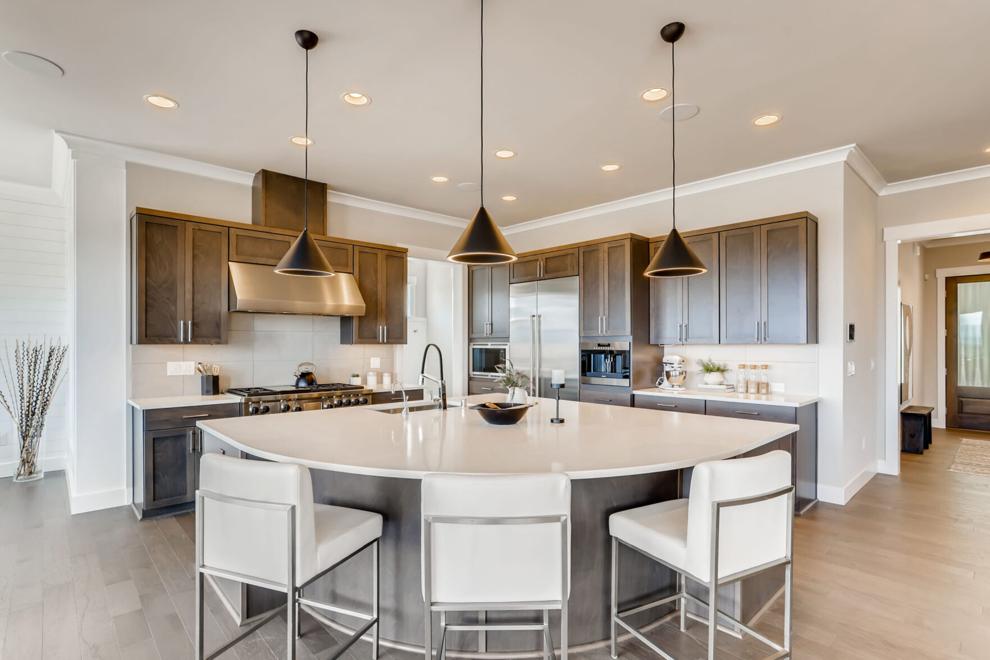 For home builder Dan Lungren, founder and president of Lungren Homes, the opportunity to build in a master-planned community in Issaquah, bordering the pristine backdrop of Cougar Mountain, has been a dream come true. He described his company's latest project — the aptly named "Panorama at Talus" — as his chance to capture the mountain's natural beauty through thoughtful architectural home design and attention to high-quality construction in every detail.
"Panorama is a once-in-a-lifetime opportunity to design and build homes with magnificent views to the east and the nation's largest urban wildland park right next door to the west. What a unique location. And it's all just 2 miles from the freeway — a short jaunt from the vibrant hubs of Seattle, Bellevue, Kirkland, and Redmond, close to world-class employment centers, entertainment, shopping, and restaurants. You won't find that combination anywhere else. Period."
Panorama homes live up to Lungren's expectations — combining aesthetically pleasing, modern design with family-friendly features, situated next to mountain trails beginning practically at each home's doorstep. Neighborhood parks offer a scenic trail with exercise stations and covered pavilions with picnic tables and playgrounds adjacent to athletic fields.
A tour of Panorama's five floorplans reveals a masterful use of enormous windows (often floor-to-ceiling glass walls) that make excellent use of natural light — literally bringing the outdoors in. Great care has also been taken to situate each home site in a way that enhances its sweeping views of mountain vistas and the valley below from almost every room. Contemporary, high-end features like gourmet kitchens (fully customizable with appliances and options that will appeal to the most discerning chef), luxurious finishes, environmentally friendly smart technology, and spacious living and entertaining areas that add to the appeal of each floorplan.
Each home has several rooms that open to covered outdoor patios and decks, offering year-round entertaining and relaxation spaces. No detail has escaped notice — even the colors and textures reflecting the Pacific Northwest's vibe and landscape are found in the homes' interior and exterior finishes and décor.
The entire project consists of 63 homes — each built on 5,000-square-foot lots adjacent to the protected woodland area, crisscrossed with 200 miles of scenic hiking and horseback-riding trails.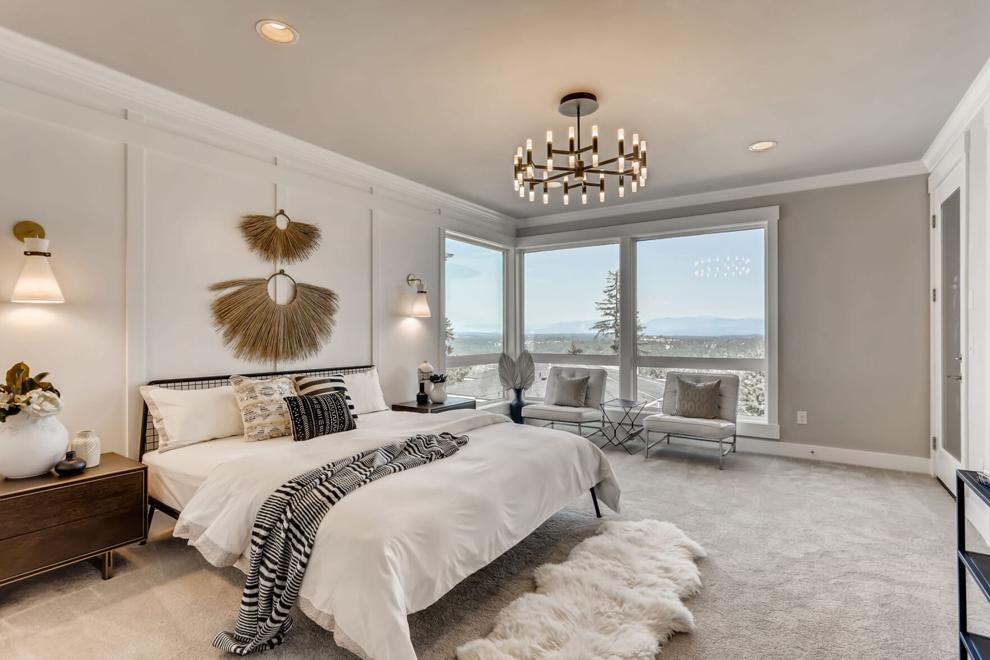 Home prices range from $1.7 million to $2.2 million, and buyers can choose from five floorplans. "Early buyers will have the opportunity to meet with cabinet, lighting, and interior-finish designers to customize their homes, or they can select from several predetermined interior designs," Lungren explained.
In addition to luxurious master bedroom suites and private en suite guest bedrooms, these homes have also kept pace with the needs of buyers who expect to work from home now and in the future. COVID-inspired home offices sporting all the high-tech bells and whistles will appeal not only to home-based workers, but home-schooling families, as well. As the Issaquah School District begins to normalize classroom-based learning, its facilities will open their doors to Panorama residents. The district has four high schools, five middle schools (with a sixth in Talus scheduled to open in September 2021), and 15 elementary schools (with No. 16 in the works).
Woodinville-based Lungren Homes emphasizes its dedication to environmentally friendly building practices, too. Every home is constructed using "Built Green" four-star standards that promote ecologically sensitive building practices and products. "Built Green" certification means that homes employ features like triple-paned glass, high-efficiency tankless water heaters, Energy Star-rated appliances, low-VOC paint, LED lighting throughout, and pre-wiring for solar roof panels. Even the homes' landscaping is for-ward-thinking, with its emphasis on low-water-use plants that are native to the Pacific Northwest.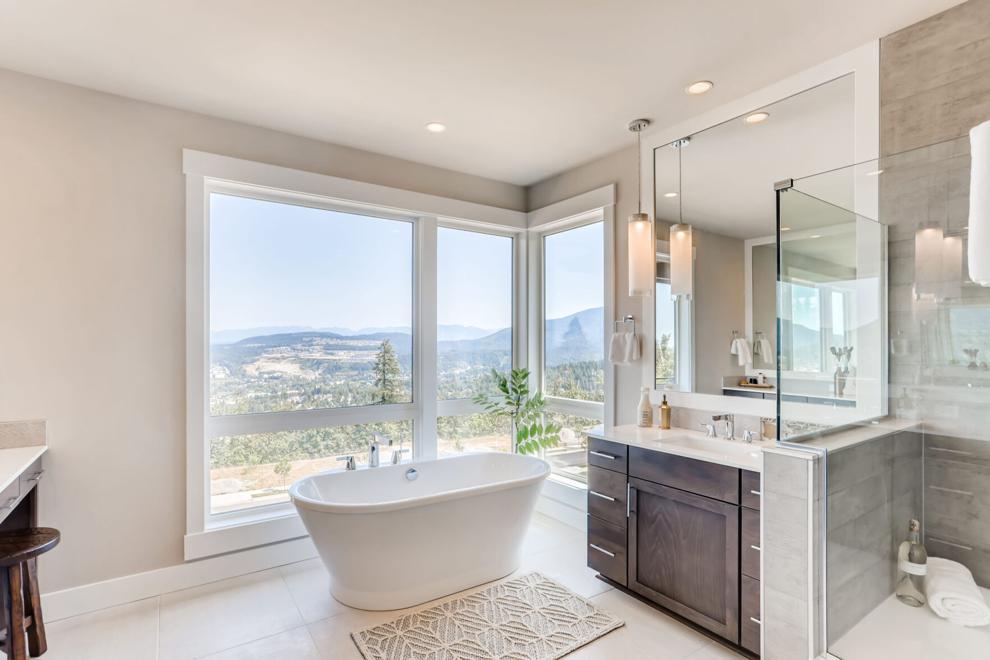 These unique homes range in size from 3,100 to 4,100 square feet and offer three- to six-bedroom models with three and a half to four and a half bathrooms. Construction is currently well underway, and many homes are near completion and ready for immediate occupancy.
Lungren explained the value his team brings to each home site.
"We have ensured that every home has been designed to maximize the amazing views — that's one of the many reasons Panorama is such a special place."