Robinson "Robbie" Cano is best known as the Seattle Mariners' second baseman. But when the bright lights of Safeco Field dim, and the bat and glove are put away, Cano retreats to his stylish home in Bellevue.
He doesn't just have game on the playing field — he has an eye for home design and décor, too. And he worked with interior designer Marlaina Teich and The Mine, a one-stop site where you can shop for home products, trending styles, and even get help from a designer. The Mine also will assemble furniture and install fixtures.
"My home style is modern with clean finishes and touches of luxury," the 35-year-old who is a proud native of the Dominican Republic, and is about to start his 14th Major League Baseball season — his fifth with the Seattle Mariners. "My home has spaces perfect for entertaining everyone from my kids to my whole family and even my teammates."
Cano moved to his new 5,688-square-foot home last year. It has five bedrooms, five bathrooms, a rec room, theater, and office. He chose Bellevue for the location. "For me it was important — the access to the main highways for my commute to the stadium."
Make Your Home Work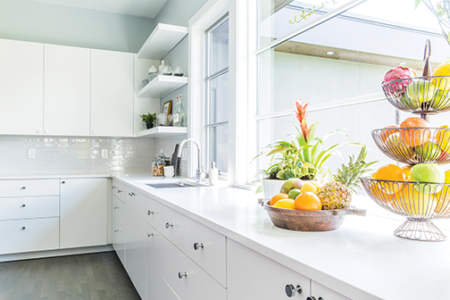 The Mine's Trend and Design manager, Hayley Francis, says its important to make sure your home fits your life. "The earthy color palette and classic elements of each piece ensures the design will remain relevant in the world of design. Additionally, it values what's important in his life at home — comfortable media spaces, large seating, and an open space for cooking and guests."
Timeless Touches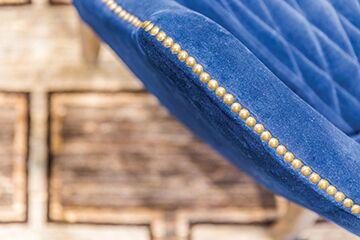 The sleek bright white counters, tile, and cabinets and soft gray floors are classic. We love the open shelves and large windows that give the space an bright and cheerful feel.
Animal Instinct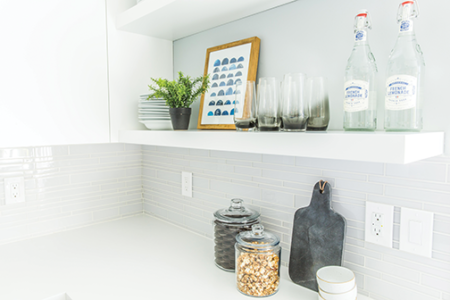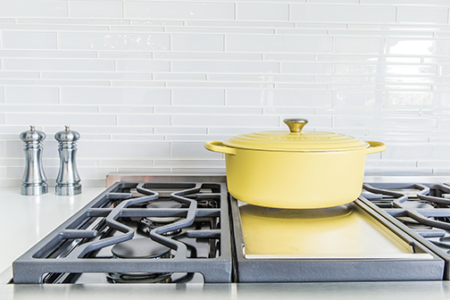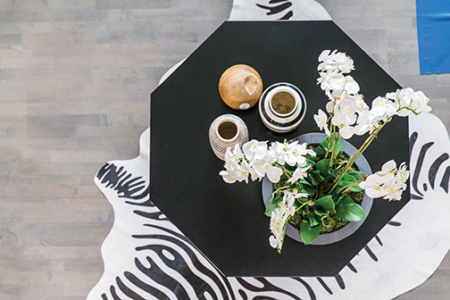 The zebra-patterned rug is a cool example of masculine, tailored design — a goal of Cano and his design team.
Meeting Room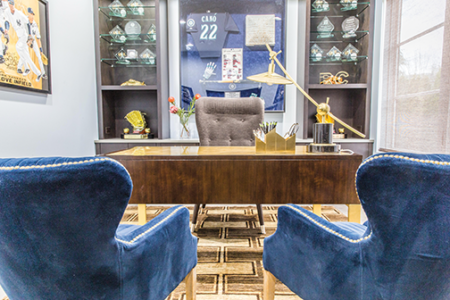 Cano's office space is inspiring, professional and comfortable. It's a great place to showcase his awards and other professional and personal successes. And be still our hearts — these blue chairs are fabulous.
"My home style is modern with clean finishes and touches of luxury."
The Coolest Coffee Table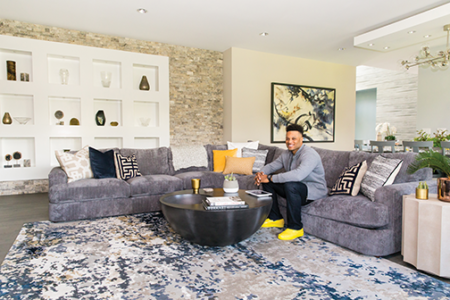 "You can see the unique touches we added to really kick the design up a notch — the living room cocktail table with built-in ice niche for chilling Champagne is perfect for parties," said designer Marlaina Teich.
No Man Cave Here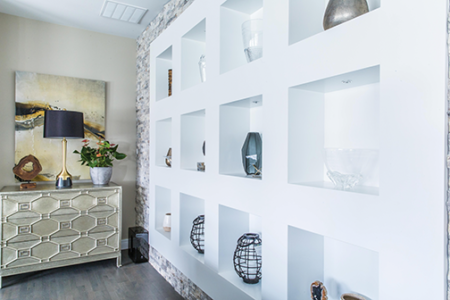 "We kept the color palette cohesive throughout the home — rich blues, cool grays, and chic pops of yellow," designer Marlaina Teich said. "The whole 'man cave' decorating thing has become a cliché — we wanted to steer away from that and give this homeowner a really gorgeous space that still felt tailored and masculine." Mission accomplished!
Five Designer Tips to Create a Perfect Living Room
Think of How You Live
Does your family like to lounge on a sofa? Go with a larger sectional. You're really going to be living in this space, so it should be comfortable.
Layer the Lighting
You should have a good mix of overhead and accent lighting to use depending on the time of day and your mood. Dimmers are also a good idea.
Don't Skimp on the Pillows
There's nothing worse than a large sofa without enough throw pillows. They add comfort and allow you to layer contrasting colors — like the great pops of yellow we added in this home.
Have Enough Surfaces
Guests shouldn't be searching around for a place to rest their champagne flute.
Showcase Your Personality
Your living space should reflect your interests and personality (like Cano's home does!).
About Cano's RC22 Foundation
Cano founded the RC22 Foundation to "positively impact the lives of underserved children." The efforts of the foundation are mainly focused on the greater Seattle area and the Dominican Republic. RC22 has a program with Seattle Children's Hospital to expand the Spanish translation services there. It also offers kids in need VIP experiences with the Mariners. In the Dominican Republic, RC22 opened DREAM School, a Montessori in Cano's hometown of San Pedro de Macoris. RC22 will host Canoche on May 14 in Seattle, a fundraiser with special guests including Jay-Z, Macklemore, Alex Rodriguez, and CC Sabathia. robinsoncanoofficial.com