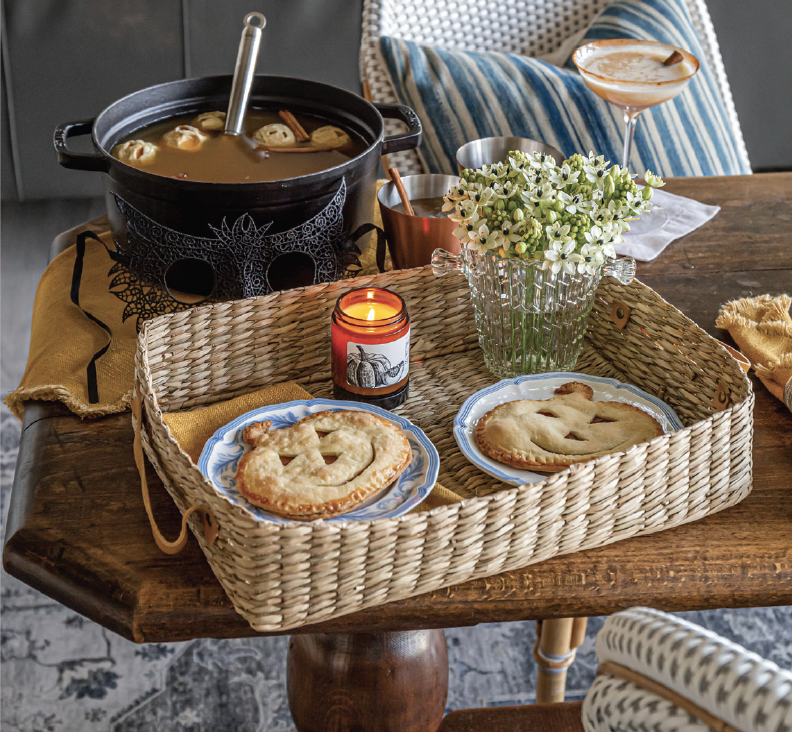 Jazzy jack-o-lantern handpies, scary shrunken-head apples bobbing along in a fresh cider bath, steamy autumn veggies tucked under a buttery and flaky crust, served alongside creamy pumpkin spice martinis. It's a delicious autumn combo hand-picked for October. This month, Invite is all about comfort food. It's a fabulous slice of fall, and it's a hoot.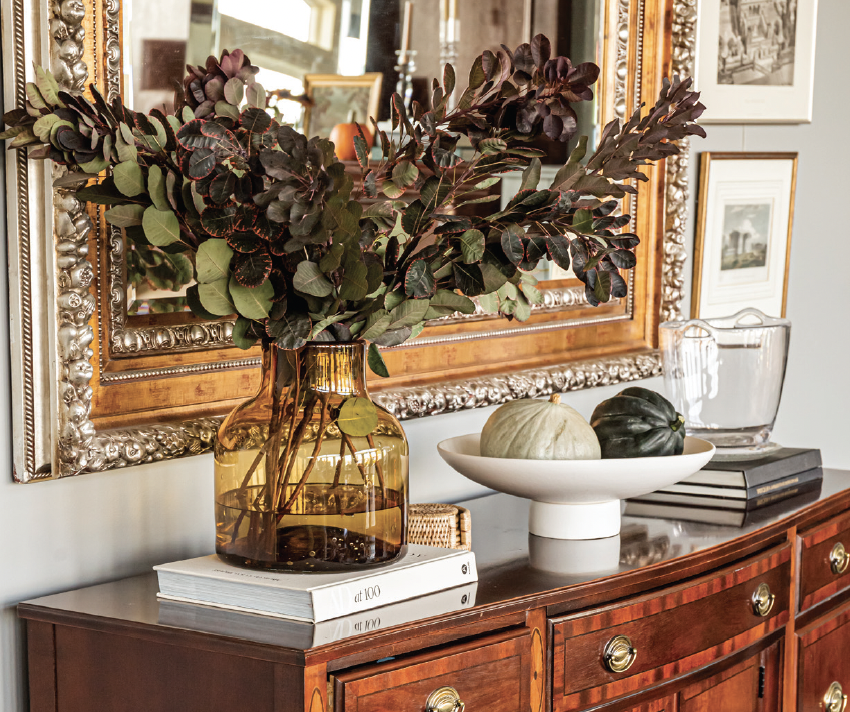 Set the Scene
October always moves me, with her moody shades of umber, rust, and gold — perfect hues to weave into an easy, earthy fall tablescape. It starts with a worn antique wood table. Bits of blue and creamy white help keep the look feeling fresh. More comfort was added with blue striped down pillows and an inviting backdrop with a leafy arrangement, a few well-placed gourds, and tufted gray velvet.
TIP: Arrange flowers and branches in the same variety and color, or blend similar varieties and hues for maximum impact.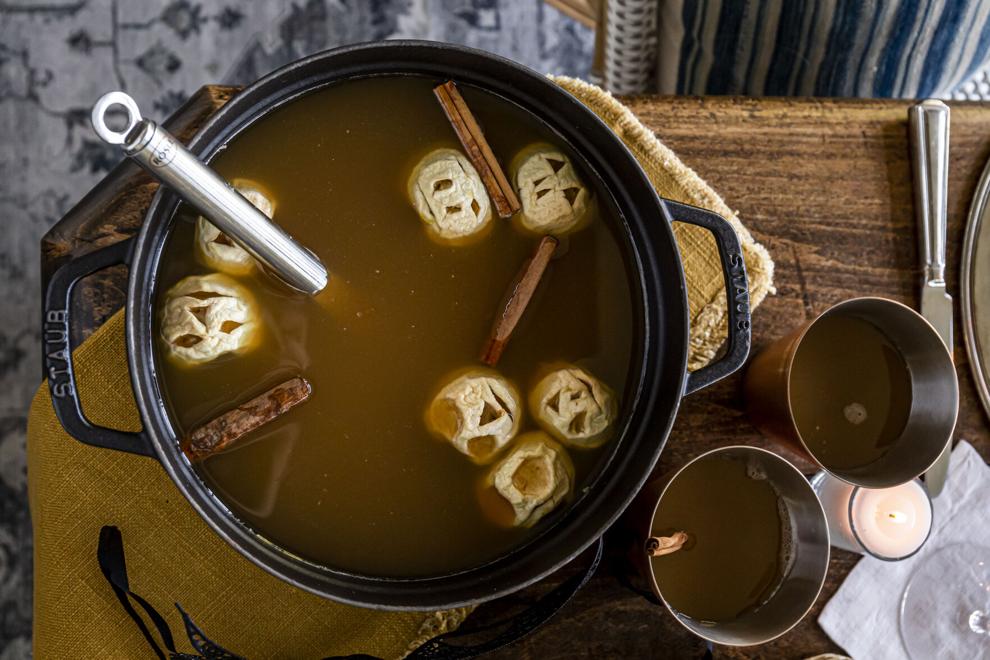 Bobbing Shrunken Apple "Heads"
I've been wanting to make these shrunken apple heads ever since seeing them on a Martha Stewart episode. It turns out they're as easy to create as they are spooky. The apples are from our mini orchard garden. Simply peel the apples, slice each in half, and then carefully remove the core. Carve the faces using a paring knife or small melon baller. Bake the apples face-side-up on a parchment-lined baking sheet at 250 degrees for approximately 2 hours. Float the shrunken apple "heads" in a black cauldron pot filled with warm apple cider.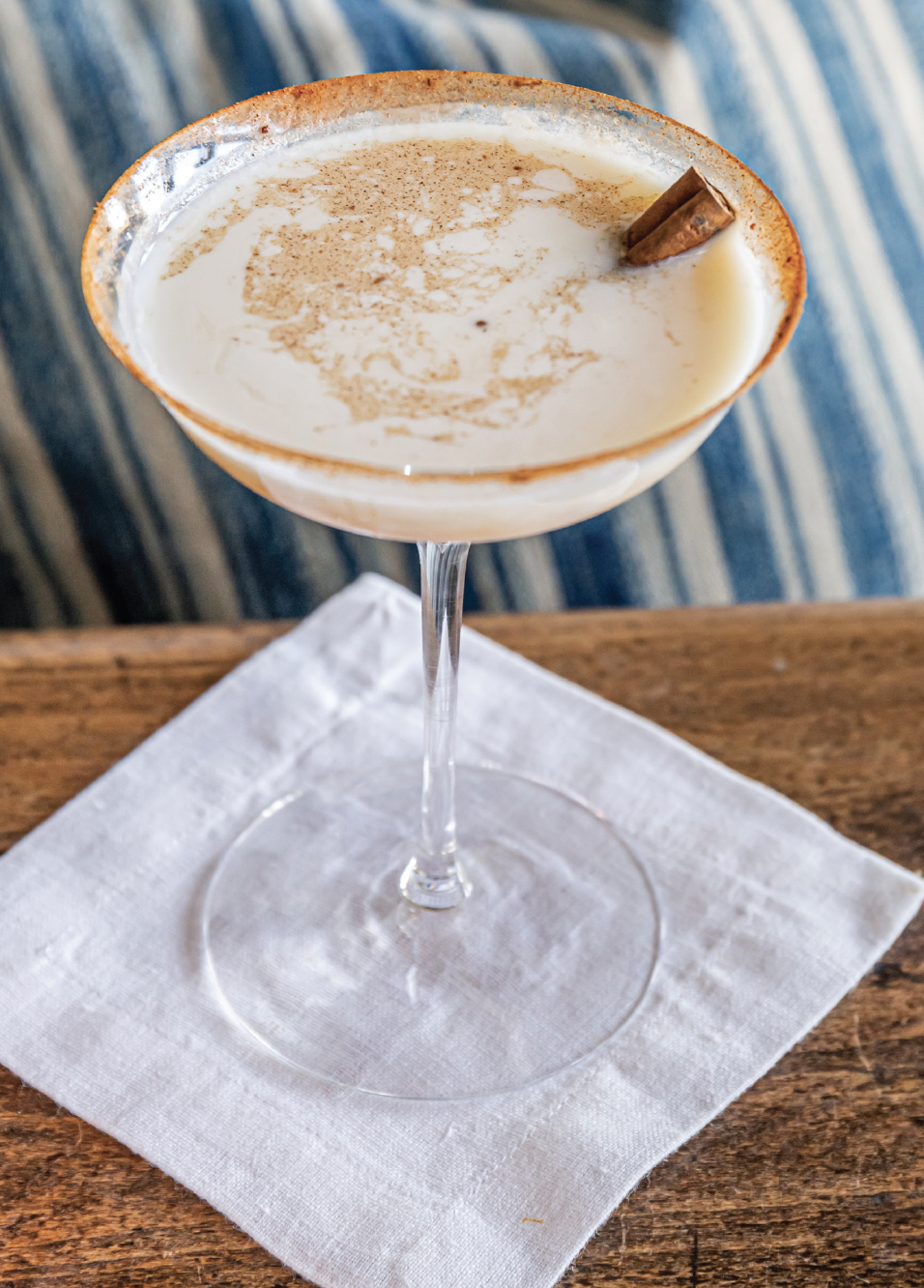 Pumpkin Spice Martini with Vanilla 'n Cream
(Makes 1 cocktails) 
Enjoy autumn flavors in a martini glass: housemade vanilla-infused vodka, a splash of vanilla-flecked cream, and a spoonful of embellished canned pumpkin with pumpkin pie spice on the rim.
Ingredients
1 vanilla bean, scraped 1 cup vodka (use 2 ounces per cocktail)
¼ teaspoon vanilla bean paste
½ ounce cream
3 teaspoons canned, whipped, organic pumpkin
Ground cinnamon
Ground ginger
Ground nutmeg
2 teaspoons granulated sugar
Juice of ½ an orange
1 tablespoon pumpkin pie spice
1 cinnamon stick
Method
Add the vanilla seeds to the cup of vodka, and let it hang out for at least an hour, or overnight. (You will have extra for additional cocktails.) Whisk the vanilla bean paste into the cream. Set aside. Add a dash of cinnamon, ginger, and nutmeg to the pumpkin. Stir in the sugar. Swirl the rim of a martini glass in the juice, and roll it in the pumpkin pie spice. Fill a cocktail shaker with ice. Add 2 ounces of vanilla vodka, vanilla cream, and spiced-up pumpkin to the shaker. Shake up the martini, serve in prepped glass, and add a cinnamon stick. Cheers!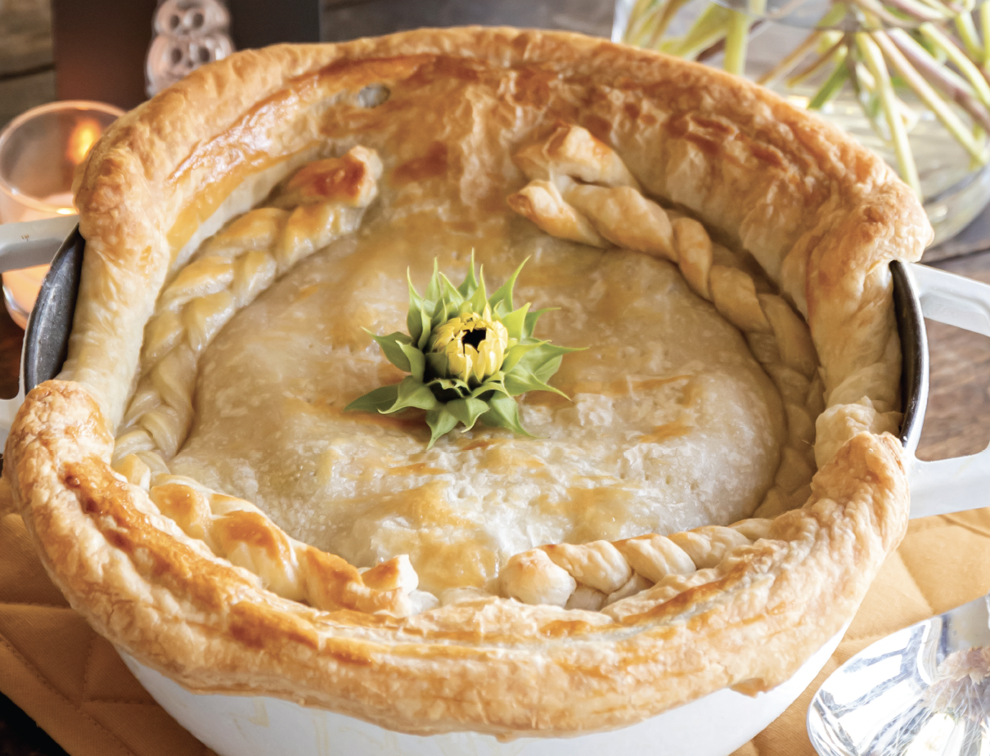 Autumn Veggie Pot Pie 
(Preheat oven to 375 degrees) 
Pot pie is one of those quintessential comfort food dishes. This veggie version is so chunky and yummy. I took a few shortcuts in making it thanks to the store-bought puff pastry. It is divine, and the cognac and demi-glace add great flavor.
Ingredients
5 tablespoons butter
2 fennel bulbs, cored and roughly chopped
2 shallots, chopped
1 yellow onion, chopped
1 red onion chopped
5 rainbow carrots, chopped
3 celery sticks, peeled and chopped
2 sweet potatoes, peeled and chopped
6 to 8 shiitake mushrooms, roughly torn
3 tablespoons fresh parsley, chopped
3 sprigs fresh thyme, leaves only
2 fresh bay leaves
2 teaspoons salt
1 teaspoon truffle salt
2 teaspoons freshly ground black pepper
1¼ cups water
1 truffle bouillon cube
3 teaspoons cognac
½ cup heavy cream
¾ cup whole milk
1 ounce demi-glace
¼ cup flour
1 cup frozen baby peas
1 sheet frozen puff pastry, thawed in the refrigerator
1 egg yolk, beaten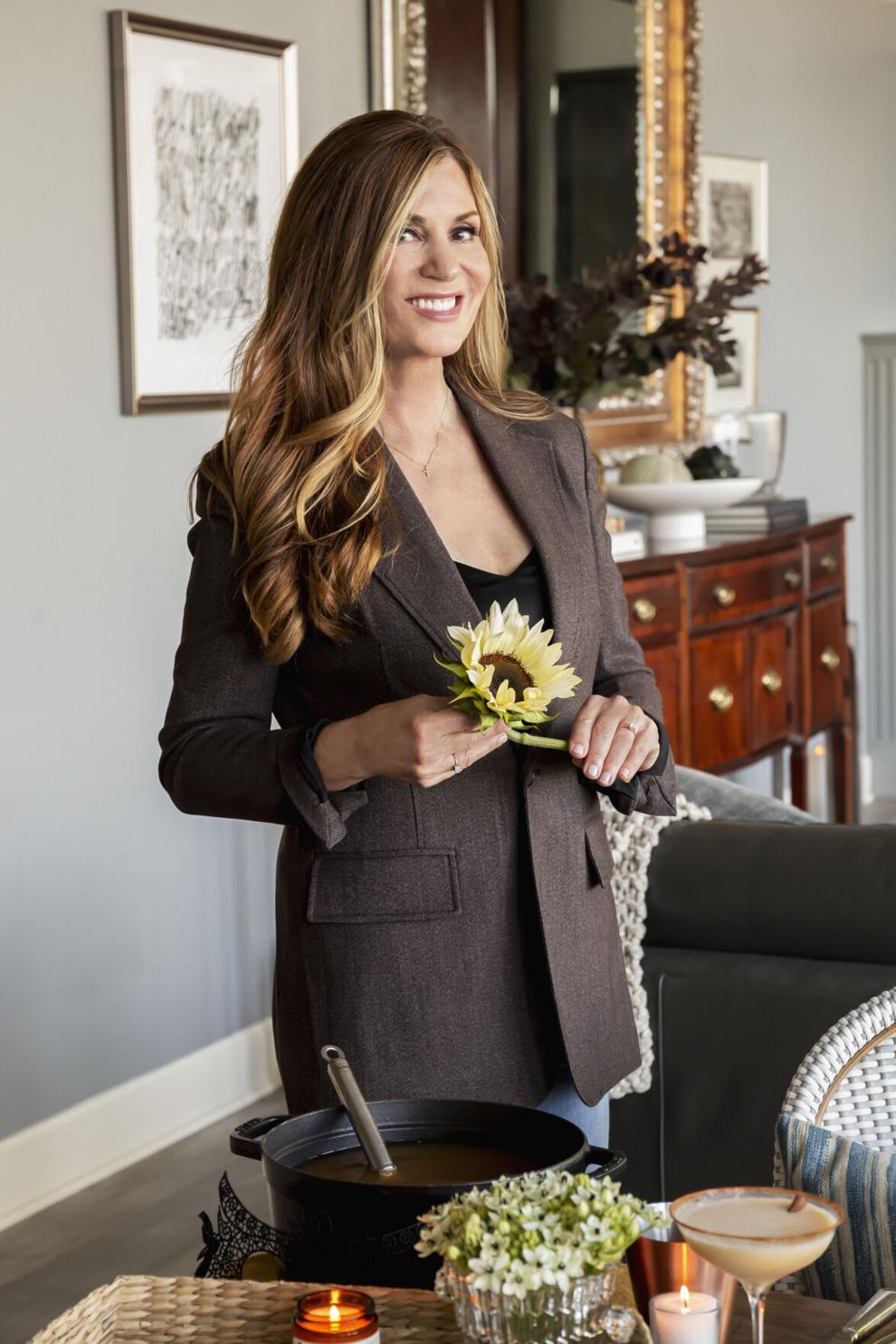 Method
Use (approximately) a 3¾-quart oven and stovetop-safe pan. Melt the butter, then sauté the fennel, shallots, onions, carrots, celery, and sweet potatoes for 20 minutes, stirring occasionally. (Add additional butter if necessary.) Add in the mushroom, parsley, thyme, and bay. Cook for an additional 8 to 10 minutes. Push the veggies to one side of the pan. Add salts, pepper, water, and bouillon cube to the other side of the pan, whisking until the bouillon dissolves. Add the cognac. Stir. Lightly simmer the cream and milk in a small saucepan. Add the demi-glace. Whisk until it dissolves. Add the milk mixture to the veggie pot, and stir.
Sprinkle the flour over the veggies, stirring constantly until the sauce mix thickens and is smooth. Remove the bay leaves. Add the peas, and pull the pot from the heat. Allow to cool a bit.
Meanwhile, roll out the puff pastry on a flour-dusted surface until you can create a 12-inch-diameter circle by removing the four corners. Brush the upper and outer sides of the veggie pan with a little of the beaten egg, and center the dough on the pot. Gently press the overhang into the egg wash. Add several slits to the top of the crust. Brush the crust with egg wash. Bake on a parchment-lined tray at 375 degrees for approximately to 30 to 35 minutes. The crust should be golden brown, and the veggies should be tender. Cool slightly before cutting into the pot pie.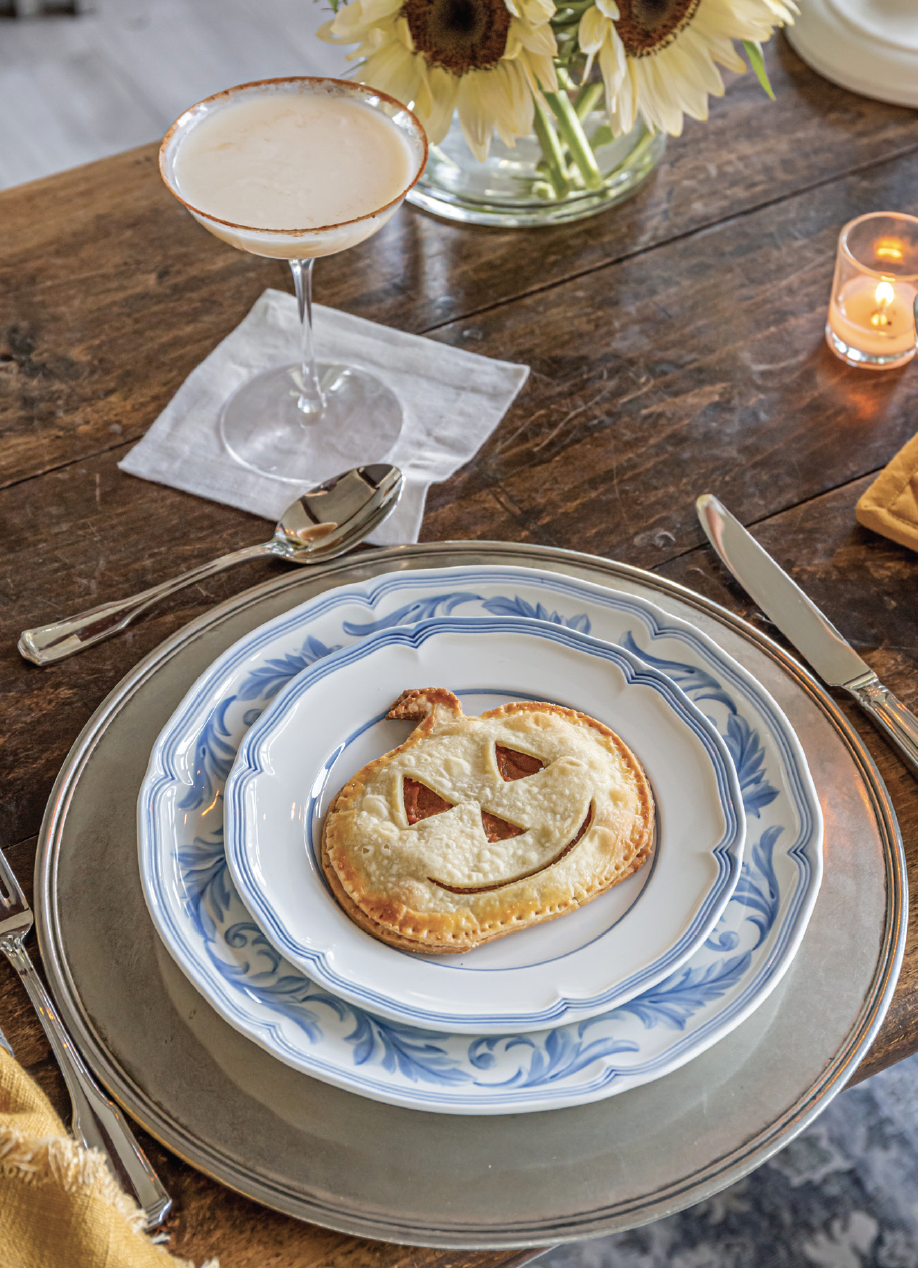 Jack-O-Lantern Pumpkin Hand Pies
These adorable pumpkin hand pies are sure to put a smile on your face. They are fall festive and fun to make, especially if you use a few shortcuts.
TIP: For the stencil, I drew a simple pumpkin shape on card stock paper and cut it out. My stencil was 5¾ inches wide and 5¾ inches tall, including the stem.
TIP: I made a batch of my favorite pate brisée dough. Use your favorite recipe, or save time by purchasing ready-made dough.
1. Place the dough on a well-floured surface and use a sharp knife to trace around your stencil. You will need two pumpkins per hand pie.
2. Place the bottom pumpkin on a parchment-lined baking sheet.
3. For the filling, follow the pie filling instructions on the back of a can of pumpkin.
4. I added a dash of cayenne pepper to my filling for a fun twist.
5. Spread out 3 tablespoons of filling on the bottom pumpkin, leaving a ½-inch border all around.
6. Place another carved dough face on top.
7. Seal and crimp the edges using the tines of a fork. Brush pumpkin tops with beaten egg yolk.
8. Sprinkle the top with crystallized sugar if you like, and bake for approximately 20 minutes until the crust is golden brown, and the filling is hot.
9. Remove from the oven, and cool on a wire rack.