Comfortable or complex, the hamburger is a versatile food, rarely absent on restaurant menus. Americans eat them by the billions every year. There are strongly held beliefs on what makes the perfect burger, and no list will completely cover the many offerings throughout the region, so consider this a burger mix tape; an Eastside sampling paying tribute to a favorite food.
Jump to
Don't Mess with a Classic
There's no school like old school when you want a traditional burger with a side of nostalgia.
Two quarter-pound beef patties, lettuce, tomatoes, and a tangy-savory "fry sauce" are reminiscent of a certain golden-arched burger counterpart, but the Big Bay is the idealized version. It's that first mouthwatering fast-food burger bite we remember, deliciously recaptured. Bellevue
Double Bacon Cheeseburger, Kidd Valley
Originally a burger stand in the 1970s, Kidd Valley grew into a chain of locations and an early advocate of fresh, quality ingredients. Paired with one of the famous milkshakes and monster-sized sweet onion rings, their double-beef-patty bacon cheeseburger is pure indulgence. Seattle, Kirkland, Kenmore, Renton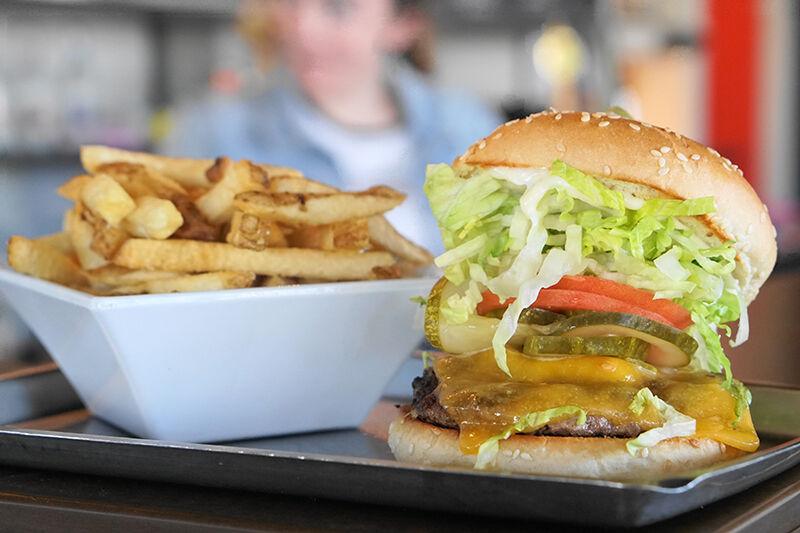 Classic Feed Burger, Feed Co. Burger
Yes, burger purists: It is possible to get an uncomplicated well-made hamburger with the requisite lettuce, tomato, pickles, and a quick swipe of seasoned sauce, hold the fussiness — all for $5! Satisfying without inducing a food coma, the mindfully sourced ingredients shine, reminding us that simple can be splendid and affordable. Redmond and Seattle
Legend has it the first hamburger was minced beef between slices of bread, similar to a patty melt, so why not have a double dose of history at a classic car-themed drive-in? The El Camino patty melt is a hefty half-pounder of beef, melted Swiss, and a pile of grilled onions between rye bread, best enjoyed while admiring vintage cars whose aficionados regularly meet at this 1950s Issaquah landmark. Issaquah
Mini Bacon Burger Combo, Burgermaster
Before drive-thrus, there were drive-ins, and that Americana is preserved at Burgermaster, where you order and dine from the unhurried comfort of your car. You can go big, or pace yourself with a smaller mini combo, a burger made with the same tasty grass-fed beef, fries, and a drink, leaving room for a slice of apple pie or a hot-fudge sundae. Bellevue, Bothell, Seattle
Epicurean Eccentrics
Topped with creative or just plain over-the-top ingredients, burgers can rock any look.
If Godzilla ordered a burger, this would be it. The aptly named Mt. Fuji has deep-fried cutlets of beef, chicken, and pork with an egg, bacon, three types of cheese, spicy wasabi mayo, and a drizzle of sweet and savory tonkatsu sauce. You can work off the calories battling Mothra. Bellevue, Lynnwood, and Seattle
In the words of Jules, Sam Jackson's poet hitman from Pulp Fiction: "Hamburgers, the cornerstone of any nutritious breakfast." The just-right eggs 'n bacon Sun Shine burger from Pickle Time can be enjoyed day or night — a smoky, grilled beef patty with the satisfying crunch of bacon mixed with a runny egg yolk. It's breakfast in the palm of your hand. Duvall
Peanut butter and jelly on a burger?! Don't knock it till you've tried it. The sweet-savory harmony of smoky chipotle raspberry jam and rich peanut butter is a delightful topper to a burger with grilled onions, tart pickles, and peppery arugula. It's a science experiment in flavor gone wonderfully right. Kirkland
A local Hawaiian comfort food, the Loco Moco is a plate of rice topped with beef patties, gravy, and a fried egg. Said to have originated from the city of Hilo on the Big Isle, the burger version of this Aloha original is elevated with caramelized onions, smoked bacon confit, an earthy mushroom spread, peppery gravy, and a fried egg. So ono! Kirkland
Happiest Hour
The Eastside's happy hour game is strong, especially these steakhouse-fancy burger offerings.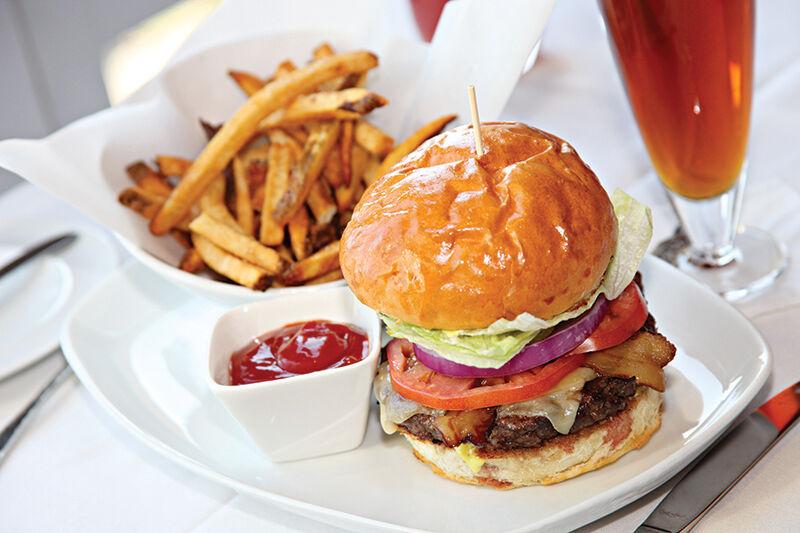 USDA Prime Dry Aged Beef Cheeseburger, John Howie Steak
A dry-aged brisket made into a hamburger is one divine bovine, and its beefy flavor is enhanced by aged, tangy Taleggio cheese and sweet caramelized onions, nearly spilling out of a fresh-baked bun. The hefty 10-ounce burger is a staple during happy hour and available all day on Sundays at the $15 happy hour price. Bellevue
This neighborhood steakhouse is a hidden gem, as is its classic Prime Burger, a $9 bargain during the standard and late-night happy hours. A half-pound of fresh ground beef with classic toppings like tomato, arugula, pickled onion, and garlic aioli, it's an affordable gourmet treat. Redmond
Impeccable ingredients like Niman Ranch Certified Angus Beef, Beecher's white cheddar cheese, and a brioche bun aren't typical drive-thru fare, but this isn't a typical burger. Rich, juicy, worthy of extra napkins, it's a burger made with expertise and the irresistible bonus of it being $13 on the happy hour menu. Bellevue
Where's The Beef?
Cows can breathe a sigh of relief at these deliciously unique burgers.
Get to know and love the Dork, a burger patty made with ground duck and pork. A LunchBox signature creation, it's used perfectly in a burger that takes cues from the Vietnamese banh mi. The rich duck/pork burger is balanced with pickled vegetables, fresh cilantro, sweet chili mayo, and a license to thrill one's appetite. Bellevue, Seattle,Redmond
This ain't no Filet-o-Fish. Tipsy Cow pulls out all the stops with a "burger" of seared sesame seed-crusted ahi tuna, wasabi aioli, and a cabbage slaw with ginger dressing. You may have walked in craving a beef burger, but don't be surprised if you find yourself ordering this. Redmond and Woodinville
Chef Bobby Moore has never been shy about a love of big flavors, and a hamburger made with lamb is a burger with the volume turned up. Ingredients like chevre, wine-pickled onions, and arugula stand up nicely to the flavor of lamb, making it an amplified burger experience. Woodinville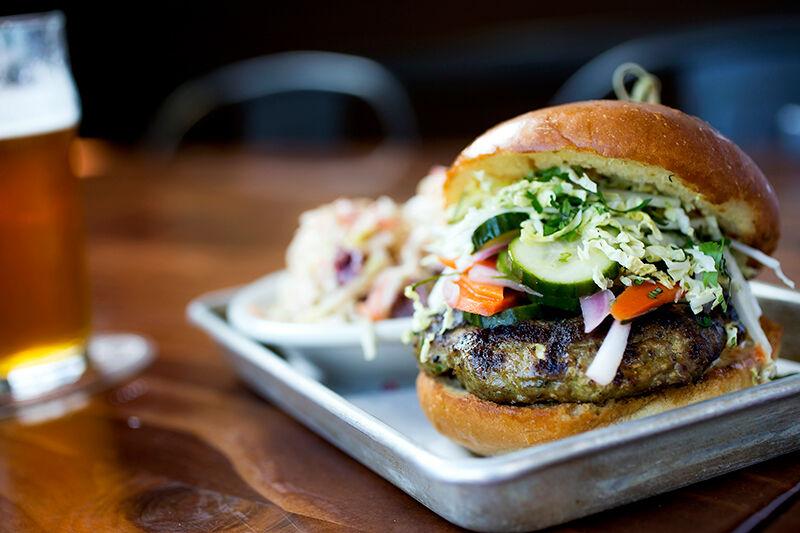 Not just for Thanksgiving, turkey is a blank canvas for flavor, allowing for combinations that might otherwise clash with beef. Beardslee's turkey burger changes monthly, mixing seasonal ingredients into as well as on top of the burger, customizing the house-baked bun to complement it. This burger is never boring. Or celebrate Meatless Monday with… a veggie burger! A delicious blend of black-eyed peas, sweet potato, kale, and quinoa, the burger patty is flavorful and hearty (and gluten-free!), topped with pickled onions, tomato, and lettuce, between a fresh-baked potato bun. Curb that burger craving, and be able to say you ate your veggies today. Bothell 
Staff Picks
I have to give it up to the Burger Brawler at the new Lincoln South Food Hall. It's a burger, bun, and cheese, unadulterated with sauce or needless vegetables. The patty is made of ribeye, prime rib, and braised short rib and cooked on a griddle on top of pure merlot butter. Done!
— Jaurdey Samuel, account executive
I love the burgers at Lunchbox Laboratory — they are big, juicy, and creative. I also like all of the sides, from the tater tots to the milkshakes.
— Lisa Patterson, editor in chief
Whenever there is blue cheese on a burger, it's always my pick, and Hop Jacks' does it right. The crispy onions and spicy mayo make the Black and Bleu burger extra-good. All the burgers are delicious — and they come with addictive Jacks' potato chips.
— Jeff Burlingame, editor in chief, 425 Business
The Habit Burger Grill, a fast-food burger franchise with locations all over, including Issaquah. While the menu is reminiscent of fast-food cousins like McDonald's and Burger King, the fare is far less homogenized. They've got a lot of great burgers topped with a choice of avocado, portobello mushrooms, or bacon, Bonus: My kids love the miniature gummy cheeseburgers that come with their kids' meals.
— Joanna Kresge, assistant editor
DIY Burgers
Making the best burgers at home is pretty simple if you just leave it, well, simple. Here are our top tips and recipes.
Quality Ingredients Matter
Splurge on the meat. Go to your butcher or grocer's meat counter, and get 2 pounds of a top-quality 80/20 or 85/15 blend (this makes about eight, 4-ounce burgers), and try to get ground chuck if you can. These numbers are simply the meat-to-fat ratio: 85 percent meat to 15 percent fat. You need the fat for juicy burgers.
Make it Hot
Preheat your grill for at least 10 minutes on high. Clean the grates, and continue to heat it up.
Make a Patty
Don't overwork or overhandle the meat. I try to pull off a handful of about 4 ounces, and gently press the meat into a round patty. Work quickly, and don't pack the burger too tightly.
Poke It
Once your burger is formed into a circle about 11/2 inches thick and 4 inches wide, press your finger into the center, and make a small well. This keeps the burger from shrinking into a hockey puck with a thick center while cooking!
Sprinkle Simple Seasoning
Season your burgers with salt, pepper, and a touch of oil. Once the grill is preheated, place the burgers on the grill, lower the heat to 375 degrees, and close the lid. Watch for flare-ups, because these burgers are juicy.
Flip Out
After about 4 to 6 minutes, the juices will be pooling on top of your burgers, and this is your sign that they are ready to flip. Flip them once, and cook for 2 to 3 minutes. This will give you a burger that's medium-well, cooked-through, and juicy, but not overdone. Allow the burgers to rest under foil once they're fully cooked. If you want to be sure they are done, use an internal thermometer, and when it reads 160 degrees, it's done.
Add Cheese, Please
At this stage, you can add cheese and watch it get soft and melt on the hot burger.
Toasted Buns
When it comes to the bun, toasted is better. Use a light smear of butter on the inside of the top and bottom, and throw them under the broiler, onto the grill, or into a frying pan just long enough to slightly toast, a minute or two.
Build It
To build your perfect burger, think flavor combos. I always love an interesting mayo, bacon, crunchy lettuce, and onions. If you are going for the all-American classic, think crunchy pickles and juicy tomatoes.
Make It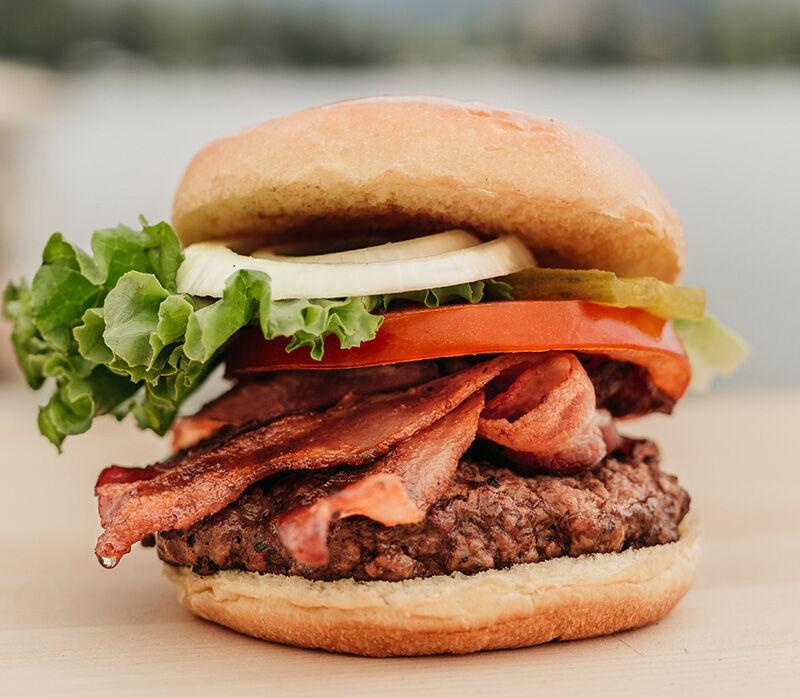 Ultimate Classic Bacon Burger
8 brioche buns
1/2 cup sliced red onions
6 to 8 tomato slices 
1/2 head crunchy green leaf lettuce 
4 thick slices of cheddar cheese 
1 pound thick center-cut bacon, cooked 
Ketchup, mustard, and mayo to taste
Follow the method at left to make a perfect beef patty, then assemble with the ingredients above. Makes eight 4-ounce burgers.
Teriyaki Pineapple Chicken Burger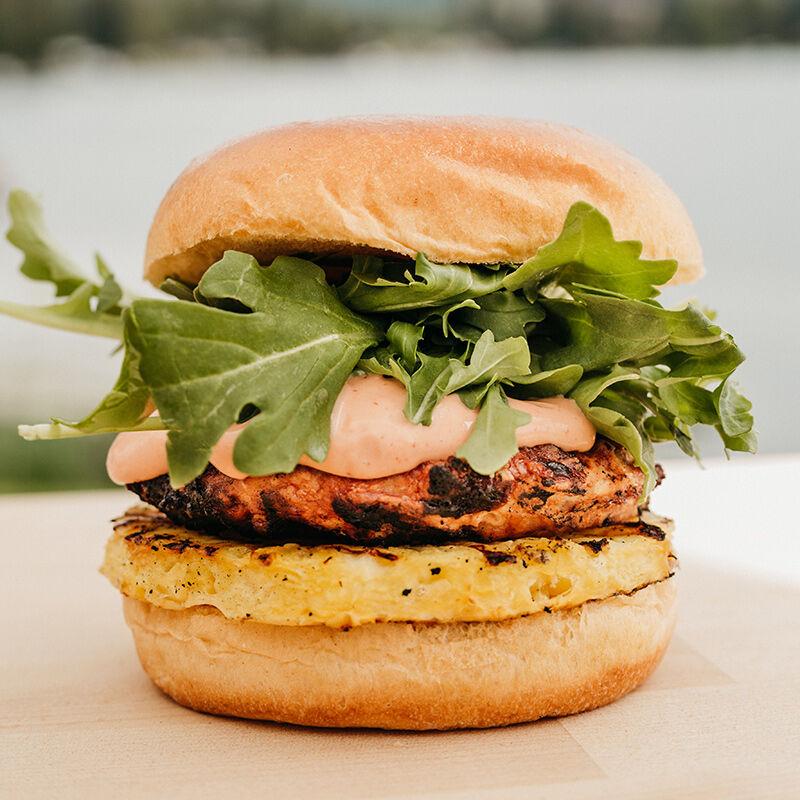 4 brioche buns 
1 pound ground chicken 
1 garlic clove, crushed
1/2 teaspoon pepper 
1 tablespoon soy sauce 
1 tablespoon brown sugar 
1 egg 
Dash of hot sauce 
1 tablespoon cooking oil 
4 thick slices fresh pineapple
2 cups arugula 
Spicy Aioli:
2 tablespoons sambal 
1/2 cup mayonnaise
Squeeze of fresh lime juice 
Pinch of cracked black pepper 
Preheat the grill to 350 degrees. Mix the chicken, garlic, pepper, soy sauce, brown sugar, egg, and hot sauce with a fork. Form the meat mixture into four to six even patties, and brush with oil. Grill the patties for 6 to 8 minutes on each side alongside the pineapple until they are completely cooked through. While the chicken burgers are cooking, mix up the aioli. To assemble the burgers, put 1 tablespoon of aioli on each side of the bun, and place the pineapple on the bottom, the chicken burger on top of that, and finish with arugula and top bun. Makes four burgers.
Banh Mi Burger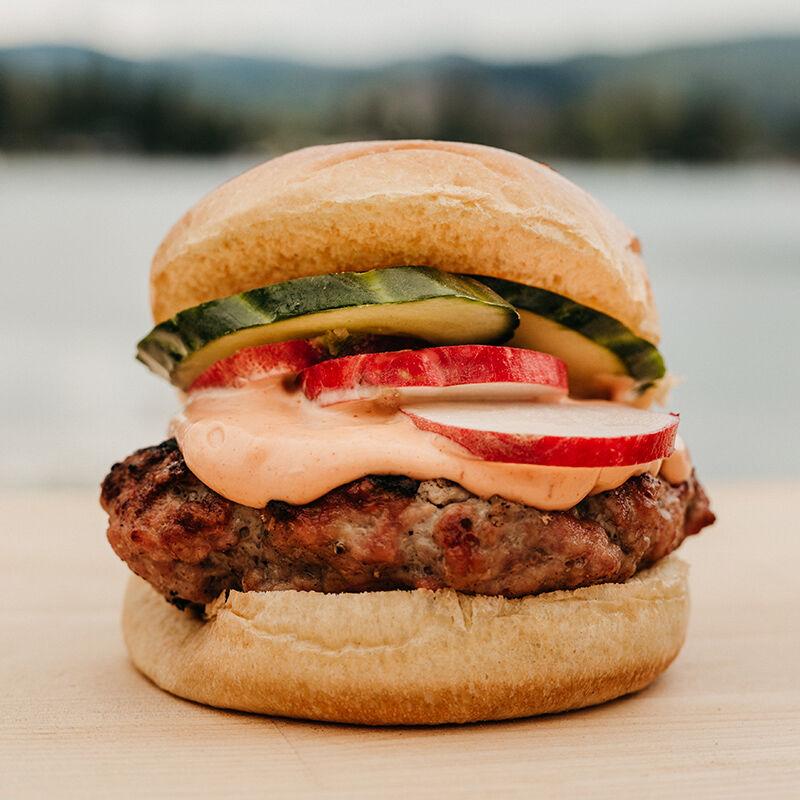 4 brioche buns 
1 pound ground pork 
1 egg
1 scallion, chopped 
1 teaspoon sesame seeds
1 garlic clove, crushed 
1/2 teaspoon sesame oil 
1/2 teaspoon kosher salt 
1/2 teaspoon black pepper 
Quick Pickles:
1 bunch of radishes, sliced 
1 English cucumber, sliced 
1 cup white vinegar 
1 teaspoon kosher salt 
½ teaspoon black pepper
1 tablespoon sugar 
Spicy Soy Mayo:
1/2 cup mayonnaise 
1 tablespoon dark soy sauce or tamari 
1/2 garlic clove, crushed 
1 tablespoon sriracha
To make your burger, preheat your grill on high for at least 10 minutes. While the grill is heating, mix the ingredients for the mayo, and place in the fridge. Put the sliced veggies, vinegar, sugar, and salt together for the pickles, and leave at room temperature. Mix the meat with the spices and seasonings, and form into four patties. Do not overwork the meat. Place the patties on the hot grill, and lower the heat to 375. Close the lid and cook for 5 to 6 minutes on each side, until the patty is cooked through and well done, but not dry. To assemble the burger, place a patty on the brioche bun bottom, top with a few of the quick pickles, and slather the top bun with mayo. Makes four burgers.
Grilled Salmon Burger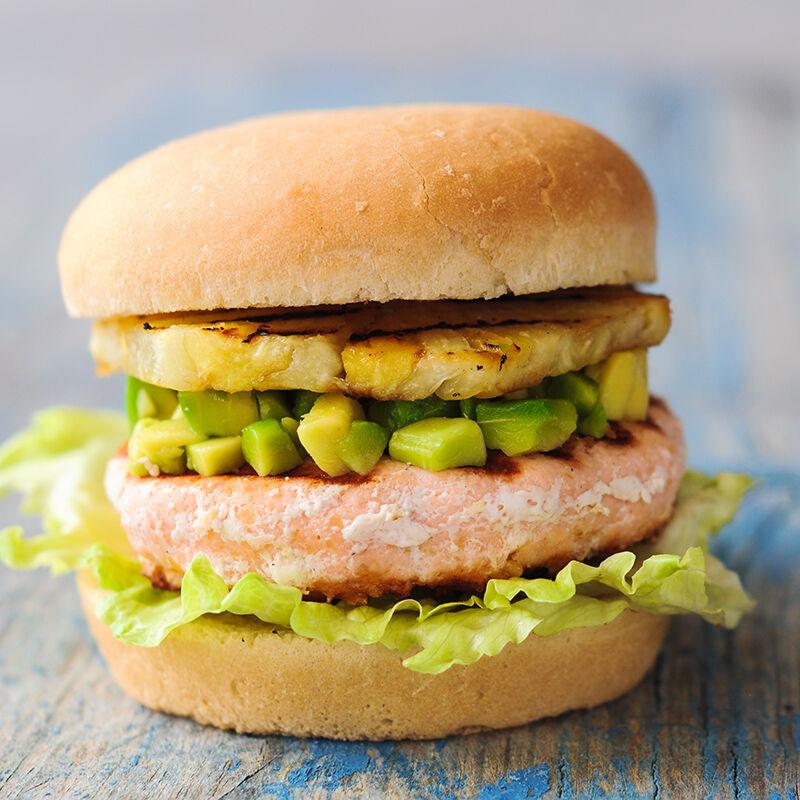 1 pound of wild salmon, skin removed, chunked
1 orange pepper, chopped
3 green onions, trimmed
and chopped
½ cup panko
2 tablespoons lemon juice
3 tablespoons mayonnaise
½ teaspoon minced garlic
½ teaspoon minced ginger
½ teaspoon red pepper flakes
¼ teaspoon salt
¼ teaspoon pepper
Pulse all ingredients in a food processor until just combined. Form into patties. Grill on medium heat until browned. Carefully flip and brown the other side. Don't overcook — these will cook quickly, about 5 minutes on each side should do it. Place patties on sweet Hawaiian burger buns, and add diced avocado, a slice of pineapple, and crisp lettuce, if desired.