The heirlooms and vine-ripened tomatoes are showing off. The peppers are poppin', and don't even get me started on the juicy peaches preening out front at the local markets. So perfect for a summer crumble. It's a sublime time to haul out the antique wine table and roll out an alfresco August Invite that's an homage to summer's golden hour and filled with childhood stories. Fair warning — I'm bringing a bit of heat with the "not your mama's" (grilled) stuffed peppers. Not to worry, though: The frosty frozen gin gimlets with house-made limeade will cool things off as we celebrate this sizzler of a summer before it slowly slips away.
SET THE SCENE
It's all in the mix. A rustic wine table is draped with a striped Turkish beach towel and topped with earthy pots of fragrant garden herbs and blue agapanthus.
A handsome woven tray holds the dinnerware essentials, including something soulful, Grandma Nettie's beloved China bowls. One table over a glitzy sunburst mirror (plucked off the dining room wall) radiates instant garden glamour and creates a beautiful backdrop for an elegant alfresco bar.
THE SIP
Frosty Blitzed Gin Gimlets with Limeade
Makes 8 servings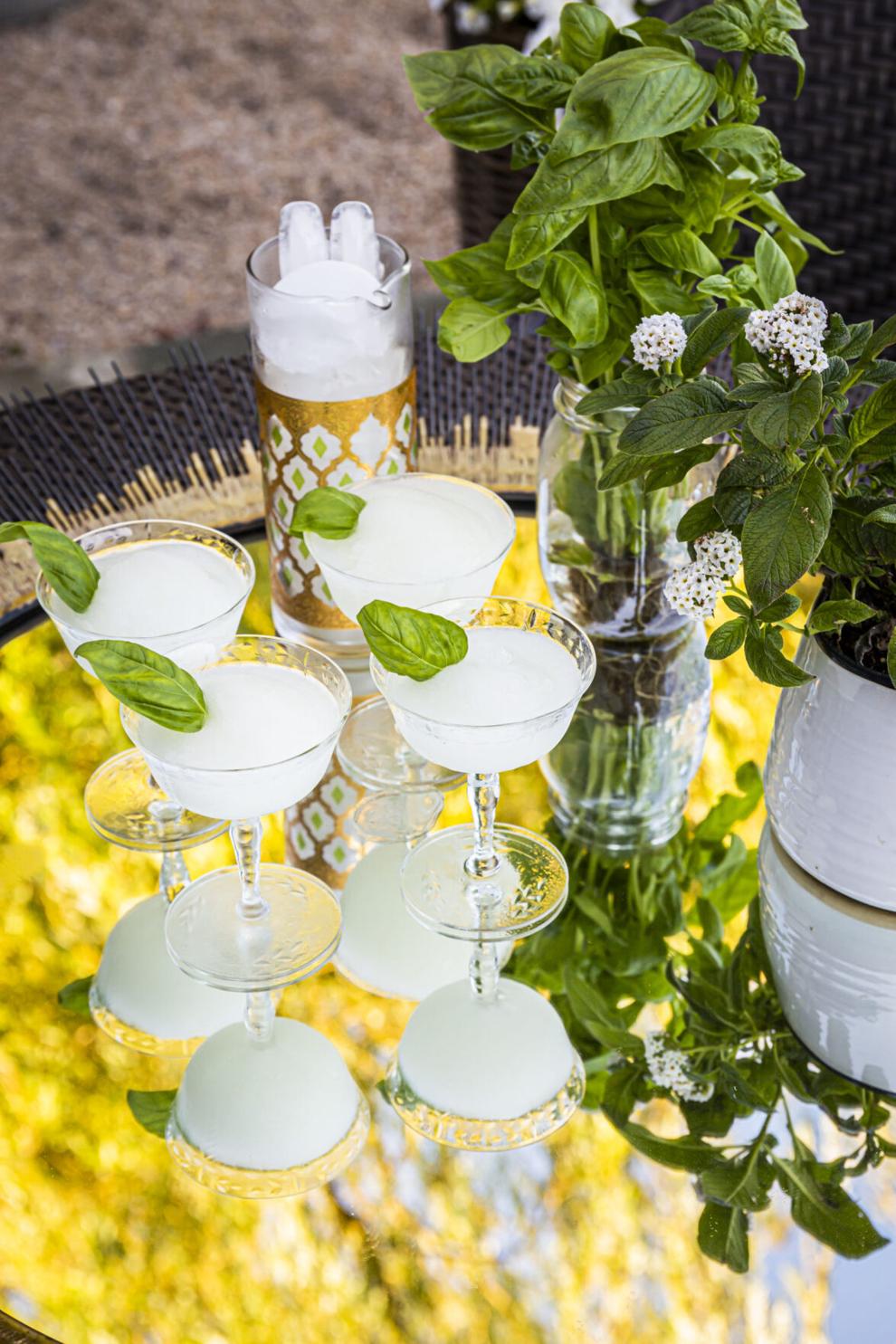 Pucker up for this retro-chic and refreshing classic cocktail — a blended frozen gin gimlet, which I recently learned was a family favorite.
As the story goes, my parents; older brother, Bob; and his wife, Barb, would make these to cool off on hot summer days when I was a kid. I made them my own with house-made limeade, which is so worth the effort.
The drink is especially pretty served in frosty vintage coupes piled high with frothy clouds of limey gin goodness. Cheers to family favorites.
LIMEADE
Ingredients
10 limes, squeezed (equals approximately 1¼ cups juice)
¾ cup granulated sugar
1 cup water
Method
Juice 10 limes. Simmer the sugar and water in a stovetop pan, stirring until the sugar is dissolved. Cool and chill the syrup. Whisk together the lime juice and chilled syrup. Pour into an ice cream container, and freeze overnight.
Make the Drink
Scoop half of the limeade into a blender. (Reserve the rest for a second round.) Add 1½ cups gin, and fill blender ¾ full of ice cubes. Blitz until smooth and frothy. Pour into chilled vintage Champagne coupes, and garnish with a fresh basil leaf.
THE STARTER
Caprese salad sammie board with garden herb pesto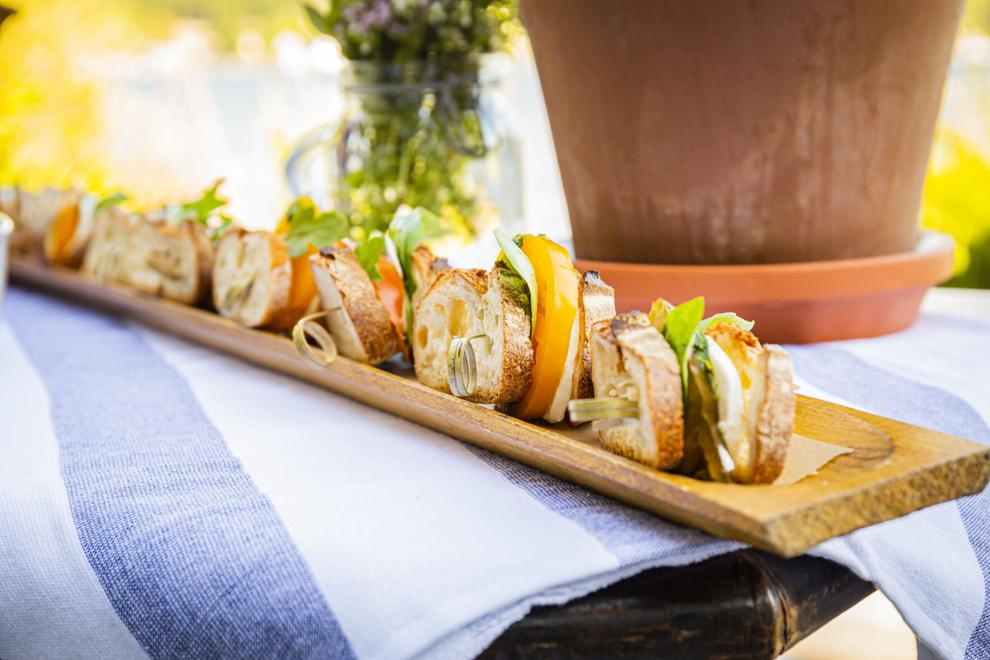 Succulent vine-ripened tomatoes at their peak whisk me back to my childhood's family kitchen gardens. This vintage baguette board caught my eye, and I instantly thought of this combination — mouthwatering slices of late summer heirloom tomatoes, fresh mozzarella layered between slices of rustic bread, fresh basil and arugula leaves tucked about.
Ingredients
3 heirloom tomatoes with varying colors, sliced and drained on parchment paper
2 rounds fresh Ovaline mozzarella, sliced
1 rustic baguette, sliced on the angle
Fresh basil and arugula leaves
Salt Olive oil
1 lemon
Method
Assemble and drizzle each sammie with house-made garden herb pesto (see recipe, right), spritz with olive oil, sprinkle with fleur de sel, secure with a bamboo pick, and display on the board. Beautiful and delicious.
BASIL, MINT, AND OREGANO PESTO
Come August, my kitchen garden is popping with fresh herbs. I find myself making pesto almost on the daily just to keep up with production. And it's so easy. Gather a handful each of fresh basil, mint, and oregano leaves, and add them to the bowl of a food processor along with a garlic clove. Drizzle in about ¼ cup olive oil, a good squeeze of fresh lemon juice, plus a bit of zest and a sprinkling of salt. Blitz until the mixture forms a fluid paste. Lightly spoon pesto over the caprese sammies.
THE MAIN
Grilled stuffed peppers with spicy rub, couscous, and roasted tomato sauce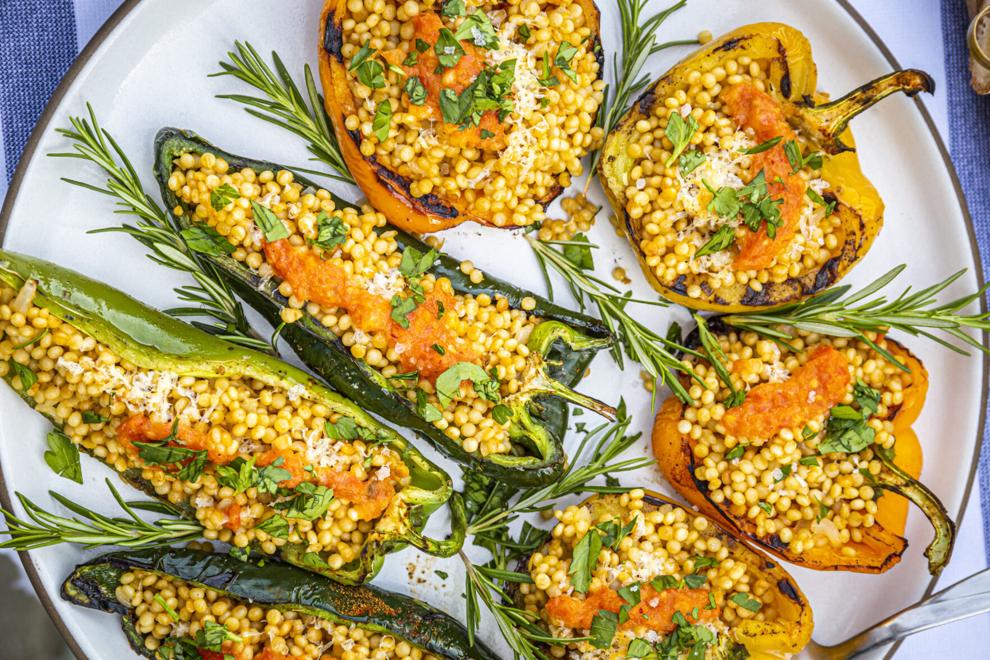 I spent every August as a kid picking a medley of peppers in the Yakima farm fields with the family. They're delicious fried and also grilled, then stuffed with couscous. Roast up, then blitz heirloom and vine-ripened tomatoes with garlic and fresh garden herbs, and you have an insanely delicious stuffing and tomato topper for your grilled late summer "pepperools," as my dad used to call them.
Ingredients
2 bell peppers
2 poblano peppers
1 Anaheim pepper
1 teaspoon cumin
1 teaspoon sweet paprika
½ teaspoon chili powder
1 tablespoon olive oil
1 shallot, chopped
2 tablespoons unsalted butter
2 cups couscous
2½ cups vegetable broth
1/3 cup grated Parmesan
Roasted tomato sauce (see recipe below)
¼ cup chopped fresh parsley
Method
Heat the outdoor grill to medium-high. Cut the peppers in half lengthwise through the stems, and remove the seeds. Lightly coat the peppers in the rub of cumin, paprika, chili powder, and olive oil. Grill the peppers, turning frequently until lightly charred and blistered on all sides. Remove from heat, and set aside. For the couscous, add shallots and 1 tablespoon butter to a stovetop pan. Sauté for 3 minutes until soft. Add the remaining butter to the pan, along with the couscous. Brown the couscous for 3 minutes. Add the broth to the pan. Bring to a quick boil, then simmer and cover for 10 minutes until tender. Fluff with a fork. Set aside. Spoon the couscous into the charred pepper halves. Place the peppers on a barbecue-safe grill pan. Sprinkle with grated Parm, and lightly drizzle with roasted tomato sauce (recipe, right).
Using BBQ mitts, place the grill pan on the grates. Close the grill, and heat for approximately 5 minutes, until the peppers are warm and the cheese is melted. Plate on a platter with a sprinkling of fresh parsley.
ROASTED TOMATO SAUCE
Preheat the oven to 375 degrees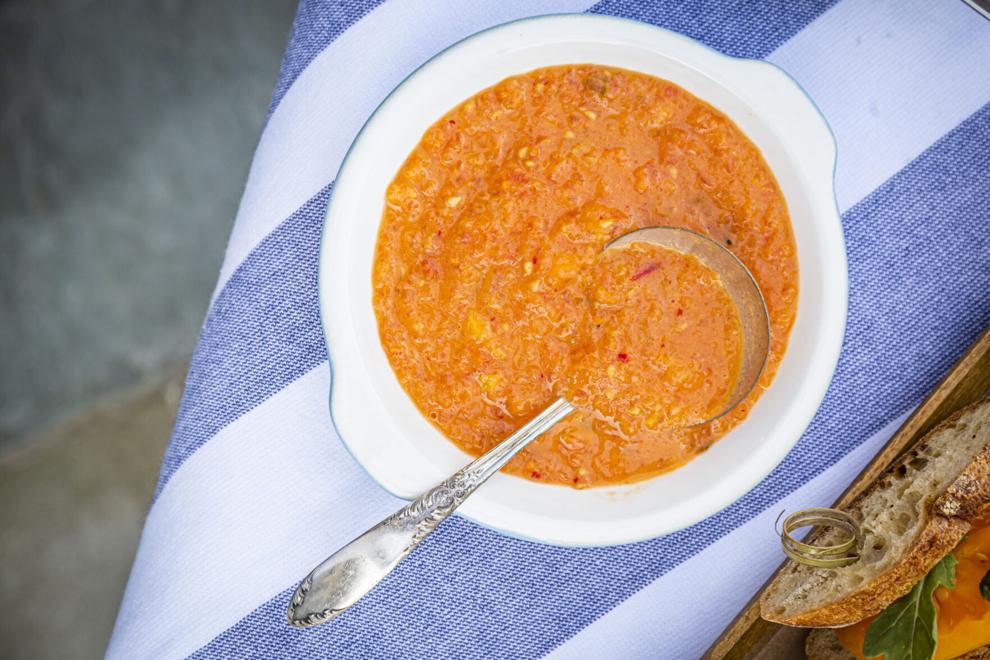 Ingredients
9 vine-ripened tomatoes, left whole
2 shallots, sliced
3 garlic cloves, peeled
1 sprig rosemary, leaves removed
2 sprigs oregano, leaves removed
2 bay leaves
4 sage leaves
1 teaspoon chopped Fresno chili pepper
1 small cinnamon stick
2 teaspoons salt
Olive oil
Method
Nestle the tomatoes in a 9-by-11-inch ovenproof pan. Tuck in the shallots, garlic, herbs, chili pepper, and cinnamon stick. Sprinkle with salt. Fill the pan 1/3 of the way up with olive oil. Bake in the oven for 1 hour, turning the tomatoes twice in the oil until they begin to blister. Cool. Remove the cinnamon stick, bay leaves, and stems. In batches, blitz the rest of the mixture in a blender or food processor until smooth. Spoon onto the stuffed peppers. The remaining sauce is delicious over pasta, or for dipping with bread.

THE CLOSER
White peach and plum crumble with dried cherries and fresh berries
Serves 6 people
Preheat oven to 350 degrees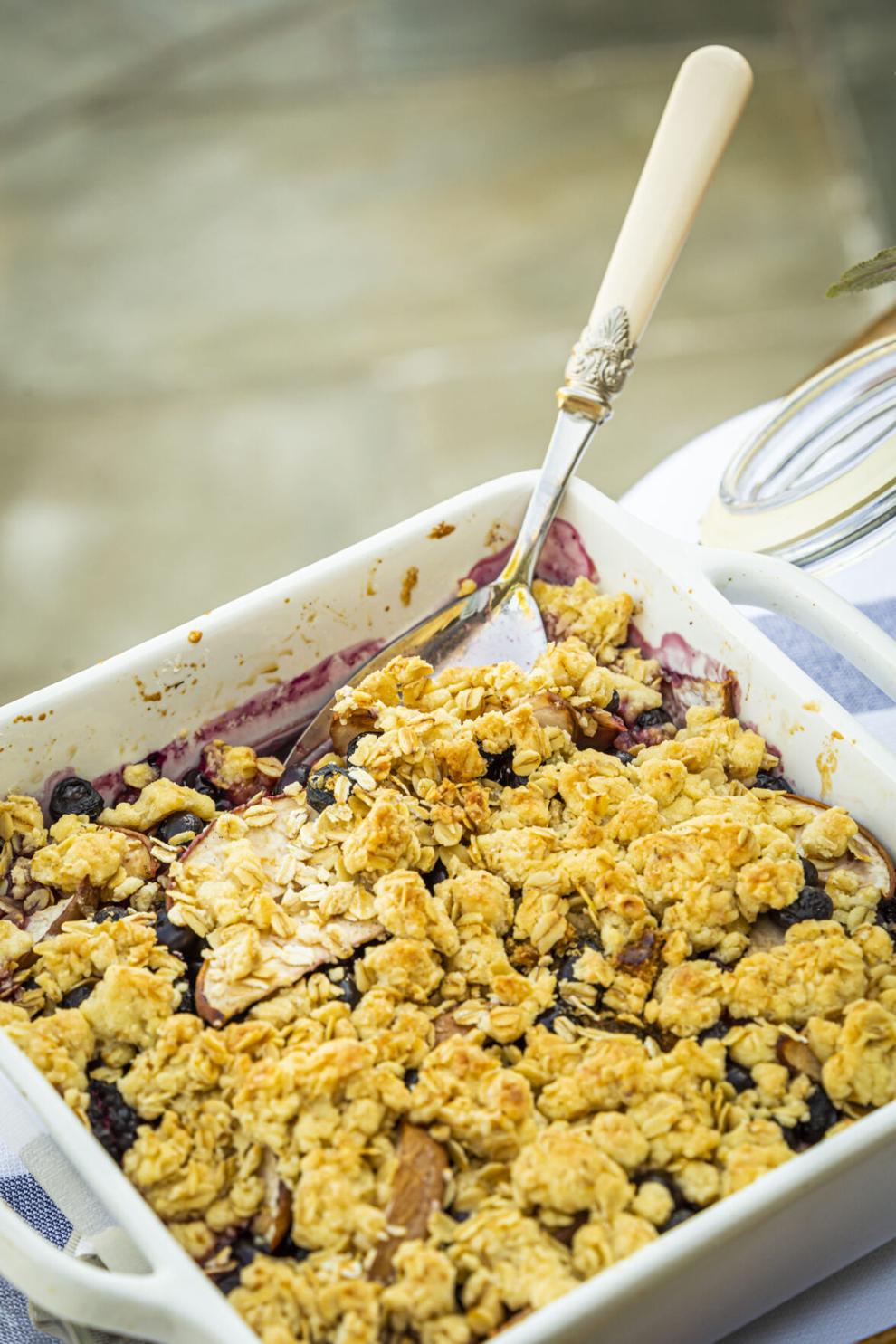 C'mon: Who doesn't love an old-fashioned crumble? Syrupy, vanilla- and citrus-infused peaches, plums, dried cherries, and fresh berries, with a floury rolled oat and buttery crumble — Oh my!
Ingredients
3 large white peaches, sliced 2 plums, sliced
6 ounces fresh blackberries
1½ pints fresh blueberries
2 ounces dried Bing cherries
1 vanilla bean, seeds scraped
½ cup brown sugar
1 tablespoon grapefruit juice plus zest of ¼ grapefruit
1 tablespoon Cointreau
2 tablespoons unsalted butter
½ cup all-purpose flour
½ cup cold butter, diced
½ cup old-fashioned rolled oats
2 tablespoons granulated sugar
Method
In a large mixing bowl, combine the fruit, vanilla seeds, brown sugar, juice, zest, and Cointreau. Spoon filling into a 9-by-9- inch ovenproof pan. Dot the filling with 2 tablespoons butter. Bake at 350 degrees for 20 minutes. Pull from the oven.
Meanwhile, toss together the flour and butter. Work the topping with your fingers. Add the rolled oats and granulated sugar. Work again. Cover the filling with the topping. Pop the pan back in the oven for an additional 25 minutes. Run the crumble under the broiler for 3 minutes, until the topping is lightly browned.