Celebrities go crazy for Sugar Factory in Las Vegas, Miami, New York and more, and now Bellevue is getting a Sugar Factory all its own.
Sugar Factory opened in September (Mariah Carey was there!), sprinkling sweetness throughout two adjacent spaces spanning 15,000 square feet. The new location at The Bravern in Bellevue includes a restaurant, outdoor patio, and a super-cool Chocolate Lounge, where you can dunk edible cold, covered treats like gummy bears and strawberries into a pot of warm chocolate fondue.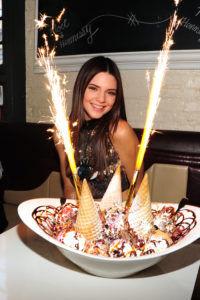 Sugar Factory is an Instagram (and sugar monster's) dream come true — imagine a floor-to-ceiling candy-dot wall and bins loaded with 300 kinds of candy, everything from chocolate-coated gummy bears to fancy Couture Pops.
But the rainbow of candy is just the beginning; you can also get freshly made ice cream, gelato, giant milkshakes, doughnuts, and coffee. If you're feeling daring, bring your friends and order the King Kong Sundae — it serves up to 12 people, has 24 scoops of ice cream, and the toppings are, well, over the top. The price — about $100. But imagine the social media pics.
If you crave food to balance out the sugar rush (or prep for it), the restaurant serves lunch and dinner — think burgers; savory crepes; pizza; and, yes, even salads. Fresh coffee and doughnuts are available daily starting at 8 a.m. at the Artisanal Donuts and Coffee Shop. Brunch is served on weekends.
Adjacent to the restaurant is the Sugar Factory Chocolate Lounge, "where chocolate lovers' fantasies are turned into reality in a space embellished with gold and caramel tones and floor-to-ceiling windows," according to the company's description. Everything chocolate is on the menu, including cocktails served in chocolate-dipped glassware.