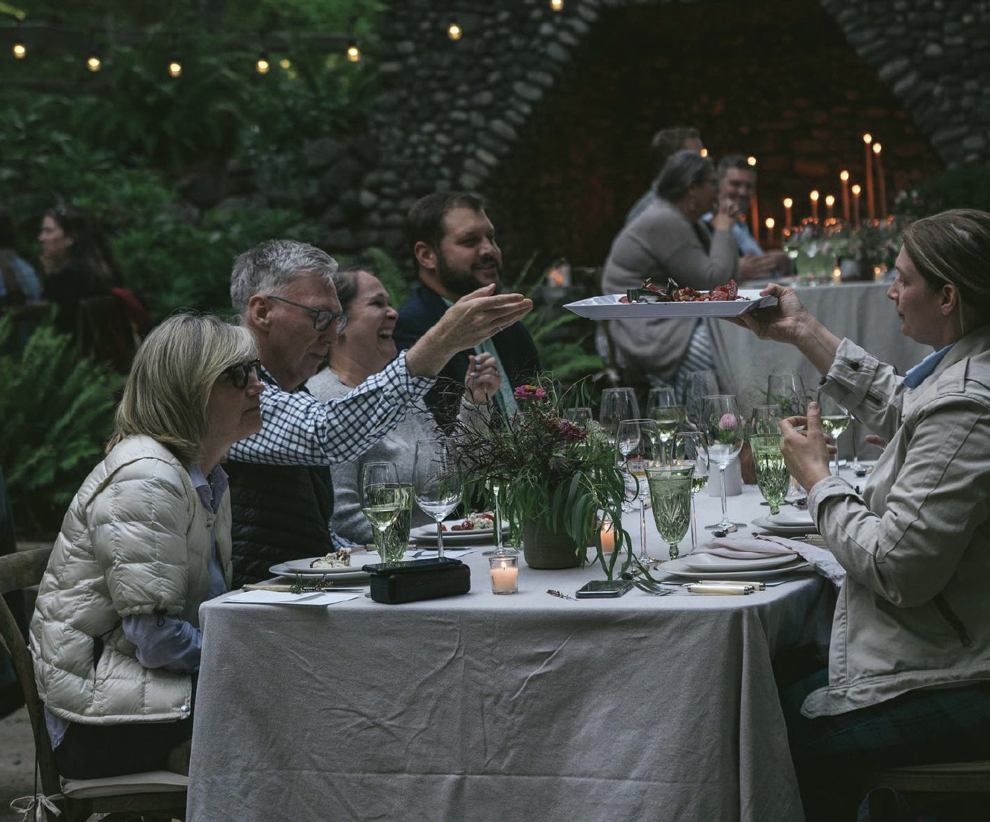 The sun glistened through the trees as guests walked toward the grotto at St. Edward State Park in Kenmore, glasses of wine in hand. It was a warm Thursday evening in early September, and people were arriving for a special dinner experience. This was no familiar summer outing with friends. In fact, it was mostly strangers at the latest Secret Supper outing.
This unfamiliarity is by design. The location-hopping Secret Supper event series looks to foster community through great food and wine in stunning and unique locations. Strangers from all over the country come together around a table abundant with great food, wine, and conversation.
Secret Supper founder Danielle Firle is familiar with how food can bring people together. Growing up in a family that hosted and entertained often, Firle remembers always having extra people around the table. It didn't matter whether they didn't have a lot of money or extra food — there was always room. That generosity stuck with her.
In 2015, Firle met a photographer through Instagram who was living in Portland at the time. With a background in interior design and a new love for wine, Firle wanted to bring food, wine, and entertainment to people in an interesting way. She wanted gatherings to be simpler and have less pressure. Together with her new friend, Firle soon hosted what would essentially be the first Secret Supper.
That night, about 25 people gathered in her friend's backyard in southeast Portland and broke bread together. Firle said that night felt like a secret garden.
"We just kind of came together and did an event," Firle said. "It was totally going to be for fun. I knew right away that there was something special there."
In 2017, Firle realized Secret Supper was much more than a side project. It was time to branch out.
"The community that was created at the table every time felt so special that I knew I wanted to bring that around more," she said. "There's a shift where it feels like strangers are now friends."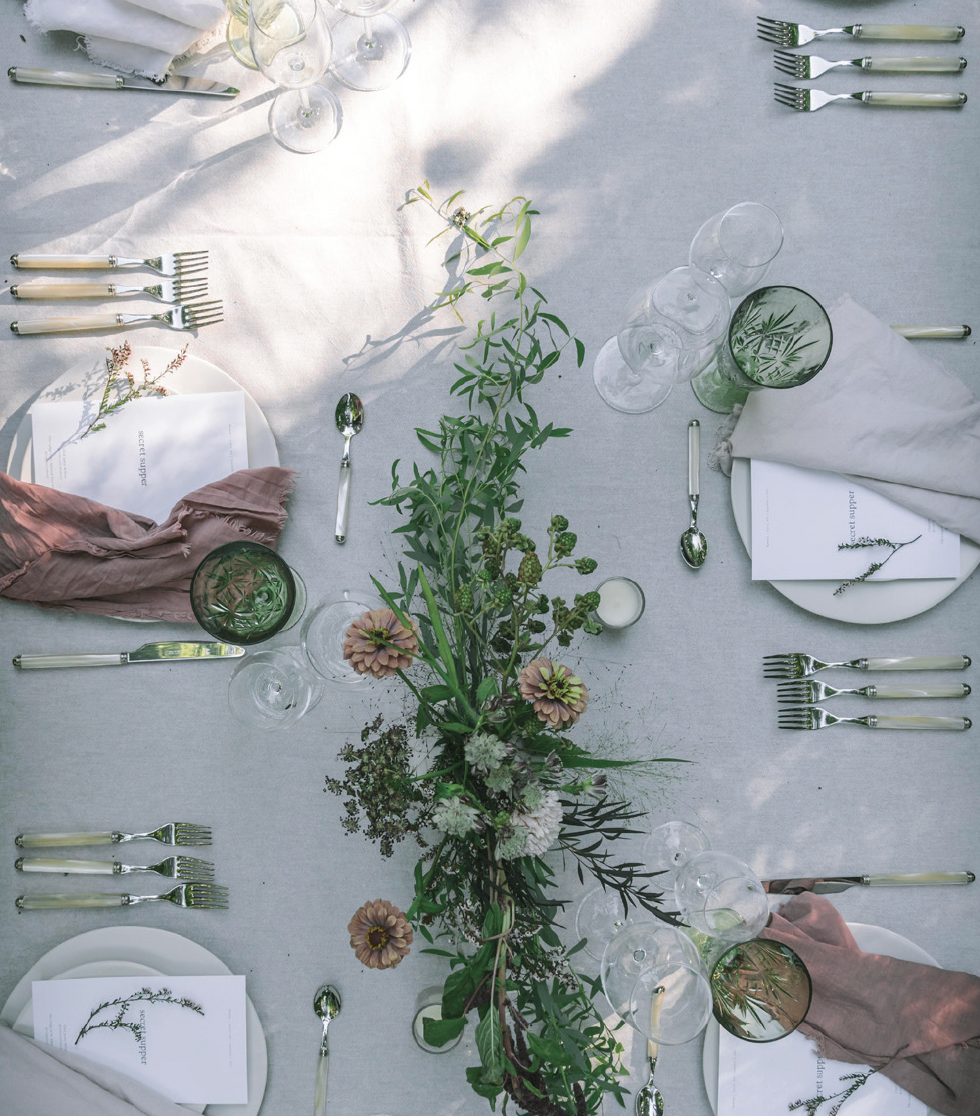 How It Works 
The suppers are designed to be adventurous, and according to the Secret Supper website, to create an evening of a lifetime. Usually, Firle and her team release the supper series schedule for the year on Small Business Saturday and have eight to 10 styles of suppers prospective guests can choose from.
The anticipation surrounding the experience builds the moment you purchase a ticket. According to Firle, timing is important, since tickets sell out within minutes. When you purchase your ticket — priced at $199 per person — you only know the date and the closest major city to where the table will be set. Two months before the supper, organizers share the nearest town to help with possible overnight lodging. And only 24 hours before the gathering starts, you receive coordinates to the supper location. The menu and unique details remain a secret until you are welcomed at the table.
At first, Firle said the secret element of the suppers was something fun that also set them apart from other pop-up dinners. She didn't realize how much that would resonate with people, and now it's an element they cherish.
"(Right now), everything is at our fingertips. You know where you're going and plan everything out in advance. (You) look up the menu in advance, and know what you're going to order," Firle said. "There's a lot of decisions for every day. Giving up control … it really adds to the excitement of the event. I think it extends the anticipation at the event to more than just the dinner."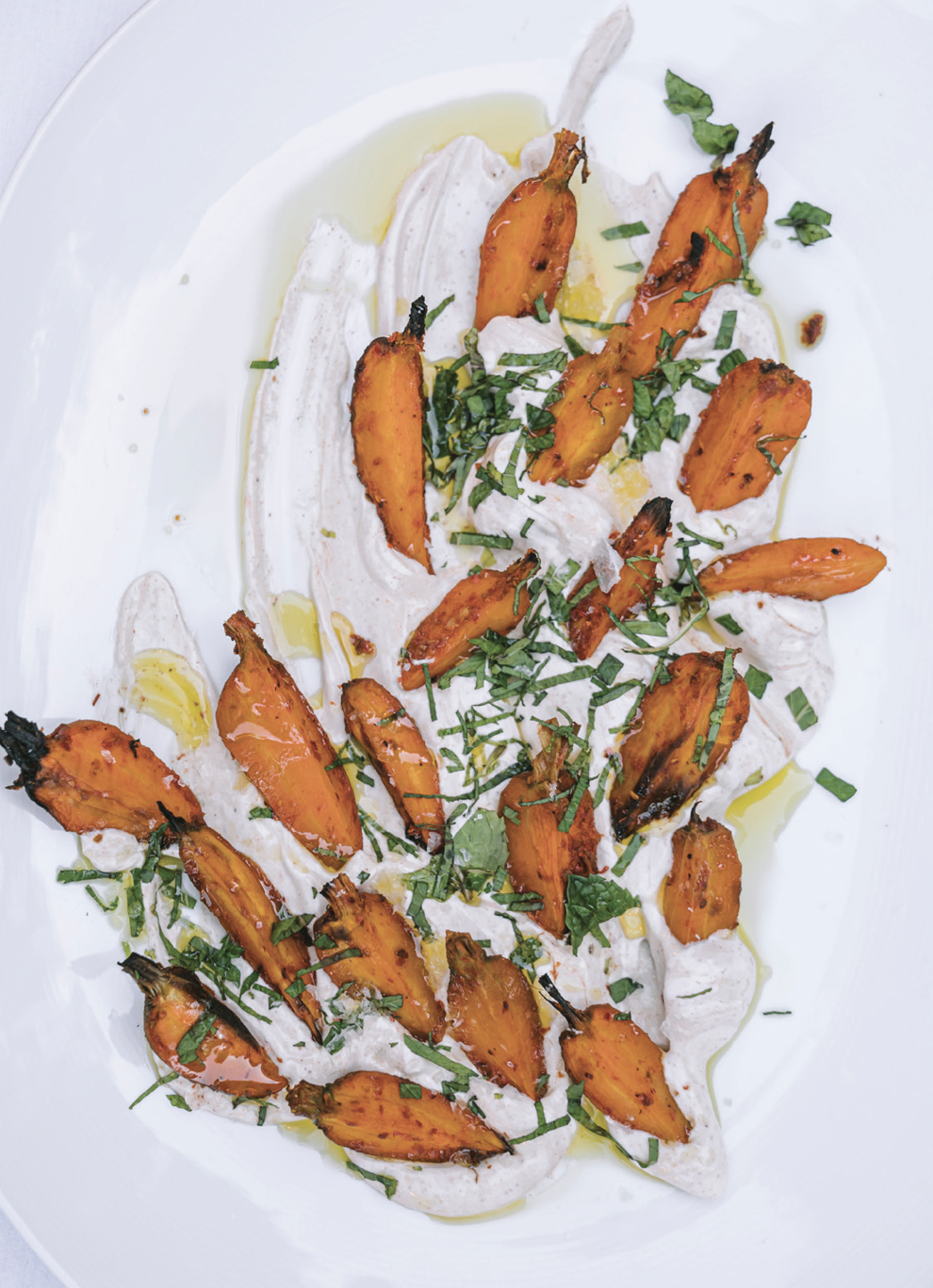 Food and Location 
Each location is meticulously selected. The Secret Supper team searches for one-of-a-kind places that provide an extraordinary frame for a picturesque dinner. Supper locations usually embrace nature and are cared for by people who share the same passion for community, according to the Secret Supper website. Secret Suppers have set tables in Alaska, Oregon, Washington, Hawaii, California, Maine, and even Mexico.
One of Firle's scouting triumphs was tracking down the company that purchased Woods Cathedral in Detroit. Firle had a specific look in mind and serendipitously found the cathedral on Pinterest. With determination and a lot of digging, Firle managed to bring an unforgettable dinner to a dream venue.
"We try to do things that are out of the ordinary," Firle said about the locations. "We try to keep it as surprising as we can."
To offer guests the utmost culinary experience, Secret Supper partners with local chefs who create menus rooted in sustainably sourced local and seasonal ingredients. Firle said they try to make it a mission to link up with chefs who are diverse, unique, and come from different cultures and food backgrounds.
Every design element serves a purpose. The drinks, the food, the flower arrangements, the linens, the dinnerware, the hanging lights — it's all aesthetically cohesive, methodically enhancing the dining experience as a whole.
"My hope is that it's a memory that people have for a long time. I hope that (our guests) will come back or that they'll meet people," Firle said. "I really hope that there's more of that — that people have more community dinners with neighbors or strangers we met on Instagram."
The Lodge at St. Edward State Park
Secret Supper hosted two dinners in Washington this summer. The first was hosted at Dunn Gardens in Seattle with chef Ashley Rodriguez. The second, which was hosted in September, was at The Lodge at St. Edward State Park, which is nestled in the 326-acre forested park in Kenmore. There were about 50 people gathered at the table.
Featured chef Jason Wilson created a delectable menu that included local ingredients sourced from Puyallup, Selah, Burlington, and The Lodge at St. Edward's own garden. Wilson is a James Beard Award winner for Best Chef in the Northwest and currently oversees the culinary efforts at The Lodge at St. Edward. Other supper partners included Woodinville Whiskey, American Lamb Board, and MilkRun.
At the supper, Wilson said he hoped each guest that night would experience unique and delicious flavors, but ultimately also have great conversation and kinship. "The catalyst for that vessel is the food," he said of the dinner experience.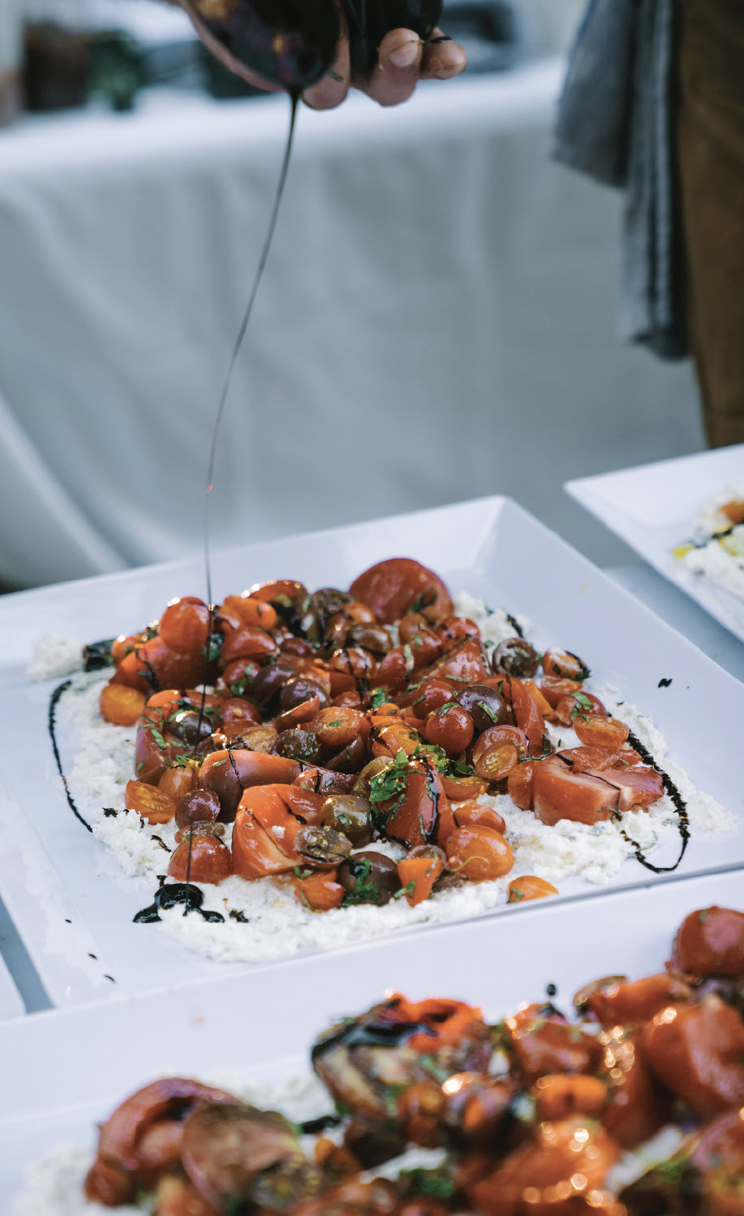 A Lot to Celebrate
Like most businesses, Secret Supper suffered during the COVID-19 shutdown. But the business adjusted its model, pursued online opportunities, and provided quality digital content for followers. Around Thanksgiving time, Secret Supper also launched a small product line, which has expansion on the horizon.
With things looking up, Firle said Secret Supper is excited to do more in 2022. The business is currently in the process of putting together a book proposal and launching an immersive travel experience called Culinary Pursuit. Through these continued and new experiences, Secret Supper hopes people uncover a new appreciation of food and community.
To learn more about Secret Supper, visit here.
---
Eat Your Way Around the Pacific Northwest
Discover some of the Northwest's amazing food tours, cooking classes, and more. What better way to explore the great Pacific Northwest than eating your way through it?
Local Farms 
Orchard Kitchen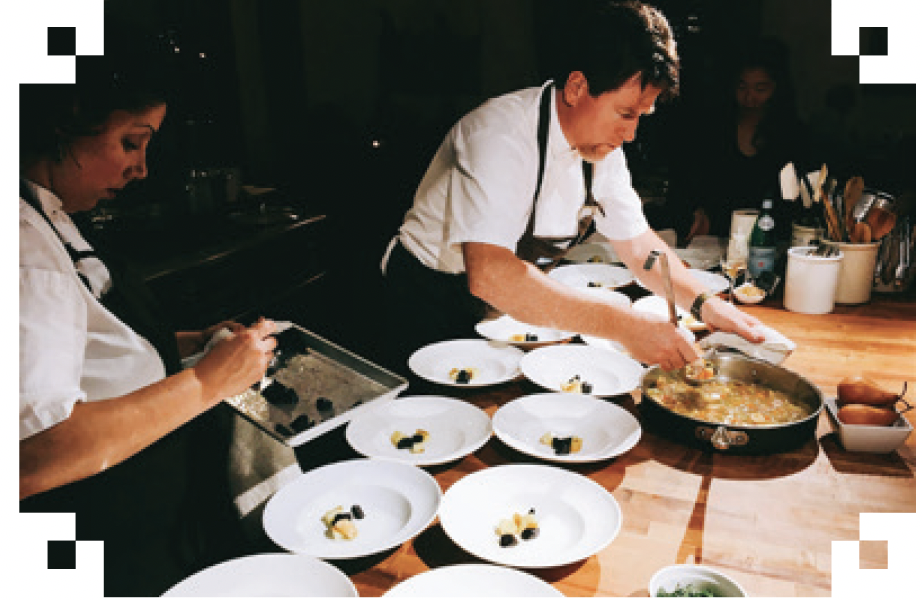 Take a trip to Whidbey Island for the ultimate farm-to-table experience. This season, Orchard Kitchen will be serving in the large barn dining room, where you can enjoy Whidbey's freshest food made from local ingredients. You can enjoy a hands-on "field-tofork" cooking experience in the open kitchen.
The Herbfarm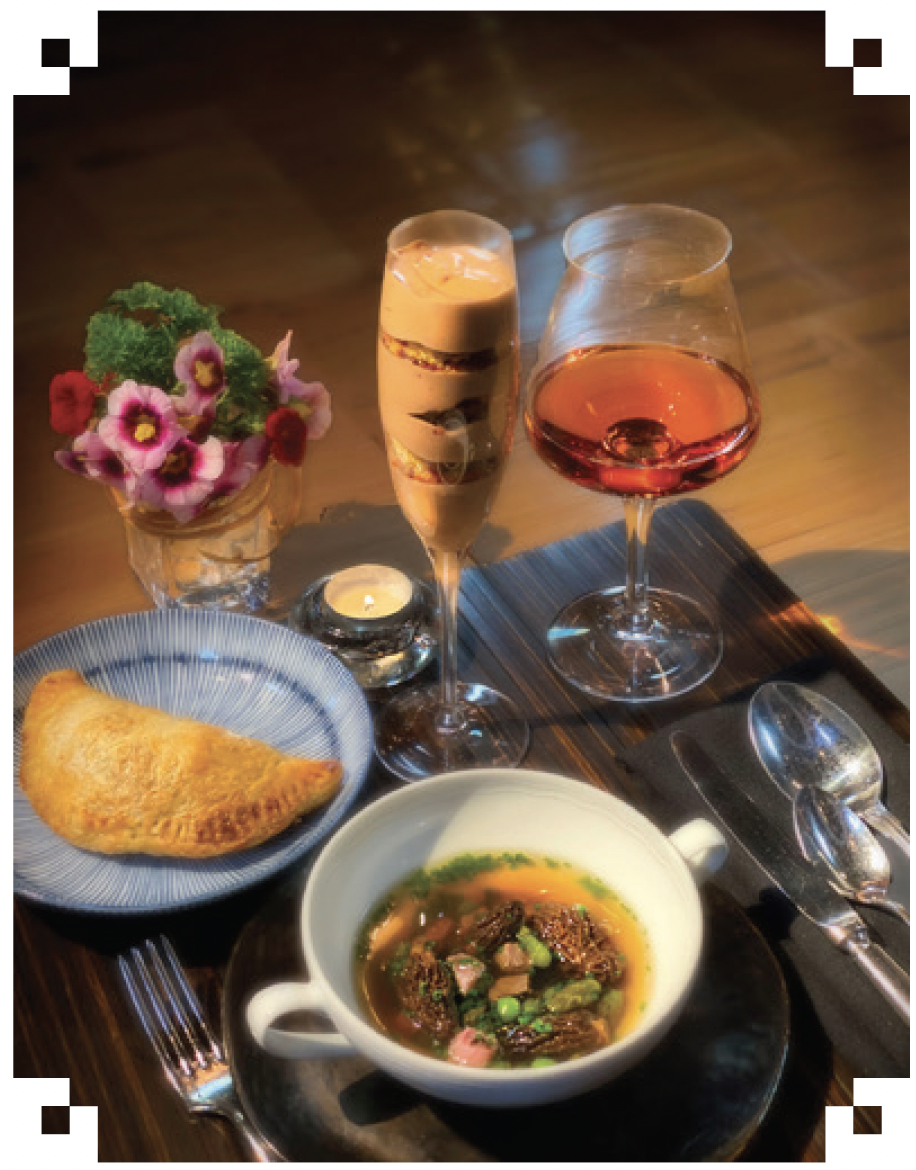 The Herbfarm in Woodinville is an experience you don't want to miss. Each nine-course dinner is inspired by the seasons and accompanied by wine pairings. The menu is finalized only hours before the meal, and each week, the restaurant chooses the best from farm, forest, and sea to create a thematic dinner.
Food Tours 
Chef-Guided Tour of Pike Place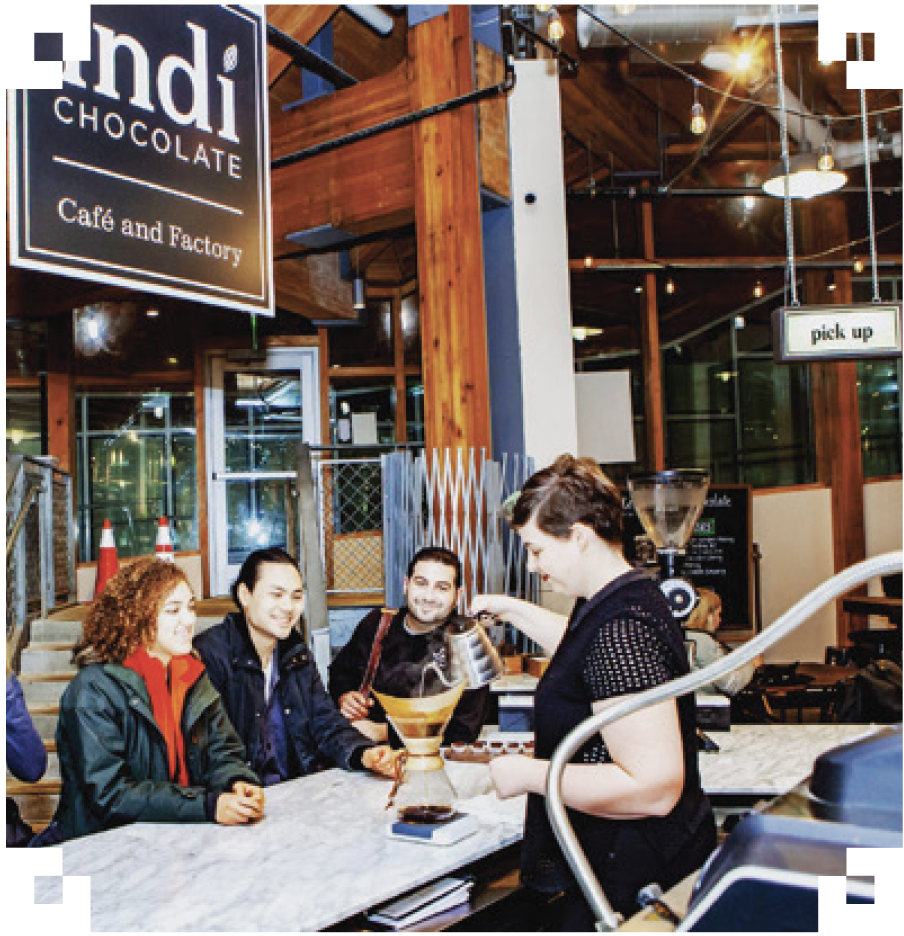 When visiting Seattle, exploring Pike Place Market is a must. Take it a step further, and book a one-or two-hour chef-guided tour of Pike Place to experience it in a new way. Discover hidden gems and interact with local vendors, all while indulging in treats from carefully selected stops.
Boutique Wineries of Washington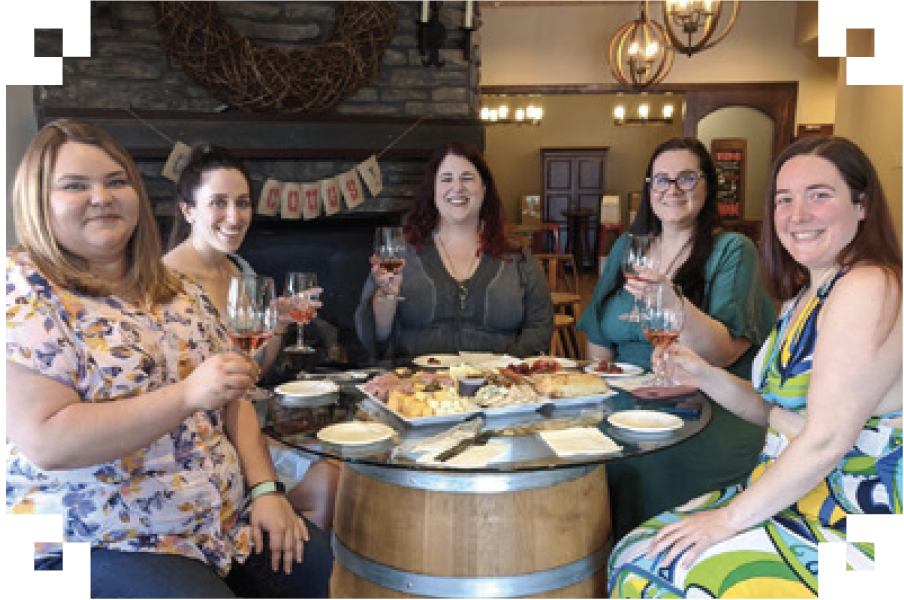 Washington is diversified in its wine growing, and some of its best wines are made by a small winery. Book a tour with Barrel Wine Tours to see the most highly sought-after boutique wines in Woodinville. You also can savor the flavors of wine and food pairing. Learn the basic techniques to successfully match wines and foods. Learn more here.
Cooking Classes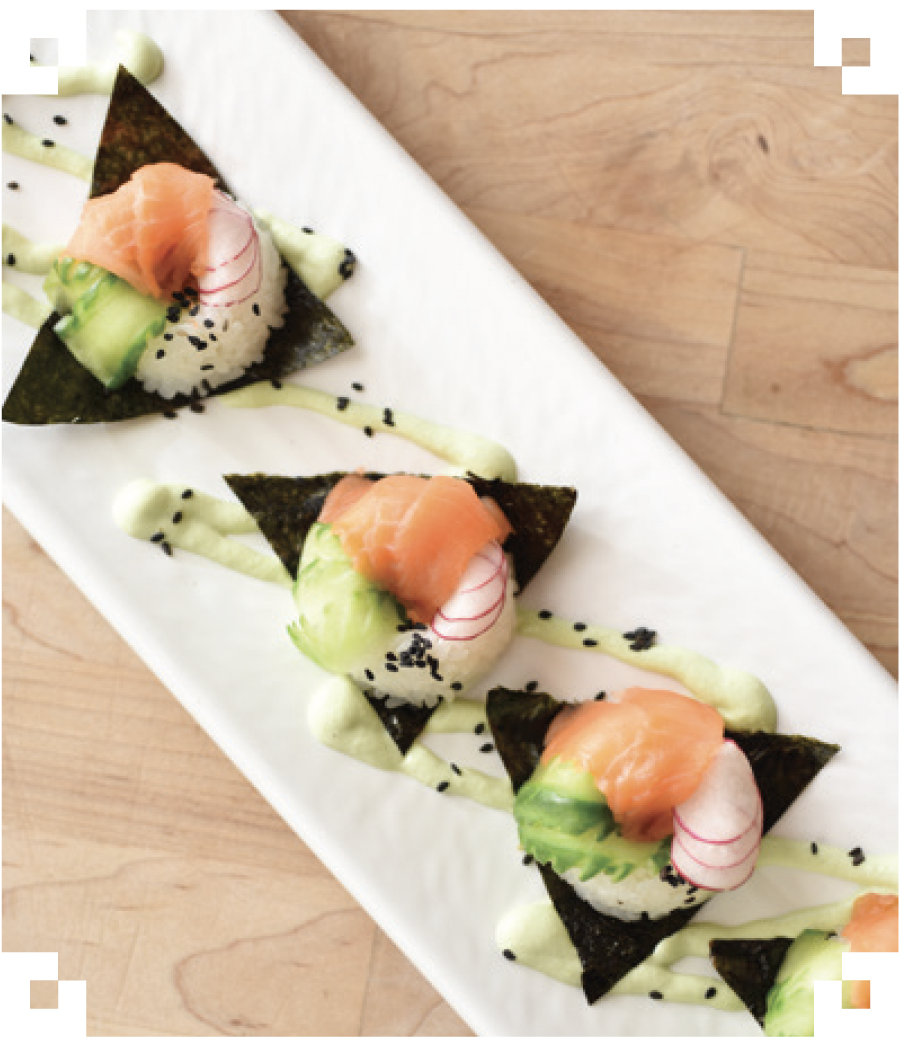 Class Iron Chef Competition at Blue Ribbon 
Have you ever watched Chopped on the Food Network and thought, "I could totally win that"? Well at Blue Ribbon, you and your friends can sign up for a three-hour competition. Your group is divided into teams, and each with a professional chef instructor, create a complete meal. Judging takes place behind the scenes, and the winning team is announced during dessert.
Whisk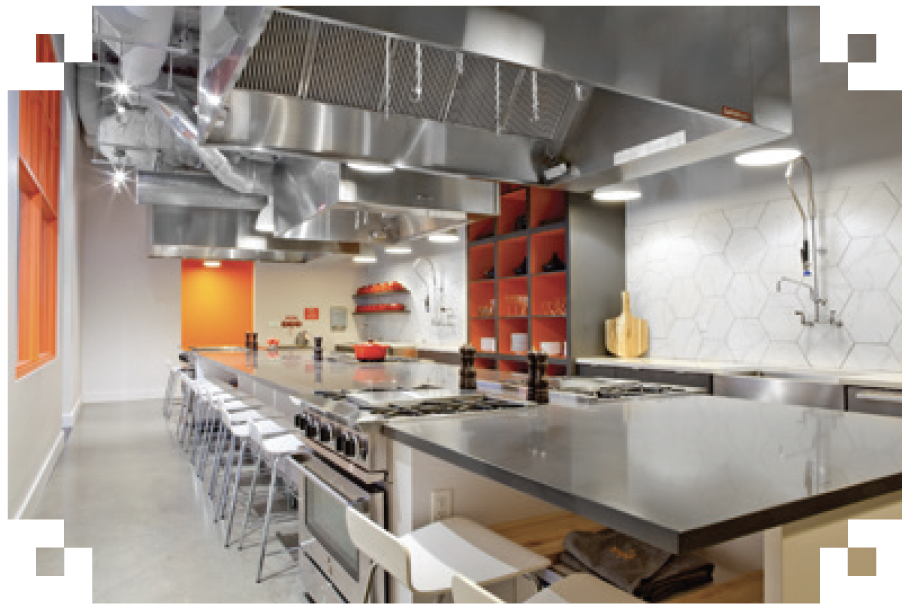 October is for cozy things, including food. Whisk in Bellevue has a month full of cozy cooking classes you must try, from fresh ramen, chicken soups, and warm croissants, to pumpkin three-course dinner classes.