This Fourth of July feels extra special. America has been through a lot this past year, and gathering with our loved ones will be amazing. This Independence Day, I wanted to make something elevated and worthy of the celebration. Tri-tip is a West Coast staple. This delicious cut of beef, done over the fire in true Santa Maria fashion, is a showstopper.
If you don't have coals or wood, your gas grill will get the job done beautifully, too. Beer is great, but Prosecco and grilled peaches are better on the side. The sunshine and slow days of summer are here to stay for a bit. Flare up the fire pit, gas up that grill, or fill up that wood-burning pellet smoker. This Santa Maria-style tri-tip is sure to be the new go-to grilling request when cooking for friends. Happy Fourth of July! Let's eat.
Fun fact: The Santa Maria method is a Central California coastal tradition. Perfected in the 1850s, this method of barbecuing over coals and wood developed a flavor and cooking style that is now well-practiced up and down the West Coast.
Santa Maria Tri-Tip
Prep time 1 hour
Cool time 20 to 25 minutes
Serves 6
Ingredients
3 to 4 pounds whole tri-tip roast
1 to 2 teaspoons olive oil
3 to 4 teaspoons of your favorite steak rub
To make your own steak seasoning rub:
1 tablespoon kosher salt
2 tablespoons onion powder
2 tablespoons garlic powder
1 tablespoon cracked black pepper
1 teaspoon dried oregano
1 to 2 teaspoons brown sugar
1 teaspoon mustard powder
Pinch of cayenne pepper
TIP: If you are making your own rub, feel free to double this recipe and save it in a jar in the cupboard for up to a year for future meals.
Method
Allow your tri-tip roast to come up to room temperature. Preheat the grill to 350 degrees. Meanwhile, rub the roast with 2 to 3 teaspoons of your favorite steak rub. Drizzle the meat with olive oil, and rub the seasoning in and all over. Pack any seasoning that's fallen off back onto that meat. Allow the roast to sit 10 minutes at room temperature. Place the roast on the hottest part of the grill for 3 to 4 minutes per side to get a nice, hard sear or crust. Move the meat to a cooler part of the grill for the remaining 10 to 20 minutes, and cook to your desired doneness. I like to pull the meat at 135–140 degrees and allow it to rest tented for rare. I let it cool untented if it's pulled at a higher temperature so as it rests, it doesn't overcook.
TIP: Use a meat thermometer to make sure you cook the roast to the perfect temperature for your liking. It will continue to cook when it rests, and resting is important for juicy meat.
Grilled Peach & Mozzarella Salad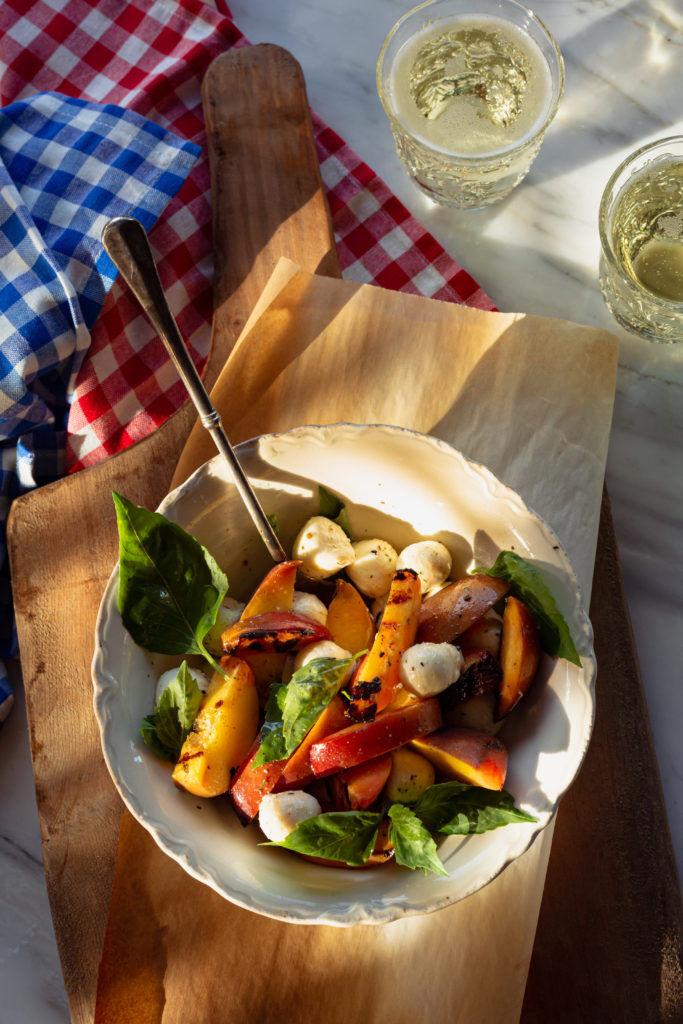 Prep time 15 minutes
Ingredients
4 to 5 ripe peaches
1 8- to 16-ounce container of marinated mozzarella balls (in the deli in olive oil and seasonings) *
1 tablespoon Champagne, white wine, or white balsamic vinegar
1/2 cup torn sweet basil
Salt and pepper to taste
Method
Grill halved peaches cut side down 3 to 5 minutes, until the peaches are nicely charred, but not mushy or overcooked. Slice peaches into 1/2-inch wedges. Place in a mixing bowl with the marinated mozzarella balls, and half the oil and seasonings. Add the vinegar, and mix gently to combine. Season with salt and pepper, then toss basil in just before serving.
*Sizes vary greatly between grocery stores and brands, so the volume falls within a wide range.