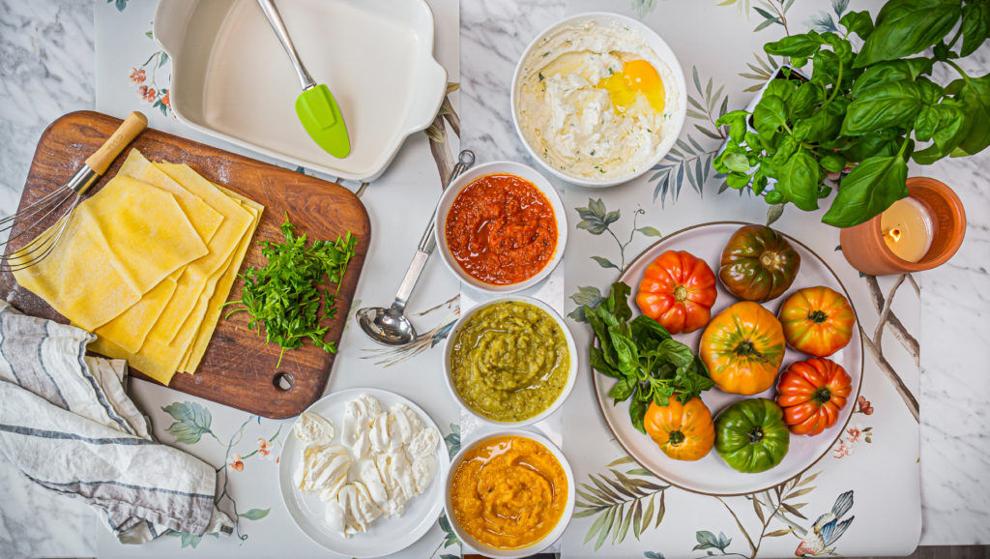 It's April, and, just like my mama did, I'm making a delicious spring lasagna with roasted heirloom tomato sauce. This lasagna puts the comfort in comfort food and is fresh — with four delectable cheeses, fresh herbs, and fresh pasta. Wash it down with a gussied-up heirloom Bloody Mary! I'm also sowing seeds for my summer garden, and you can, too! Let's dig into April, shall we?
Heirloom Tomato Lasagna
It starts with a gorgeous, roasted heirloom tomato sauce! Next come layers of fresh mozzarella, ricotta cheese, fontina, and Parmesan. Bake this baby to oozy, caramelly perfection! With each forkful, enjoy the colorful heirloom beauty!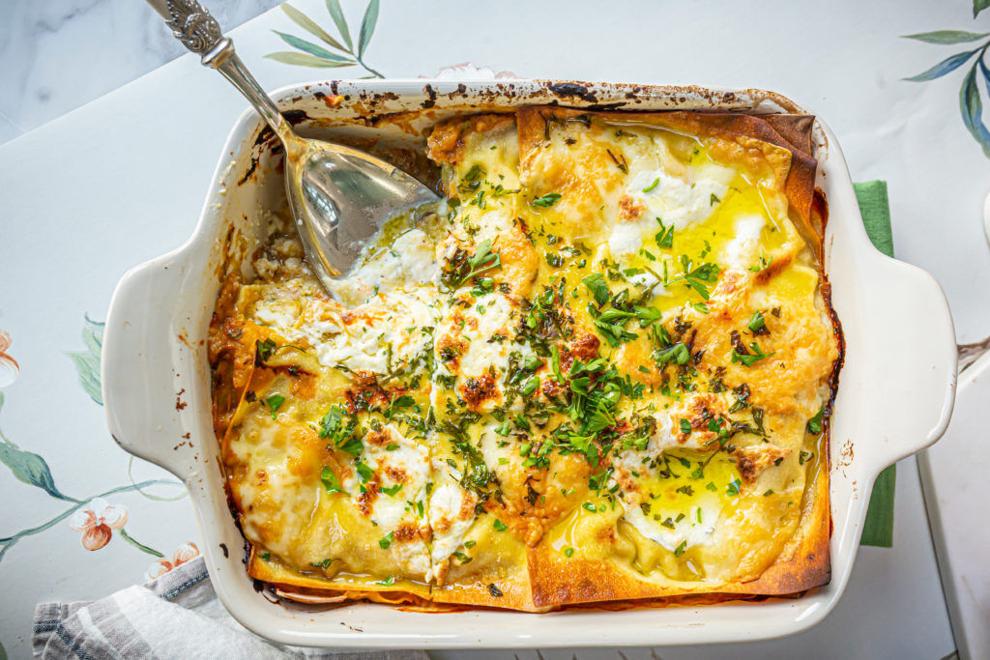 The Sauce
Ingredients
3 medium red, green, and yellow tomatoes, cut into six sections each (keep the
colors separate)
3 tablespoons granulated sugar
3 teaspoons salt
3 teaspoons freshly ground pepper
3 cloves garlic, chopped
3 small shallots, chopped
½ teaspoon turmeric
Zest of half a lemon
½ teaspoon smoked paprika
¼ teaspoon crushed red pepper
2 teaspoons chopped basil and parsley
1 teaspoon chopped fresh oregano
3 fresh bay leaves
Additional parsley for sprinkling
10 ounces fresh lasagna sheets, cut to fit
Method
Place the red, green, and yellow tomato slices in three separate ovenproof dishes.
To each dish, add 1 tablespoon sugar, 1 teaspoon salt and pepper, 1 chopped garlic clove, 1 chopped shallot.
Add the turmeric and lemon zest to the yellow tomatoes.
Add the smoked paprika and crushed red pepper to the red tomatoes.
Add the basil, parsley, and oregano to the green tomatoes.
Add a whole bay leaf to each dish, and toss the ingredients.
Place in the oven for 40 minutes, stirring halfway through.
Remove bay leaf. Allow the tomatoes to cool in the oven for an additional 10 to 15 minutes.
In separate batches, place the tomatoes in a blender. Pulse until almost smooth.
Place sauce in separate bowls, and set aside.
The Filling
Ingredients
30 ounces whole-milk ricotta cheese
11 ounces burrata mozzarella, sliced
3 tablespoons sour cream
1/3 cup freshly grated Parmesan cheese
2 teaspoons salt
1 teaspoon freshly ground pepper
1 teaspoon nutmeg
Zest of half a large lemon
2 tablespoons chopped fresh parsley
1 egg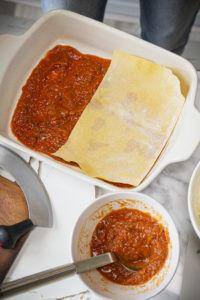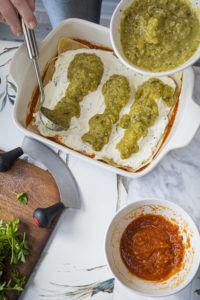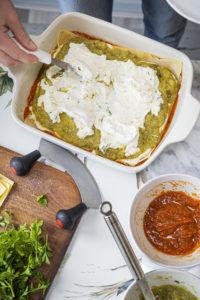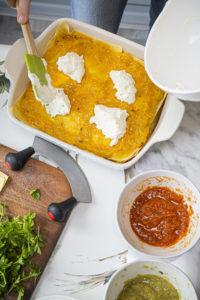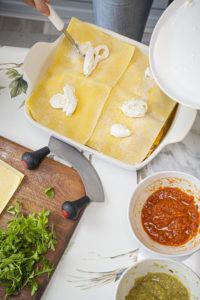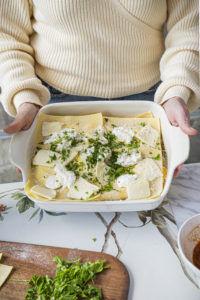 Method
Combine all of the ingredients in a medium bowl. In an 11-by-9-inch lasagna pan, layer the ingredients, beginning with the red sauce. Next, add a layer of fresh lasagna sheets, cut to fit
the dish.
Spread a layer of the ricotta mixture, topped with five to six slices of mozzarella. Add another layer of lasagna, then spread the yellow tomato sauce, ricotta, and mozzarella. Add a third layer of lasagna, the green tomato sauce, ricotta, and mozzarella. Top with final layer of lasagna, and add five more slices of mozzarella.
Fill in with slices of fontina cheese. Sprinkle on a handful of chopped fresh parsley. Top with a dusting of freshly grated Parmesan cheese. Bake in a 400-degree oven for approximately 30 minutes until the cheese is oozy and the top of the lasagna is caramelized. Add a little more chopped fresh parsley. Slice and serve.
Kitchen Garnish 101
There's nothing quite like beautiful, vine-ripened heirloom tomatoes. I can remember as a kid, my Italian-born grandmother Netti grabbing a saltshaker, traipsing into the garden, and eating the tomatoes straight off the vine!
Sow seeds now, and enjoy the fruits of your labor all summer long. Get a jumpstart on your summer kitchen garden and grow mouthwatering heirloom tomatoes, herbs, and even a butterfly garden — from seed indoors.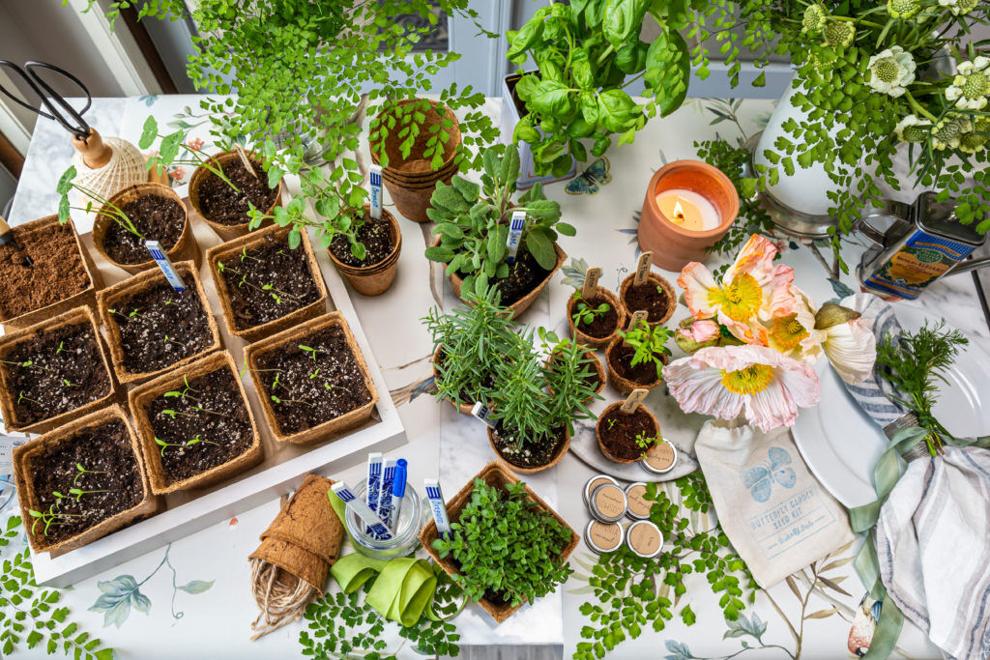 You will need
Organic seeds, when possible
Organic soil
Biodegradable coco fiber seed starter pots
Plant markers
Method
Fill the pots with soil, place five to six seeds in your hand. Space them out in the pot, barely covering them with soil. Place in a sunny window. Keep the soil moist but not soggy. In five to 20 days, the seeds will sprout. When the pot becomes overcrowded, transplant the seedlings into individual pots.
Heirloom Bloody Mary
Makes 3 drinks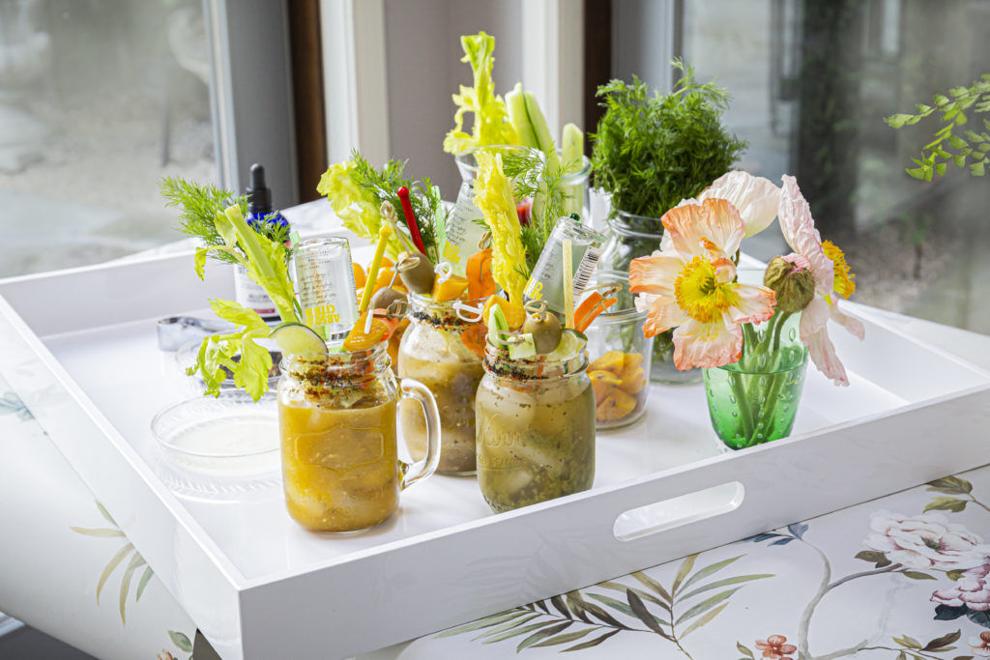 Ingredients
Black salt, cumin, and smoked paprika in a 3–1 ratio
1 each — yellow, red, and green heirloom tomatoes, cut into chunks
3 teaspoons celery salt
1½ teaspoons fennel salt
1½ teaspoons sea salt
6 dashes Tabasco sauce
6 teaspoons Worcestershire
3 teaspoons creamy horseradish
3 tablespoons freshly squeezed lime juice
Lemon zest
3 teaspoons chipotle paste
3 drops habanero shrub bitters
Method
Wet the rim of a glass canning jar with lemon juice, and swirl in a mixture of three parts black salt, one part cumin, and one part smoked paprika. Set aside. In a blender, purée each tomato variety separately.
To the blender, add 1 teaspoon of celery salt, ½ teaspoon fennel salt, ½ teaspoon sea salt, 2 dashes Tabasco sauce, 2 teaspoons Worcestershire, 1 teaspoon creamy horseradish, 1 tablespoon lime juice, a bit of lemon zest, and 1 teaspoon chipotle paste. Pulse to combine. Add the juice to the jar. Fill jar with ice. Garnish and finish off with 1 drop of habanero bitters. Place mini bottles of citrus vodka in the jar for guests to open. Stir and sip! Repeat with the other tomato varieties.