Fashion meets a fabulously stylish fall function in this September edition of Invite. This supercool tailgate is more than a party — it's an experience. One that, perhaps, raises the bar on PNW tailgating. Enter: one swoon-worthy little black classic Italian car; three dashingly debonair guests; a racy red cocktail; and a vintage hamper heaping with heirloom tomato tarts, chilled soups, and autumn crisps. It's quite a combo that makes for a most memorable fall event. Now, let's unpack this at-home tailgate party and meet our impeccably dressed guests.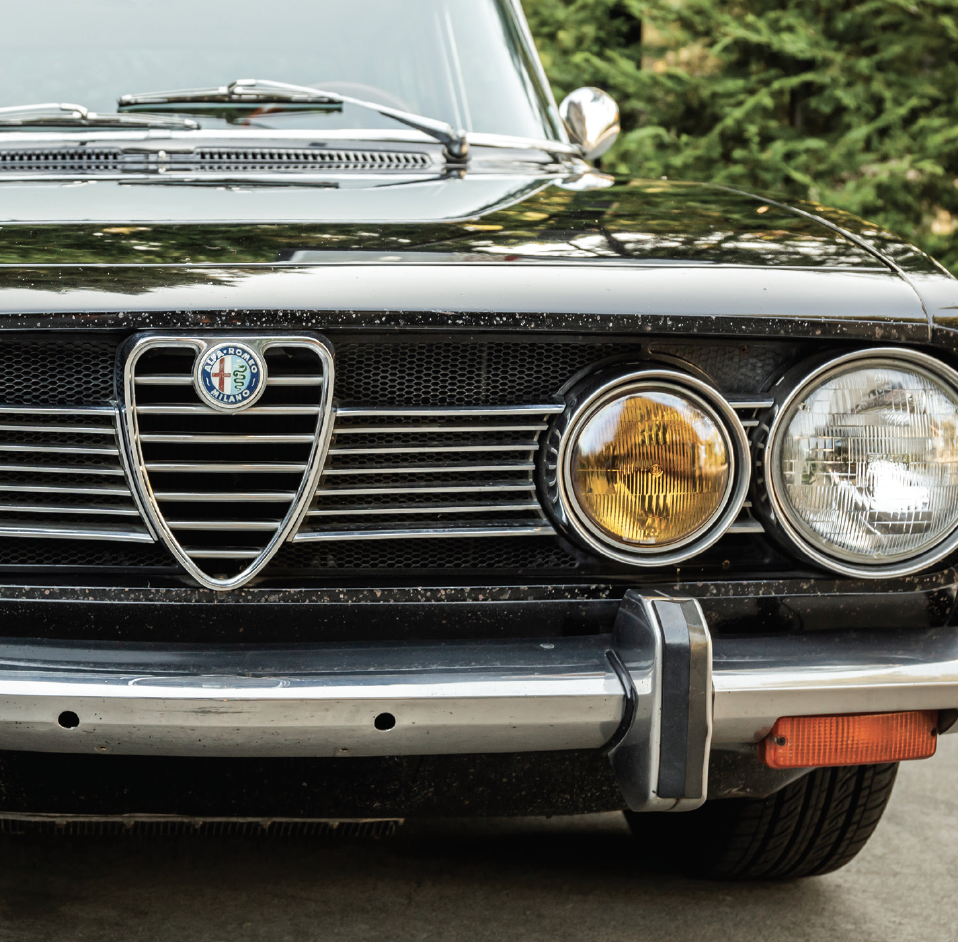 The Car
A shiny 1971 Alfa Romeo Berlina with dreamy warm wood interior detailing. It's the perfect tailgate scene-setter (or, shall I say, scene-stealer) for this stylish soirée.
Provided by owner Alfa enthusiast Tom Nuxoll via Avants. Nuxoll's father started the Northwest Alfa Romeo Club 50 years ago.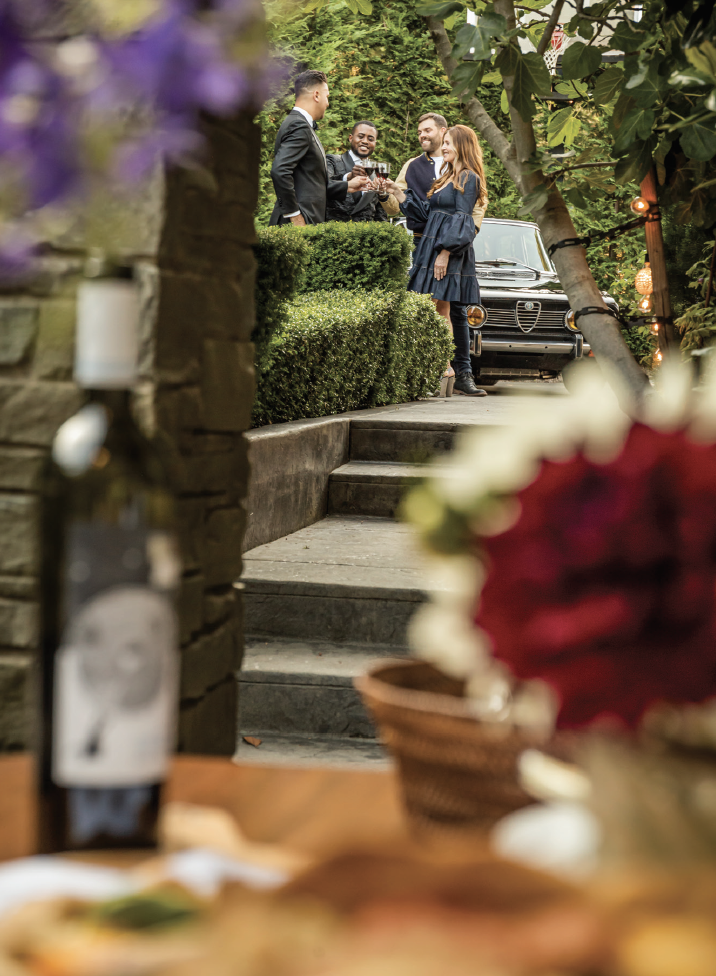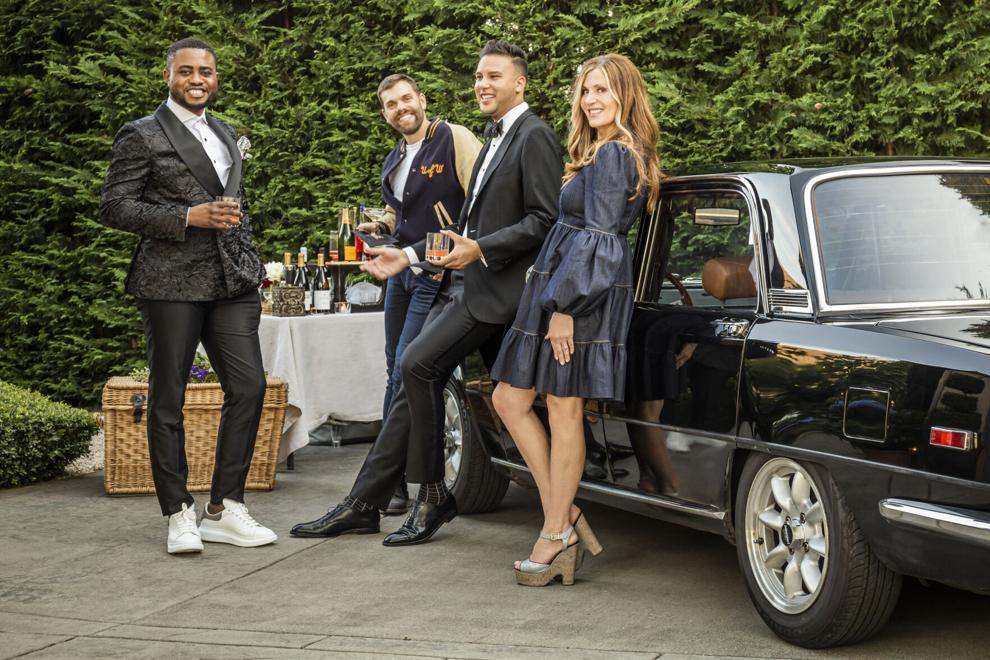 Guess the Guests
My guest list features an award-winning winemaker, a bespoke fashion designer, and an exceptional event planner/style writer, and they all came dressed to play, their tailgate fashion selections falling somewhere between James Bond and James Dean.
Fashion designer Gustavo Apiti of Gustavo Apiti Couture, a bespoke custom fashion brand adhering to the principles of couture, culture, and unique diversity for every size and silhouette, is wearing a custom brocade tuxedo with a shawl collar, double vent, and three chest button detail.
Andrew Januik, the winemaker for Novelty Hill and Januik and the owner of Andrew Januik Wines, is wearing a 1920s vintage UW letterman's jacket, with jeans, and a classic white tee. Januik is a UW alumnus and a hardcore i.e., rabid DAWG fan. He started attending football games with his mom around age 4. This is his tailgate homage to generations of Husky fans.
Director of Celebrations at Fairmont Olympic Hotel and 425 magazine contributing style writer Andrew Hoge is wearing a classic take on a black tuxedo with modern tailoring from Suitsupply and a sparkling bow tie by Luly Yang. His custom shoes with red insole are from Brick and Mortar Seattle.
And I'm wearing a scoop-neck stretch denim dress with long balloon sleeves and swingy tiered skirt by Cinq a Sept from Nordstrom at The Bellevue Collection. My shoes are by Fendi.
Roasted Cashews with Garden Rosemary and Chili Pepper
Roasting cashews revs up the flavor, deepens the golden goodness, and adds a little extra crunch to this quick and easy appetizer. Preheat oven to 350 degrees. In a bowl, toss together 6 ounces of raw whole cashews, 2 teaspoons chopped fresh rosemary, ½ teaspoon chili powder, and 1 teaspoon salt. Drizzle very lightly with olive oil. Toss and then spread the cashews out on a parchment-lined baking sheet. Bake for 10 to 15 minutes until golden brown. Cool and serve in paper cones, garnished with fragrant sprigs of fresh garden rosemary.
Autumn Aperol Spritz
Makes 1 cocktail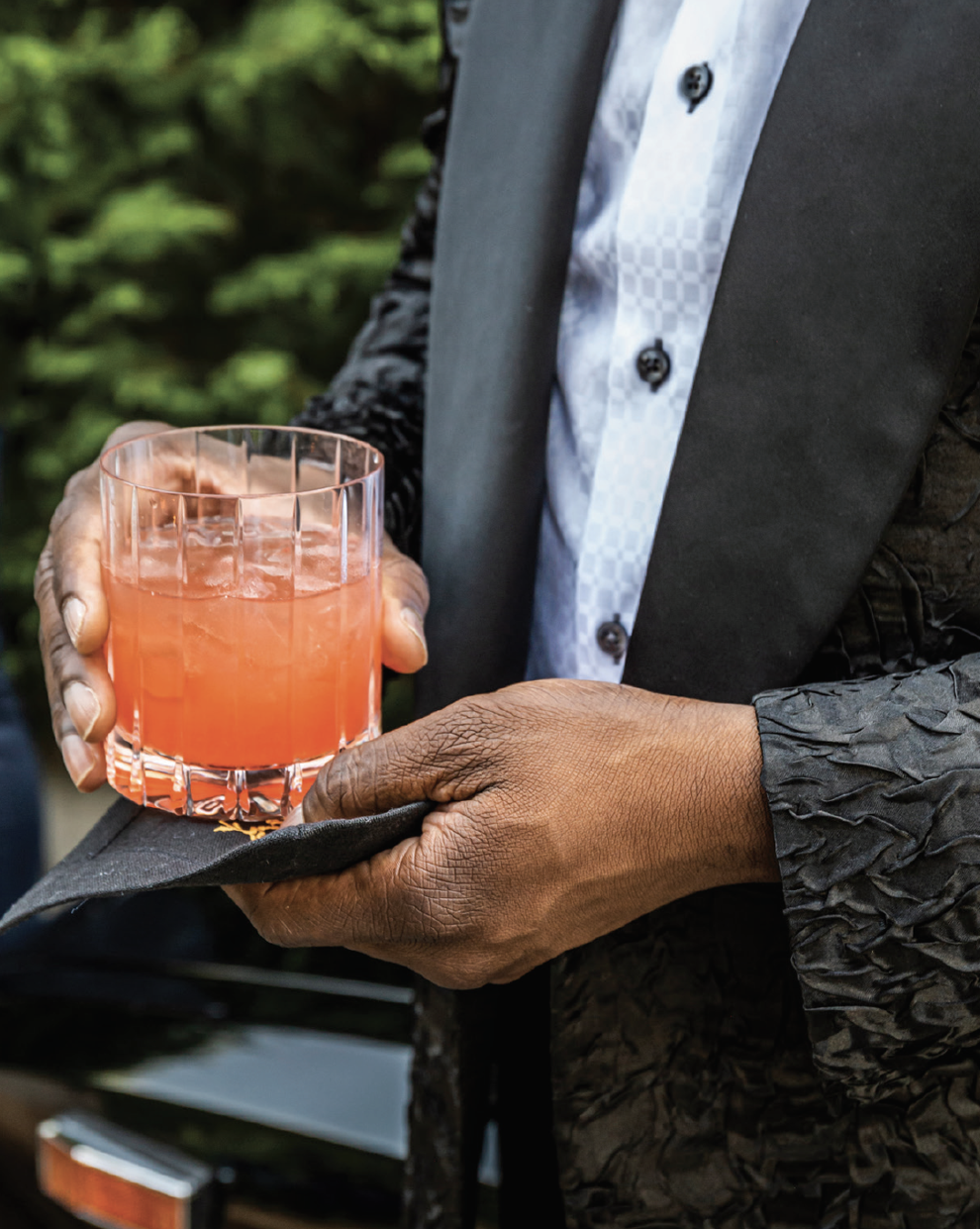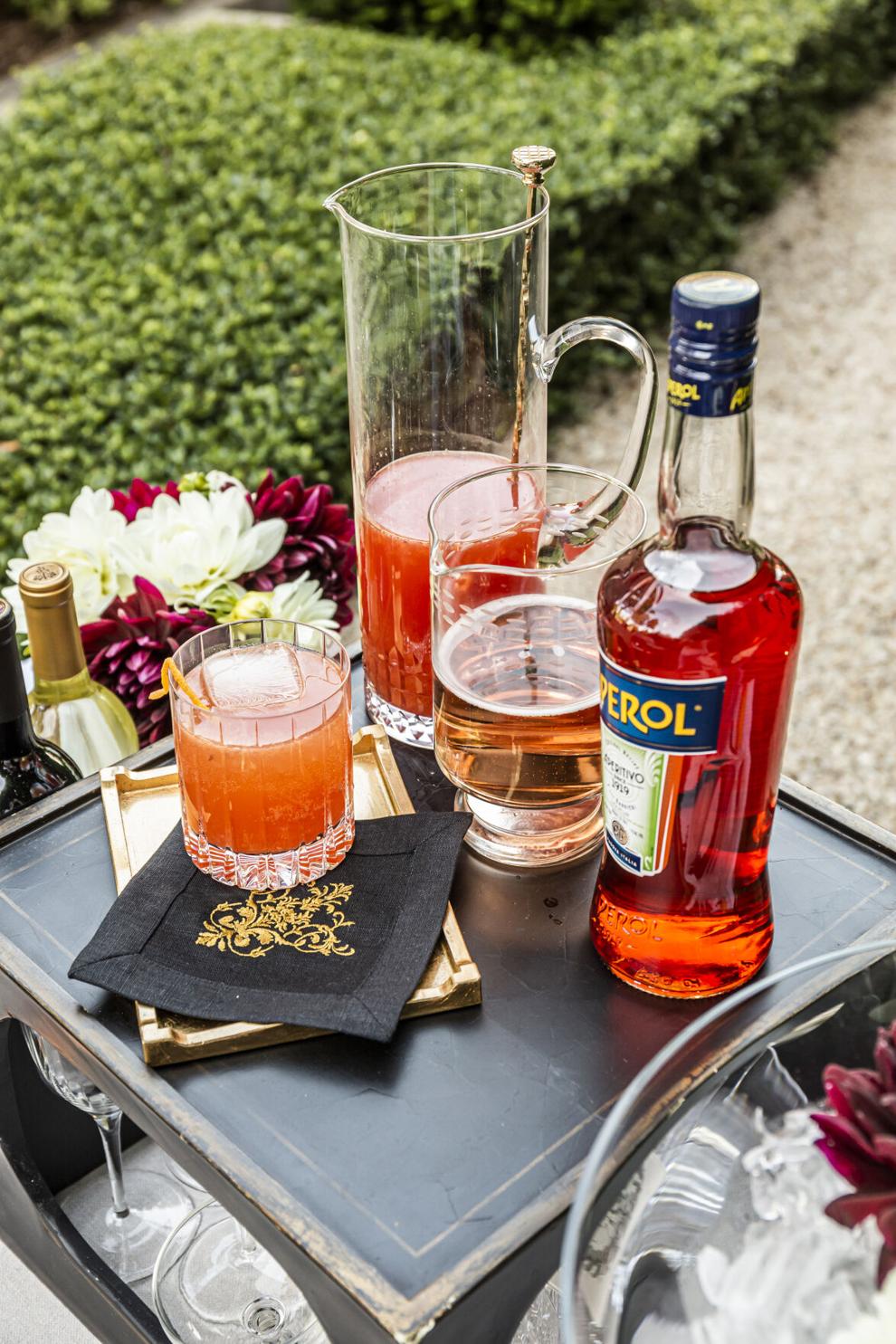 The bar setup includes Champagne on ice with fresh fall dahlias tucked into the ice bucket and several lovely red and white wine offerings.
Ingredients
Ice
2 ounces Aperol
2 ounces fresh local apple cider
2 ounces freshly squeezed blood orange juice
1 vanilla bean, scraped
4 ounces rose Prosecco Club soda
Blood orange peel for garnish
Method
In an ice-filled cocktail glass, swirl together the Aperol, cider, orange juice, and a few vanilla bean seeds. Top with Prosecco, and stir. Finish with a light splash of club soda, and serve with a garnish of blood orange peel.
Heirloom Tomato Tarts with Pâte Brisée Crust
I love serving rustic dishes at refined gatherings.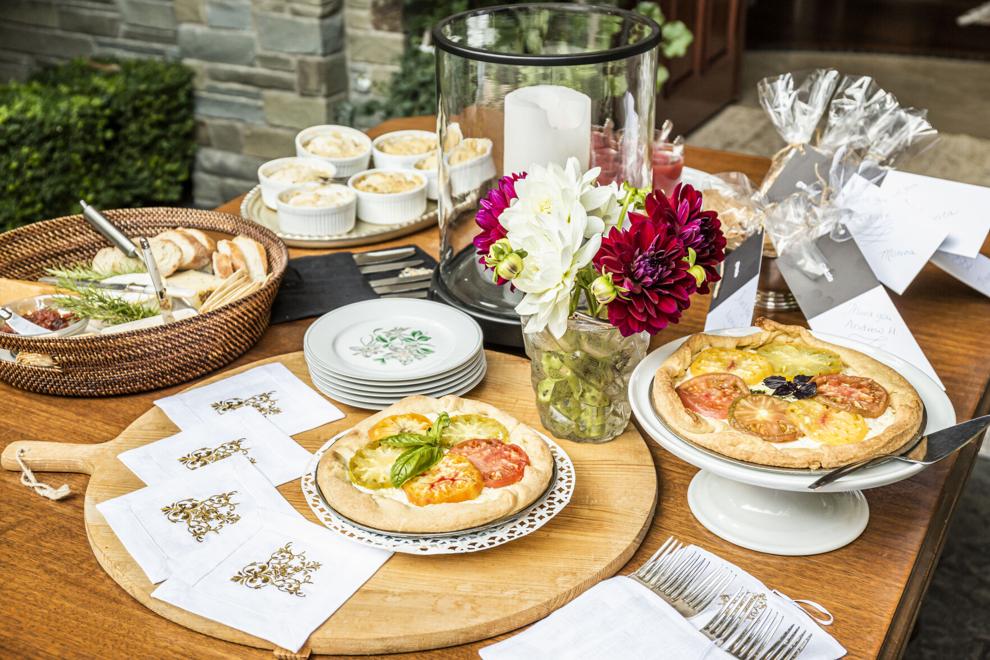 Pâte Brisée Dough
Preheat oven to 400 degrees.
Makes two 9- to 10-inch tarts.
Dough Ingredients
2½ cups all-purpose flour
1 teaspoon salt
¼ cup vanilla sugar
Zest of ½ an orange
1 cup unsalted butter, chilled and cut into small pieces
¼ to ½ cup ice water
Egg wash
1 egg yolk
1 tablespoon heavy cream
Method
Place all of the ingredients — minus the water — into the bowl of a food processor. Pulse until just combined. With the machine running, add a little ice water at a time until the dough forms a ball. Divide the dough in half, pat into two disks, wrap in plastic wrap, and chill for a few hours or overnight. On a lightly floured surface, roll out the dough into two 12-inch rounds.
Drape dough over two greased springform pans, and press lightly into place. Trim excess dough, leaving enough to fold over, and press into the sides. Lightly crimp the edges. Chill for 15 minutes. Place pans on baking sheets. Cover with parchment, and weigh them down with pie weights. Whisk together the yolk and cream. Lightly brush an even layer of the egg wash over the edges of the dough. Bake for 10 minutes.
Remove weights and parchment. Prick the dough with the tines of a fork, and bake for 10 more minutes until it is golden brown. Cool on a wire rack.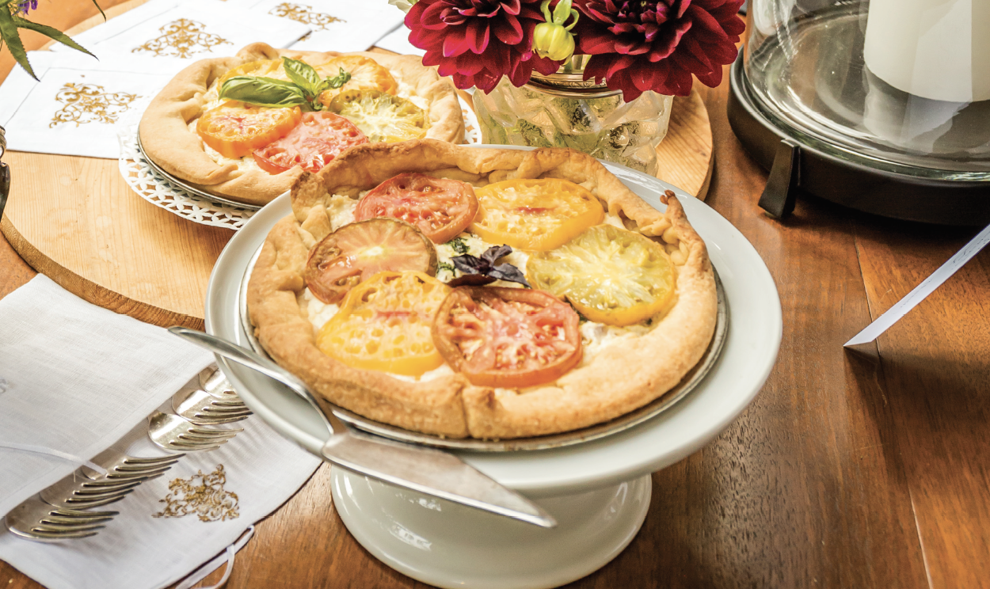 The Filling 
Ingredients
2 cups whole ricotta cheese
1 cup shredded Romano
Pecorino
¼ cup freshly grated
Parmesan
2 tablespoons chopped fresh Italian parsley
½ teaspoon pepper
¼ cup pulverized slivered almonds
Nutmeg
Salt
3 heirloom tomatoes in varying colors, sliced and drained on parchment paper. Set aside.
Fresh basil
Method
In a large bowl, fold together the first seven ingredients, and spread the mixture over the cooled crust. Layer in heirloom tomato slices. Sprinkle lightly with salt. Bake at 400 degrees for approximately 15 minutes until the ricotta filling is bubbling and the crust is a deep golden brown. Top with fresh basil leaves.
Personal Pear and Apple Crisps
Preheat oven to 450 degrees 
Makes 6 servings in individual ramekins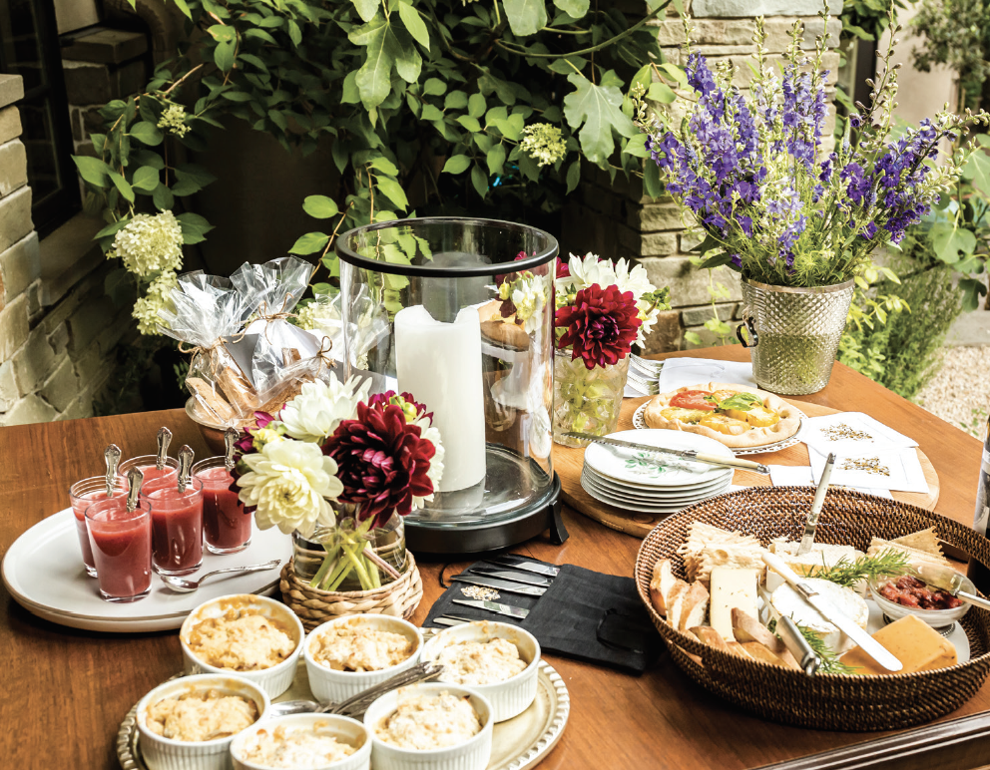 Topping
Ingredients
1 cup all-purpose flour
½ cup granulated sugar
Dash of salt
1 stick cold, unsalted butter, diced
Whisk together the flour, sugar and salt. Using a chilled pastry blender, cut in the butter until the mixture resembles crumbs.
Filling 
Ingredients
1 stick unsalted butter
5 apples, cored and roughly chopped
5 pears, cored and roughly chopped
Juice of ½ a small lemon
½ teaspoon almond extract
⅓ cup dark brown sugar
¼ cup granulated sugar
1 tablespoon flour
½ teaspoon ground cinnamon
¼ teaspoon nutmeg
½ teaspoon salt
1 tablespoon Cointreau
Zest of ½ a small orange
Assembly Method
Heavily butter six 5-inch ramekins. Place on a parchment-lined baking sheet. In a large bowl, toss the fruit with the lemon juice. Add the extract, sugars, fl our, spices, salt, Cointreau, and orange zest. Divide the filling between the ramekins. Sprinkle with topping. Bake for 20 minutes. Reduce to 350 degrees, and bake for an additional 30 minutes until the fruit is tender and the topping is golden brown.
---