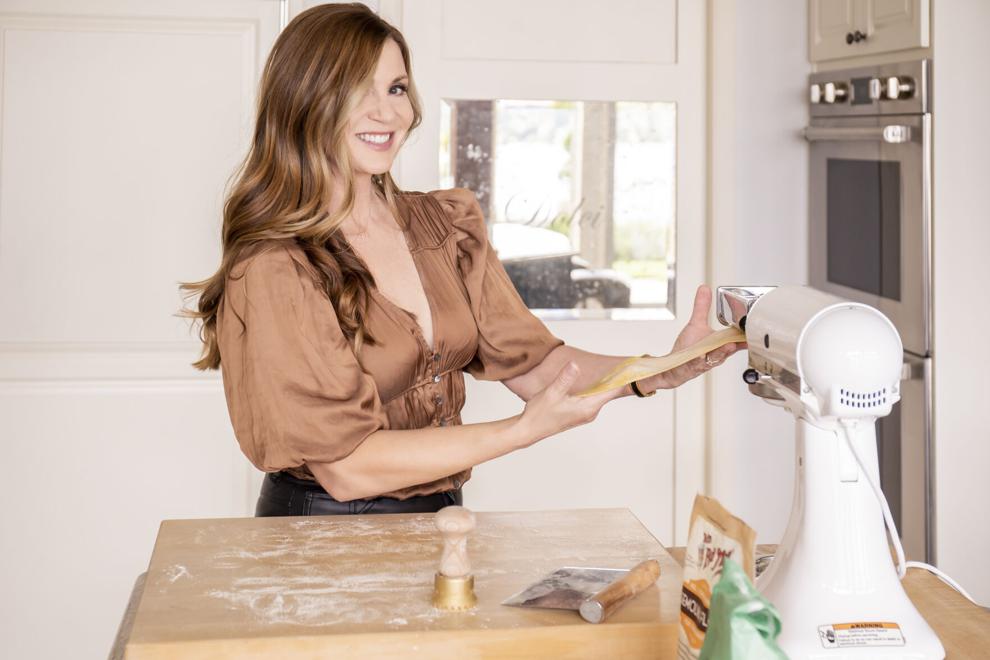 This month, Invite is ramping up for the holidays by revisiting a delicious Italian family tradition — my Grandma Nettie's homemade ravioli.
Set the Scene — Staircase Enchanted
Whether you're celebrating the Thanksgiving holiday with family or creating an intimate table for two, you can dress things up with easy, earthy décor touches.
Create an enchanting entrance with gobs of gorgeous gourds in cool hues of gray, green, white, and blue, and parade them down an interior staircase. We got these pretty pumpkins from Metropolitan Market in Kirkland.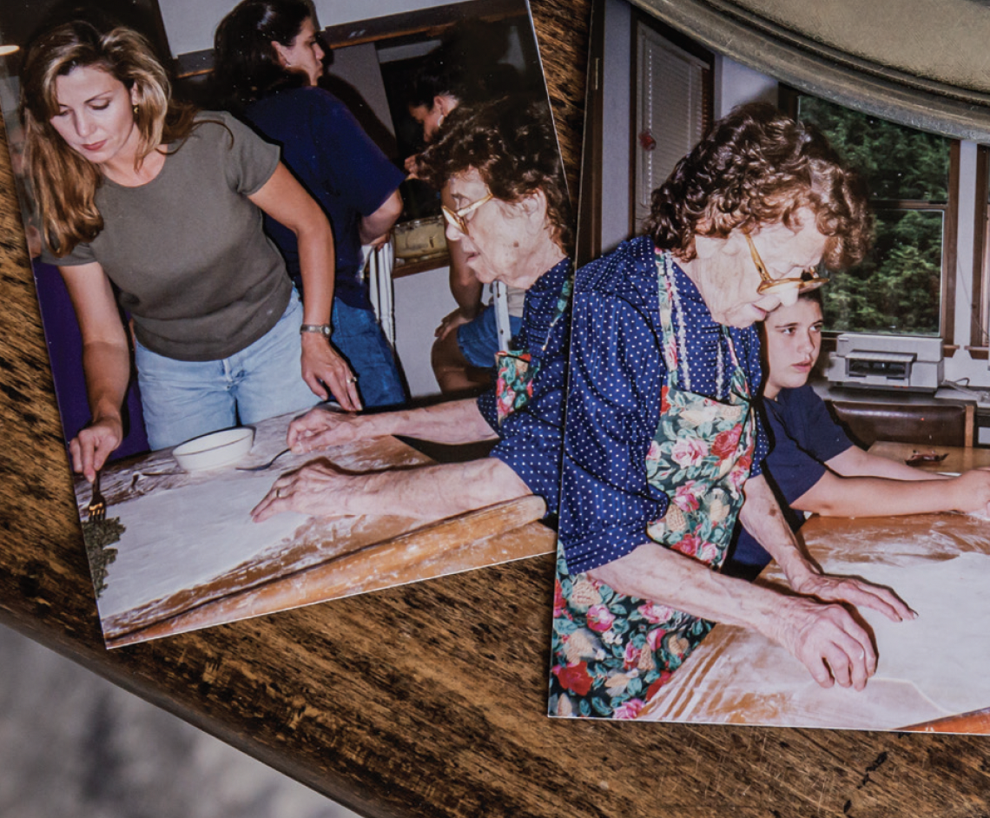 Nestle a dozen or more flickering candles in a variety of glass containers, and you have a warm and organic welcome home for the holidays.
Add interest at the table and bar with a mix of metals, like copper, silver, and pewter. Tuck in a few well-placed gourds and tubs of garden maple and fir branches tied with rusty-colored ribbon. Include twisty tall tapers, thick linens, and homemade Thanksgiving party crackers to give your gathering a pop of fun!
And to pull at the old heart strings, showcase pieces that reflect family history, like our Grandma Nettie's heirloom ravioli cutter and gold goblets.
Holiday Reflections
I can still see her beautiful hands, expertly working the dough with the mattarello (a rolling pin used when making pasta), and hear the familiar "flap, flap, flap" of the pasta sheet softly slapping the board. Out would come the old-school wooden ravioli cutter (which I still have), and it was on. A whole group of us would be watching in the wings.
Fast forward to present day where I'm doing my best to channel Grandma Nettie while I'm making ravioli with the help of a whirring KitchenAid mixer attachment. And with a nod toward Thanksgiving, I'm stuffing my tender pillows of dough with roasted squash sweetened with vanilla bean and blitzed with creamy ricotta. The ravioli are bathed in a simple sauce of butter and garden sage.
Technique aside, food connects us. It transports us in time and place. It's that warm and fuzzy common experience that brings us together, especially during the holidays.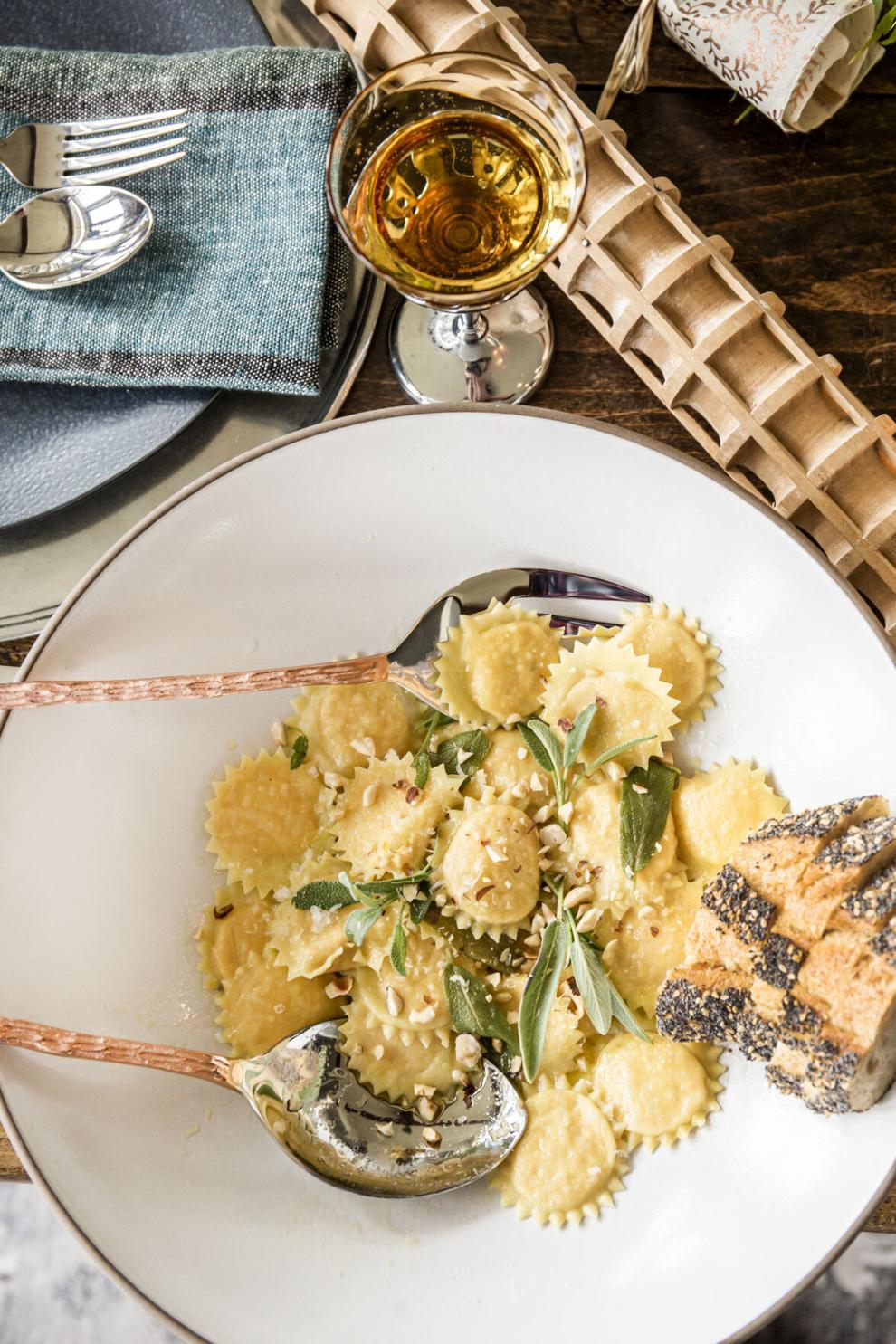 Sip an Espresso Vodka Martini 
This rich, caramel-colored espresso vodka will get the celebration started, and it's the perfect hue for a delicious signature Thanksgiving cocktail.
Ingredients
Magic Shell chocolate
Ice
2 ounces Blue Spirits espresso vodka
Splash of Disaronno amaretto liqueur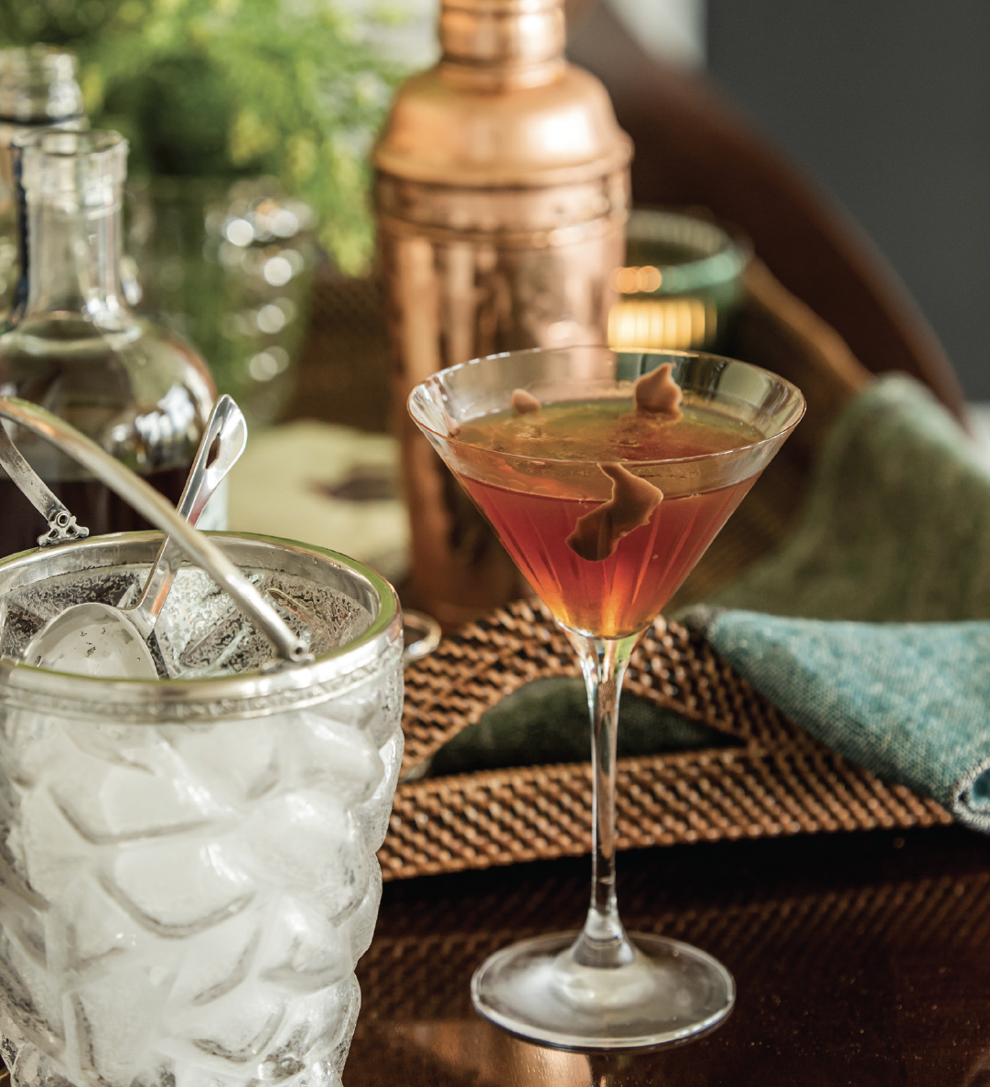 Method
Dress the glass ahead with squiggles of Magic Shell chocolate (near the ice-cream toppings at the store), and chill. Add plenty of ice to your shaker, and top with the espresso vodka and amaretto. Shake vigorously until the shaker frosts up. Strain into chilled glasses. Cheers!
Butternut Squash Ravioli
La Storia 
Growing up, my Italian-born grandmother, Nettie, would include her mouthwatering ravioli — delicious and delicate squares plumped with ground beef, frozen spinach, and Parmesan cheese — at our holiday gatherings. It was essential that the hand-rolled pasta dough be thin enough to see the outline of your hand through, but not so thin that it would break apart in the water. Grandma would fuss and fret over the bubbling pasta pot.
Using her worn wood tools of the trade, she would make scores of fresh ravioli, laying them out on a well-floured, oversized board placed atop a clean sheet on the bed in the guest room.
And as I guide the long ribbons through my shiny, "new-fangled" attachment, I marvel at how lucky I was to have been schooled by the master.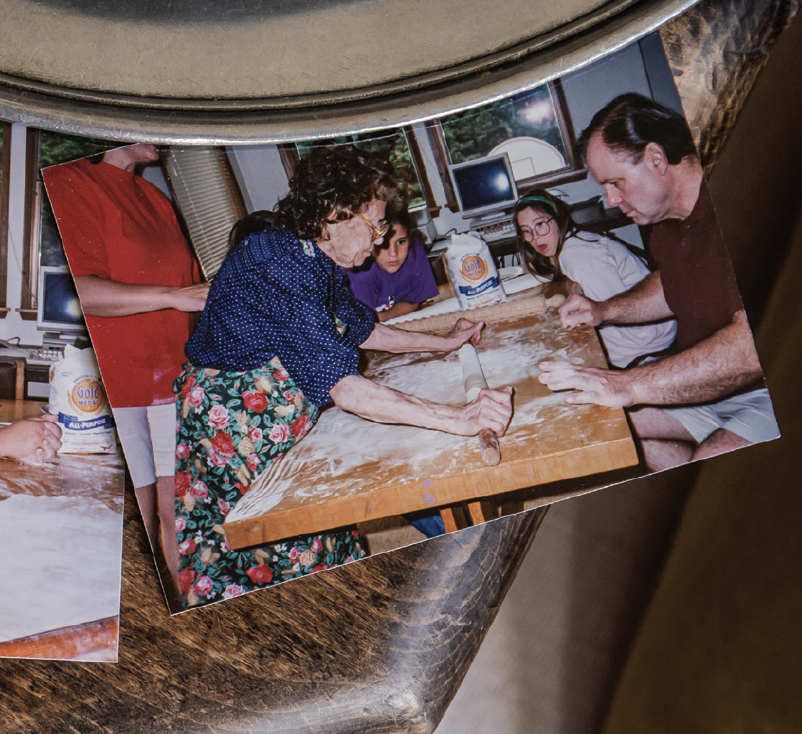 Roasted Butternut Squash Puree 
Preheat oven to 400 degrees 
Ingredients
1 medium butternut squash
Olive oil
Salt and pepper
Nutmeg
½ teaspoon vanilla bean paste
Method
Peel a medium butternut squash, scoop out the seeds, and cut into ½-inch cubes.
Toss the squash with a bit of olive oil, salt, pepper, nutmeg, and vanilla bean paste. Spread out the cubes on a baking sheet, and roast for approximately 45 minutes until the squash is tender and begins to caramelize. Puree the squash in a food processor until smooth. (The leftover roasted squash is delicious slathered on toasted sliced baguettes.) 
Ravioli Filling 
Ingredients 
½ cup roasted butternut squash puree
½ cup whole milk ricotta cheese
½ cup freshly grated Parmesan cheese, plus more for serving
1 tablespoon plain dried breadcrumbs
1½ teaspoons sea salt
Method
In a large bowl, combine the puree, ricotta, Parmesan, breadcrumbs, and salt. Mix gently, and set aside.
The Pasta Dough
Ingredients
1 cup 00 flour
1 cup semolina flour
3 eggs
½ teaspoon salt
2 egg yolks
2 tablespoons olive oil
Dried polenta (for the baking sheet)
Method
In a large shallow bowl, sift together the fl ours and salt. Make a well in the center of the flour.
In a smaller bowl, whisk together the eggs, yolks, and oil. Pour the wet mixture into the well. Using a fork, drag the flour into the well bit by bit as you turn the bowl, until it forms a rough dough.
Lightly flour your hands and the dough, and knead it in the bowl for approximately 7 minutes. Cover the dough round with plastic wrap or a wet cloth, and let it rest for 30 minutes.
Next, cut the dough into four pieces. Keep the rest of the dough covered while you work. Flour your hands, flatten the dough, and work the first piece into a rectangle.
Dust it with flour and, with your KitchenAid pasta attachment set on the widest setting, begin running the dough through. If you don't have that, use a pasta roller with a manual crank. (There are online KitchenAid tutorials.) After four or so passes, switch to the next setting, lightly flouring the dough as you go. Repeat the process, and continue changing the settings until you can see your hand outline through the dough.
Lay the dough sheet on a lightly floured surface. Scoop out a teaspoon or so of filling and roll it between your hands, forming a ball. Place the small balls on ½ of the pasta dough about 1-inch apart. Fold over the pasta, covering the filling.
Using your fingers, gently pat around each filling to seal the dough. Dip your ravioli stamp in flour, and press out the ravioli shape. Place the ravioli on a parchment-lined baking sheet, sprinkled with dried polenta to help prevent sticking.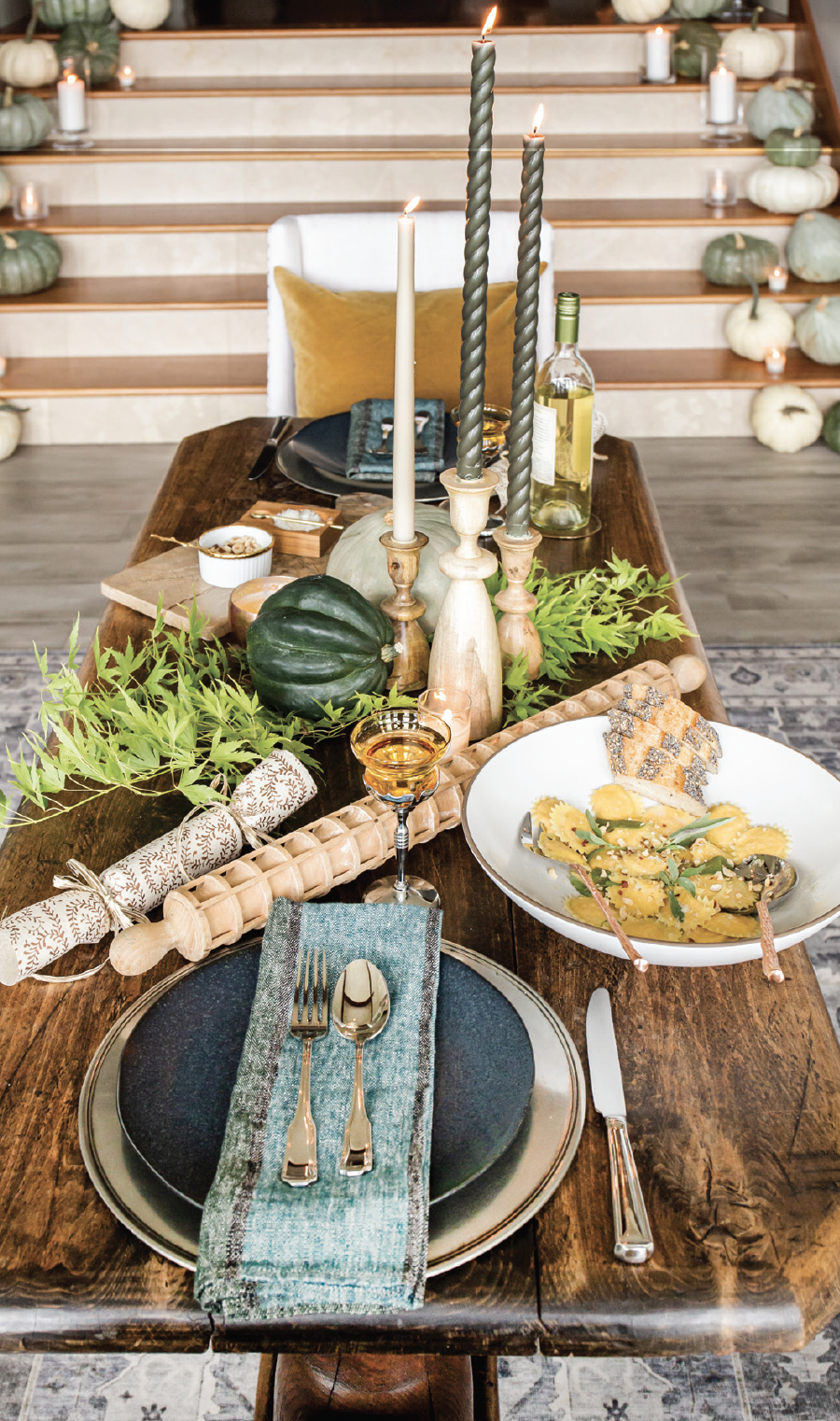 The Sauce
Ingredients
10 tablespoons unsalted butter
7 or 8 fresh sage leaves
Parmesan and toasted and chopped hazelnuts for garnish, as desired
Method
Melt the butter in a sauté pan, and add the sage leaves. In another pan, bring well-salted pasta water to a gentle boil. As the sage simmers, slide several of the ravioli into the boiling water one at time. They are done when they float to the top. Strain out the ravioli, and slide them into the sage butter. Repeat until all the ravioli are cooked. Transfer the ravioli coated in sage sauce to a serving bowl. Sprinkle with freshly grated Parmesan, and scatter with toasted and chopped hazelnuts.