It must have been that soft moonglow that inspired this intimate July evening in the garden, grazing on bites under the stars. Host your own easygoing evening of grilling and chilling, all wrapped up in moody hues of blues and greens. Go ahead: Grab a refreshing grilled peach G&T from the mini bar, and sip away beneath the summer moon and stars.
SET THE SCENE
It's one of those alfresco summer nights when the patio is still warm to the touch. As the temps dip, reach for a throw from the back of your chair, and settle in for an endless evening of food and fun. Bask in the soft glow of casual string lights and candlelight in glass hurricanes. Single garden stems and myrtle topiaries welcome you to the table. DIY moonlight baskets are planted with night bloomers. They teem with plants like 'Moonlight' delphinium, with its pale purple ruffled blooms; fragrant white nicotiana; silvery-white angel wings; and snowy impatiens, all of which show off even more at night! A touch of silver and stripes gives a subtle nautical vibe to this setting. A cheeky "cheers" sign illuminates the rolling mini bar.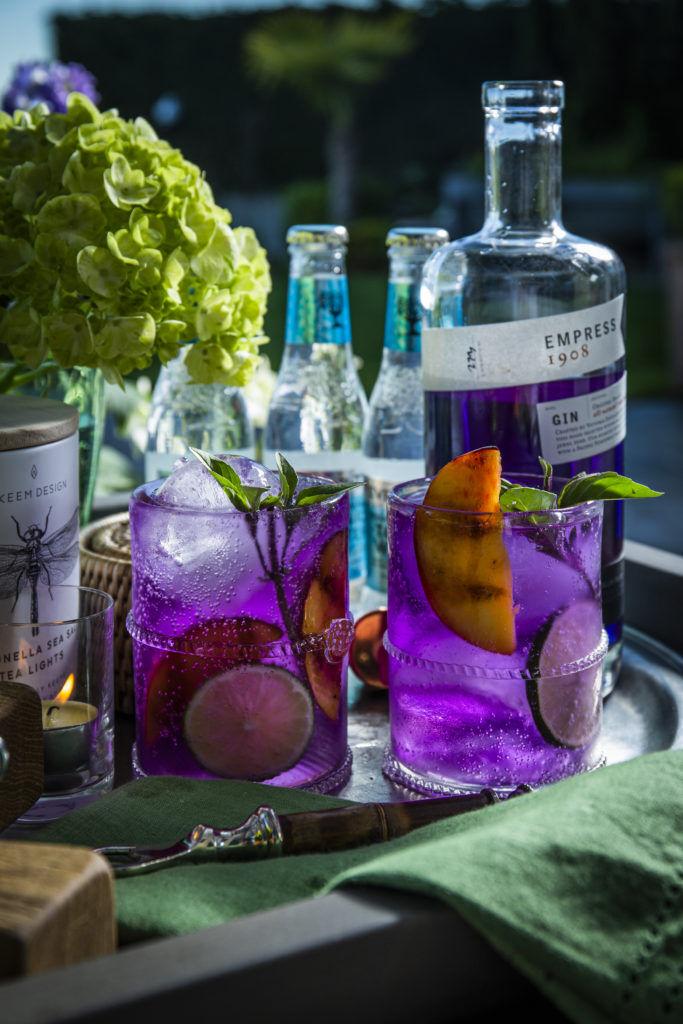 THE SIGNATURE SIP
Grilled Peach and Vanilla Gin and Tonic
Makes 1 cocktail
This is easy aromatherapy! Once the fresh peach slices sprinkled with vanilla bean sugar hit the grill, a cotton candy-like fragrance swirls in the air. The charred peaches give a slight smoky-sweet note to this cocktail, which contrasts beautifully with the kick from the fresh lime. The all-natural indigo gin is sublime. Simply top the G&T with good tonic water, and you have one sensational summer sip.
TIP: If you happen to have a shaved ice machine, create snowball chillers for your cocktails.
Ingredients
1 peach, pitted and cut into slices, then sprinkled with *vanilla bean sugar (see recipe)
Ice
Fresh lime rounds
2 ounces Empress 1908 Gin Tonic water
Sprigs of fresh basil
*Vanilla sugar: Using a small knife, open the vanilla bean lengthwise, scraping out the tiny beans. Place the beans in a canister of granulated sugar, and stir well.
Method
Lightly sprinkle the peach slices with vanilla sugar, and grill over medium heat on both sides. Add plenty of ice to a cocktail glass, and tuck in a few of the fragrant grilled peach slices plus fresh lime rounds. Add the gin, top with tonic, and add a sprig of fresh basil. Cheers!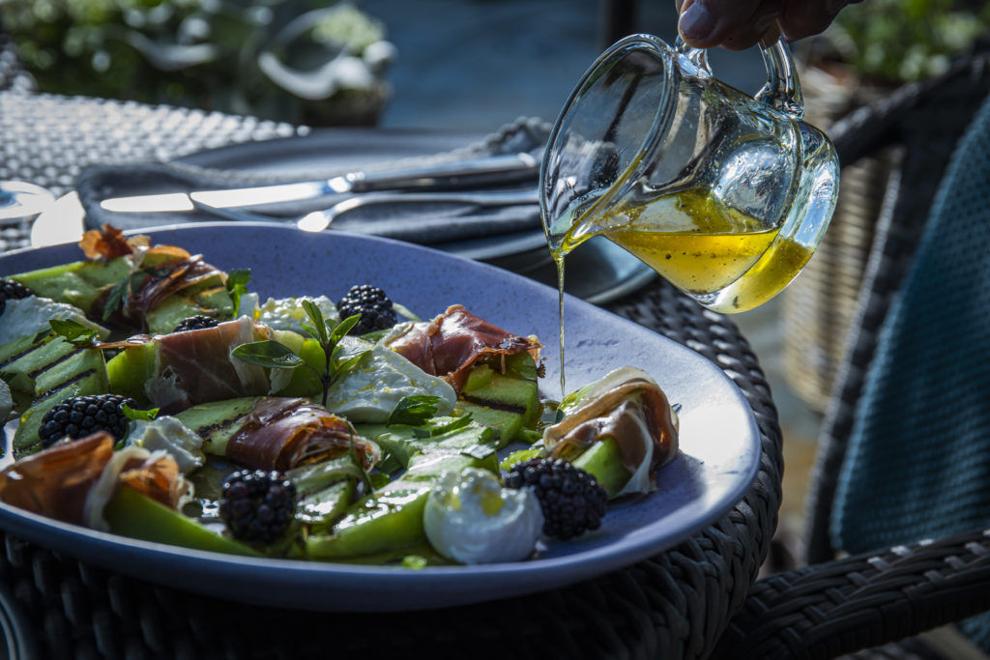 THE STARTER
Grilled Melon, Prosciutto, and Mozzarella with Tipsy Vinaigrette
Makes 4 servings
Sweet and smoky grilled melon, salty prosciutto, creamy fresh mozzarella, and plump fresh blackberries — now that's a combo I can get behind.
Ingredients
1 green melon
Olive oil
8 slices of prosciutto
Fresh mozzarella
Fresh blackberries
1 lemon
Salt and pepper
1 tablespoon each of torn fresh basil and parsley
Method
Halve a green melon, scooping out the seeds. (Set aside 1/2 for later use.) Cut melon half into 7 to 8 slices, removing the rind. Brush each slice lightly with olive oil, and grill on both sides over medium heat. Swaddle each melon in thinly sliced prosciutto, and arrange on a platter. Dot the platter with torn pieces of fresh mozzarella and fat, fresh blackberries. Drizzle with (tipsy) *Lemon Honey Vinaigrette (see recipe), then sprinkle with lemon zest, salt, pepper, and a scattering of torn fresh basil and parsley.
TIPSY LEMON HONEY VINAIGRETTE
Ingredients
2 tablespoons fresh lemon juice
1 teaspoon lemon zest
Splash of cognac
2 tablespoons blackberry honey (warmed)
⅓ cup extra virgin olive oil
Salt and pepper
Method
Whisk together the lemon juice, zest, cognac, and honey. In a steady pour, whisk in olive oil. Add salt and pepper to taste.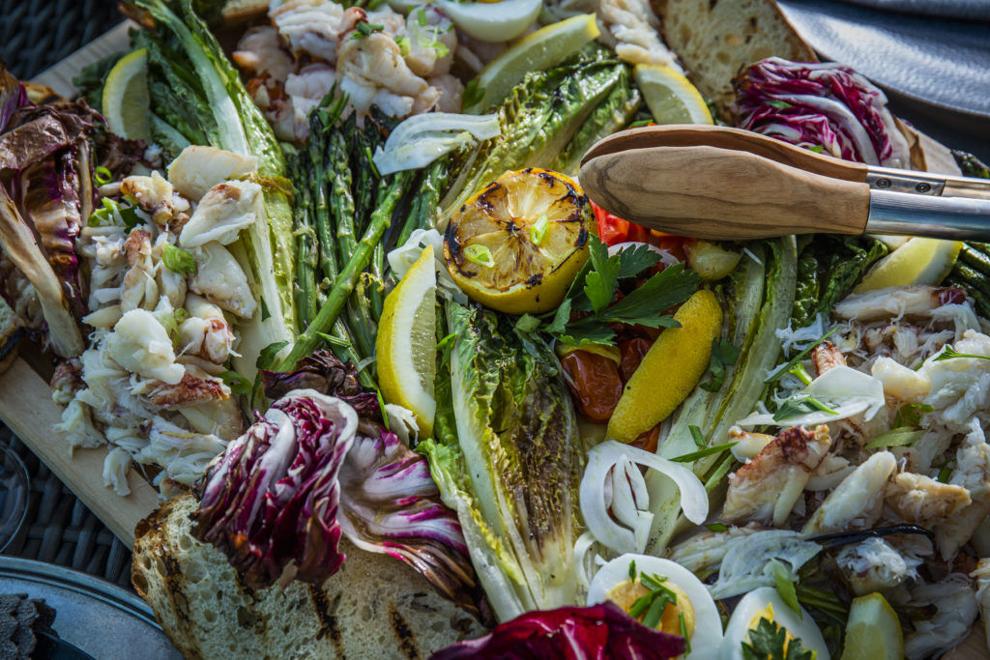 THE MAIN
Grilled Seafood Louie with Thousand Island Dressing
Makes 4 to 6 servings
This platter is the main event. Juicy hunks of succulent grilled lobster and crabmeat, charred romaine, and sweet-and-sour grilled radicchio, grill-roasted veggies, and hardboiled eggs are all casually arranged on a large cutting board with a zingy and tipsy Thousand Island dressing on the side. Tuck thick slices of grilled rosemary bread around the perimeter, and dig in!
Ingredients
3 small lobster tails
2 heads of romaine, halved lengthwise through the core, rinsed and patted dry
1 head of radicchio, quartered through the core, rinsed and patted dry
Olive oil
2 lemons (Halve one of the lemons for grilling. Slice 1/2 a lemon into wedges, while the other half will be used for zest and juice.)
Salt and pepper
4 green onions, rinsed and trimmed
¾ pound asparagus, rinsed and trimmed
1 pound tiny tomatoes
Fresh oregano
3 hardboiled eggs, halved
1 small fennel bulb, shaved
1 pound crabmeat
Parsley
Fresh chives
Rosemary bread loaf, sliced and grilled
Method
Heat the grill to medium high. Using kitchen shears, cut through the back of the shell, lengthwise. Spread the shell, pull out the meat, and place it atop the shell. It will still be attached at the fan of the tail. (You might need to cut some of the underside shell as well, to get the tail to release.) Cook for 7 to 10 minutes (atop the shell) until the meat is opaque and firm. Remove and discard shell, and cut lobster tail into generous, bite-size pieces. Cool, then cover and refrigerate until ready to assemble salad. Brush the romaine and the radicchio with olive oil and a squeeze of lemon juice and a sprinkling of salt and pepper. Grill on both sides until lightly charred. Set aside.
Place the green onions, asparagus, and tomatoes in the middle of separate, 20-inch lengths of aluminum foil.
Drizzle all of the veggies with a bit of olive oil. Sprinkle with lemon zest and salt and pepper. Add a smattering of chopped oregano to the tomatoes.
Fold the foil into sealed packets, and grill for 12–15 minutes on medium heat. Once the packets are opened, the veggies should be tender, and a bit caramelized.
Meanwhile, cut one of the lemons in half and grill, cut side down, for 2 minutes or so.
Now it's time to (artfully) build a beautiful Seafood Louie board! Arrange the larger pieces first. Place the romaine and radicchio on a wood carving board with a well to capture any juices. Next, tuck about the tomatoes, green onions, and asparagus.
Heap on the succulent lobster and crab, then place the hardboiled eggs, and sprinkle on the shaved fennel, a bit of torn parsley, and snipped chives. Nestle in the grilled lemon and fresh lemon wedges. Top with a light drizzle of olive oil; a good squeeze of grilled lemon juice; and a bit of salt, pepper, and lemon zest.
Serve with Zingy Thousand Island dressing on the side.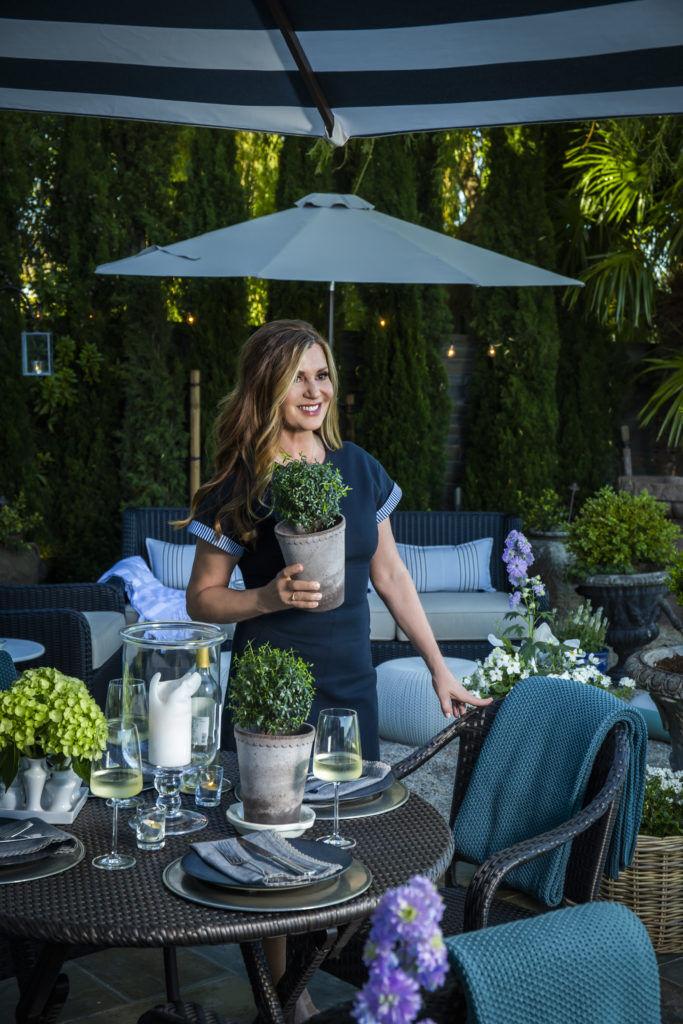 ZINGY THOUSAND ISLAND DRESSING
Ingredients
¾ cup mayonnaise
1/2 cup plain Greek yogurt
3 tablespoons ketchup
2 teaspoons Worcestershire
1 teaspoon Tabasco
Zest of 1/2 a small lemon
1 teaspoon freshly squeezed lemon juice
1 tablespoon cognac
¼ teaspoon Pernod
3 sweet gherkin pickles, chopped
Method
Mix all ingredients, cover, and refrigerate. Flavors develop more as it chills.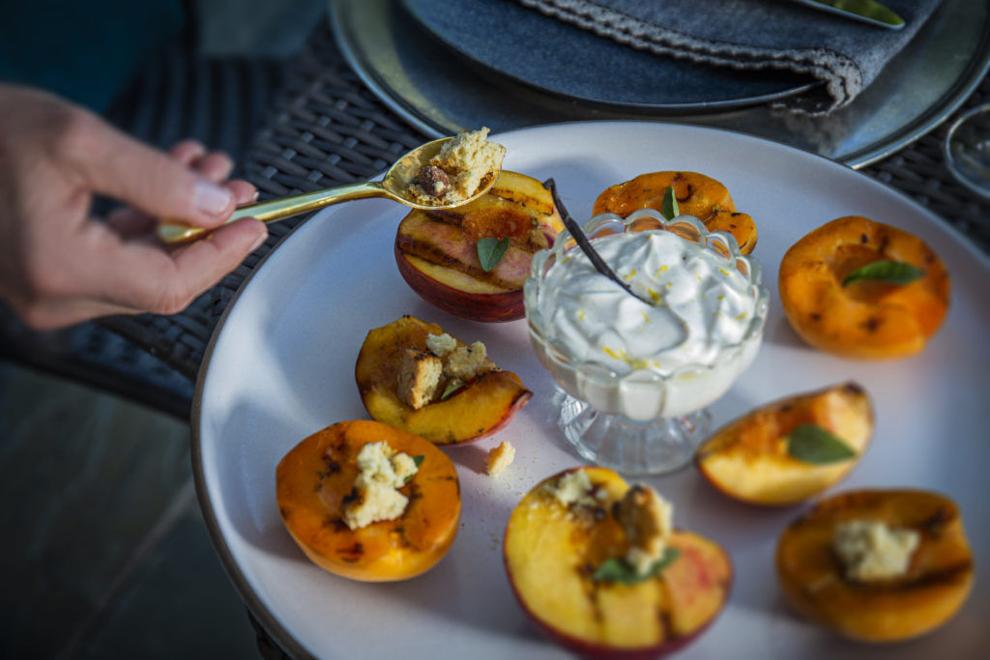 THE DESSERT
Grilled Peaches and Biscotti with Honey Vanilla Yogurt
Makes 4 servings
This peachy dessert is both rustic and decadent. It's the perfect ending to a moonlit evening of grilling and chilling in the summer garden.
Ingredients
3 to 4 peaches, halved and pitted
Vanilla bean sugar
Fresh basil 3 store-purchased biscotti
Zest of 1/2 a lemon (reserve some for the tipsy yogurt)
Method
Sprinkle the peach halves with vanilla sugar, and grill, cut side down, for a minute, then arrange on a platter. Top each peach with a basil leaf. Quickly grill the biscotti on each side. Lightly crush the cookies with a rolling pin in a sealed plastic bag. Top the grilled peach halves with biscotti bits and a bit of lemon zest. Serve alongside the (tipsy) yogurt.
HONEY VANILLA YOGURT
Ingredients
1 cup ELLENOS plain Greek yogurt
2 tablespoons blackberry honey (warmed)
2 teaspoons vanilla bean sugar
1 tablespoon Cointreau (orange liqueur)
Lemon zest
Method
Whisk together the yogurt, honey, sugar, and Cointreau. Serve in a bowl in the center of the platter, topped with lemon zest.