Because many of us are on the go in June, this month's Invite features a simple popup picnic you can make ahead and enjoy later, when you need a break.
This lovely alfresco afternoon adventure starts with a pretty outdoor blanket and a picnic tray to transport all the fixings. Think grilled halibut sammies on rustic rosemary bread with a swipe of homemade tartar sauce and a topping of caramelized tomatoes.
Pop in pots of purple carrot and white bean hummus and golden squares of crispy flapjacks, washed down with rosemary lemonade and a limoncello chaser.
Hello, June!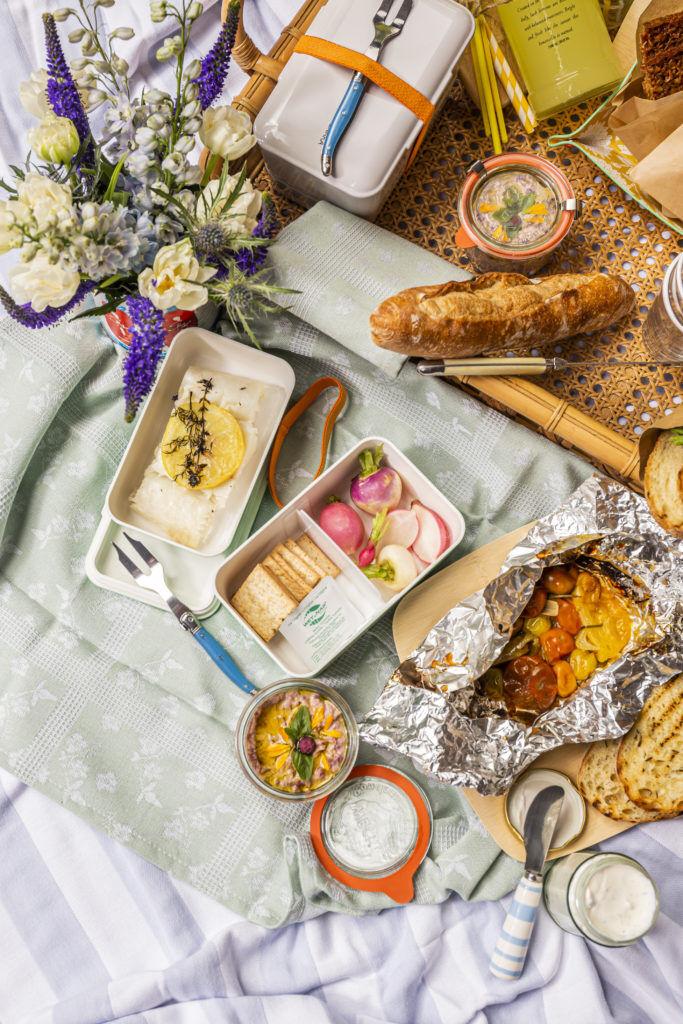 SET THE SCENE
Stripes and fringe, folding tables and chairs, and one fully loaded rattan tray set the scene for a stylish on-the-go June picnic. Bento boxes tote grilled halibut for the soon-to-be-assembled sandwiches, plus cracker and veggie dippers for the hummus, which is spooned into single-serving canning jars. Folded foil packets are perfect for roasted tomatoes, and flapjacks are swaddled in fashioned parchment envelopes prior to being wolfed down. Bring along fresh rosemary-infused lemonade in a glass jug and a frosty bottle of limoncello straight from the icebox. Always bring picnic flowers, too: they are especially pretty in a repurposed tin.
Grilled Halibut Sammies on Rosemary Bread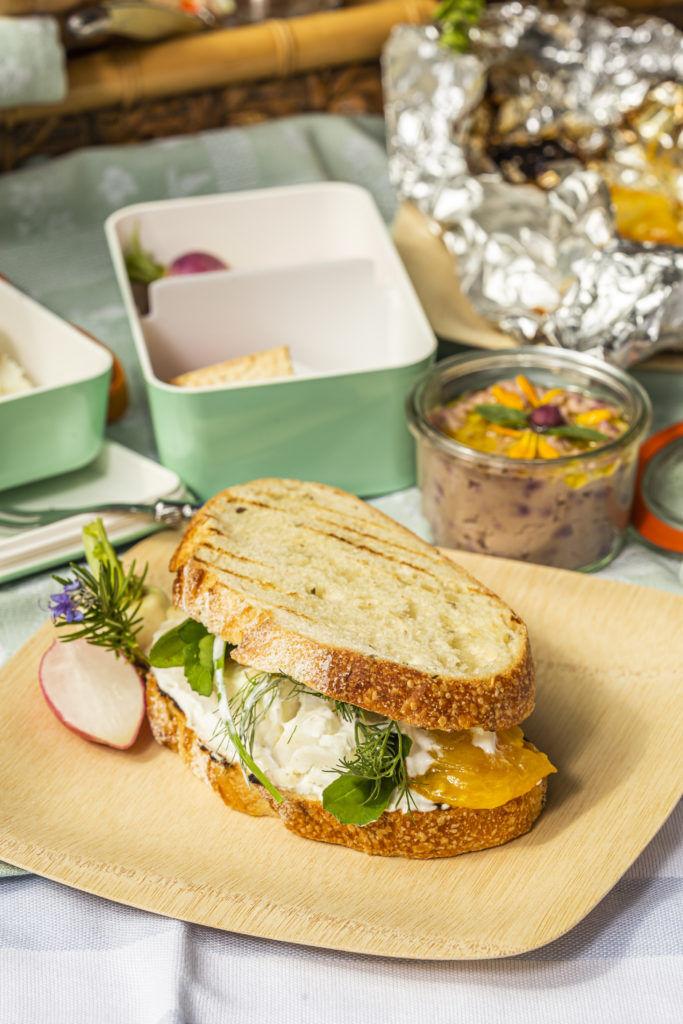 Serves 4
The grilled halibut is light and lemony with a hint of fresh garden dill and thyme. Serve atop grilled rosemary bread, with a swipe of homemade tartar; a smattering of roasted grilled tomatoes; and a few sprigs of fresh garden dill, arugula, and garlic chives.
Ingredients
1 pound halibut fillet, bottom skin left on
2 teaspoons olive oil
4 thinly sliced lemon slices
4 sprigs of fresh thyme
4 sprigs of fresh dill
Salt & freshly ground pepper
Round loaf of rosemary bread, sliced and grilled
Method
Preheat the grill to medium-high. Slather both sides of the halibut with olive oil. Line the lemon slices on the fish, and top each slice with a sprig of thyme and dill. Sprinkle with salt and pepper. Grill the halibut skin-side-down for approximately 7 to 10 minutes until the center portion is opaque. Cut into 4 pieces. Cool, cover, and chill in the fridge until ready to pack up for the picnic. Tote the halibut and bread separately, as well as the homemade tartar sauce and grilled tomatoes (see recipes), then assemble on-site.
ROSEMARY LEMONADE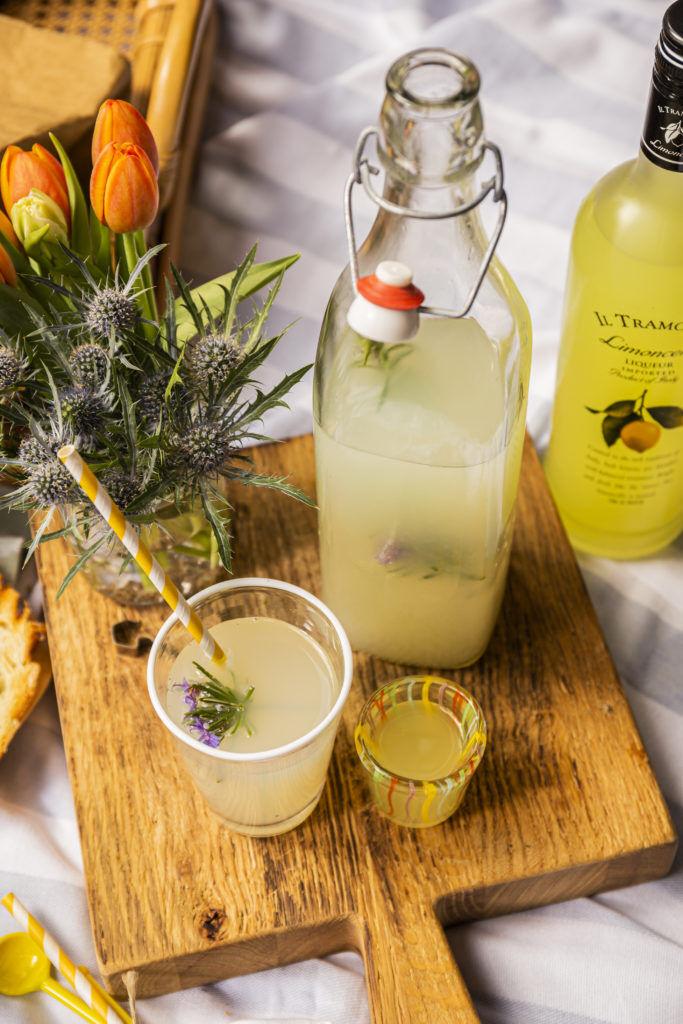 Pick up a container of fresh-pressed lemonade at the local market. In a stovetop pan, combine ½ cup of granulated sugar, ½ cup water, and 1 large sprig of fresh rosemary. Bring the mixture to a simmer, stirring until the sugar is dissolved.
Cool, and then remove the rosemary. Chill.
Add a nice splash of the rosemary syrup to the lemonade. Pour into in a glass bottle with a stopper, and add a fresh sprig of rosemary before corking.
If your picnic setting allows, tote along a chilled bottle of limoncello, served in shot glasses.
HOMEMADE TARTAR SAUCE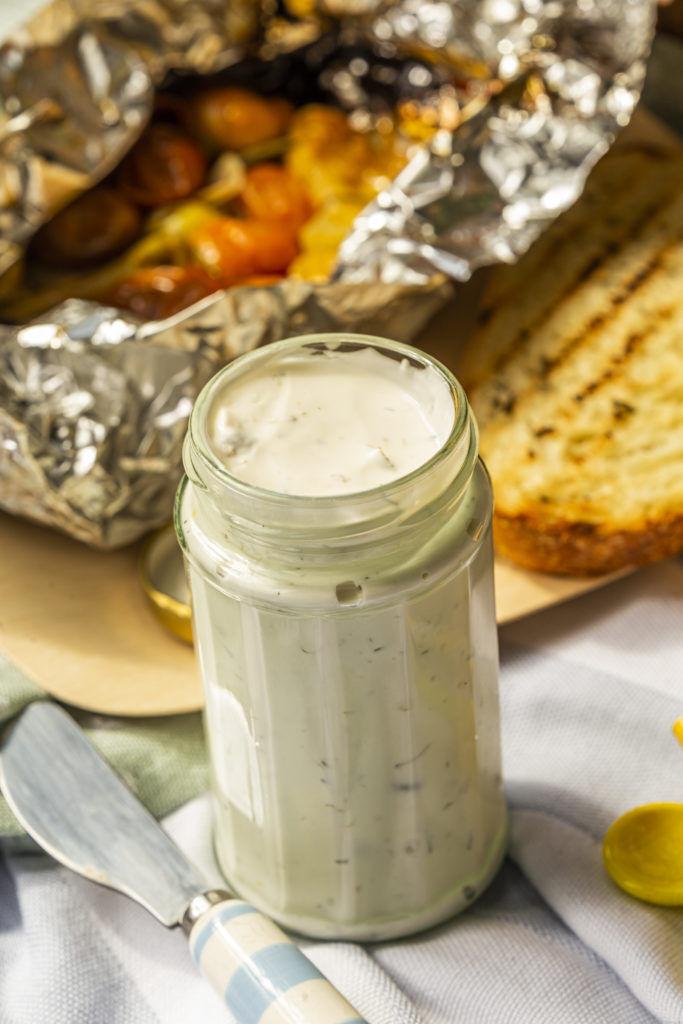 This is a zingy, lemony, and herby homemade tartar.
Ingredients
½ cup good mayo
½ cup sour cream
½ cup plain yogurt
Zest of ½ a lemon
2 tablespoons capers, chopped
4 cornichons, chopped
2 teaspoons fresh dill, chopped
2 teaspoons garden chives, snipped
Method
Whisk together the mayo, sour cream, and yogurt. Fold in the zest, capers, cornichons, dill, and chives. Spoon into a lidded jar, and refrigerate until you pack up the picnic.
GRILLED ROASTED TOMATOES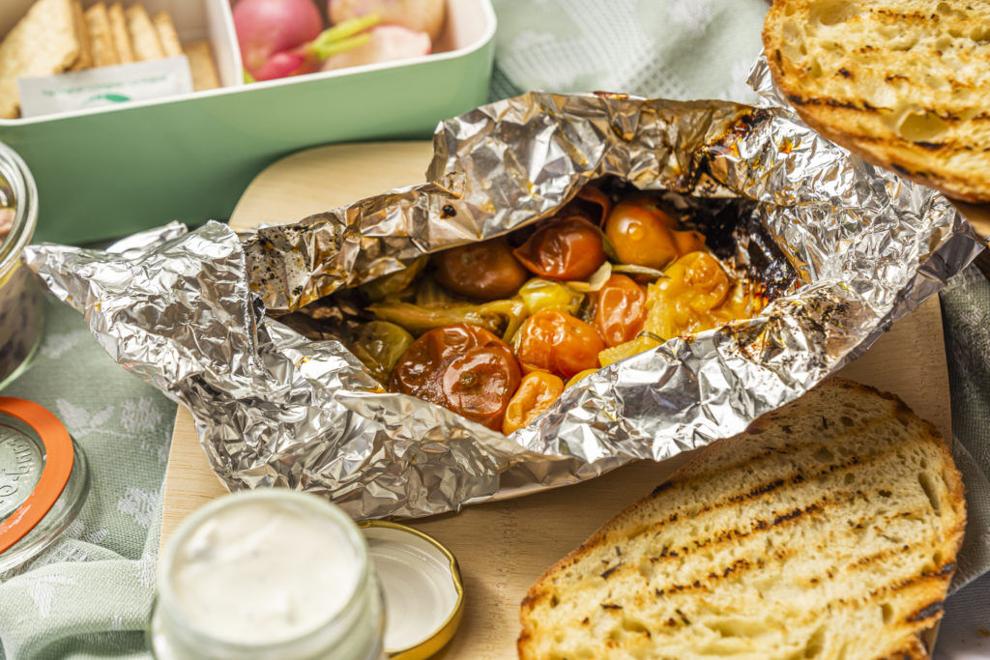 Roasting tomatoes on the grill, in fashioned tin-foil packets, is now pretty much a nightly thing at our house. Include a mix of whole grape and cherry tomatoes, plus wedges of heirloom tomatoes.
Place the tomatoes in the center of a sheet of foil.
Drizzle with olive oil, sprinkle with snipped chives, torn fresh oregano leaves, and lemon zest, and then hit it with salt and pepper. Fold over and seal the ends of the foil packet. Grill for approximately 15 to 20 minutes on medium heat until the tomatoes ooze and begin to caramelize.
TIP: The cooked tomatoes are amazing sandwich and salad toppers and are delicious in scrambled eggs.
Flapjacks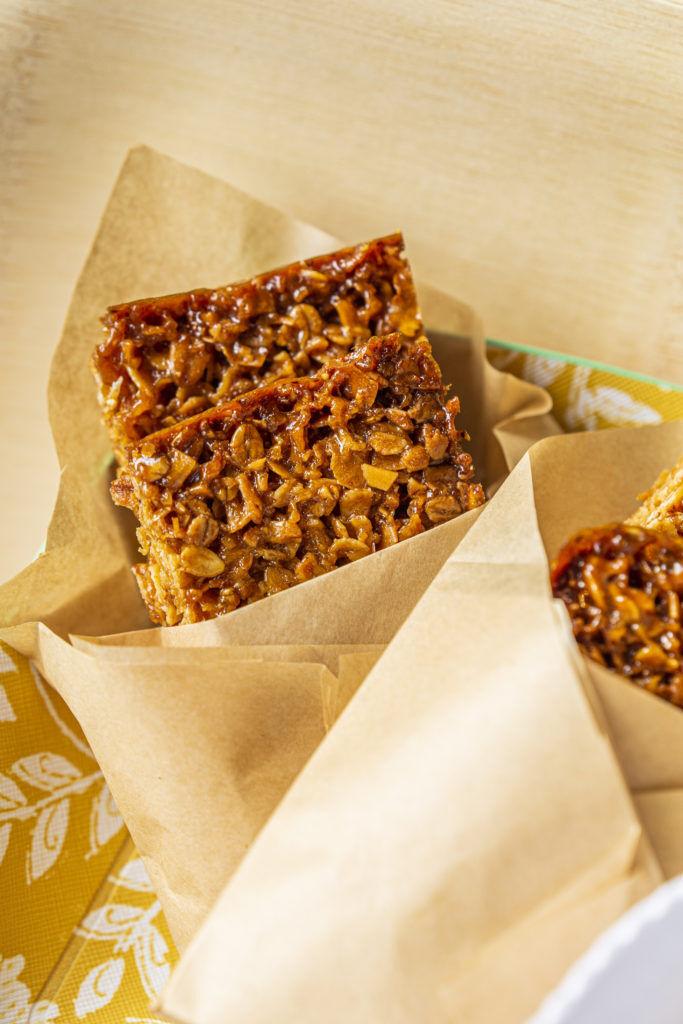 Preheat oven to 350 degrees. Line a 9-inch baking pan with greased parchment paper, slightly overlapping the pan. This is key! OK — basically, these are glorified homemade granola bars. But I call them flapjacks or walking bars. They're crispy, crunchy, golden nuggets of deliciousness and perfect for a picnic. I promise: You'll be nibbling (wolfing) them down.
Ingredients
2¼ cups old fashioned (Bob's Red Mill) rolled whole grain rolled oats
1 tablespoon sliced almonds
1 tablespoon unsweetened flake coconut
½ cup Lyle's Golden Syrup
½ cup golden brown sugar
½ cup unsalted Irish butter
1 teaspoon good vanilla
Dash of salt
Method
Place ¼ cup oats, the almonds, and coconut in a coffee grinder, and pulse a few times. Set aside.
Combine the syrup, brown sugar, and butter in a stovetop pan, stirring until the mixture just begins to boil and the sugar dissolves. Pull from the heat, and stir in the oats, vanilla, salt, and reserved oats, almonds, and coconut.
Spread the mixture into the prepared baking pan, tamping it down. Bake for approximately 25 minutes, until the top is a deep golden brown. Cool the pan on the stovetop for 10 minutes.
Pull the flapjacks from the pan, using the parchment. Cool on a wire rack for 1 hour before cutting. Once cooled, store flapjacks in an airtight container until you're ready to pack up your picnic.
Roasted Purple Carrot and White Bean Hummus
Makes 3–4 servings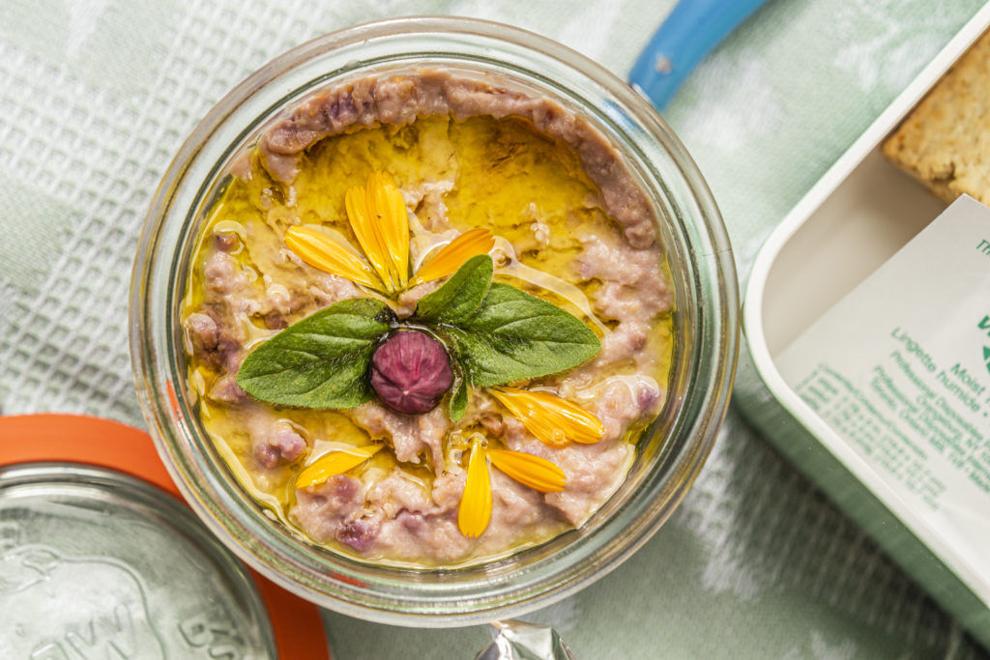 Roasted purple carrots add a faint merlot hue to this white bean hummus, which is jazzed up with fragrant coriander, nutty tahini, and bright lemon. Spoon the dip into cute glass canning jars. Garnish with garden herbs, edible petals and blossoms, and a drizzle of good olive oil. Serve with veggies and crackers of choice.
Ingredients
3 purple carrots, peeled
Olive oil
Salt & pepper
1 15-ounce can white beans, drained and rinsed
⅔ cup tahini
2 garlic cloves
Juice and zest of ½ lemon
1 tablespoon agave
⅔ cup olive oil
2 teaspoons ground coriander
Garnishes: oregano sprigs, chive blossoms, calendula petals
Method
Preheat the oven to 400 degrees. Cut the carrots in half lengthwise, then dice into bite-size pieces. Drizzle lightly with olive oil, and sprinkle with salt and pepper. Roast on a baking sheet for approximately 20 minutes until tender. Place the bulk of the roasted carrots and a drizzle of olive oil into the bowl of a food processor, and pulse until fairly smooth. Add the remaining ingredients into the bowl, and pulse until smooth. Add the reserved carrots, and lightly pulse.