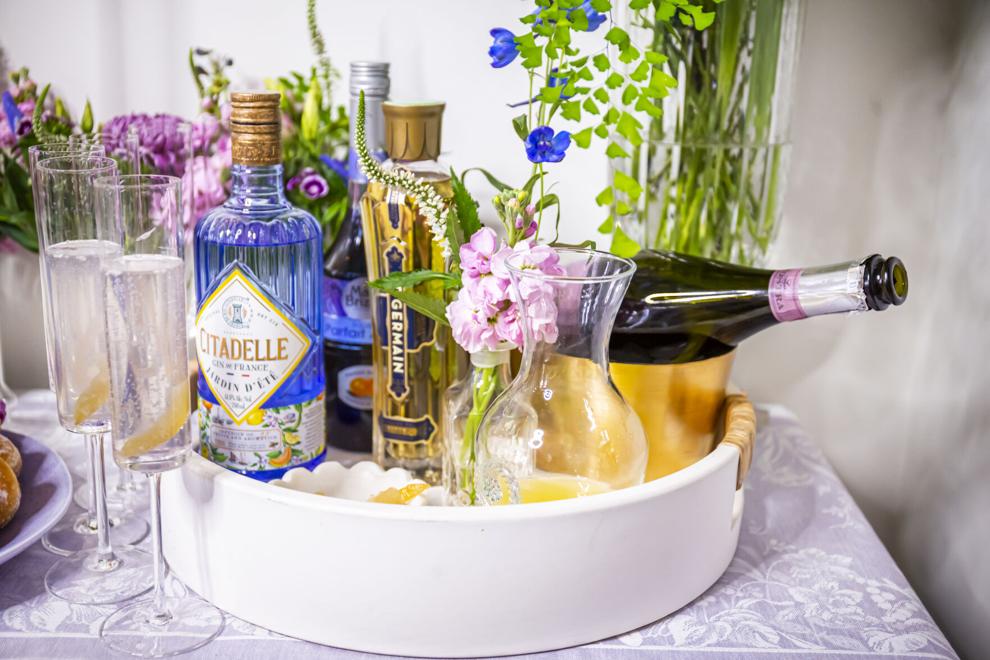 This month's Invite is simply lavenderlicious. It's an easy and lovely lavender-hued Valentine's gathering that includes a light brunch that takes pancakes 'n' eggs to the next level.
Serving heart hotcakes and fluffy egg bites made to order is simple thanks to a grand tray of delicious possibilities. Think golden brown pancakes bursting with warm berries and creamy bananas or oozing with mini marshmallows and chocolate chips. Fluffy egg bites can be layered with yummy flavors, like rosemary ham, Parmesan, chives, and more.
Meanwhile, the romantic backdrop is a bit of a floral fantasy, as is the dreamy French 75 I'm pouring. This Valentine's Day, slip into a comfy sweater and spend an evening noshing, sipping, and watching your favorite rom-coms with friends or that special someone.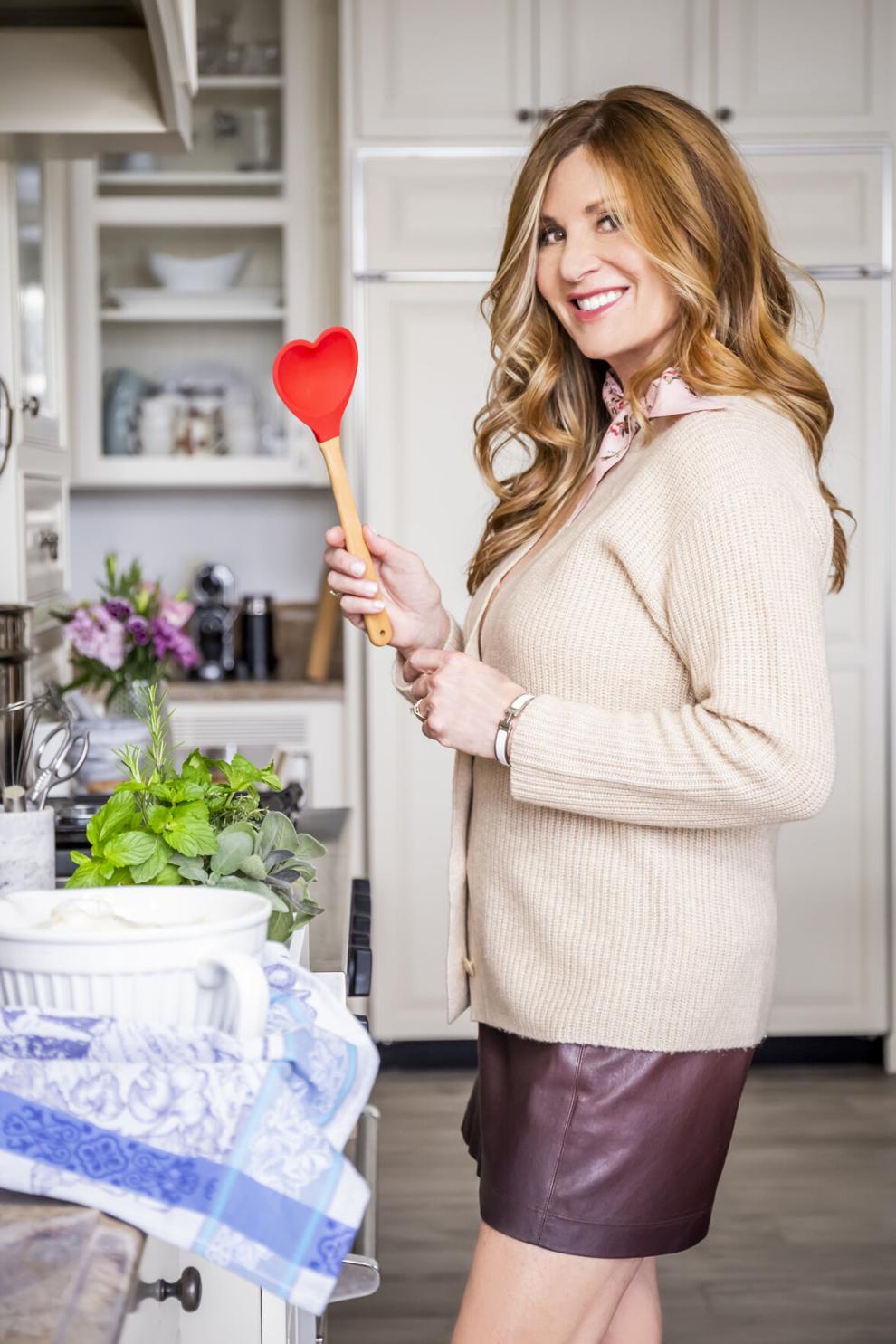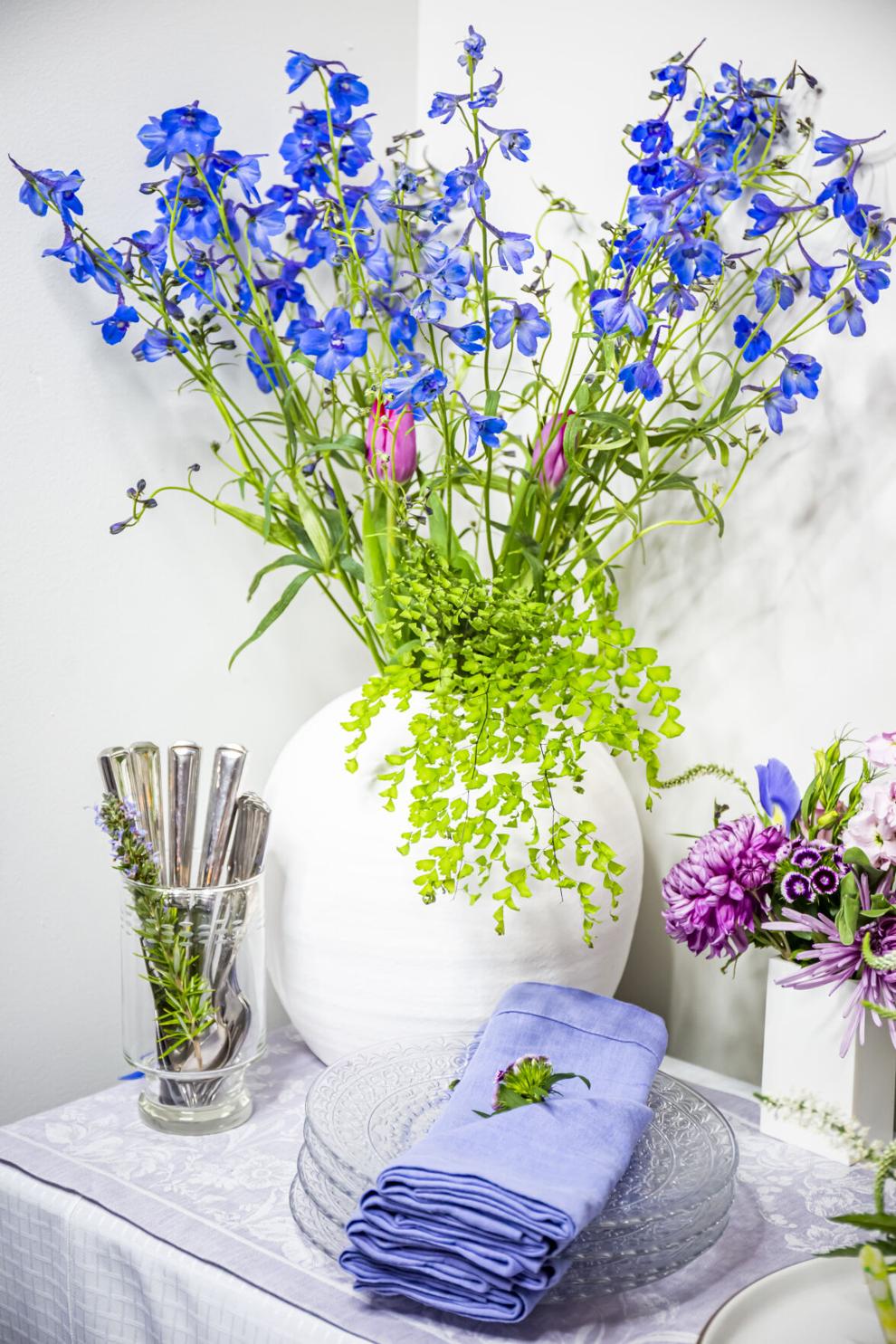 Set the Scene
Casually arranged flowers in beguiling shades of purple, pink, and blue create a swoon-worthy floral backdrop on a sideboard. A set of white melamine containers unifies the look. Include a few stems of airy greenery for lightness. Add tall tapers for glamour and glow, a stack of crystal plates for serving, and precious mini blooms tucked into angled pocket-fold napkins for a bit of panache.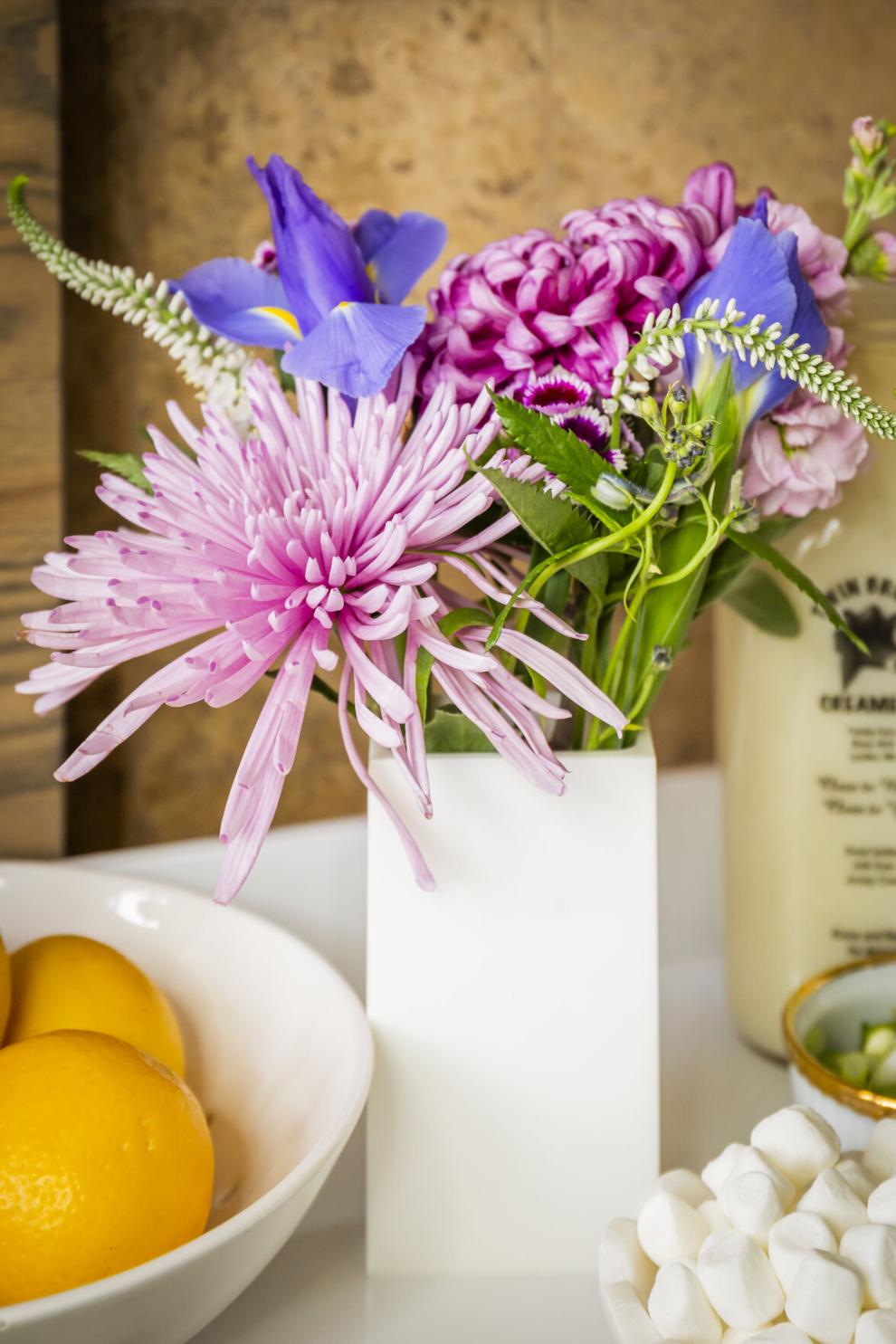 The French 75 Cocktail Kit 
Highlight your Valentine's cocktail bar by building a beautiful cocktail kit. Find a cool container, like my DIY lavender painted tray, embellished with bits of gold leaf. Nestle in some excelsior packing material, pretty bottles of bubbles and spirits, a packet of candied citrus peel, and fantasy-like stems of fresh blooms. This sip features a floral gin, fruity Prosecco, and a drop or two of St. Germain plus an (orange) citrusy splash of Parfait Amour for sweetness and that luscious hint of lavender color.
---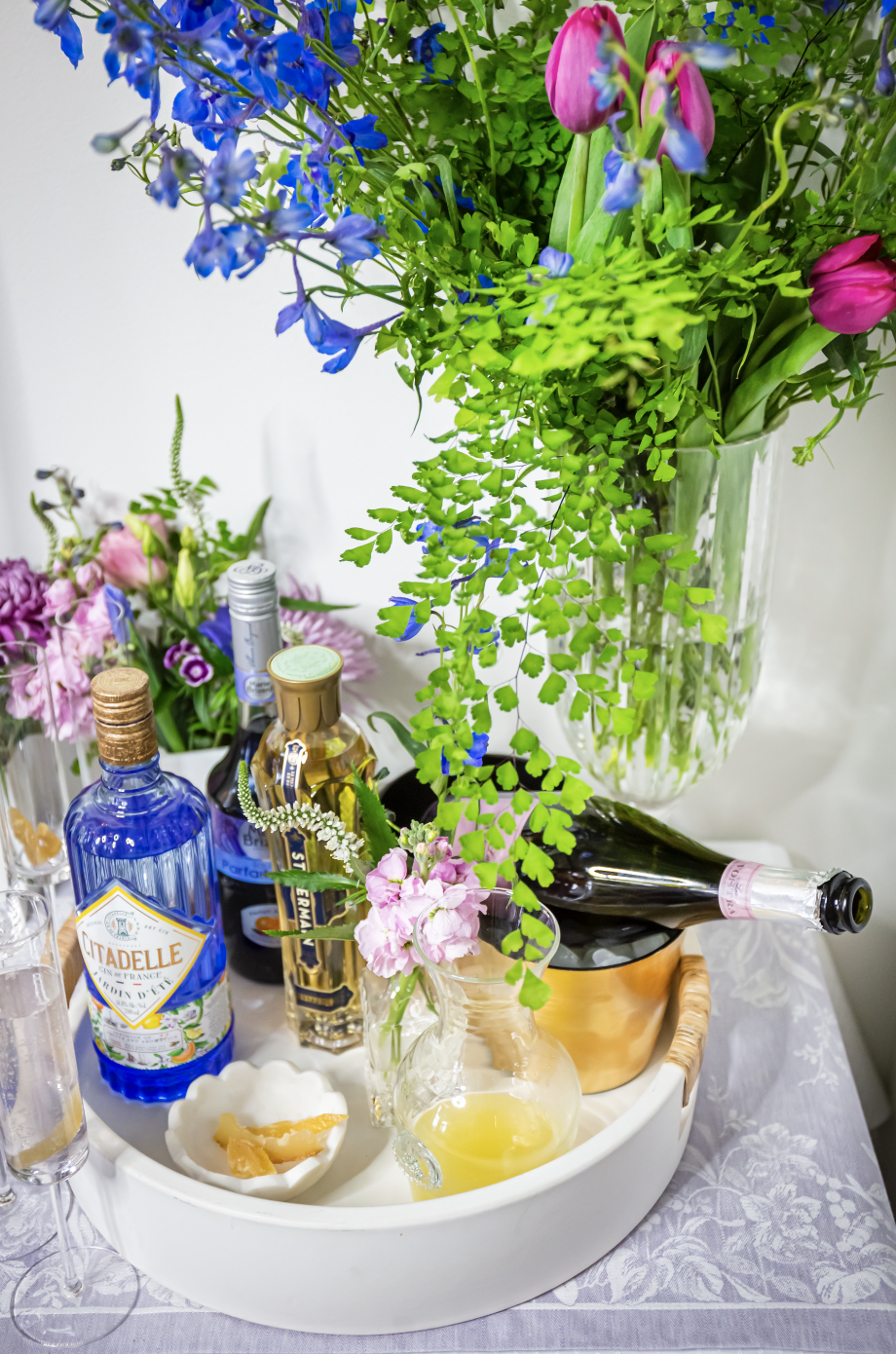 French 75 by the Glass
Ingredients
1 ounce floral gin
½ ounce freshly squeezed Meyer lemon juice
Scant splash of St. Germain
Scant splash of Parfait Amour
Candied lemon peel (purchased)
2 ounces Prosecco
Method
Layer the first four ingredients into your glass, pop in candied lemon peel, and then top with chilled Prosecco.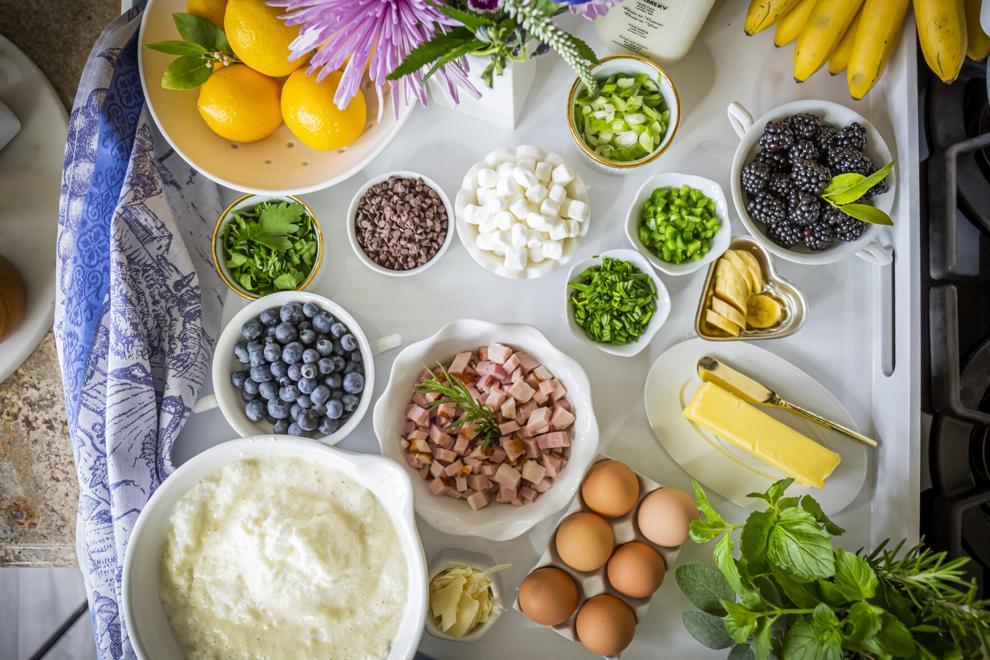 Egg Bites 
Makes about 16 egg bites
Preheat oven to 350 degrees
These egg bites couldn't be easier to make, thanks to the ubiquitous mini muffin tin. (Be sure to spray the tin wells with nonstick spray.) Sprinkle a good amount of your desired toppings into each well. I chose (cooked) diced rosemary ham, sliced scallions, chives, parsley, jalapeño, and shaved Parmesan. TIP: You can freeze leftovers.
Ingredients
6 large eggs
1/8 cup whole milk
1 teaspoon salt
1 teaspoon ground white pepper
Desired toppings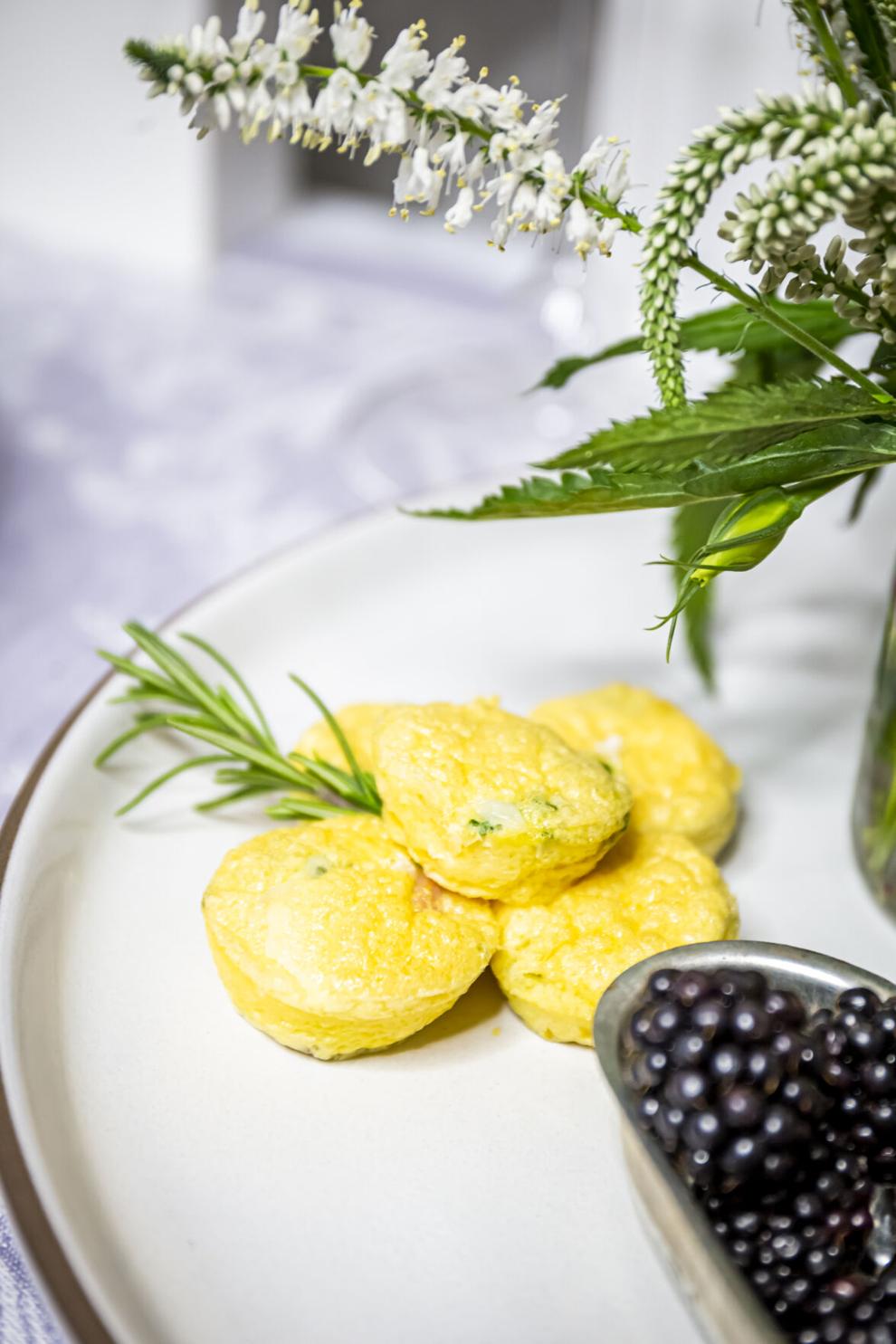 Method
Crack 4 of the eggs, and whisk them together in a bowl. Separate the last 2 eggs. Add the remaining 2 egg yolks to the bowl, plus the milk, salt, and pepper, and whisk again. In another bowl, beat the 2 egg whites until soft peaks form, and fold the whites into the yolks. Carefully pour the egg mixture into each muffin well, filling them almost to the top. Bake for approximately 15 to 18 minutes until the top is fully cooked. Cool slightly. Run a knife around the perimeter of each well to release the egg bites.

Heart-Shaped Pancakes
To make the heart pancakes, you will need several heart-shaped cookie cutters in varying sizes. Grease the cutters well with nonstick cooking spray. Use a pancake mix to make hotcakes come together in minutes. (I use good old Bisquick, as my mom did.) Follow the package directions. I like to add a few teaspoons of vanilla paste and a tablespoon of vanilla sugar to the batter. I also separate the eggs, then beat the egg whites until soft peaks form, folding the whites into the batter. This makes the batter uber-fluffy. Grab a big tray and a selection of small bowls, heaped with your favorite toppings. The pancakes can be sweet and/or savory and made to order per your guests' preferences.
Grease a stovetop griddle with unsalted butter. Fill the greased cookie cutters with batter, and gently press in a few toppings. Once the top begins to bubble and rise, you can quickly turn the cookie cutters to cook the other side. Cook until golden brown.
You might need to run a sharp knife around the pancakes to get them to release. Set-out mini carafes of syrup; barrel-aged and blueberry syrup are two of my favorites. Include a pretty bowl of lemon curd.
NOTE: Purchased berry beignets make a perfect addition to your light brunch menu.