Seattle native Brenda Kirkpatrick and her gal pal Lauren Calabrese were just a couple of girlfriends hanging out and drinking at a New Year's Eve party when the idea for an innovative anti-stain treatment for teeth and lips was born.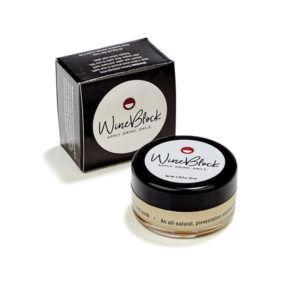 Enter WineBlock — a product on a mission to stop wine mouth (that dreaded purple hue you get on your lips, teeth, and corners of your mouth from drinking red wine) once and for all. They spent the next two years developing the formula to ensure it's all-natural, non-toxic, and free of petroleum products.
The balm is made from natural oils and stain-blocking agents, and is easy to use. Before enjoying wine, apply a dime-sized amount to your teeth. Smooth over upper and lower teeth with your tongue. Next, apply to your lips like a lip balm. Reapply before each glass. It was designed with an inconspicuous taste that dissipates seconds after you apply it, so it in no way interferes with the taste of your wine.
"We like to think of WineBlock like sunscreen. It's protective, except for instead of blocking out the sun, it blocks out the tannins from red wine to repel the stains from your lips," Kirkpatrick said.
They are also working on a sister product, CoffeeBlock.
WineBlock is sold at Amazon for $12, or at Chandler's Reach in Woodinville, Russell's Garden Cafe in Molbak's, local Fireworks Galleries, and Metropolitan Markets.