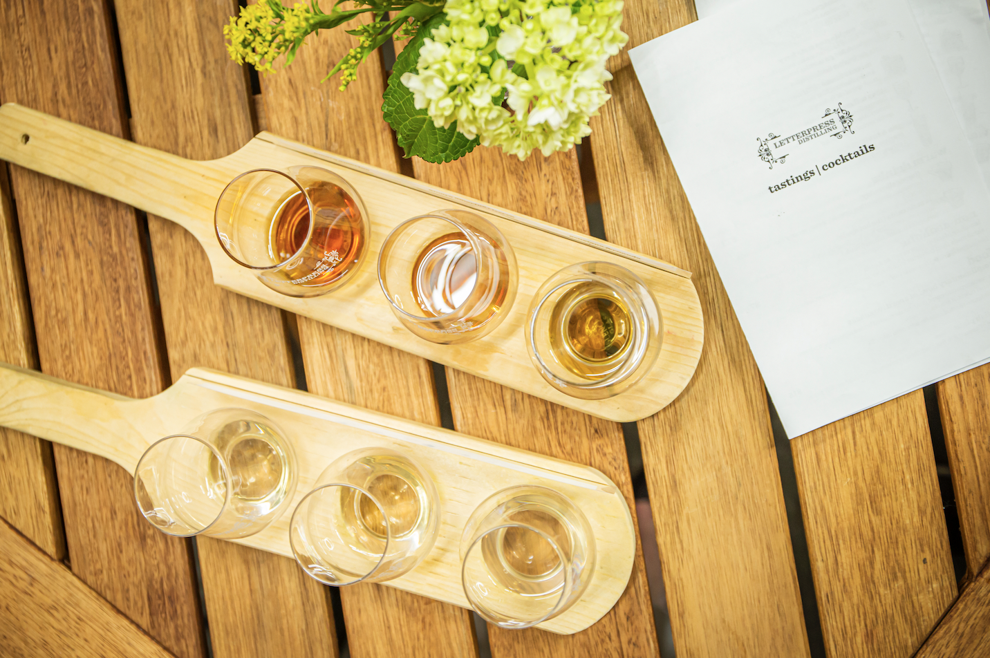 This May Invite hopes to capture pure citrus sunshine, whether sitting in a bottle, swirling in a cocktail, drenching pasta noodles, or topping a mile-high lemon pie.
My citrusy inspiration arrived after a limoncello-tasting session at award-winning Letterpress Distilling in Seattle's SoDo neighborhood. From the first sip, I was taken aback by how much it was unlike any cello I'd ever tasted. I also knew soon after that I had to infuse this May menu with it.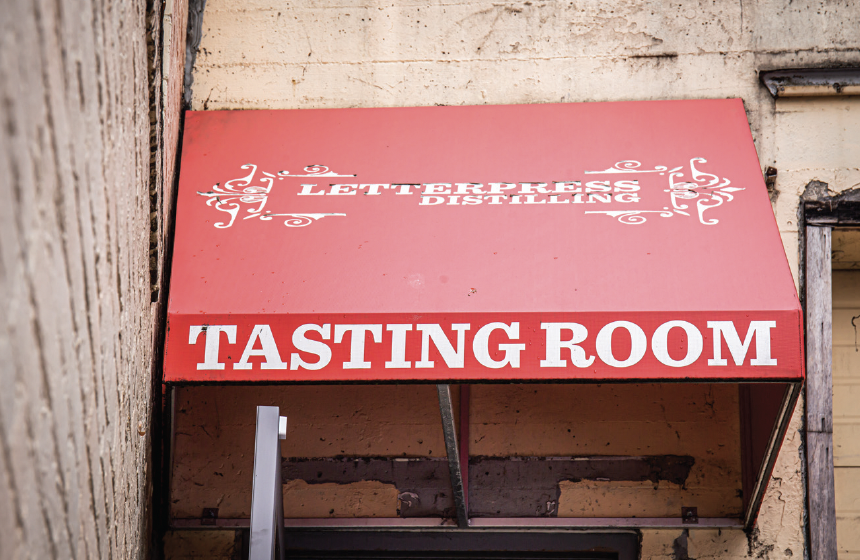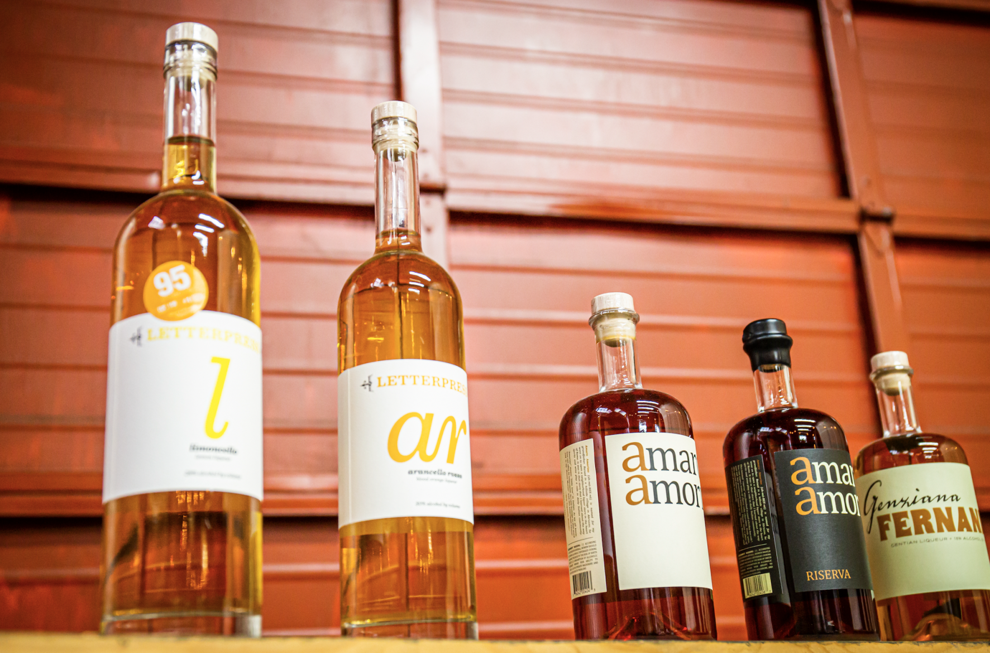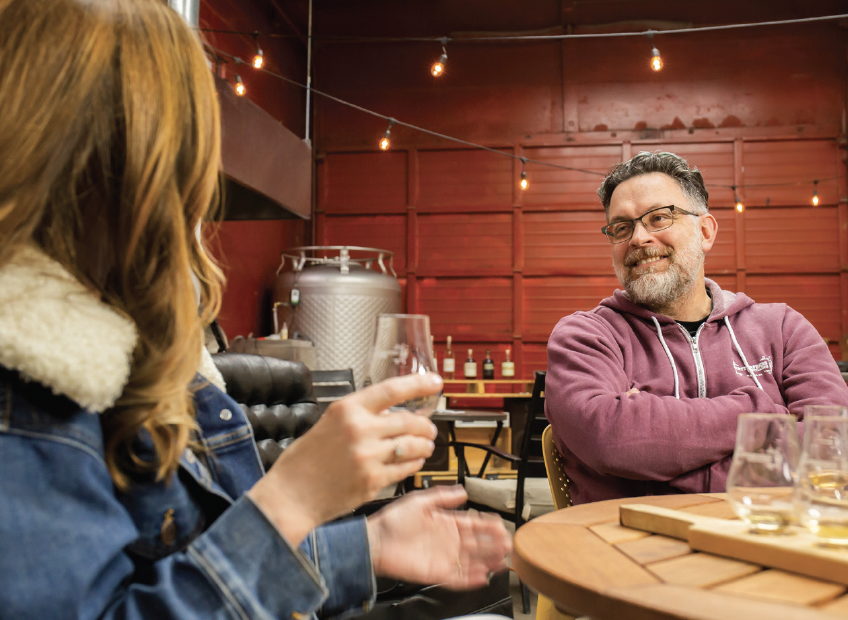 Meet Letterpress Distilling's Founder, Skip Tognetti
If you're not paying close attention, you might miss the ruby-red awning encircling Letterpress Distilling's entrance. But while the distillery might be hidden in plain sight in the middle of SoDo, it's harder to miss founder and Italian liqueur maker Skip Tognetti once inside.
He's usually parked behind a showpiece of a tasting table that once was used for letterpress printing — an artistic pursuit from an earlier lifetime.
"I scored this, and I wanted it to be my tasting table. It's kind of been our centerpiece for 10 years now," Tognetti told 425.
Like hand-printed paper, his spirits are lovingly handcrafted, too.
"That's kind of what I wanted people to get when they tasted my spirits. By tasting it, they'd know someone made this with care. It's not mass-produced," he said.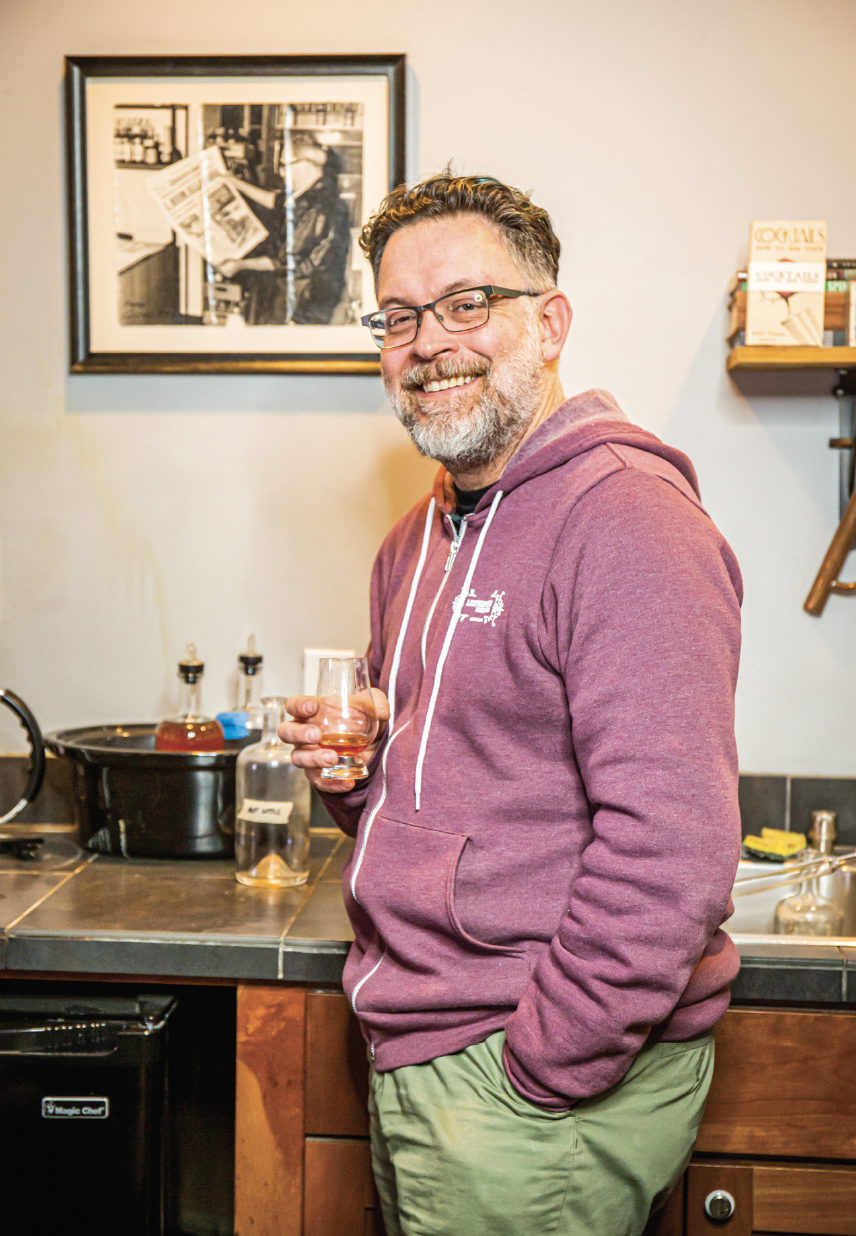 One major inspiration for Letterpress Distilling comes from Tognetti's grandfather, Amorino Pinti, who's pictured at Letterpress in his little liquor store in the heart of Italy's eternal city, Rome.
For Tognetti, this photo brings back fond memories of scorching Italian summers spent hanging out at the neighborhood store with Pinti. Tognetti would sit on a milk crate by the counter and mesmerically watch customers fill their empty wine bottles from a spigot — table wine on tap. To this day, Tognetti said, whiffs of things such as Nutella or a San Pellegrino also have the power to snap him back to those formative years.
Those Italian summers visiting family also shaped Tognetti's relationship with drinking. He remembers how inextricable drinks were from the Italian way of life.
"After meals, we would have a little something to pass around; the kids would get a little taste of what the adults were having," Tognetti said. "Maybe a glass of water with a splash of wine in it, and, as we got older, a little less water and a little more wine. I've just been around these things my whole life."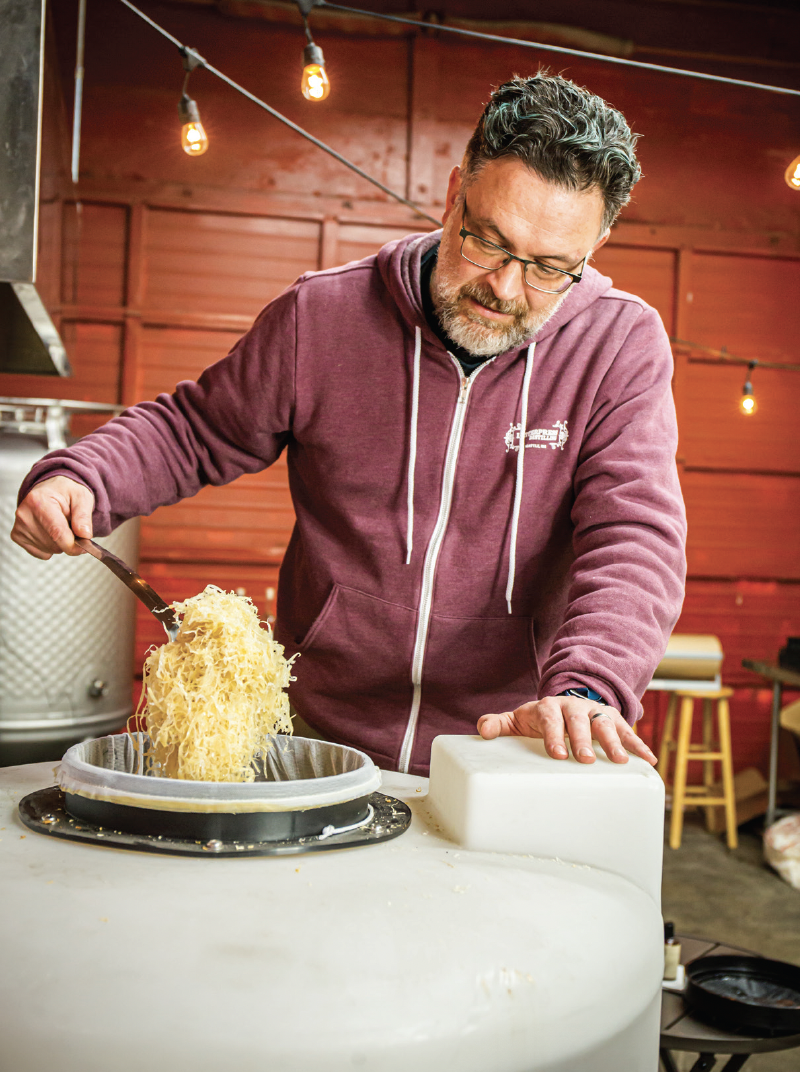 Seated among a sea of cello tanks, Tognetti reminisced about his business plan in its infancy. It was going to primarily focus on whiskey and gin production. The Italian liqueurs, meanwhile, would be a side passion project. The universe, though, made it clear that it had other plans.
"We released Limoncello, actually, 10 years ago in April," Tognetti said. "It sort of just took over the business, and it started to make sense. This is my story; this is what I know, and, sometimes, the business just tells you what it needs to be. The mistake would be to fight it."
Tognetti's all-natural limoncello doesn't exploit the often-made-up liquor-marketing trope of "the family recipe." It actually is rooted in family influence rather than a direct recipe, and sweetened with the old-school Italian incorporation of honey, which gives the spirit its resplendent golden hue.
In addition to limoncello, Letterpress also offers arancello (orange) and a grapefruit cello. In 2017, Tognetti introduced an Amaro, which he aptly named after his grandfather, Armorino. It took three years of recipe testing before he felt his grandfather's namesake was finally ready for market.
The Letterpress Distilling tasting room is open on weekends. Starting in May, the loading dock will transform into a welcoming outdoor patio, with tables and grape vines framing a stunning eyeful of the Space Needle.
---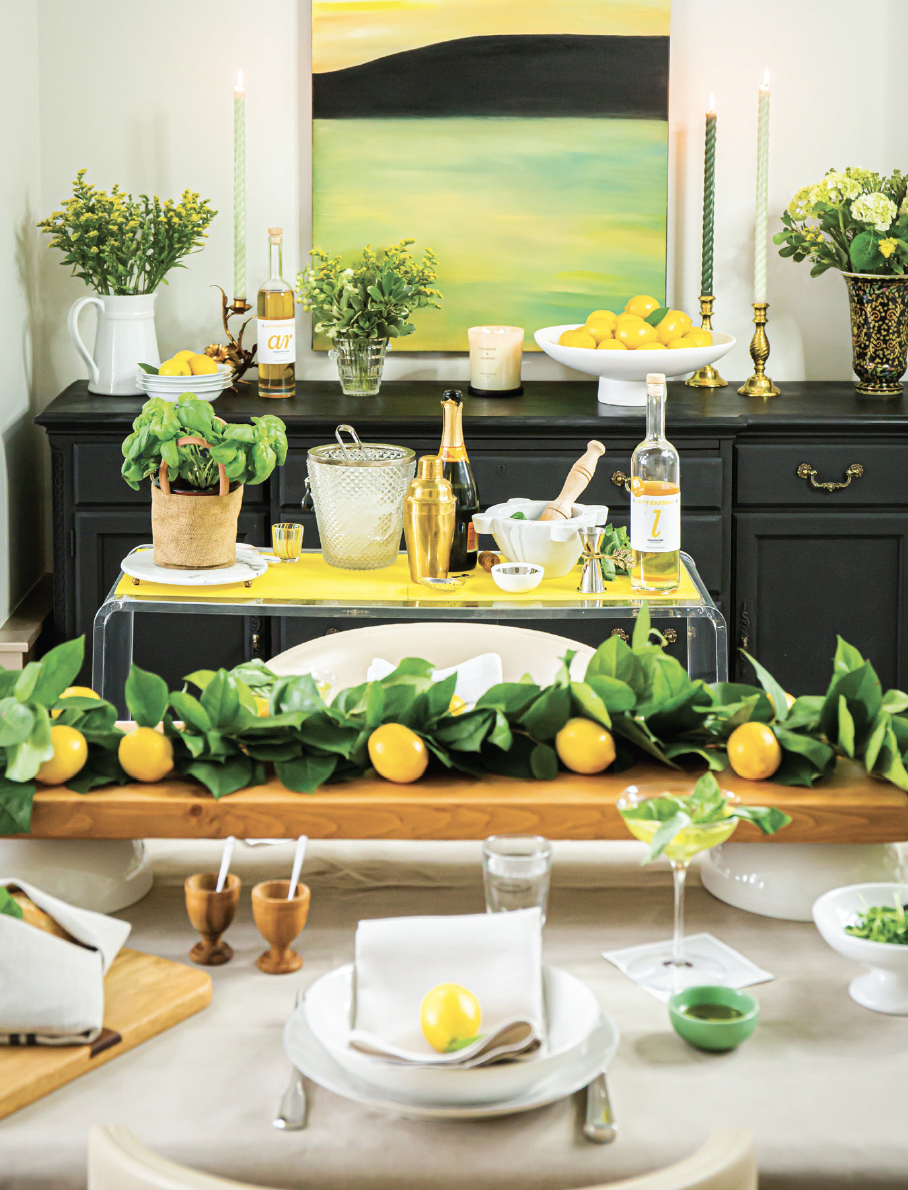 When Life Gives You Limon(cello)
When life gives you lemons, create layers of lemony goodness. Start with a quick DIY fresh salal (lemon leaf) and lemon garland. To add height to the table, display the garland on a long wood serving plank elevated on a pair of matching white bowls. A footed bowl heaped with lemons decorates the sideboard. Each simple place setting sports a little globe of sunshine.
---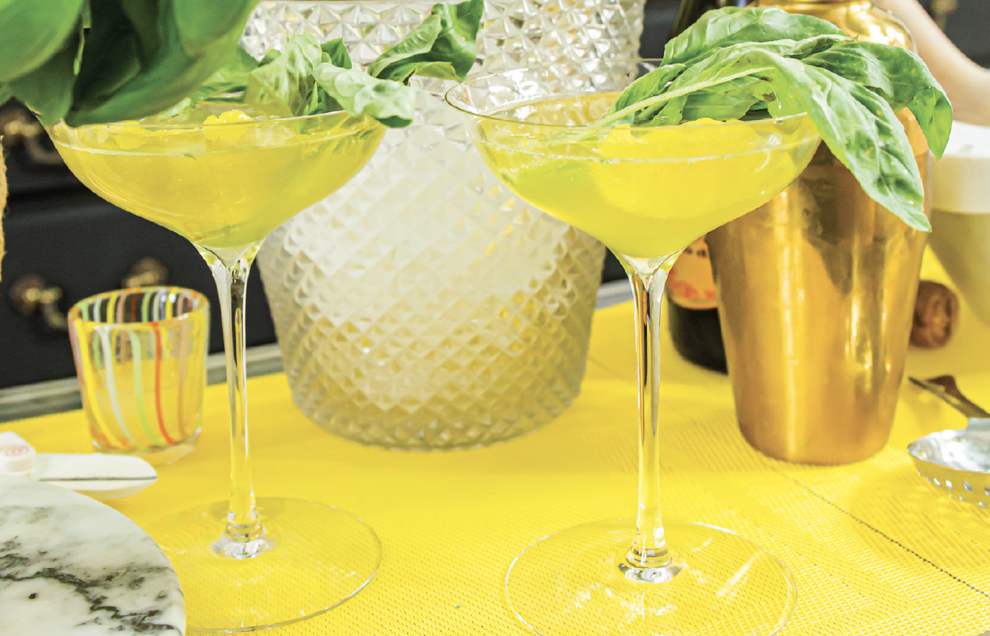 Basil-Infused Sparkling Limoncello Sipper 
Makes 1 cocktail
Ingredients
4 fresh basil leaves
1 shot limoncello
A squeeze of fresh lemon juice
Prosecco topper
Method
Muddle together the fresh basil and limoncello. Pour the mixture into an ice-filled cocktail shaker, add a splash of freshly squeezed lemon juice, and shake for 30 seconds. Pour into a coupe glass, top with chilled Prosecco, and add a sprig of fragrant fresh basil and a lemon peel.
---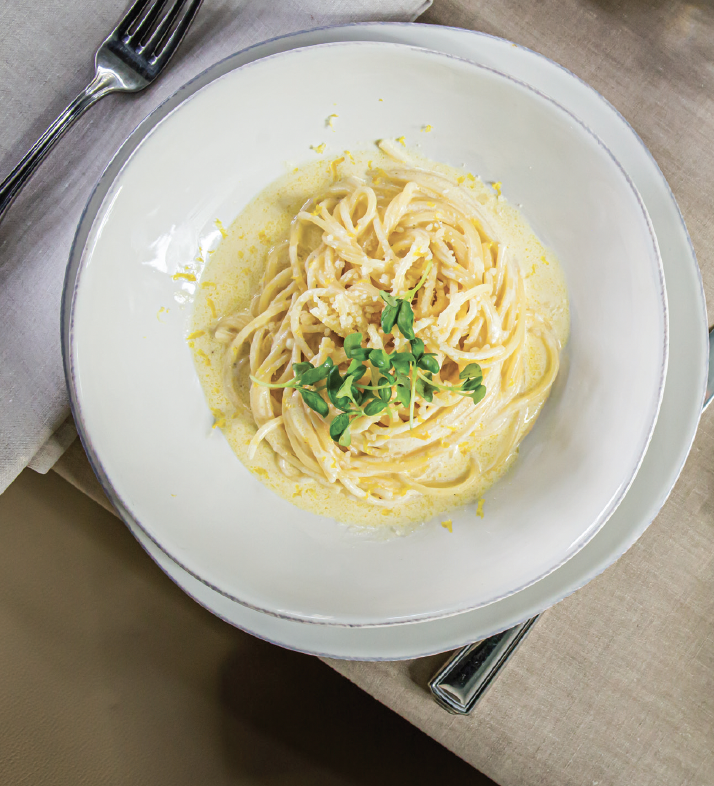 Pasta with Lemon and Arancello Cream Sauce
Ingredients 
1 package spaghetti
3 tablespoons extra virgin olive oil
1 medium shallot, finely diced
1 nice strip of lemon peel, plus zest of ½ lemon and juice of ½ lemon
1 large garlic clove, peeled and smashed
1 small chili pepper, lightly smashed
1/4 cup truffle broth
¼ teaspoon ground nutmeg
2 1/2 ounces Arancello
3/4 cup heavy cream
¼ cup grated Parmesan cheese, plus more for topping
2 pats unsalted butter Fleur de sel and ground white pepper Microgreens for serving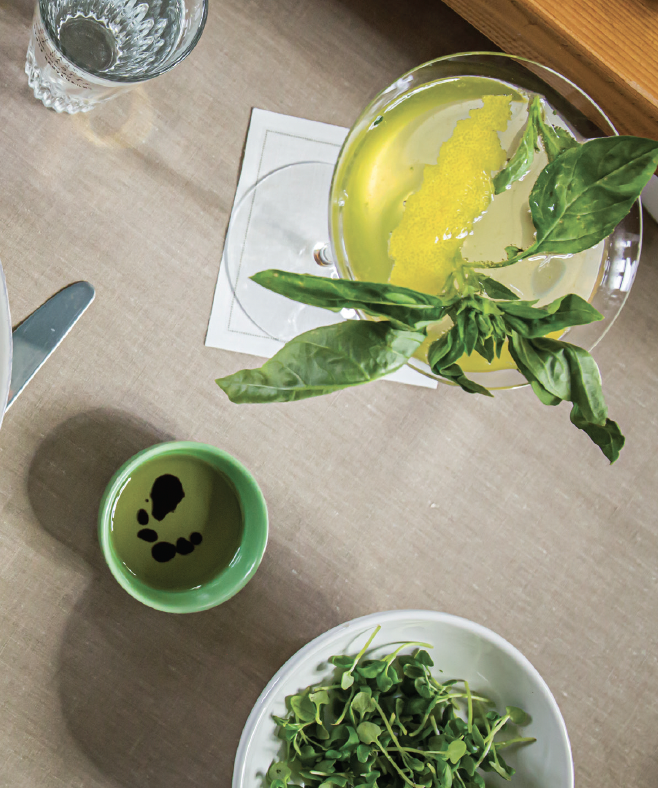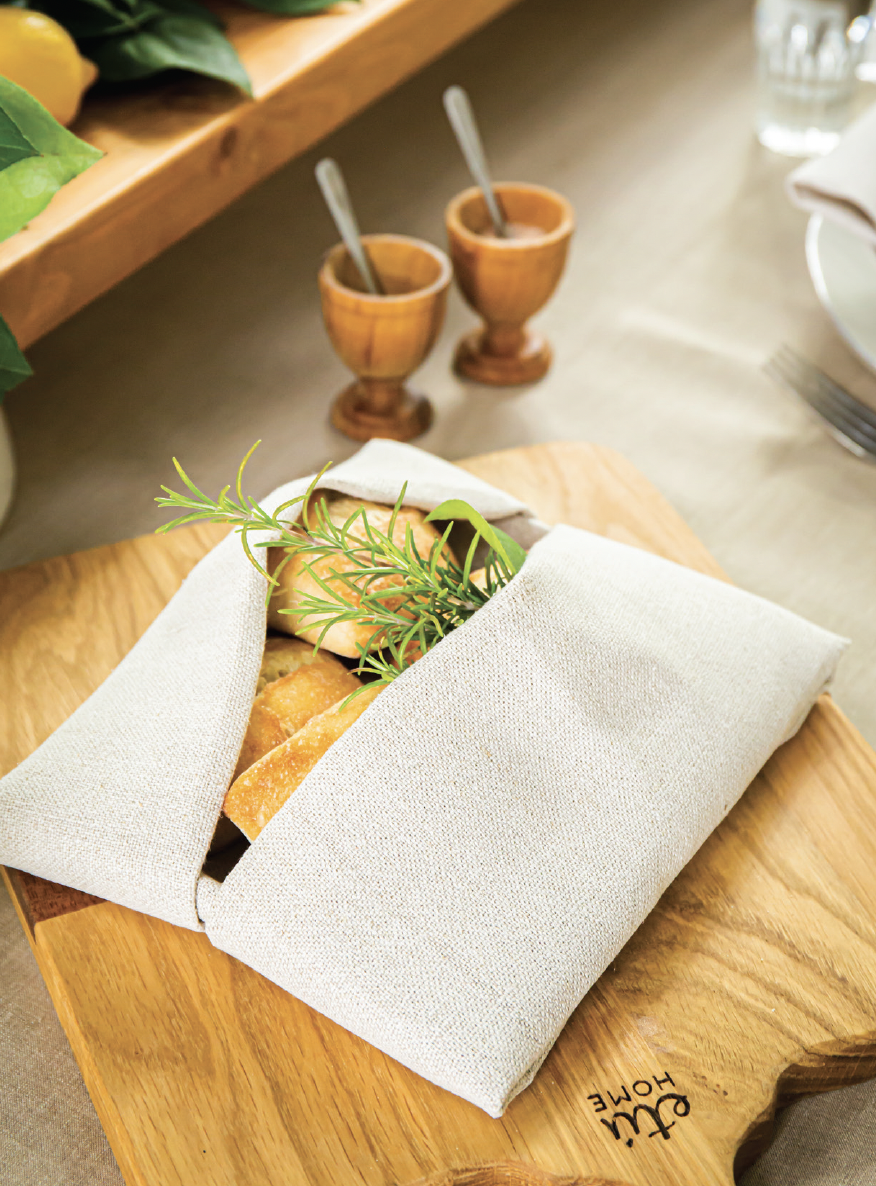 Method
Place a large pot of water on high heat, toss in a small handful of salt, and bring to a boil as you prep the sauce. Add the pasta to the pot once it comes to a boil. Cook per package instructions.
Meanwhile, heat the olive oil in a medium pot over medium heat. Add the shallots, lemon peel strip, garlic, and chili pepper to the pot. Stir until the shallots begin to caramelize. This will take somewhere around 7 minutes.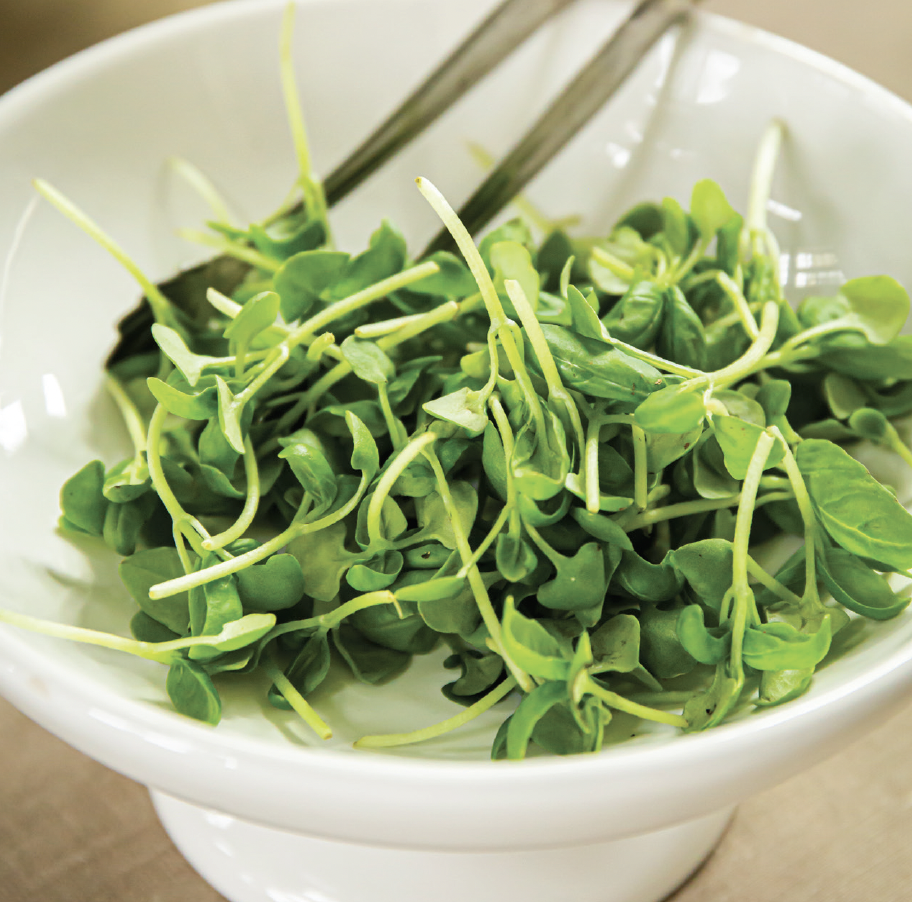 Once the oil is infused with the lemon, garlic clove, and pepper, remove them from the pot, and discard.
Add the truffle broth, nutmeg, and Arancello to the pot. Deglaze it, and scrape the bottom of the pan to incorporate any tasty, browned bits. Remove a few tablespoons of boiling pasta water from the pot, and add it to the cream. Gradually add the warmed cream to the pot, and stir constantly until the sauce is smooth. Scoop out an additional 1/2 cup of starchy water from the pasta pot.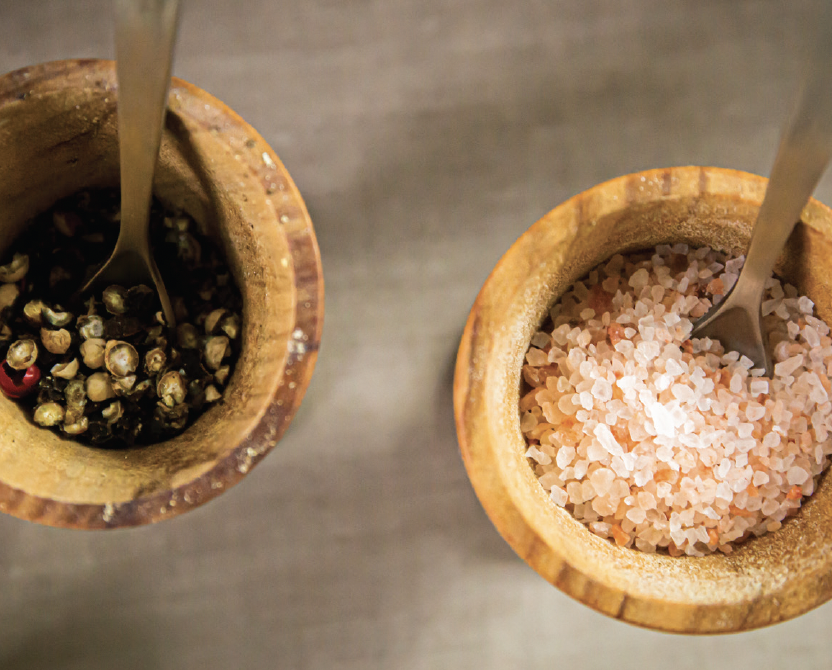 Drain the pasta, adding the noodles to the sauce pot. Add the Parmesan cheese a little at a time to the sauce, along with enough of the starchy water to make a nice sauce, and stir gently until smooth and the individual noodles are coated with the sauce. (Add additional pasta water as needed.) Finish the pasta with the pats of butter, and stir in gently.
Serve the pasta straight away. Top it with additional Parm, lemon zest, a sprinkling of microgreens and fleur de sel, and white pepper to enhance taste.
---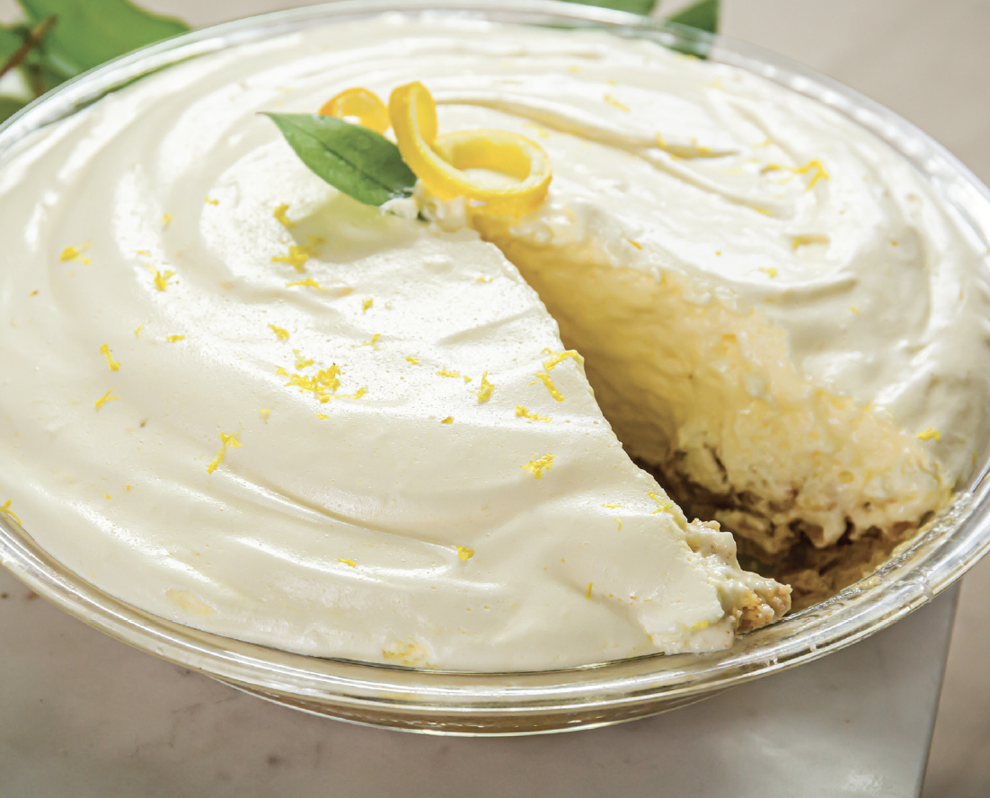 Arancello Chiffon Pie with Biscotti Crust 
Preheat oven to 350 degrees 
Crust Ingredients
1 1/2 cups ground almond biscotti
4 tablespoons granulated sugar
6 tablespoons unsalted butter, melted
Method
Using a food processor, grind the biscotti into fine crumbs. In a medium bowl, stir together the crumbs and the sugar. Stir in the melted butter. Spoon the mixture into an ungreased 9-inch glass pie pan. Using your hands, lightly press the crumbs into the bottom and up the sides of the pan. Bake for approximately 10 minutes, until the crust is lightly golden brown. Cool completely.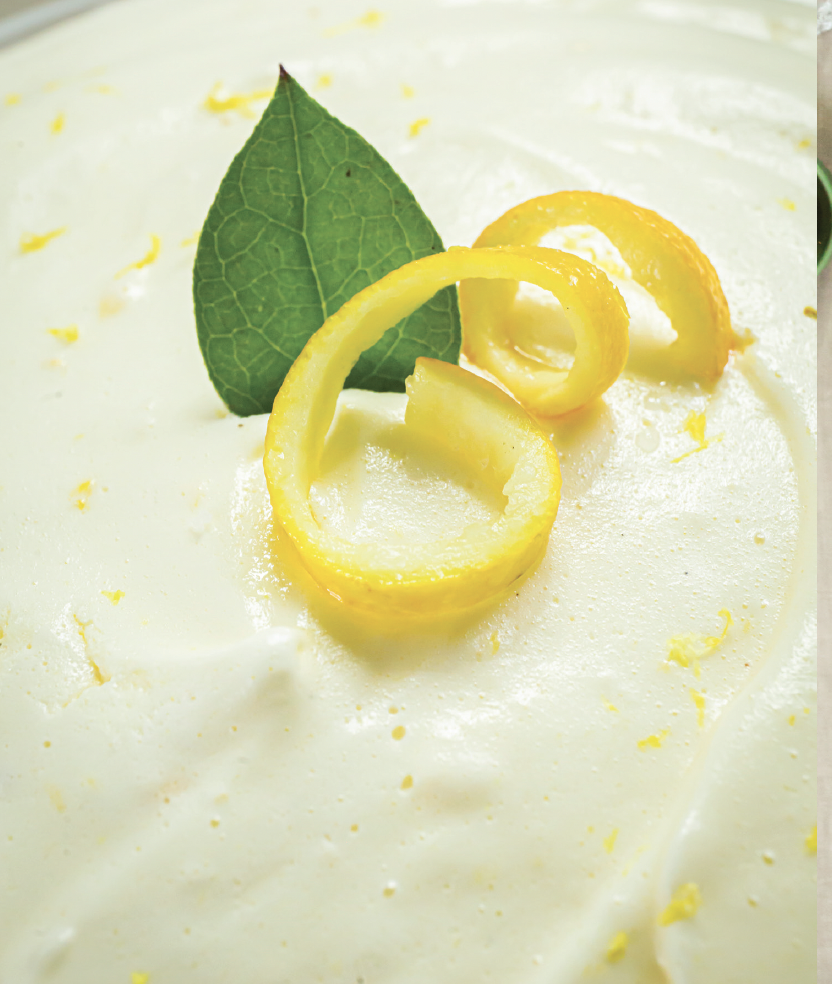 Filling Ingredients
1/2 cup cold water
1 envelope unflavored gelatin
8 egg yolks, lightly whisked
3/4 cup granulated sugar
¼ cup vanilla bean sugar
Juice and zest of 2 small lemons
1 1/2 tablespoons Arancello
Dash of salt
8 egg whites
1 cup granulated sugar
Lemon rind curls tossed with granulated sugar
Lemon zest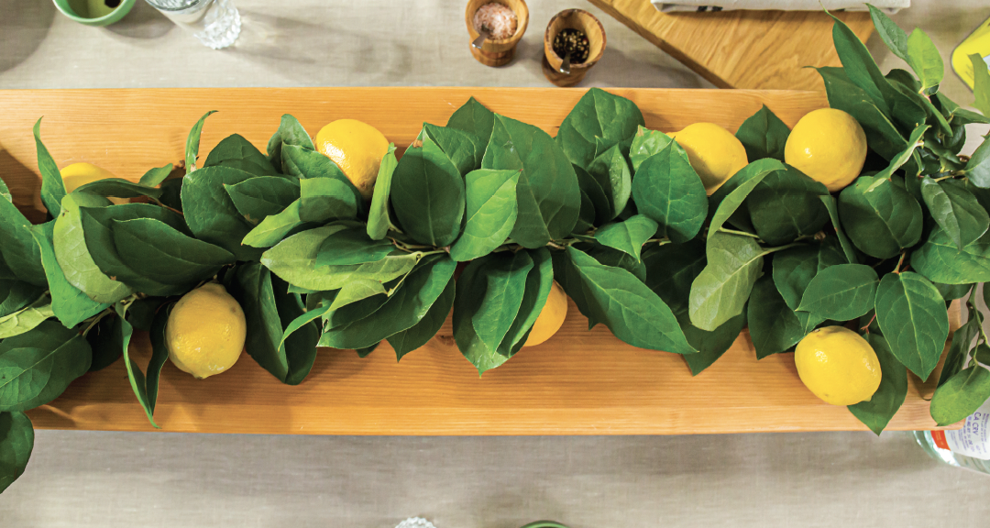 Method 
Pour water into a small bowl, and sprinkle in gelatin. Soak for about 10 minutes, until the gelatin is dissolved.
Meanwhile, in a double boiler, cook the egg yolks, sugars, lemon juice, and zest. Whisk constantly on medium heat until you get a thick custard, for between 5 and 6 minutes. (Do not boil.) Add gelatin mixture, arancello, and dash of salt and whisk until smooth. Cool custard bowl in an ice bath. Whisk from time to time.
As the custard cools in the bath, use the bowl of an electric mixer to beat the egg whites until they form very stiff peaks. Beat in the sugar a little at a time until it's fully incorporated. Using a spatula, lightly fold the cooled custard into the beaten egg whites in three batches. Heap the filling in the center of the cooled biscotti crust, and carefully spread the filling to the outer edges.
Chill for several hours or overnight. Top with sugared lemon rind curls and a smattering of lemon zest. Slice and serve.