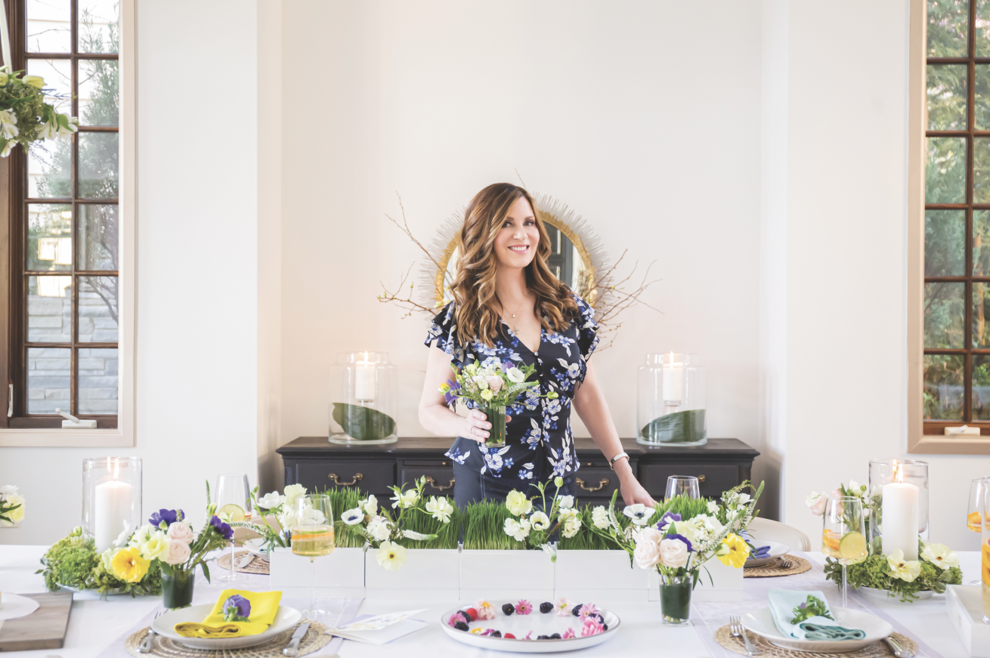 One of the best ways to welcome spring (and, of course, the Easter Bunny on April 9) is with a delicious breakfast; sparkling sips; and flowers and other splashes of color and creativity.
For this month's Invite, we went back in time to highlight some of our favorite spring-inspired recipes and designs by our entertainment expert, Monica Hart. Let's get inspired — and cooking.
---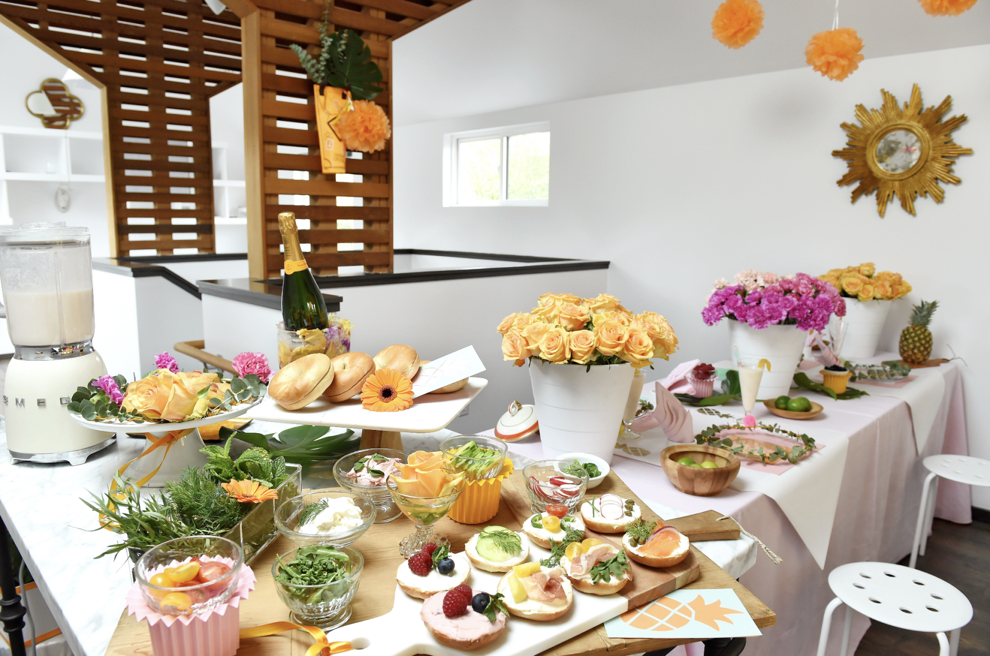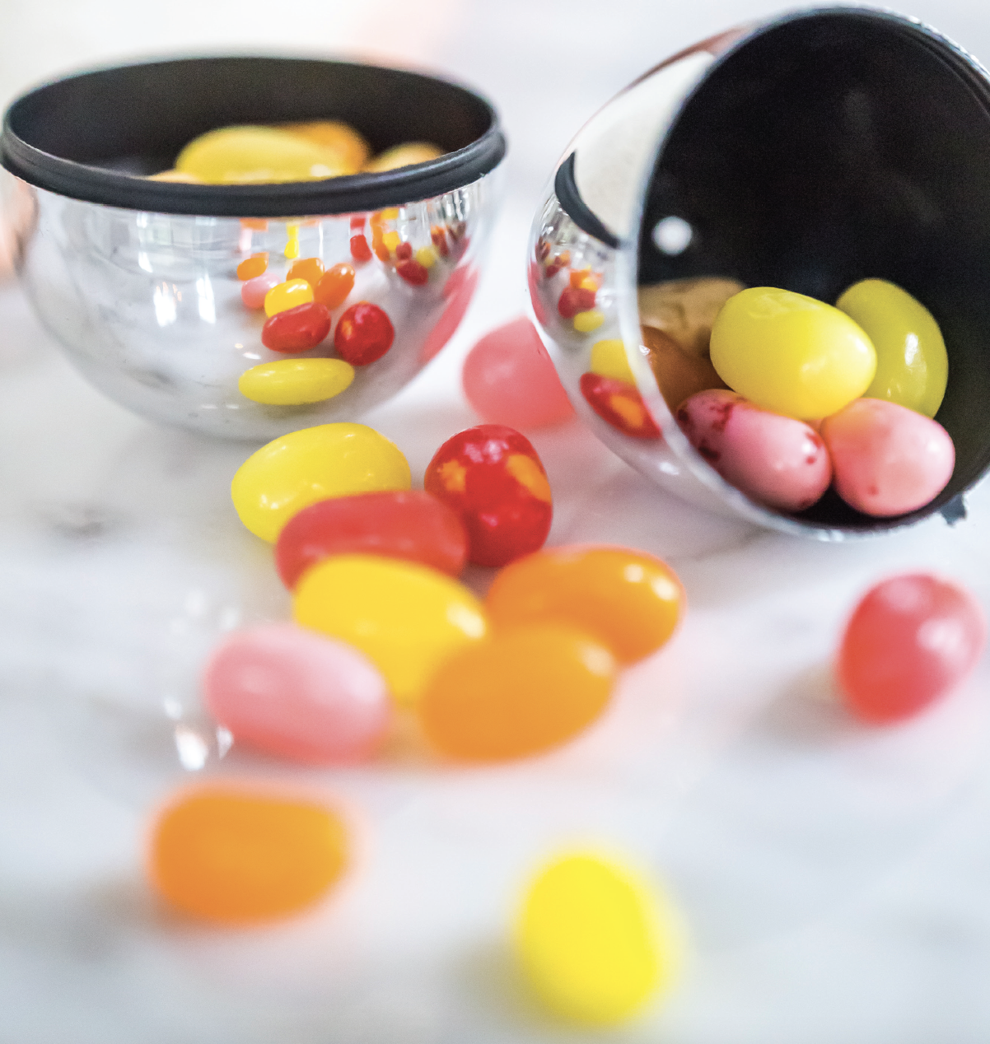 Make It Special 
Hart's recipes and cocktails might be the stars of the show, but she always makes sure to set a beautiful scene with beautiful table designs and other special treats.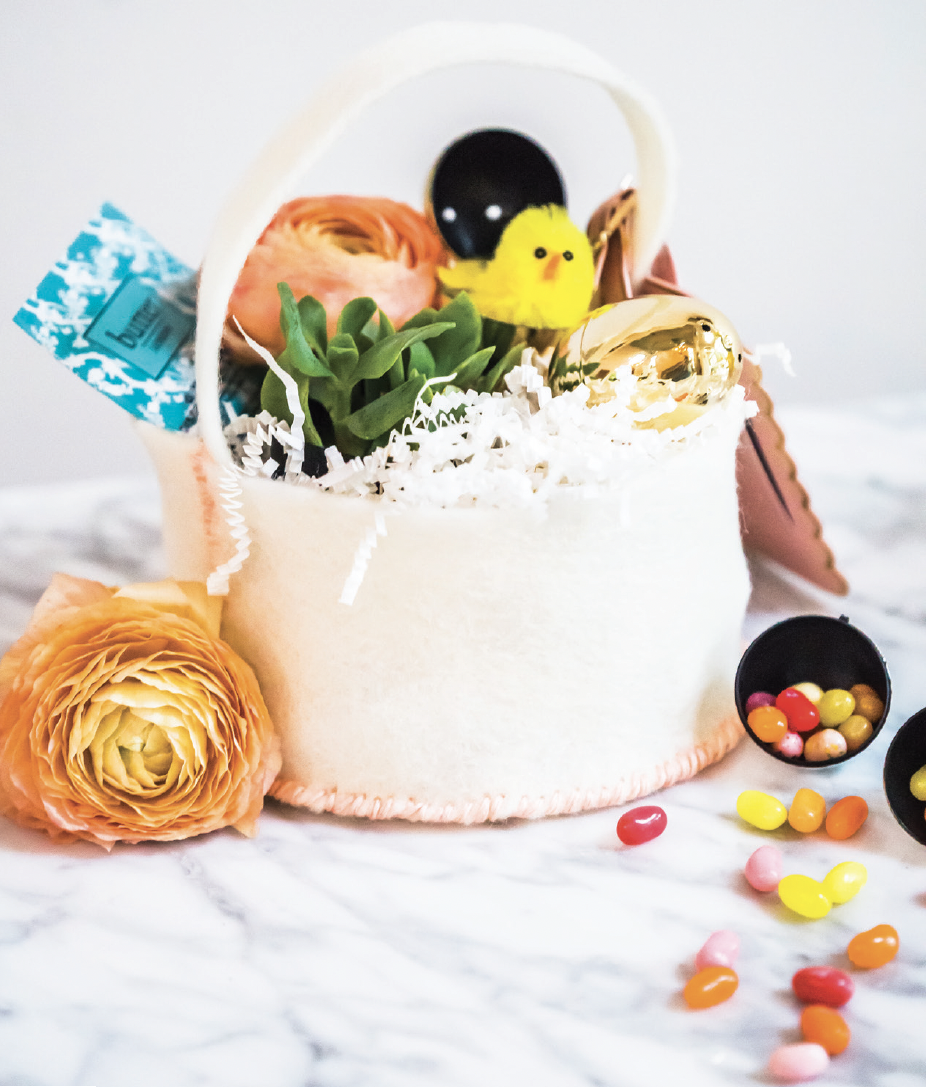 Pail Power 
You can stitch this adorable Easter basket in minutes. From a small length of thick, craft store wool felt fabric, cut two identical rectangles measuring no larger than 12 inches long by 3 inches wide. These will be your basket sides.
Next, cut a felt circle approximately 6 inches in diameter or less, depending on your desired basket size for the bottom. Cut out a handle, 1 inch wide by 11 inches long. Using embroidery thread, stitch one short side of the felt rectangle to the other, butted together.
Place the long rectangle on top of the base, and stitch it together. Overlap the rectangle ends to fit the circumference of the base, cut, and stitch. Attach the handle to the inside of the basket.
Now fill with tissue and paper grass and goodies.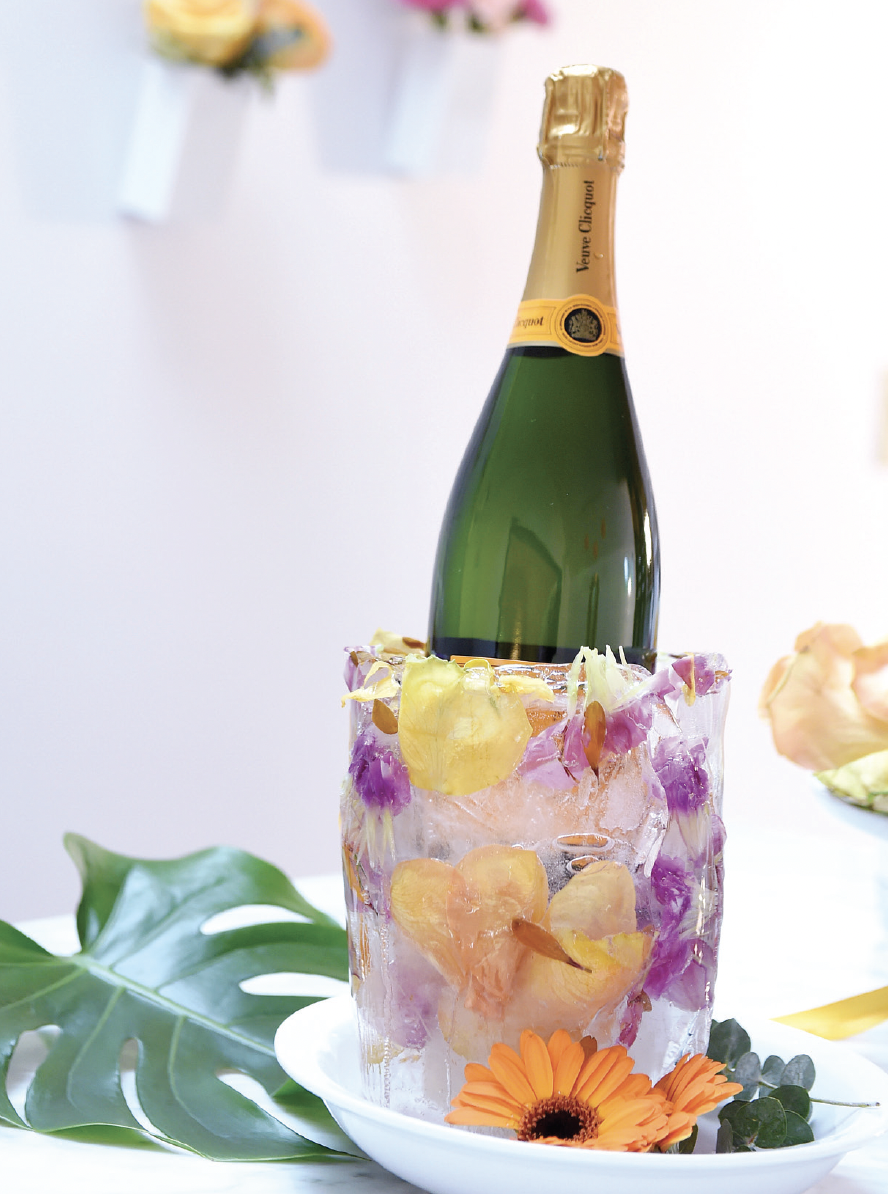 DIY Floral Champagne Ice Bucket
Create a floral Champagne ice bucket for a real wow factor. This floral ice bucket is frozen solid.
Grab two freezer-safe containers, the smaller of which will hold your favorite Champagne bottle.
Sprinkle flower petals on the bottom of the larger container, and fill it with 4 inches or so of water. Freeze. Once frozen, place the smaller container inside the larger vessel. Fill with a little water, if need be, to create weight. Add flower petals and blooms between the two containers, and fill the space just below the top with water. Freeze overnight. To remove the containers, run warm water over the exterior of the large container to wiggle loose. Add warm water to the interior container, and do the same.
---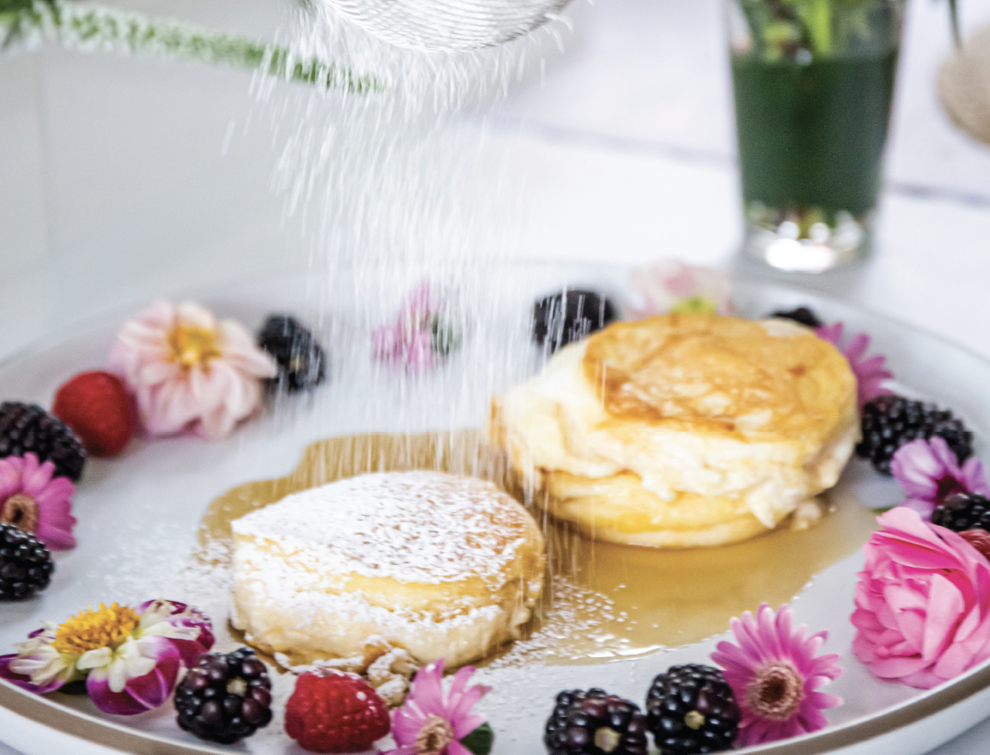 Soufflé Pancakes 
These pancakes are like eating fluffy, sweet clouds of goodness. Drizzle with syrup, or top with fresh fruit and honey.
Ingredients
1 egg yolk, separated and chilled
1/4 cup chilled whole milk
1 teaspoon pure vanilla
3 tablespoons cake flour
1 teaspoon baking powder
Pinch of salt
2 egg whites, chilled
2 tablespoons ultrafine baker's sugar
1 tablespoon vanilla bean sugar
Nonstick cooking spray
Method
Place the egg yolk in a medium bowl, and whisk. Then whisk in the milk and vanilla. Chill batter in the refrigerator for 20 minutes. Meanwhile, sift together the cake flour, baking powder, and pinch of salt in a medium bowl, and set aside.
Place the chilled egg whites in the bowl of a stand mixer. Whip on medium speed until frothy. Crank it to high speed until stiff peaks begin to form. Gradually sprinkle in the sugars. Continue whipping until the meringue is stiff and glossy.
Gently fold the meringue into the batter bowl.
Grease a stovetop skillet and muffin ring with nonstick spray. Place the ring in the center of the skillet. Heat up to mediumhigh, then turn down to medium-low.
Ladle the batter into the ring. Let it cook for approximately 1 minute. Pour a tablespoon or 2 of water around the outside of the ring. Cover with a splatter screen until water evaporates, and cook for another minute. Using a fish spatula, carefully flip the ring. Cook for another minute or so until the batter is set but still jiggly. Place the pancake and ring on a serving plate, and remove the ring. Repeat.
---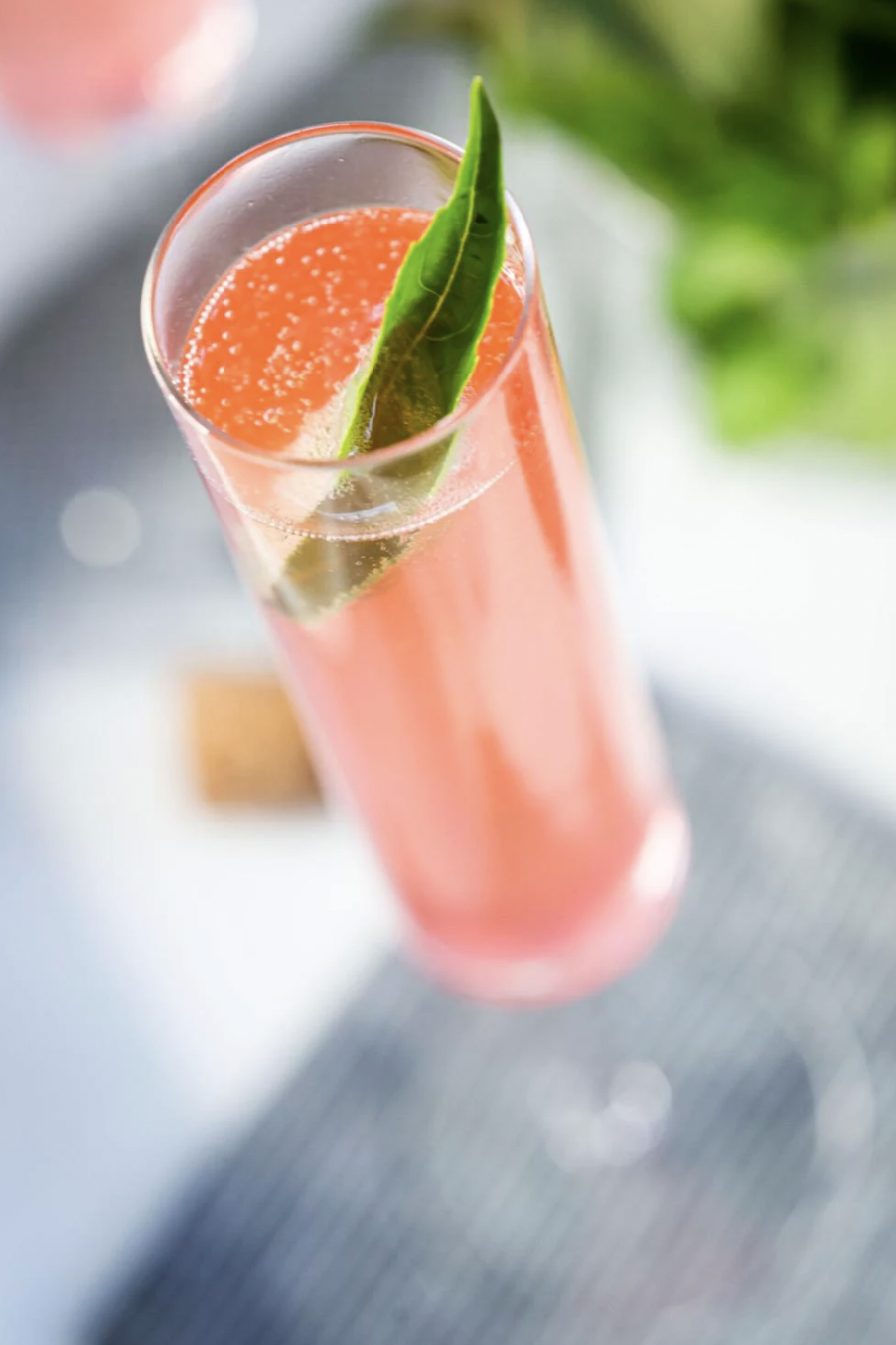 Bottomless Rhubarb Bellini
It's rhubarb season. Hart's mother grew rhubarb in her childhood garden, so it's a sentimental spring favorite, plus the rhubarbred hue of this syrup has Hart all heart-eyed.
RHUBARB RED SIMPLE SYRUP
Makes approximately 2 cups simple syrup
Ingredients
1 ¼ cups water
1¼ cups granulated sugar
3 stalks of rhubarb, trimmed and chopped
Champagne topper
1 basil leaf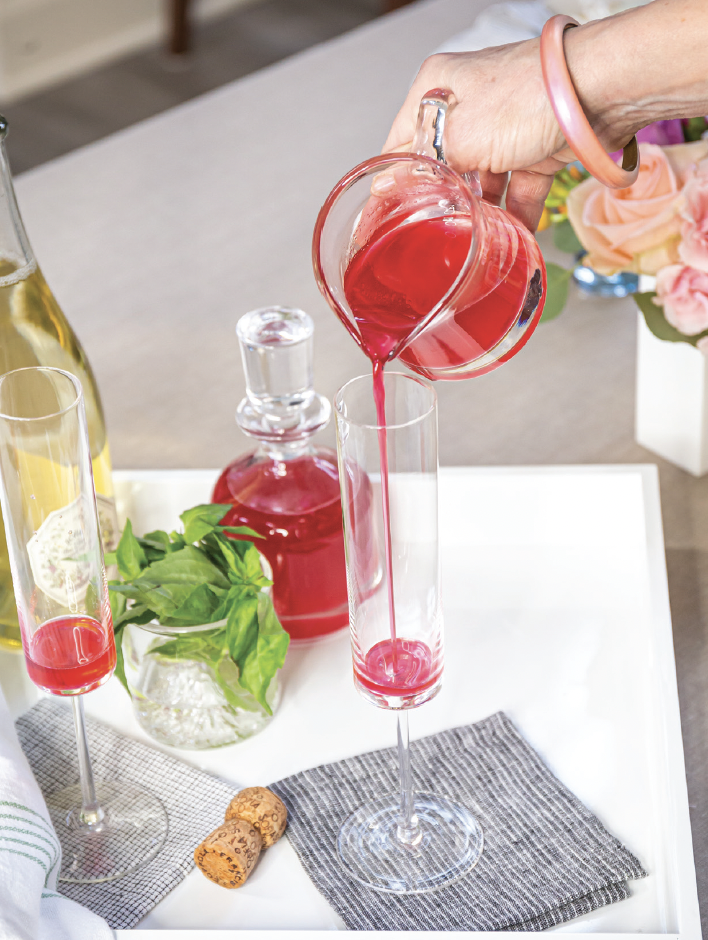 Method
Simmer water in a stovetop pan. Whisk in sugar until dissolved, then add chopped rhubarb. Reduce heat to low, and simmer uncovered for 15 to 20 minutes to extract as much flavor and color as possible. Chill the syrup. To make the Bellini, place 1 tablespoon of syrup in a Champagne flute, and top with Champagne. Garnish with a fragrant fresh basil leaf.
---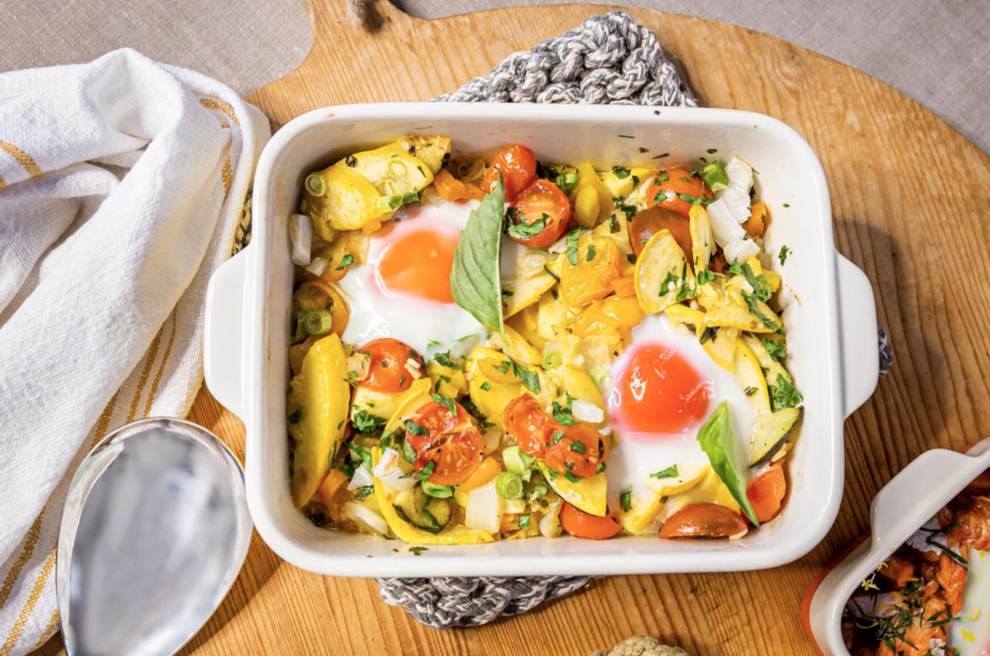 Veggie Baked Eggs
Ingredients
Olive oil
1 each: chopped yellow and orange bell pepper
2 each: small sliced yellow squash and green zucchini
1 chopped small yellow onion
3 chopped green onions, ends trimmed
1 chopped garlic clove
16 ounces halved or chopped tomatoes (grape, cherry, and/ or vine ripened)
Salt and pepper, to taste
Fresh chopped basil, to taste
Fresh chopped parsley, to taste
Fresh oregano, to taste
Butter 2 large eggs
Lemon zest, to taste
Method
Heat oven to 375 degrees. In a stovetop skillet, drizzle in a bit of olive oil, and sauté about a third of the peppers, squash, yellow onion, and green onion, plus garlic, and ¾ cup tomatoes, along with a sprinkling of salt, pepper, and chopped fresh basil and parsley, and a few oregano leaves. Cook until almost tender.
Generously butter a medium (6-by-9-inch) baking dish, and layer in the pepper mixture. Tuck in a few chopped, uncooked peppers, zucchini, and tomato for texture. Create two small wells, and crack an egg into each. Bake midoven for about 10 to 12 minutes until the whites are set and the yolks are still a bit runny. Top with a sprinkling of lemon zest and a bit more basil.