Chef John Howie
Bone-in New York Strip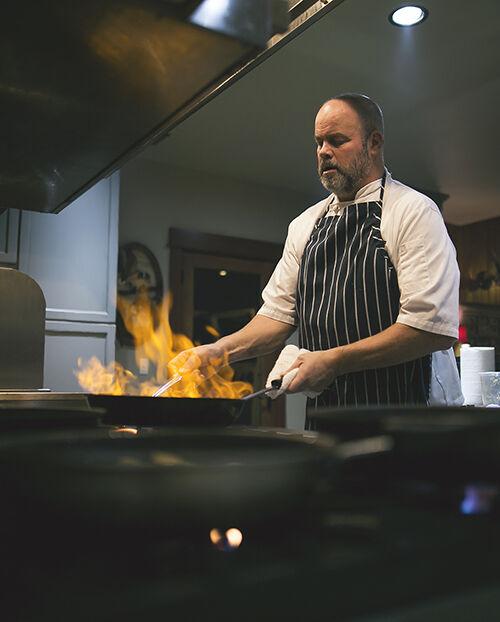 "It's very highly marbled. The fat is evenly distributed throughout the steak. A bone-in steak usually allows for there to be a little more fat around the bone, which goes into the meat. It makes for a wonderful, rich steak. Any New York strip loin steak is going to have a little more chew to it than a filet mignon, so it's got a little more hardy texture to it and usually has a fairly thick fat rim around the outside that, when cooked properly, is just a wonderful addition to the steak." 
What You'll Need:
Bone-in New York strip steak
Sea salt
Black pepper
Garlic powder
Onion powder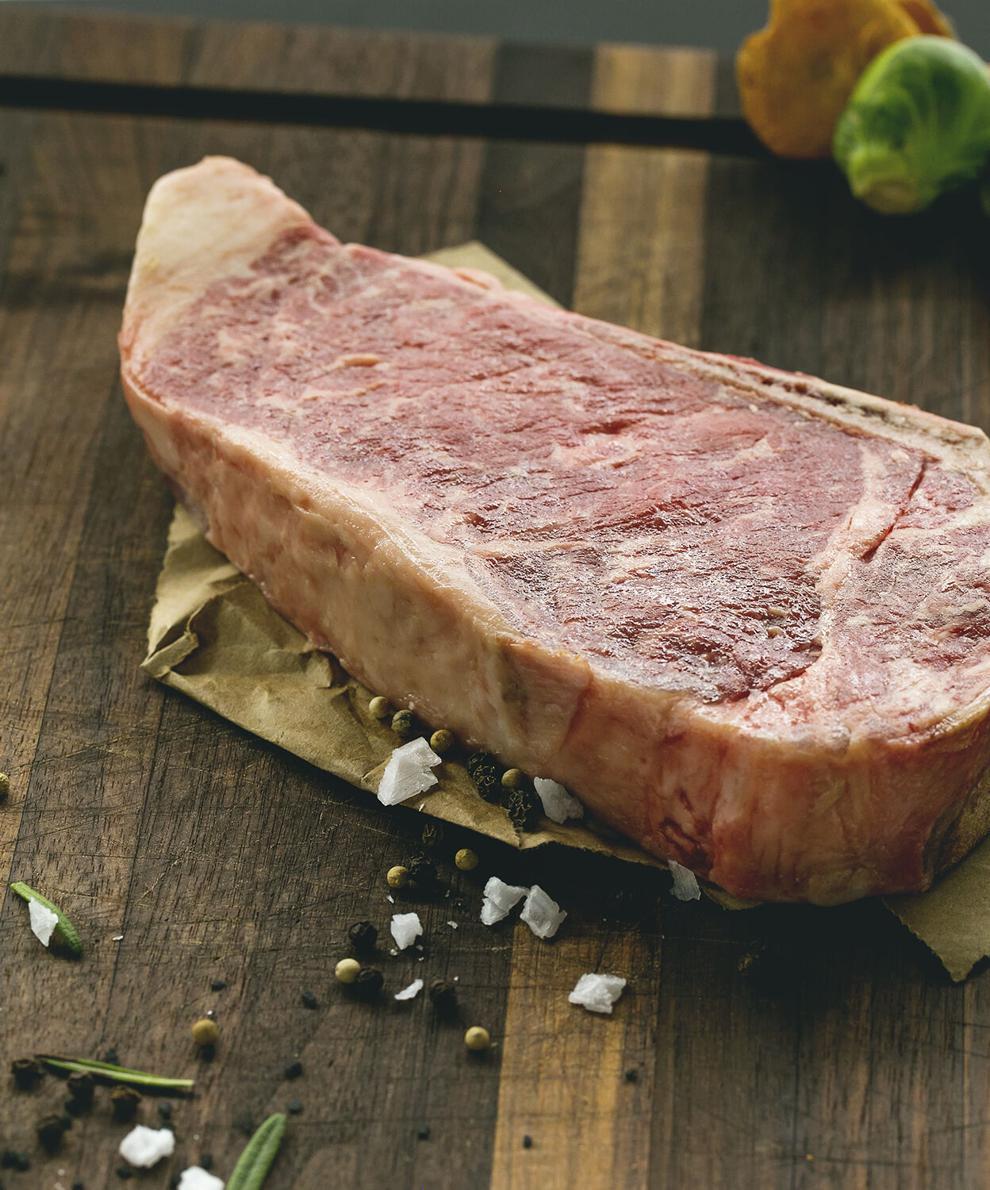 Where to Buy:
Costco has among the best USDA prime strip steaks, but you have to be willing to search a little to look for the best cut. Howie said a vein of tough sinew runs through the last part of the loin in this steak. You can tell if it's a vein steak if the steak is smiling at you, he said. Avoid those. If you're going to a butcher, tell him or her you don't want any vein steaks. Also, when selecting, look for even marbling and a cut that's at least a 1.5 inches thick. 
Jazz it Up:
Keep the seasoning simple. Howie uses a minimalist steak rub with sea salt, black pepper, and granulated garlic and onion powder. 
Cook Like a Pro:
Howie uses a Weber kettle grill with mesquite charcoal. "It adds a really wonderful mineral smoke flavor to the meat. Mesquite burns at a high, hot temperature, too, which is good for grilling. When you cook at that really high temperature, you seal the exterior of the steak really quickly, so you seal all the juices inside."
Prior to grilling, Howie lets the steaks sit out for a couple hours until they're nearly at room temperature. 
When cooking, he sears the steaks for four minutes per side, rotating the steak once every two minutes to get those nice diamond marks. Then he moves the charcoal off to the side to finish the steaks. Pull them off when you have your desired doneness — 105 degrees is rare, 110-115 degrees is medium-rare, 120-125 is medium, and 130 is medium-well. 
Let the steaks sit for 3 to 4 minutes, allowing for them to cool a little on the inside and the juices to absorb.
Hot Tip: "Timing is important when you're cooking with live fire. When you're using coals, you want to put the steak on the grill when the coals are burning hot orange, with just a touch of white ash on them. That way you know the grill is at its top heat, which is when you want to sear and get that nice crust. It can take 15-25 minutes to get to that heat."
Culinary Director Jason Wilson | Fire & Vine Hospitality
Grilled Corn Guacamole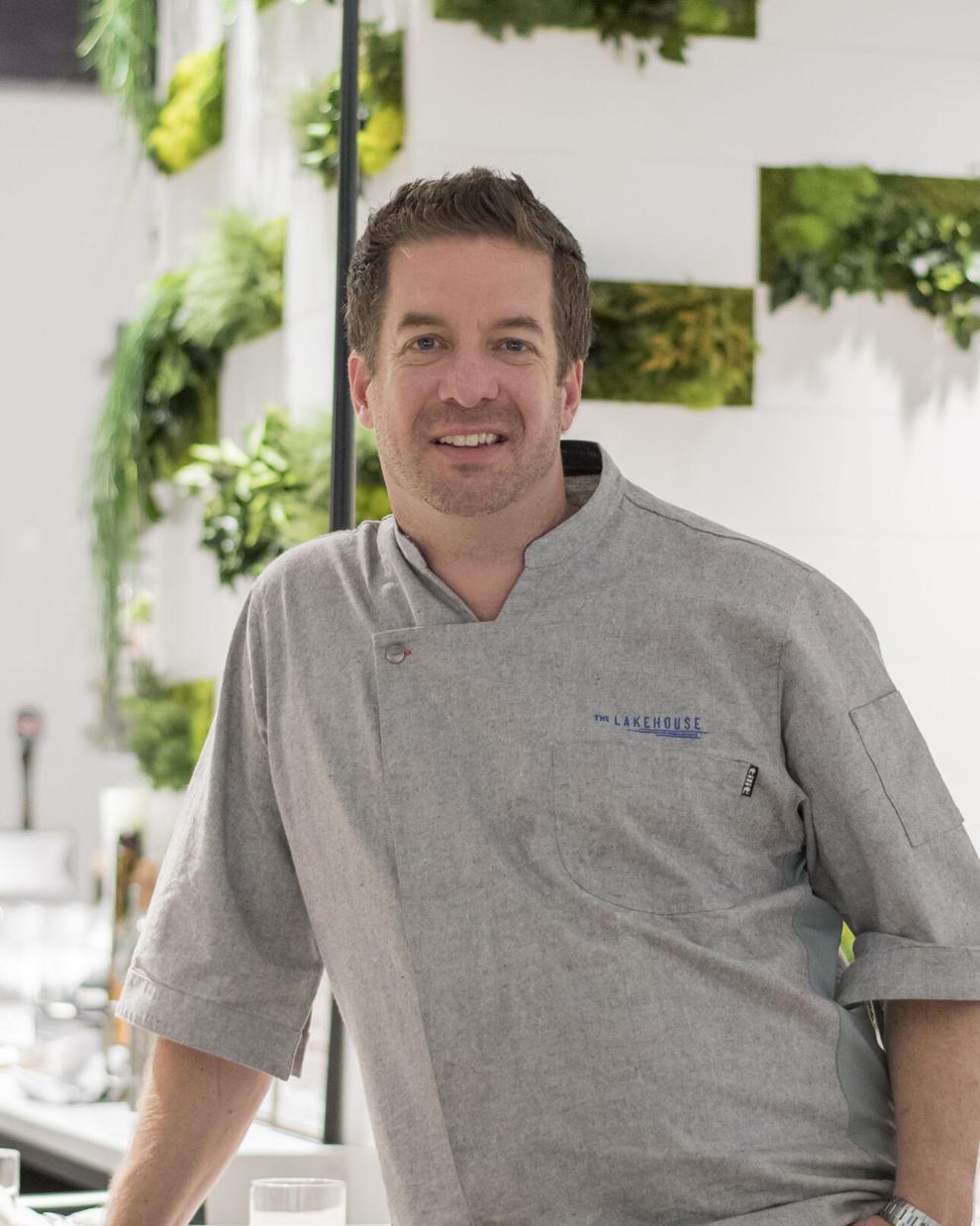 "Grilled corn, guacamole, onion, chilies, and all these vegetables that combine into that dish — for me, it's all about summer and the seasonality. It's also about being able to use the grill to add a little flavor and smoke and char to the vegetables. That dish tends to go well with a gamut of different proteins — halibut, salmon, sword fish, and on steak, and lamb, and chicken."
What You'll Need:
Corn on the cob
Avocado
Heirloom tomato
Whole jalapeño
Red or yellow bell pepper
Bermuda onion 
Lime
Olive oil
Salt
Cilantro
Where to Buy:
Central Market or Pike Place Market 
When buying corn:
"Pick up the ear. You want the husk to be tight. At the top of the ear, where the kernels peek through, you want to see healthy-looking kernels. If the kernels are small or there are no kernels, it means it was picked too early. It's also good to open up the ears as well to see if they're vibrant and full of juice." 
Cook Like a Pro:
Wilson uses a Weber kettle with either live firewood (apple or oak) or a combination of applewood and mesquite charcoal. 
While the grill heats up, he slices the onion and tomato into 1/2-inch-thick chunks and halves the avocado and lime. Leave the jalapeno and bell pepper whole. He also leaves the corn in the husk. Cook the corn in the husks for six to eight minutes, and you'll notice the husk constricts and gets tight — that's when it's time to peel the husk and silks back and grill the corn for another five minutes.  
Grill the rest of the ingredients — avocado, tomato, jalapeño, bell pepper, onion, and lime — for 10 to 12 minutes. Never thought to grill avocado? Wilson said it brings out that beautiful green color and keeps the avocado from browning. Grilling the lime brings the juices to the front of the lime and adds an extra layer of flavor.  
"There's nothing subtle about this," Wilson said. "You're going after char and juices and flavor and wood exchange, and all that happens against the flame. It's an aggressive flavor." 
Post-Grilling:
First, dice the onion into small chunks, and soak it in the lime juice for 15 to 20 minutes, until it starts to turn pink. Soaking the onion cuts the sharpness of the onion flavor; the onion's main job is to add texture to this dish. 
Cut the jalapeño and bell pepper in half, and seed them. Chop the jalapeño into fine pieces, and the bell pepper into larger chunks. Cut the tomato into beefsteak-type slices. Using a spoon, randomly scoop chunks of avocado out of the skin. Then cut the corn kernels off the cob and fold all the ingredients together in a bowl. Add the lime-soaked onion, and top the guacamole with a little extra virgin olive oil, salt, and cilantro. 
Voilà! You have a beautiful guacamole salad that's a tasty addition to your main dish, or add it to a bed of romaine and enjoy as is. 
Hot Tip: "The thing about grilling is it's fun to put something on the grill to give it a char, but over-doing it is not necessary. One of the things I've learned over time is that giving something that grilled flavor is delicious and can be important in making a great meal, but going overboard with the char and the fire because it's exciting is something I would dissuade people from."
Executive Chef Jonathan Garcia | El Gaucho
Rack of lamb with tzatziki sauce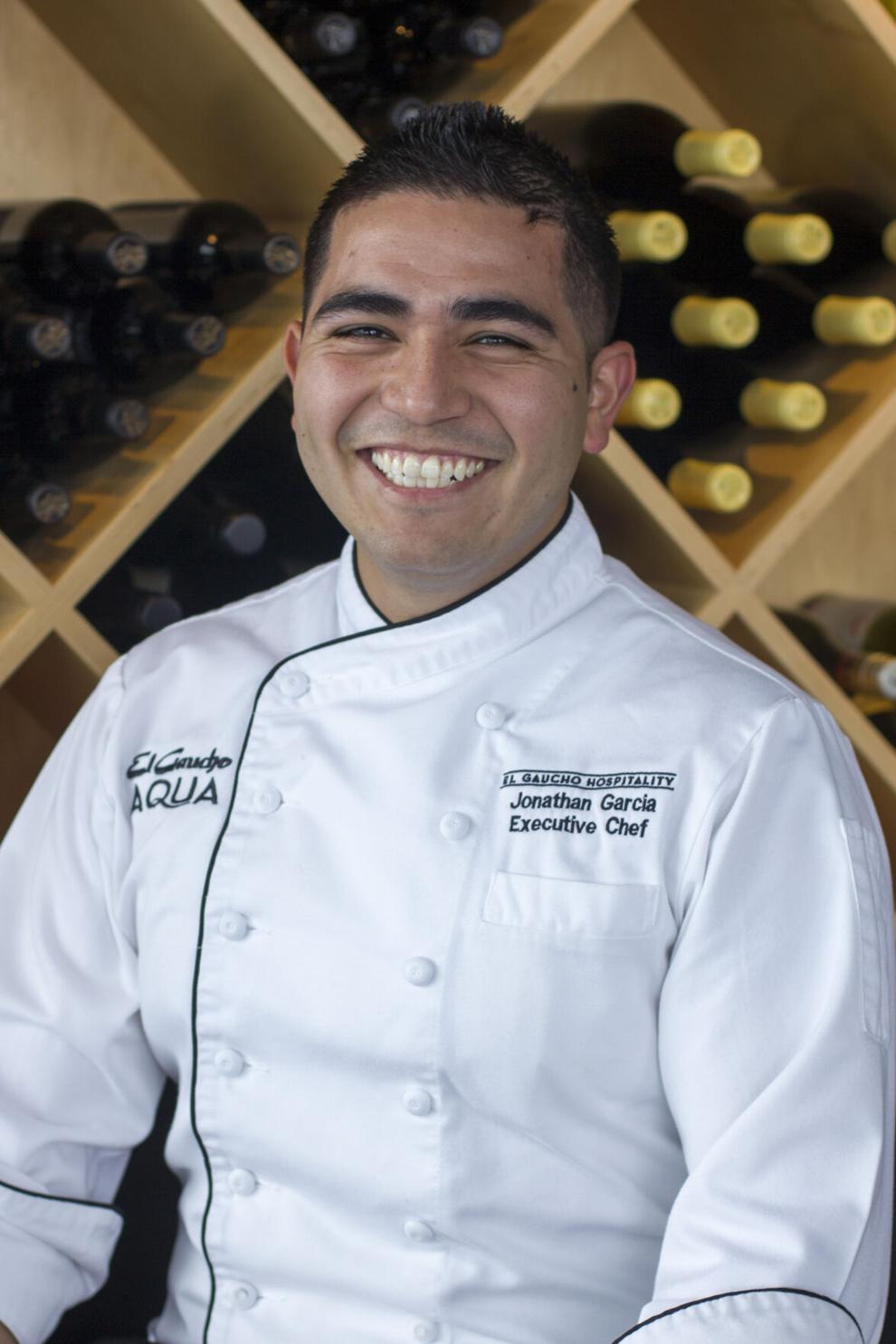 "I chose this because, for me, it's one of my favorite game meats. It's also one of my wife's favorites. I can never go wrong cooking what she loves."
What You'll Need:
4-bone rack of lamb
Olive oil
Salt
Fresh garlic
Fresh rosemary
El Gaucho seasoning (can be purchased at various grocery stores)
Za'atar Mediterranean seasoning 
Greek yogurt
Cucumber
Dill
Lemon
Garlic powder
Onion powder
Where to Buy:
Go-to for meat is Central Market
Jazz it Up:
First, heat up some olive oil, fresh garlic, and rosemary in a pan until the herbs become fragrant and fuse with the oil. Then rub the oil on the rack of lamb. Next, Garcia likes to use El Gaucho seasoning and Za'atar seasoning as a rub.
Cook Like a Pro:
Garcia uses a charcoal grill with Jealous Devil charcoal, which gives off less smoke and adds a beautiful, natural smoked flavor to the meat. He starts the grill about an hour before he intends to cook, so the grill is at a lower temperature. 
When grilling the lamb, he cooks the rack so the bone is away from the flame. Leave the lamb on the grill for about 15 minutes for a four-piece rack and 25 minutes for an eight-bone rack. After grilling, let the lamb rest for five to eight minutes. 
For the tzatziki sauce, throw some cucumber and lemon on the grill for a few minutes, and then take them off the grill and let them cool. In the meantime, in a bowl, add Greek yogurt, dill, garlic powder, onion powder, salt, and juice from the grilled lemon. Dice up the cucumber, and add it to the mixture. 
Garcia likes to pair the lamb with grilled or roasted potatoes, onions, and carrots. Add a dollop of homemade tzatziki sauce, and dinner is served!
Hot Tip: If you're wanting to simplify this dish, forgo the za'atar seasoning on the lamb and skip the tzatziki sauce. 
Chef 'Wild' Bill Ranniger and Owner Duke Moscrip | Duke's Seafood & Chowder
Copper River salmon topped with flambéed Bing cherries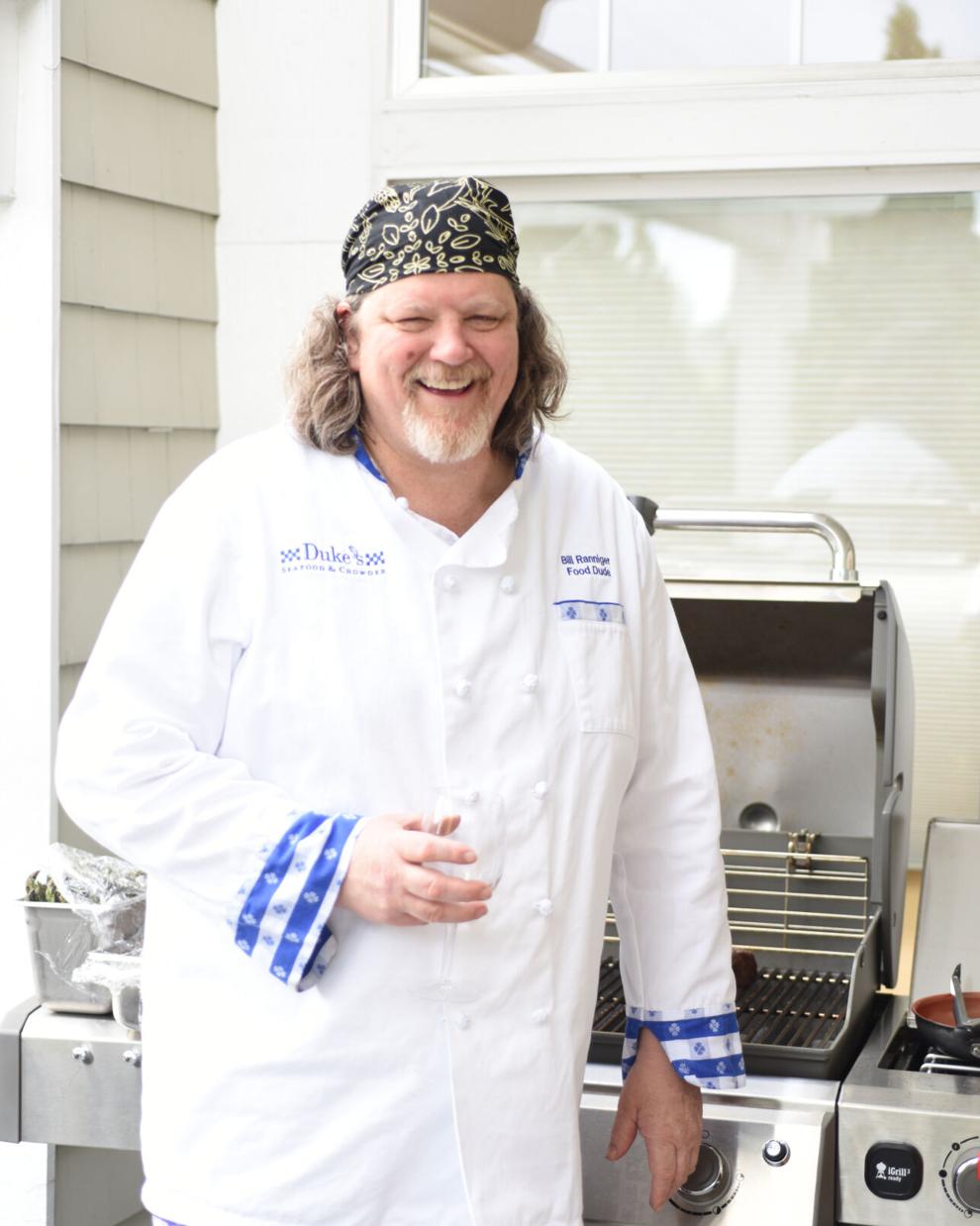 What You'll Need:
Copper River salmon
Olive oil
Kosher salt
Black pepper
Basil
Bing cherries
Butter
Grand Marnier 
Where to Buy:
For Ranniger and Moscrip, buying ingredients is all about having relationships with local producers. Ranniger likes Mutual Fish in Seattle, and when selecting the best fish, he looks at the fish as a whole — does it have clear eyes, bright silver skin, and a clean ocean smell? He also wants his fish to be 8 to 9 pounds, so the filets are thick.
"We buy it directly from the source, from fisherpeople we know that take great care when fishing," Ranniger said. "If it's not good for the Earth, it won't taste good to me. I prefer to buy frozen. If it is handled correctly, it far outweighs the benefits of trying to buy fresh."
In terms of produce, he walks around Pike Place Market and finds the freshest local ingredients. He has a few vendors he likes, and asks which items induce that "Holy crap" reaction. This time, it was Bing cherries, which he used for a fruit compote on top of the salmon, and Washington asparagus.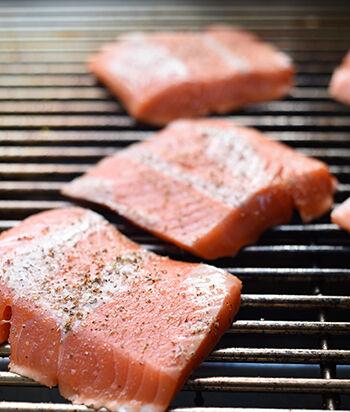 Jazz it Up:
On the salmon and asparagus, a little black pepper and kosher salt go a long way.
Cook Like a Pro:
Turn on the grill, and close the lid. Let the grill get to about 325 degrees. Using an old, rolled-up kitchen towel and some tongs, Ranniger lightly coats the grill with olive oil to prevent any sticking. The salmon cooks on the grill for about eight minutes in total, or until the internal temperature reaches 125 degrees (medium cooked). You can tell it's done when the inside flakes are slightly shiny and no longer transparent. 
The asparagus cooks for just a couple minutes on the grill, until the stalks are tender and a little charred. 
Lastly, Ranniger and Moscrip flambé the cherries in butter, olive oil, basil, and some Grand Marnier. Ranniger gets a good flame going, lets the cherries cook for a minute or two, and then takes them off the separate gas grill unit. 
To complete the dish, Ranniger makes a simple bed of kale salad (remove the ribs of the kale before chopping up the leaves) with avocado and a buttermilk blue cheese dressing.  
Hot Tip: Get to know local farmers or market vendors. They'll point you to their best offerings, and everything tastes better when you know the story behind the people who raise or catch what you're eating. 
---
Backyard Grilling with Duke and 'Wild' Bill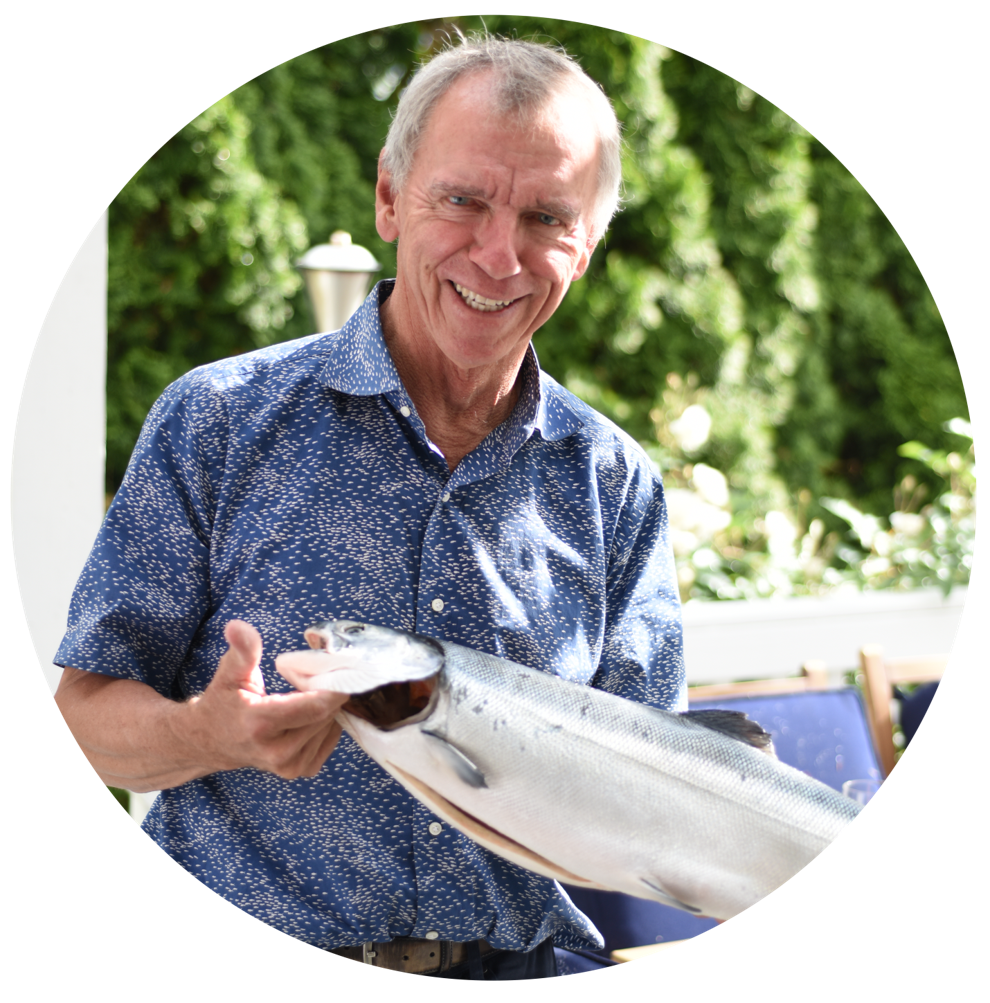 To get the full grilling experience for our feature on page 58, Grill like an Award-Winning Chef, staff photographer Jeff Hobson and assistant editor Shelby Rowe Moyer went to Duke and Cybele Moscrip's Kirkland house to grill Copper River salmon with chef "Wild" Bill Ranniger of Duke's Seafood & Chowder. 
Let's just say it was one of the best meals we've ever had, and you'll be able to recreate it at home with tips from Ranniger. The evening was made even better by the Moscrips' sibling dachshunds, Anchovy and Sardine. You can tell them apart because Anchovy is the smaller of the two. Get it? Because anchovies are smaller than sardines. We thought it was pretty funny!