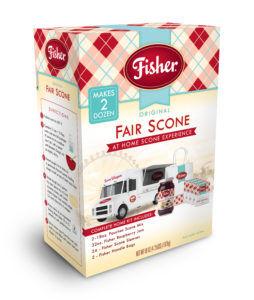 Head to Bellevue Square between 11 a.m. and 6 p.m. on Wednesday, Sept. 2, to get signature Washington State Fair Fisher Fair Scones, hot with melted butter and sticky raspberry jam. The Fair Scone Wagon will be located at the Northwest entrance, just south of Nordstrom, near The North Face. Nothing says end of summer in Washington like a warm scone (or a couple of baker's dozens to go).
Because of COVID-19, The Washington State Fair is canceled. This Northwest favorite is coming to Bellevue Square so you can enjoy a taste of tradition while raising money to benefit Seattle Children's Hospital.
If you want the sweetness to continue at home, make sure to visit the Made in Washington Store to pick up the ultimate scone-making kit. It turns out two dozen and comes with 32 ounces of the signature jam, crisp paper wrappers, and to-go bags with handles.Or purchase your scone kit here.
Ten percent of all scones and kit sales on Sept. 2 in Bellevue will be donated.