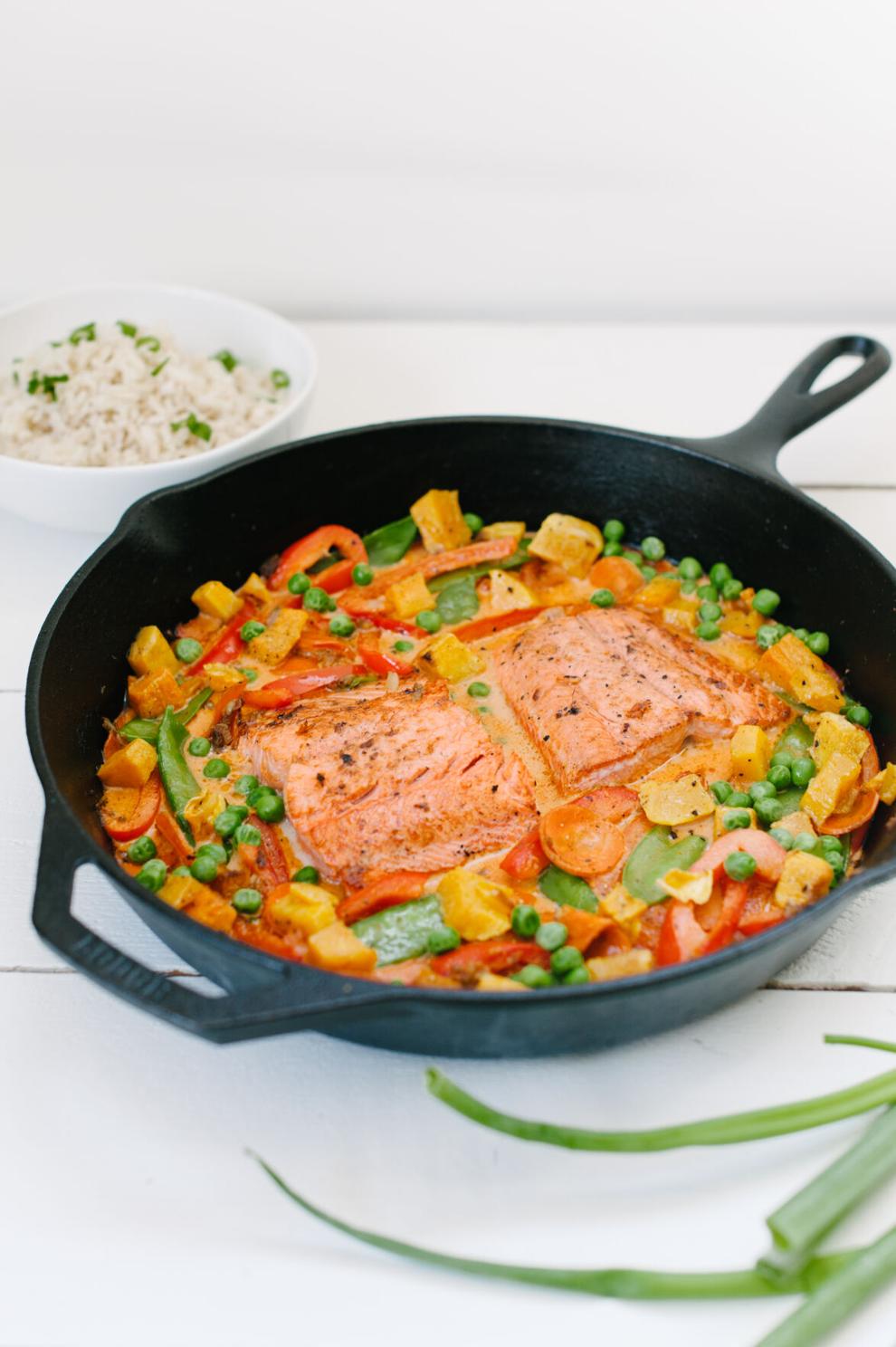 My butternut squash, salmon, and vegetable curry puts a health-conscious twist on a takeout favorite — and is super easy to make.
Made with frozen peas, precubed butternut squash, and your choice of additional veggies, this hearty, vibrant curry comes together in a pinch and packs an especially comforting bite as winter winds down. It's just as good for low-key weeknight dinners as larger dinner gatherings. One highlight of this recipe is that you are free to adjust the amount of curry paste used to increase or decrease the spiciness, which might be helpful for those less familiar with curry.
Fresh cilantro, crushed cashews, peanuts, and limes all make great garnishes for serving. This curry also goes well with brown or wild rice or quinoa, which helps soak up all the sauce.
Butternut Squash, Salmon, and Vegetable Curry
Makes approximately 4 servings
TIP: Using a cast-iron skillet for the salmon is the best way to go for easily transferring from the stovetop to the oven.
VEGGIES
½ onion, chopped
2 cloves garlic, chopped
1 tablespoon fresh ginger, grated
Dab of coconut oil or butter (for cooking)
1 cup butternut squash cubes
1 cup frozen peas
1 cup other veggies of your choice (carrots, cabbage, eggplant, mushrooms, green beans, or snow peas, chopped in similar sizes)
SALMON
A dab of coconut oil (for cooking)
4 filets wild salmon
Salt and pepper to taste
CURRY SAUCE
2 tablespoons red curry paste (or more or less, depending on your desired spice level)
8 ounces organic coconut milk
Sea salt and pepper to taste
Preheat oven to 400 degrees. In a large skillet, add onion, garlic, and ginger with a bit of coconut oil or butter. Cook for 2–3 minutes, then add other veggies to the pan according to the thickness and cooking time. Set aside when tender and done.
In a separate large castiron skillet, heat a bit of coconut oil on high heat. Let warm for 2–3 minutes until very hot. Sprinkle salmon with sea salt and pepper, place flesh side down in the pan and cook for 2 minutes. Then, transfer the pan to the oven for 6 minutes.
Add curry paste and coconut milk together in a small pot, and whisk together.
Add cooked veggies to the salmon skillet after the fish is done cooking in the oven. Then pour the curry sauce over the top and serve.