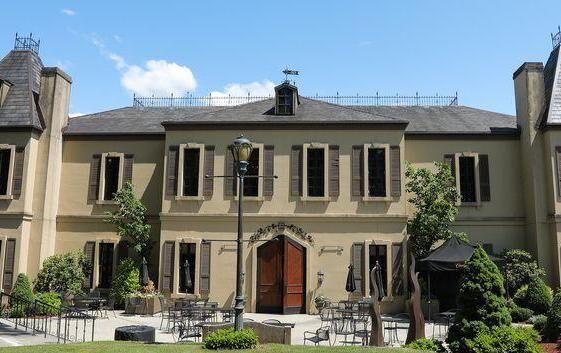 Chateau Ste. Michelle has confirmed that is exploring a potential sale of its iconic Woodinville property — or a portion of it — as a result of a change in where it produces its white wines.
"We recently made the decision to consolidate our white wine production in Woodinville to our Eastern Washington facilities, where we make our Chateau Ste. Michelle red wines, starting with the 2022 harvest," according to a statement from the winery, which said it's always looking for ways to improve its wines and commitment to sustainability. "Producing wine in Woodinville so far removed from our Eastern Washington vineyards has resulted in decades of shipping millions of gallons of white wine to our Woodinville facility and burning nearly 75,000 gallons of diesel through over 1,600 freight trips each year." 
Because of the winemaking consolidation in Eastern Washington, "we are evaluating how to best utilize the facility going forward, including exploring a potential sale of our Woodinville property, or perhaps a portion of it," the statement said. "While a sale of the property has not been predetermined, we are considering all options as we continue to look for ways to improve how we produce our wines, strengthen our commitment to sustainability, and grow the Chateau Ste. Michelle brand. This process is still in the exploratory phase and could take years to implement, if at all."
The winery continues to operate its tasting room and welcome guests to its summer concerts.
Washington Wine Report, an independent publication focused on Washington wines and wineries, said CBRE had listed the 118-acre property earlier in June and posted a CBRE property listing with a description that says the property is "primed for redevelopment and can accommodate a variety of uses, such as industrial, residential, office & life science, all of which are in short supply in Seattle's burgeoning Eastside."
The winery confirmed the property listing with CBRE.
New York-based private equity firm Sycamore Partners bought Ste. Michelle Wine Estates from Altria Group Inc. last year in a $1.2-billion deal.
In a news release last October after the deal closed, Stefan Kaluzny, managing director of Sycamore Partners, said, "We believe Ste. Michelle Wine Estates' outstanding portfolio of iconic wine brands have tremendous potential for continued growth and success. We look forward to working with the team at Ste. Michelle Wine Estates to build on its position as the largest wine company in the Pacific Northwest and third-largest premium wine company in the U.S."
That release noted that Ste. Michelle Wine Estates' history dates to 1934, and that the company farms more than 30,000 acres across Washington, Oregon, and California and distributes its wines in more than 100 countries. Ste. Michelle Wine Estates pioneered vinifera winegrowing in Washington and remains the driving force behind viticulture and enology research in the state. That includes the establishment of the Washington State University viticulture and enology program and the construction of the university's research and teaching winery, now named the Ste. Michelle Wine Estates WSU Wine Science Center, the release said.
The Ste. Michelle Wine Estates portfolio includes Chateau Ste. Michelle, 14 Hands, Columbia Crest, Intrinsic, Erath, Patz & Hall, Borne of Fire, Northstar, and Spring Valley Vineyard, along with several other premium brands. The company also has partnerships with Marchesi Antinori (Stag's Leap Wine Cellars and Col Solare), Dr. Loosen (Eroica), and Michel Gassierand Philippe Cambie (Tenet). Ste. Michelle Wine Estates serves as the exclusive U.S. importer for Marchesi Antinori and Champagne Nicolas Feuillatte, it said.