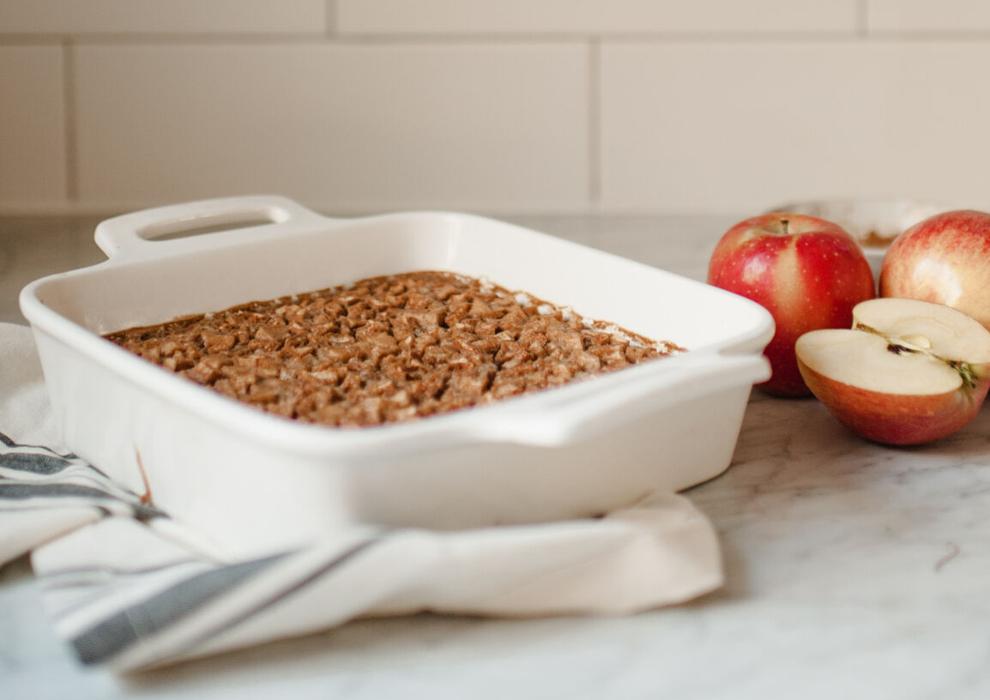 Summer is always the best season in my mind while I'm living it. Then fall arrives. Let's be real — the PNW is special year-round. But in fall, it gets even more beautiful as the air cools and the leaves start to change colors. I love when the pumpkins and apples ripen — a reminder of the sweetness of a new season.
In fall, cooking becomes more appealing as we cozy up and hunker down around pots of soup and other warm food.
I'm excited to make unlimited batches of my favorite healthy fall dessert: Apple Pie bars. In my opinion, these are one of the best ways to enjoy the best Washington fall produce. Plus, who doesn't love pie? You can use any kind of apple or pear — really, any left over fruit you have lying around. And the best part? They're made with healthy ingredients. As an added bonus, these treats make for a perfect breakfast.
Apple Pie Bars 
Makes 9 square bars
Tastes like apple pie — but upgraded. These bars are an amazing weekend treat with a dollop of Greek yogurt on the side, or with a scoop of vanilla gelato or coconut ice cream for a delicious dessert.
Ingredients
4 medium apples, peeled and cubed
1 small lemon, juiced
1 cup, plus 2 tablespoons gluten- free flour blend
1 teaspoon baking powder
1 pinch sea salt
2 teaspoons cinnamon
1 sprinkle nutmeg
10 tablespoons grass-fed butter, melted 1 cup coconut sugar, muscovado sugar or unrefined cane sugar
2 eggs
1 teaspoon pure vanilla extract
Method
Preheat the oven to 325 degrees, and grease a square baking dish or line one with parchment paper. Place the diced apples in a large bowl, and toss with 1 teaspoon of the cinnamon and the lemon juice, and set aside. In a separate medium bowl, add fl our, baking powder, salt, cinnamon, and nutmeg, and mix to combine well, then set aside. In another separate large bowl, add the sugar, eggs, and vanilla, mixing or beating to combine well after each addition. Add the dry ingredients to the wet ones, and mix well to combine.
Scrape about two-thirds of the batter into the bowl of apples, and mix to coat all of the apples in the batter. It will be very chunky. Scrape the remaining one-third of the batter into the prepared cake pan, and spread into an even layer with a spatula. Scrape the chunky apple-packed batter on top of the fi rst layer, and spread out evenly. Cover the pan tightly with foil, and place in the center of the preheated oven. Bake for 20 minutes. Remove the foil, and bake for another 20–25 minutes, or until the center is set. Remove from the oven, and allow bars to cool in the pan for at least 10–15 minutes before slicing.
---