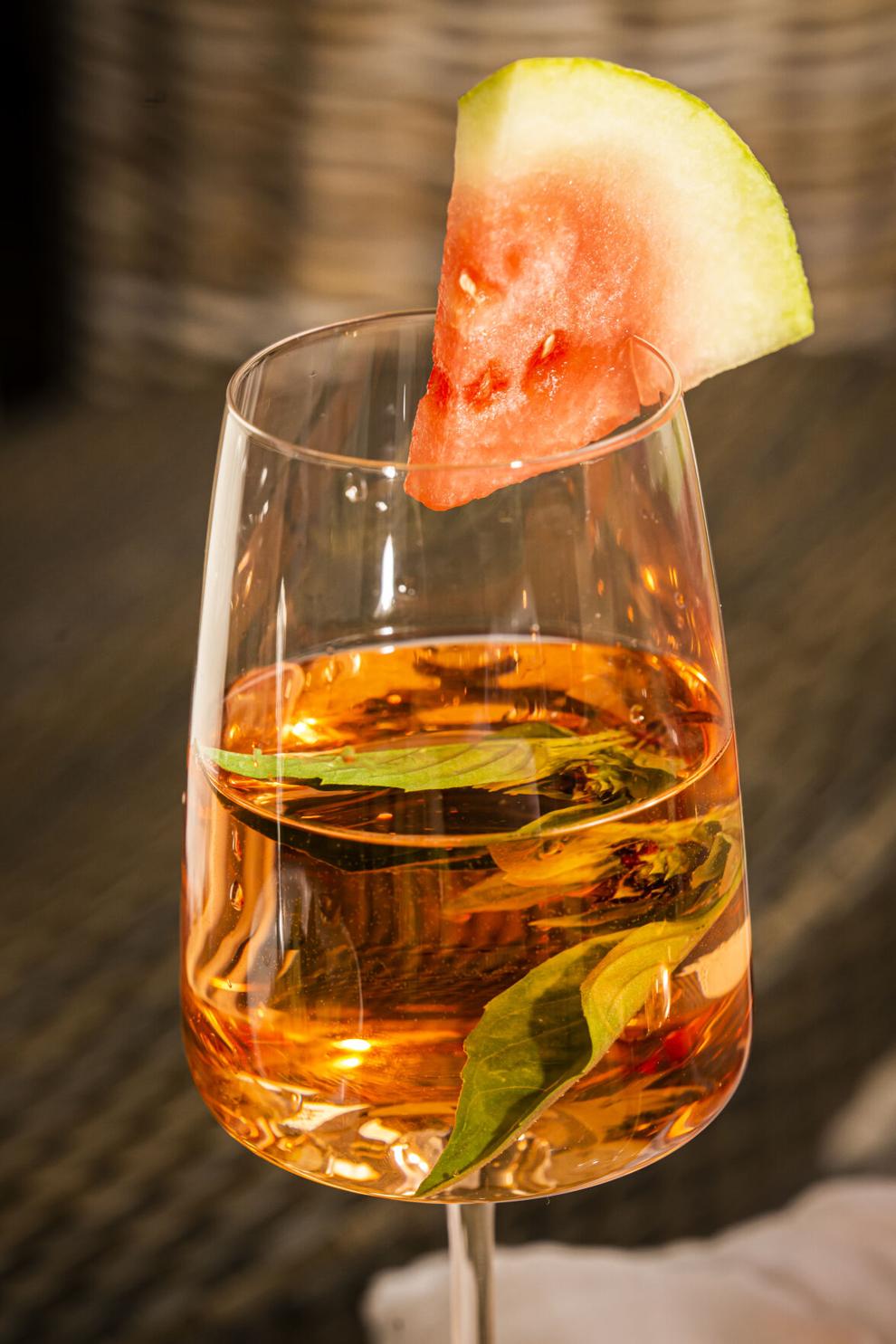 We're on the cusp of summer — the perfect season to enjoy laid-back late afternoons, when life is easy and so is the alfresco entertaining.
With a few timesaving ideas, you can take an intimate outdoor gathering to the next level.
Add a fun wow factor with a floral ice bucket coupled with rosé-filled glasses garnished with sugary watermelon mini wedges. Serve individual monogram charcuterie boxes heaped with delicious morsels to satisfy the eyes and the tastebuds.
To encourage leisurely noshing, pile a platter with grilled antipasto and roasted prawns; set out a bowl of yummy, rustic, barbecued mashed potatoes; and bake cloudlike pillows of pavlova, topped with vanilla bean whipped cream and fresh strawberries.
This June, Invite indulges in some of early summer's divine and simple pleasures.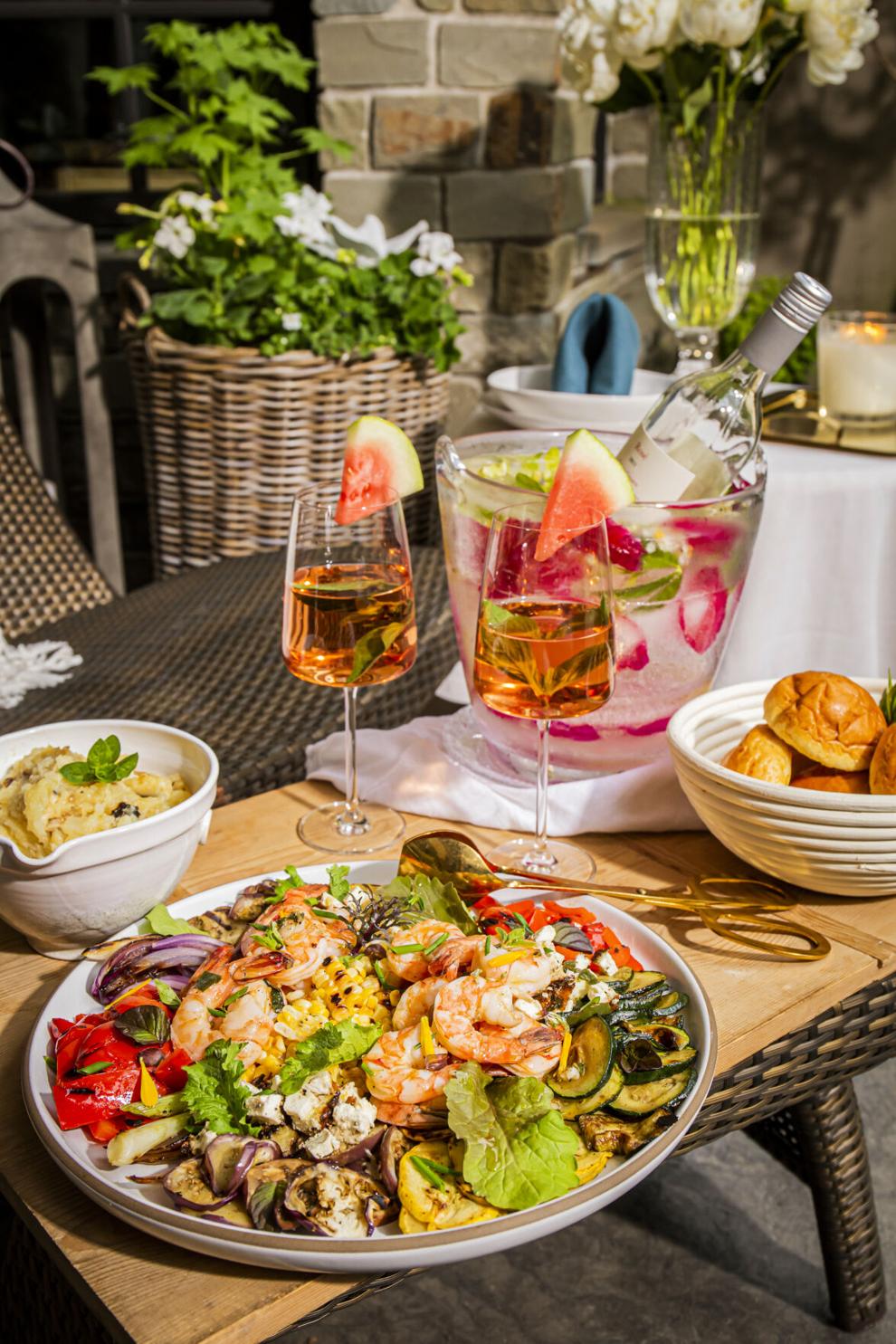 Set the Scene
Drape a side table with a simple linen topper and allow it to casually puddle on the patio. Add round and flirty fringed pillows and big basket containers of white blooms and greenery.
Include one simple but beautiful floral arrangement in an elegant vase. I'm a fan of all-white flowers in one variety.
Send your guests home with a small bouquet in a pretty, hand-scalloped paper wrap. Add a luxe golden touch with a gleaming tray topped with a three-wick candle.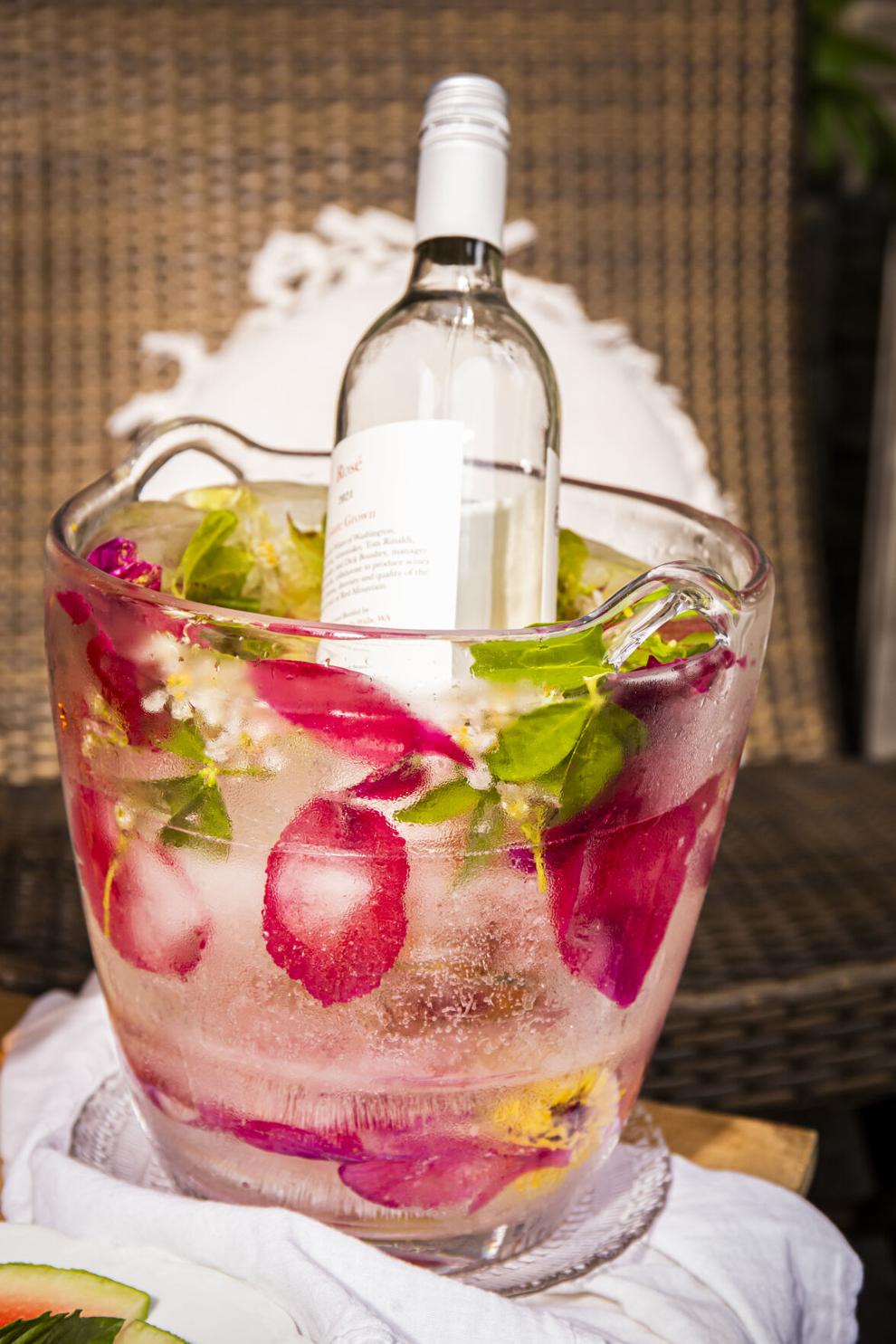 Rosé All Day
Sipped on a warm afternoon, chilled rosé is my go-to summer refresher, especially when adorned with succulent triangles of ripe watermelon. And the frozen ice bucket with garden blooms is beguiling, right?
It's easy to make. Fill a clear, smooth glass ice bucket with 3 to 4 inches of water, and sprinkle in garden blooms. Freeze for two or more hours until the base is frozen solid.
Center a slender container inside the ice bucket, large enough to hold a wine bottle and still allow for a 2-inch gap between the bucket and the container. Weight the interior of the second container down from the inside. Tuck fresh blooms and greenery in the gap between the ice bucket and the interior container.
Fill the gap with water, covering the blooms, and freeze overnight.
When ready to use, remove the weights, and fill the interior container with warm water. Wiggle the container free from the ice bucket, and pop in a rosé wine bottle.
---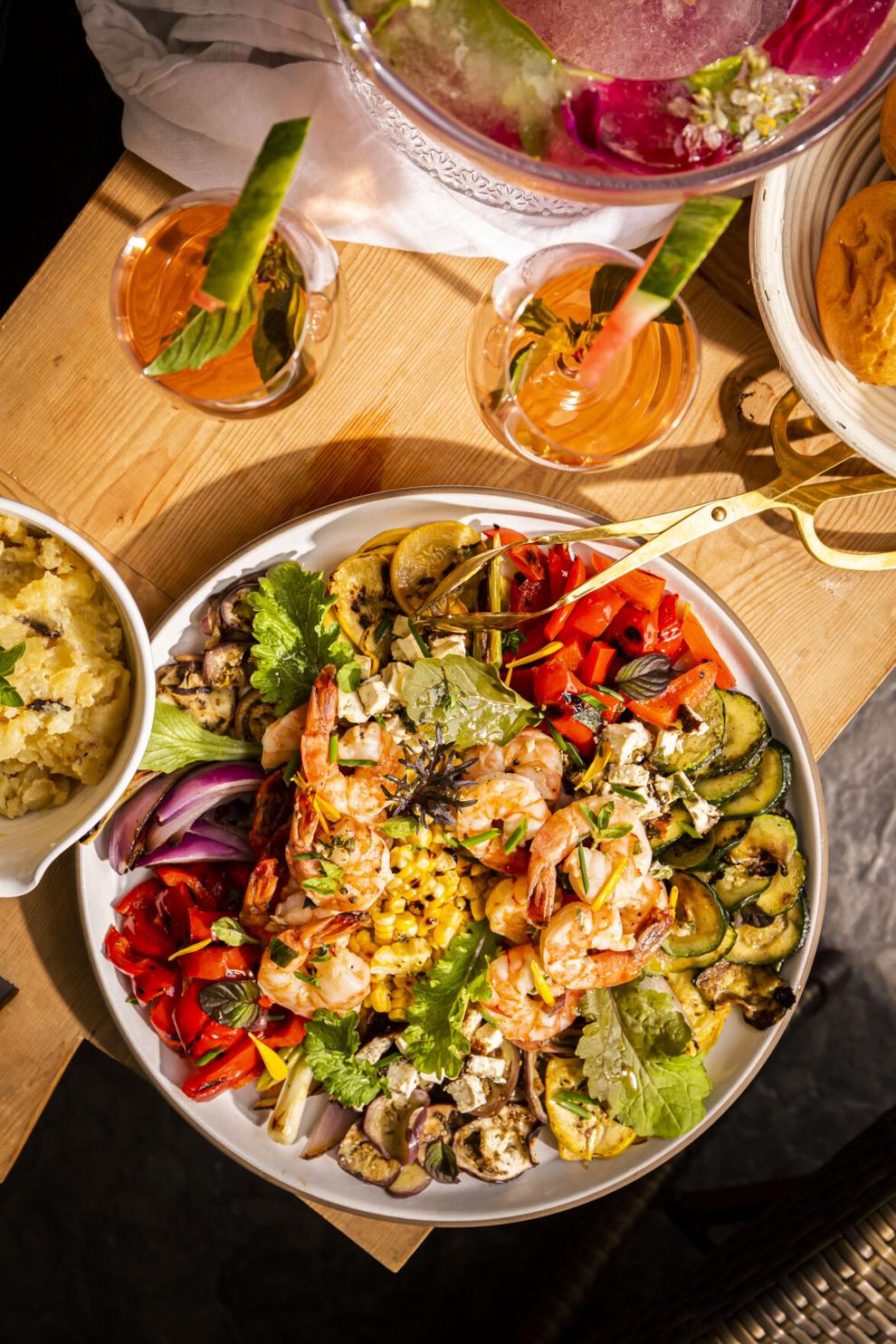 Grilled Veggie Antipasto Marinated in Herby Lemony Vinaigrette
Preheat the grill to medium-high.
Ingredients
2 red bell peppers
2 small zucchinis
2 small yellow squash
4 miniature Persian eggplants
1 red onion 2 ears of fresh corn
3-by-3-inch slab of feta cheese, about ¾-inch thick
Handful of mixed fresh lettuce
Garden chives to taste
Method 
Slice the peppers, zucchini, squash, eggplants, and onion.
Toss the pieces with 2 tablespoons of the marinade. (See marinade recipe.) Slather the ears of corn with marinade.
Grill the sliced veggies and corn for 2 to 3 minutes per side until the veggies are tender and a bit charred. Slice the corn kernels off of the cob. Brush the feta slab with marinade.
Place slab in a grill-safe cast iron pan. Grill on the grates for a few minutes until the cheese begins to caramelize on top. Cool, and cut into small cubes.
Arrange the grilled veggies, feta, and roasted prawns (see the roasted prawns recipe) on a platter. Tuck in a handful of mixed lettuce greens. Top with snipped garden chives. Drizzle with surplus veggie marinade.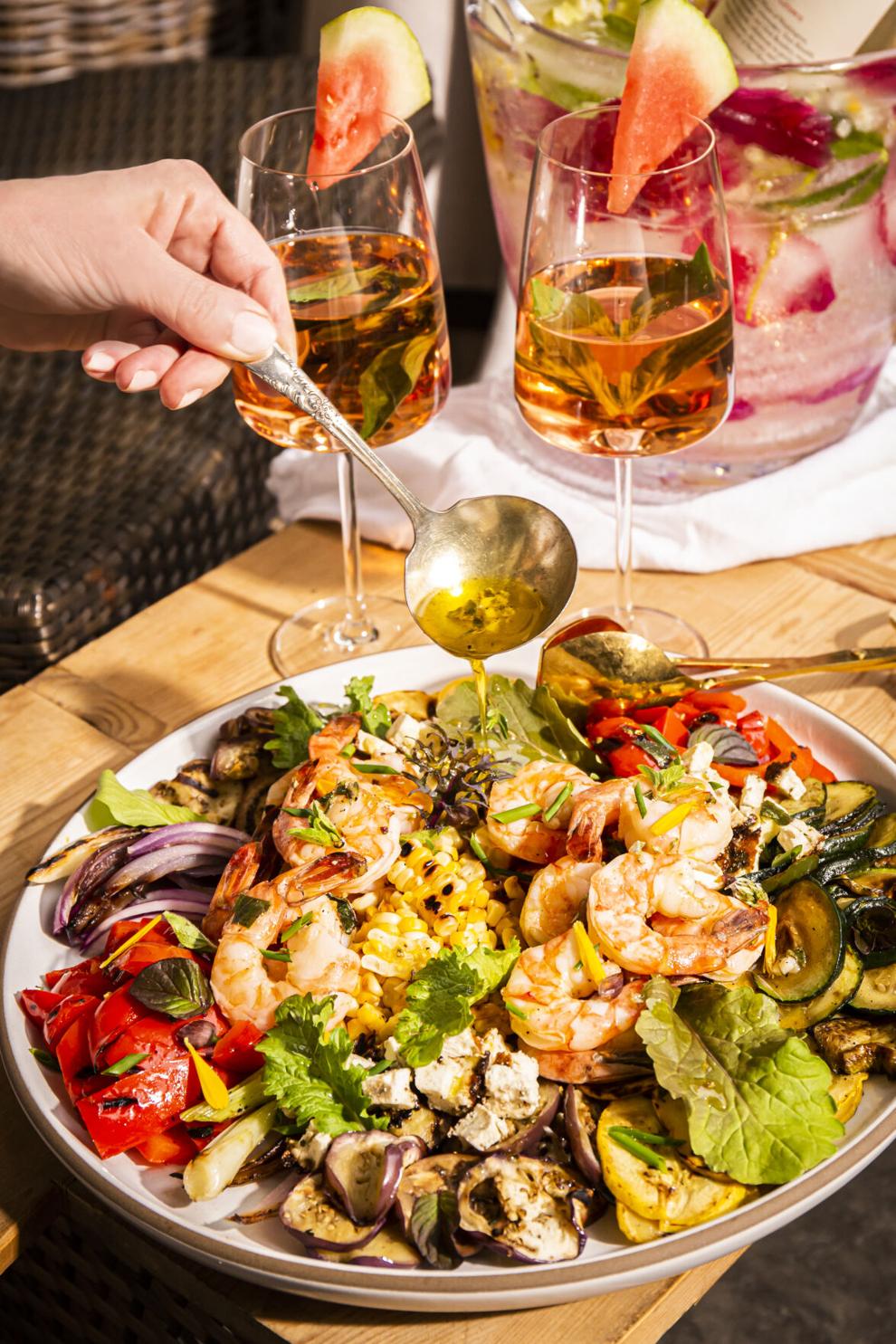 Marinade and Vinaigrette 
Ingredients 
1/4 cup olive oil
Juice and zest of 1/2 a lemon
2 teaspoons chopped mixed herbs: parsley, oregano, and chives
1 teaspoon salt
1 teaspoon freshly ground pepper
Method
Whisk together the marinade ingredients in a bowl.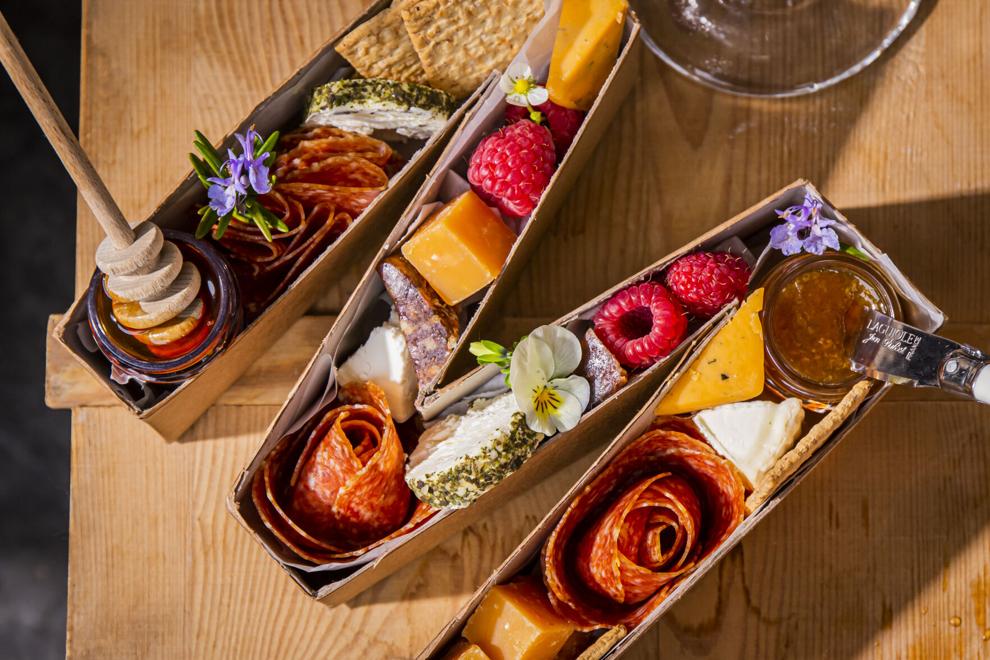 DIY Monogram Charcuterie Box 
Head to a local craft store, or order these papier-mâché boxes online. Carefully remove the top layer of the box using an Exacto Knife. Layer the inside of the box with parchment paper. Cut a variety of soft and hard cheeses into cubes. Add salami rosettes, small hunks of date bread, fresh berries, crackers, mini pots of preserves and honey, edible blooms, and fresh herbs.
---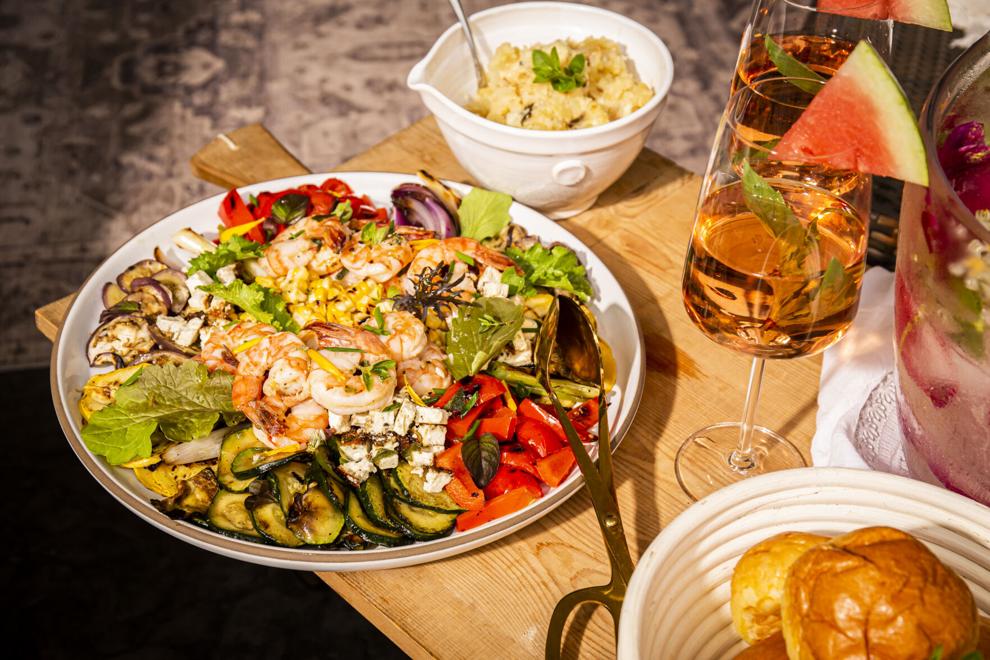 Roasted Prawns
Preheat oven to 400 degrees 
Ingredients
1 small clove of chopped garlic
Juice and zest of 1/2 a lemon
2 tablespoons olive oil
1 tablespoon chopped fresh herbs: parsley, oregano, and chives
¼ teaspoon salt
¼ teaspoon pepper
1 pound peeled, deveined prawns, tails left on
Method
In a medium bowl, whisk together the marinade of garlic, lemon, olive oil, and herbs. Add 1/4 teaspoon each of salt and freshly ground pepper. Whisk again. Toss the prawns in the marinade, and allow to sit for 10 minutes. Place the prawns on a sheet pan in one layer. Roast for 8–10 minutes until pink and cooked through.
---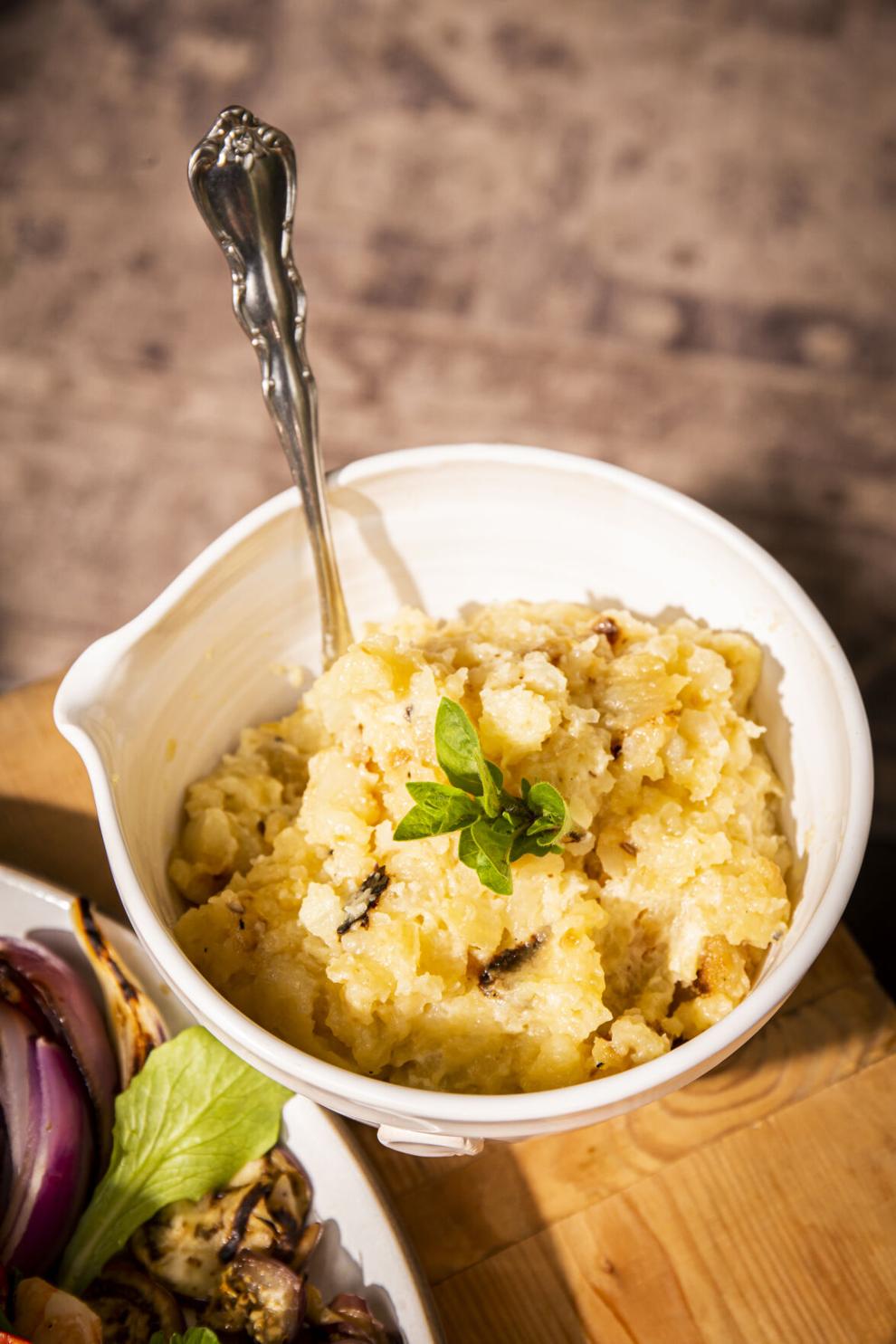 Grilled Rustic Mashed Potatoes
Preheat the grill to medium-high.
Ingredients
5 medium Yukon Gold potatoes
3 tablespoons unsalted butter
1/4 cup sour cream
Salt and pepper, to taste
Method
Wrap each potato in foil. Place directly on the grill for approximately 25 minutes, turning occasionally. Grill until the potato is soft and the skin is charred in places. Scoop out the hot cooked potato flesh into a medium bowl. Discard the skins. Add the butter and sour cream. Mash until combined. Add salt and pepper to taste.
---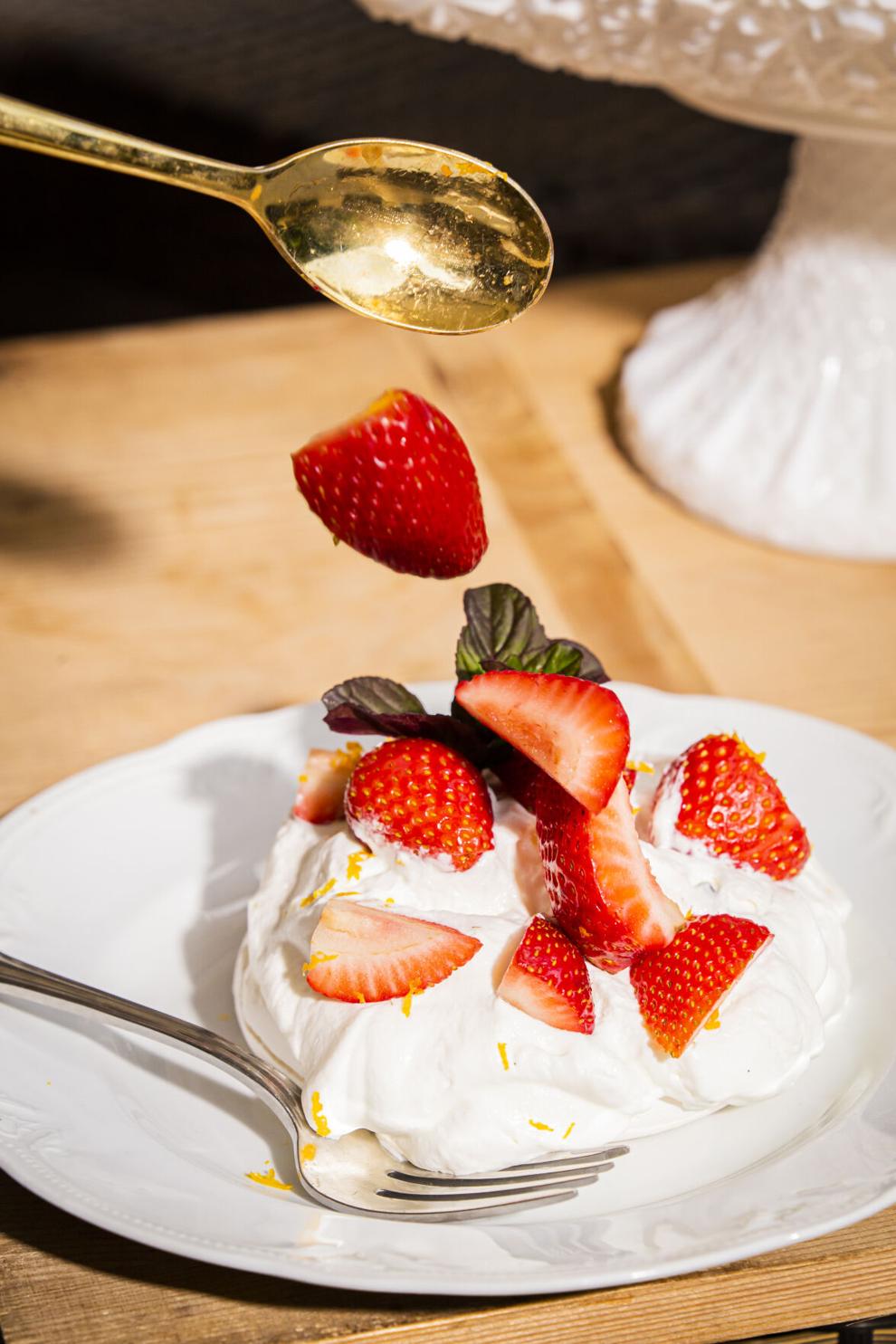 Pavlova with Strawberries
Preheat oven to 225 degrees.
These insanely delicious pavlova pillows are crispy on the outside and marshmallow gooey on the inside. You can make them a couple of days ahead and store them in an airtight container in a cool, dark place. They are super easy to make, but you must follow the recipe and method exactly.
Ingredients
6 large room-temperature egg whites (TIP: It's easier to separate the egg yolk and whites while the eggs are cold. Reserve the yolks for another use. Allow the whites to come to room temperature.)
1½ cups vanilla bean sugar
½ tablespoon freshly squeezed lemon juice
1/3 tablespoon vanilla extract
2 teaspoons cornstarch
3 to 4 cups sliced fresh strawberries
Zest of 1/2 a small orange
6 fresh mint sprigs
Method
Beat the egg whites on high speed for 1 minute in a standing mixer. With the mixer running, gradually add the sugar. TIP: I make my own by adding leftover vanilla bean pods from my baking to my sugar canister: 2 cups of granulated sugar per 1 pod ratio.
Beat on high speed until stiff peaks form and the whites are glossy. (Approximately 10 minutes.) Using a spatula, gently fold in the lemon juice and vanilla. Sprinkle the cornstarch over the whipped whites, and gently fold it in.
Line a large baking sheet with parchment paper. Mound the whites onto the paper, forming 4-inch pillows. Bake for 1 hour and 15 minutes. Turn off the oven, and let the meringue sit and cool with the door closed for an additional 30 minutes. Cool the pavlova on the paper, transferred atop a cooling rack. Once cool, top with whipped cream (see vanilla whipped cream recipe), sliced strawberries, orange zest, and fresh mint.
Vanilla Whipped Cream
Ingredients
1 cup chilled heavy whipping cream
1½ tablespoons vanilla bean sugar
Method
In a stand mixer, whip together the cream and vanilla sugar until stiff peaks are formed.