Next time you're in, say, Bothell or Newcastle, and you're not sure where to grab a bite or a drink, you can scroll through this guide of beloved and lesser-known establishments.

Fern Thai on Main
New Kid on the Block!
Fern Thai on Main has been gaining traction. Owner Kay Fuengarom says the goal is to represent food from four different parts of Thailand, which is why you'll see items on their menu that you won't see at many other Thai restaurants. Try one of their signature dishes, like Gai Tod Hat Yai, a deep-fried, marinated Thai, and southern-style half chicken served with Panang curry sauce and roti.
10134 Main St.
Lil' Jon's Restaurant & Lounge
Legacy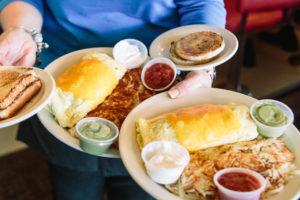 This family-owned, casual dining spot has been a part of the Bellevue dining scene since 1967. Here you can expect to enjoy classic comfort food, like a pancake breakfast or BLT sandwich, but you also can find specialties, like poached cod, or a New York steak topped with crumbled blue cheese. Its extensive menu ensures every member of your party leaves full and happy.
3080 148th Ave. SE
Chace's Pancake Corral
Off the Radar
Breakfast lovers, listen up! You're going to want to hurry over to Chace's Pancake Corral as soon as you finish reading this. This old-school diner has been around since 1958 and has got all the classics, like sausage and eggs or buttermilk pancakes — plus, some options that take you off the beaten path, like its sour cream waffles or potato pancakes. But don't worry: If breakfast isn't your thing, it also has a great burger and grilled cheese sandwich.
1606 Bellevue Way SE

Krawbar
New Kid on the Block!
There's a new Asian-inspired, seafood boil restaurant and raw bar in Issaquah — and it's making a splash. Krawbar has a wide variety of delicious meals to choose from. Come to taste anything from kimchi miso soup to crispy chicken wings. There's something for everyone to enjoy.
80 Front St. N. 
Nicolino Ristorante Italiano
Legacy
Nicolino Ristorante Italiano has been a staple in the Issaquah community since 1991. Nicolino's puts the focus on creating meaningful relationships with its customers. You'll feel like family there. Stop by for the outstanding service, and stay for the great food, like their Cioppino del Giorno, a dish with fresh clams, mussels, prawns, and calamari rings in a tomato and lobster broth topped with grilled bread.
317 NW Gilman Blvd. 
Orenji Sushi & Noodles
Off the Radar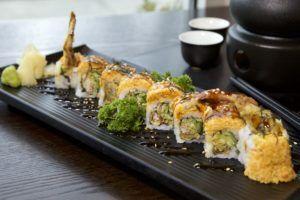 This family-owned and -operated restaurant in Issaquah serves up mouth-watering, authentic Japanese dishes. Its mission is to serve great food and drinks, provide friendly service in a comfortable atmosphere, and to make sure that everyone has a good time. The menu has a wide selection of food to choose from. Enjoy fresh sushi or a warm helping of ramen.
5625 221st Pl. SE

Capers + Olives
New Kid on the Block!
Capers + Olives hasn't been around long, but you would never guess it's new to the restaurant scene. Probably because owner and chef Jimmy Liang brings more than 20 years of culinary experience to the table. The menu changes frequently, while keeping the focus on utilizing fresh seafood, vegetables, and pasta made by hand.
2933 Colby Ave.
Totem Diner
Legacy
Since 1953, the family-owned and -operated Totem Diner has been keeping customers happy with yummy comfort food. The Totem Diner came under new ownership in 2011 but remains true to its history and original family ownership by serving up many of the same great dishes that the historic location has been offering for decades. Visit for tasty classics, like a pancake breakfast or mouth-watering burger.
4410 Rucker Ave.
Tacobook Taqueria
Off the Radar
Started by a husband-and-wife duo in 2016, the Tacobook Taqueria has become a local favorite in Everett that you'll definitely want to check out. Go for authentic Mexican food, and of course, tasty tacos you can enjoy in the restaurant or take to go.
1130 Broadway C

The Cottage
New Kid on the Block!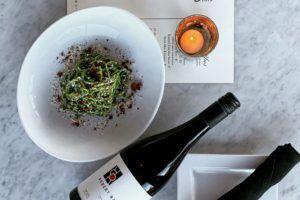 With its cozy fireplace and spacious seating, downtown Bothell's The Cottage is equally suitable for a boozy brunch or an evening cocktail. The stylish coffee bar and bistro specializes in farm-to-table fare, and its brunch menu is a standout (the quiche and French toast come highly recommended). The bistro also has an extensive beer and wine list to sample, and frequently hosts live music during dinner hours.
10029 NE 183rd St.
Russell's Restaurant & Loft
Legacy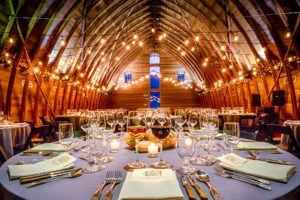 Over the years, Chef Russell Lowell's clientele has included both celebrities and local luminaries. Russell's Restaurant is situated in a renovated dairy barn, and its rotating menu showcases the best of seasonal and local ingredients. With its perfectly cooked steaks and a wine list that will win over any oenophile, Russell's is great for an elegant night out.
3305 Monte Villa Parkway
Julio's
Off the Radar
At Julio's, preparing the best traditional Mexican food means starting with fresh ingredients. Julio's salsas and guacamole are whipped up daily, and its menu brings together regional specialties from across Mexico. While you can't go wrong with staples like tacos and enchiladas, Julio's array of traditional seafood dishes and stuffed chiles also is worth your while.
10023 NE 183rd St.

Spark Pizza
New Kid on the Block!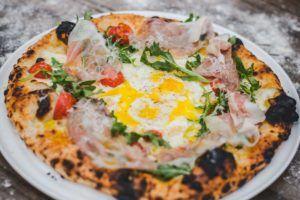 Spark Pizza is the newest venture by Tony and Carolyn Scott, the couple behind Redmond's popular downtown whiskey bar, Woodblock. The wood-fired pizza joint serves gourmet pies with crispy crusts and creative ingredients, along with salads and a popular spicy meatball plate. Diners also will find an extensive selection of beer and wine, along with vegan and gluten-free options.
8110 164th Ave NE
Blu Sardinia
Legacy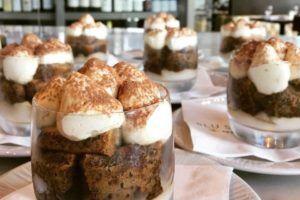 Blu Sardinia's cuisine is inspired by the Italian island of Sardinia, of which residents enjoy some of the longest lifespans on the planet. Wood-fired pizza and hand-cut pasta are among Blu Sardinia's specialties, and its seasonal menus blend Italian imports with fresh ingredients from the Pacific Northwest. The restaurant also boasts an award-winning wine selection.
8862 161st Ave NE
Pomegranate Bistro
Off the Radar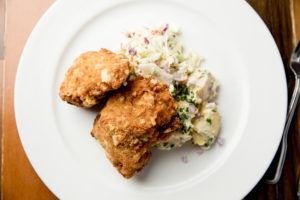 Pomegranate Bistro brings together Southern-inspired food and hospitality, and its menu incorporates southern classics with fresh, seasonal fare. As Experience Redmond's Peter Klauser shared, "Tucked back in a hard-to-find location, the discovery is worth the search. The locals rave about the weekend brunch." And it's not hard to see why — it's packed with decadent dishes, like chicken and waffles and cardamom bread pudding French toast.
18005 NE 68th St.

Hearth at the Heathman Hotel
New Kid on the Block!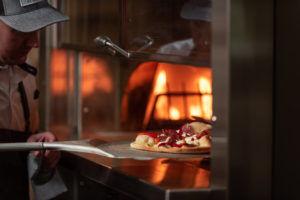 A traditional hearth oven is the central feature of the Heathman Hotel's new eatery, which opened earlier this year. At Hearth, fresh cooking techniques and locally sourced ingredients take center stage. With rotating seasonally inspired menus and libations from around the Northwest, the restaurant offers a cozy spot for dining in downtown Kirkland.
220 Kirkland Ave.
Cafe Juanita
Legacy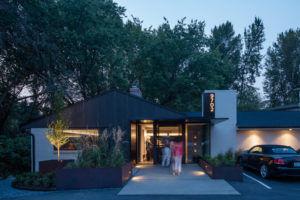 Since 2000, Café Juanita has distinguished itself through both its excellent service and its award-winning interpretations of Northern Italian cuisine. The restaurant's menu changes frequently to highlight the freshest seasonal ingredients, and includes vegan, vegetarian, and dairy free options. A comprehensive wine list also includes outstanding picks from Italy and the Northwest.
9702 NE 120th Pl.
BiBi
Off the Radar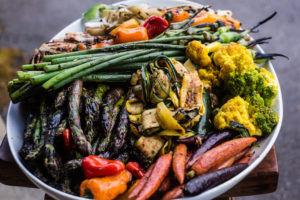 Located next to the Kirkland's PCC Market, BiBi is a hot spot for Persian and Mediterranean fare. Bibi was originally founded in Austin, Texas in the '80s, and its owners brought their family recipes and commitment to scratch cooking to the Eastside in 2002. BiBi's presentation is always colorful and fresh, and you can dig into otherwise hard-to-find specialties like fesenjoon stew, saffron rice pudding, and a variety of Persian pastries.
10724 NE 68th St.

AJI Sushi & Grill
New Kid on the Block!
Next time you're craving good Japanese cooking, give AJI Sushi & Grill a try. Following the Japanese culinary ideal that a meal should be enjoyed with all five senses, AJI is set on pleasing more than just your taste buds. If you like sushi, teriyaki, katsu, poke, or tempura, few places will be better than AJI.
13176 Newcastle Commons Drive
The Calcutta Grill
Legacy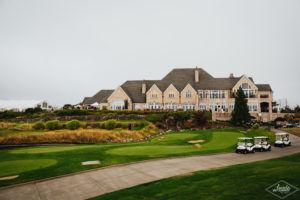 Enjoy nice weather on the patio, hang out at the pub, or cozy up to the fireplace at Calcutta Grill. Breathtaking views of Seattle and the Sound and tasteful, classic English décor only add to the experience of this culinary staple. Priding themselves on having the best happy hour on the Eastside, the menu at The Calcutta Grill inside The Golf Club at Newcastle boasts an impressive selection of Washington wines and brews, as well as the usual favorites.
15500 Six Penny Lane
Tapatio Mexican Grill
Off the Radar
Few places on the Eastside make authentic Mexican food quite like Tapatio. Family-owned and -operated, the vibrant and friendly atmosphere only makes the rich and satisfying flavors seem more delectable. If you like to add spice to your life, we recommend its ghost pepper queso dip, which can make chips or any entrée even better.
6920 Coal Creek Pkwy. SE #1

Mioposto Pizza
New Kid on the Block!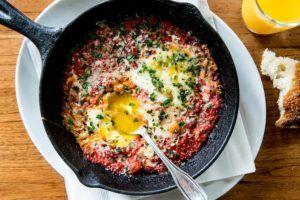 Meaning "my place" in Italian, Mioposto is inspired by traditional Neapolitan pizzerias. Using as many domestically sourced ingredients as possible, its flame-cooked pizzas are made in traditional handcrafted ovens. With salad and sandwich options as well, Mioposto is a great place for a family or date night. 
2601 76th Ave. SE
Roanoke Inn
Legacy
Built in 1914 and declared a historical landmark in 1976, the wonderful conservation of the Roanoke Inn will make you feel like you time-traveled to a bygone era tavern the moment you step in. There might not be bootlegged liquor and gambling at the Inn anymore, but it still is easy to have a great time in this cozy little piece of Mercer Island history.
1825 72nd Ave. SE
Bennett's Bistro
Off the Radar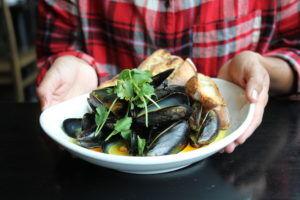 Some of the best dish presentations in Mercer Island can be found at Bennett's. Using ingredients from producers throughout the state, Bennett's will bring you the taste of Washington so beautifully plated you'll almost feel bad for ruining it with your fork. Come in early on the weekend to enjoy its brunch menu, and try its notably popular bloody Mary.
7650 SE 27th St. #100

Heritage Restaurant & Bar
New Kid on the Block!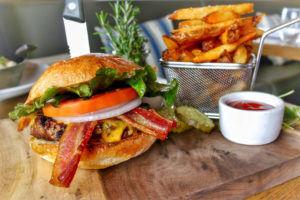 In the mood for a nice, home-cooked meal but too tired to do all the meal prep, cooking, and cleaning required? Heritage Restaurant & Bar uses the highest-quality ingredients to make simple and elegant modern American food. With brunch, lunch, dinner, dessert, and a sizable drink menu, there is surely something for everybody at Heritage.
14450 Redmond-Woodinville Rd. NE
The Herbfarm
Legacy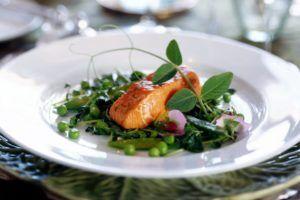 Restaurant, wine cellar, bed and breakfast — the Herbfarm is an all-encompassing experience with a menu heralded by people all over the Northwest. Each week, the Herbfarm chooses the best from the farm, forest, and sea to create wonderful, thematic, nine-course meals showcasing the culinary glories of the Pacific Northwest. The meals are usually accompanied by five or six wines and can inspire the taste buds
with their combinations and complementary flavors.
14590 NE 145th St.
Alexandria Nicole Cellars
Off the Radar
Voted the Third-Best Tasting Room in the nation by USA Today, Alexandria Nicole Cellars has been winning awards for its wines since 2002. Their Hollywood Schoolhouse Tasting Room in Woodinville is the perfect backdrop for an incredible experience. Discover why wine from Eastern Washington is so celebrated in the state and beyond.
14810 NE 145th St.

Kryptonite Bar & Grill
New Kid on the Block!
This restaurant is a welcome addition to the culinary landscape of Sammamish, opening its doors in January 2018. The full bar never disappoints, and serves up happy hour prices on weekdays from 3–6 p.m. The food is prepared in Kryptonite's scratch kitchen and offers classic pub fare, such as chicken wings and street tacos, as well as fine dining options like filet mignon and lobster ravioli.
3310 E Lake Sammamish Pkwy. SE
Sammamish Cafe & Spirits
Legacy
Reminiscent of a 1940s fishing lodge, the Sammamish Cafe has been serving up delicious comfort food in the area for years. We highly recommend this spot for its neighborhood value and massive breakfast portions. Pro tip: Order off the "Golden Griddle" section for some of the best homestyle pancakes you've ever had.
22850 NE Eighth St.
Tanoor
Off the Radar
This eatery is truly something special. It specializes in authentic Lebanese and Middle Eastern cuisine, a style of food seriously lacking in the Pacific Northwest's usual palate. The menu contains a wide selection of vegetarian and gluten-free options and claims to have the best shawarma in the region — a combination of perfectly spiced meat, vegetables, and tahini, wrapped in a delicious pita.
22610 SE 4th St. Ste. 400

Christa's Sandwichboard
New Kid on the Block!
You'll need both hands for these monstrous sandwiches. Christa's opened in the area a couple years back as a transplant from California. The sandwiches, soups, and salads — all freshly made with local ingredients — are ones that we've come to adore. But what really steals the show are the charcuterie plates, made at the on-site cheese shop.
1206 First St.
Cabbage Patch Restaurant
Legacy
For more than 40 years, locals have been getting their grub on at "The Patch." Cabbage Patch consistently delivers quality meals and a comfortable atmosphere for it's patrons; a spot where they can gather around the table for a turkey dinner no matter the time of year. With antique décor and homestyle cooking, the restaurant has practically re-created a great meal at Grandma's house.
111 Ave. A
The Oxford Saloon
Off the Radar
This restaurant is off-the-radar at a cosmic level: It is supposedly haunted. Established in 1910, it has a rich history of spooky stories and unexplainable events. Plus, the bar fare is terrifyingly good. We highly recommend filling up on prosciutto mac and cheese before wandering the haunted corridors upstairs.
913 First St.

Rio Bravito
New Kid on the Block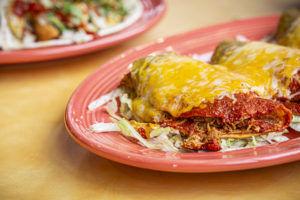 After the owners opened Rio Bravo in North Bend with much success, they opened a slightly different version in Snoqualmie called Rio Bravito. Nicole Weibe, events and marketing coordinator for the City of Snoqualmie, said it's been very popular with the locals. The menu boasts the usual Mexican fare with tacos, burritos, nachos, and more.
7802 Center Blvd. SE.
Smokey Joe's Tavern
Legacy
It's legendary in Snoqualmie, having been around for about a century, and that vibe is still alive and well with its heavy, wooden booths and two-man saws hanging on the walls, which harken back to the city's timber industry. There you'll find classic bar fare with drippy burgers and crinkle fries. Online reviews warn that the establishment is mainly a bar, so food can be a bit slow to come out, but it's worth the wait.
38600 SE King St.
Caadxi Oaxaca
Off the Radar
Serving up authentic Mexican cuisine, this restaurant is incredibly good, but lesser-known to out-of-towners. The name translates to "a little bit of Oaxaca" in the Zapotec language spoken by the Indigenous people of the Southern Mexican state of Oaxaca. Everything is made from scratch, including the tortillas and sauces, and the dishes are bright and beautiful with fresh ingredients adding pops of color. If you're not in the area often, we recommend making a special trip to experience the menu for yourself.
8030 Railroad Ave. SE

Duvall
Longevity Foods Organic Juice Bar & Deli
You might not think you'd find a local haunt like this in the 2.47 square miles that make up Duvall, but here it is, nonetheless. Offering a wide variety of items free of gluten, soy, dairy, meat, and inflammatory ingredients, you can find lots of creative grocery items here as well. Stick around for lunch, a glass of the best fresh juice around, and a decadent dessert.
14701 Main St. NE Ste A-1
Carnation
Carnation Cafe
Family-owned and -operated, this local spot is considered a must-visit if you're not from the area. It has the quaintness of your typical small-town diner, but the menu of a much larger, elevated restaurant. Options include garden vegetable risotto with grilled halibut, homemade potato chips, eggs benedict, and chicken fried steak — just to name a few. Customers love this spot for its friendly employees and cozy vibe.
4760 Tolt Ave. 
Fall City
The Last Frontier Saloon
Longtime 425 contributor and Fall City resident Rodrigo DeMedeiros said if you're ever in this neck of the woods, you must stop by The Last Frontier Saloon. "It's a bit of a dive bar, but the atmosphere is quirky, full of character, and very friendly," DeMedeiros said. "Oh, and the beer is exquisitely good." You can't go wrong with a burger served with a steak knife protruding from its center and a hearty serving of crinkly French fries.
Renton
Trenchers Kitchen and Tap
With karaoke, comedy nights, live music, trivia, and table games, Trenchers is the perfect local pub for hosting fun nights out with friends or partners. Fresh takes on iconic pub foods, like Thai chicken wings or the coffee-rubbed pulled pork French toast, will make you rethink traditional American flavors, while the rotating taps and house cocktails will make you reconsider your regular the happy hour location.
822 N 10th Pl.