Lil' Jon Restaurant and Lounge served comfort food for almost five decades before it was nearly destroyed by fire. But in the end, the devastating blaze only confirmed what most people already knew: Lil' Jon is more than an old highway diner — it is an Eastside institution.
---
Husband-and-wife business owners Jay and Gina Sjolander never had much of an advertising budget, yet they rarely worried about filling their half-century-old Eastgate diner with customers.
Good word-of-mouth and delicious comfort food generated lines at Lil' Jon Restaurant and Lounge. People came for family brunches of pancakes, French toast, and omelets on the weekends; a BLT with fries during a work-week lunch break; or a plate crowded with pot roast, mashed potatoes, and vegetables for dinner on the way back from daylong winter ski trips or summer hikes in the Cascades.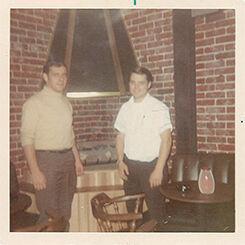 Changes surrounding the diner hardly troubled the Sjolanders, either. When U.S. 10 — the old highway that trafficked hungry travelers between Seattle and the Midwest — passed by the dining room windows, motorists couldn't miss the towering red-white-and-blue Lil' Jon Restaurant sign that still stands over the diner. When that highway was replaced by Interstate 90 in the late 1960s, farther away from the diner's front doors, customers kept coming.
And Lil' Jon's long parking lot became an ocean of asphalt wide enough for truckers to park, rest, and eat a hearty meal. Then a strip mall, grocery store, car dealerships, and Dairy Queen crowded out the big rigs. Still, the customers kept coming, and the old diner appeared to be indomitable.
That perception was challenged in the very early morning hours of June 13, 2013.
Lil' Jon was closed. The cooks, waiters, bussers, and bartenders had clocked out hours earlier. The diner was empty shortly after 1 a.m., save for a lone janitor, who smelled smoke and traced it, detective-like, first to the dining area, then the kitchen. There, he saw tangerine-red flames and called 911. Firefighters arrived to find a long exhalation of smoke pouring out of the single-story building and flames shooting through the roof and lapping at the night.
Inside, the foul and musky odor of smoke insidiously baked itself into the walls, floors, ceilings, and furniture. Water from the firefighters' hoses flooded the kitchen, soaked the dining room carpet, warped the wooden tabletops, and ruined the red cushioned seats at the counter and booths.
Outside, a crowd amassed, and television news trucks assembled under a still-dark early morning sky as firefighters plodded across the top of the A-frame building, the headlamps on their helmets darting about as they pointed hoses through the angled roof and into the kitchen to make sure the fire was extinguished.
By sunrise, someone had pulled a chair from the restaurant, propped a flattened banker's box on it, and scrawled the following message: "CLOSED DUE TO KITCHEN FIRE."
In the days that followed, customers wrote heartwarming notes, drew colorful pictures, and taped them to the diner's windows.
"It wasn't just us that it (the fire) affected. It was all of our employees, all of our customers, the neighborhood. I think that's why we get so emotional."
In the end, nearly a half-million dollars in property damage would close the restaurant for six months. The fire was caused by faulty kitchen equipment repair work completed by a contractor, according to the Sjolanders.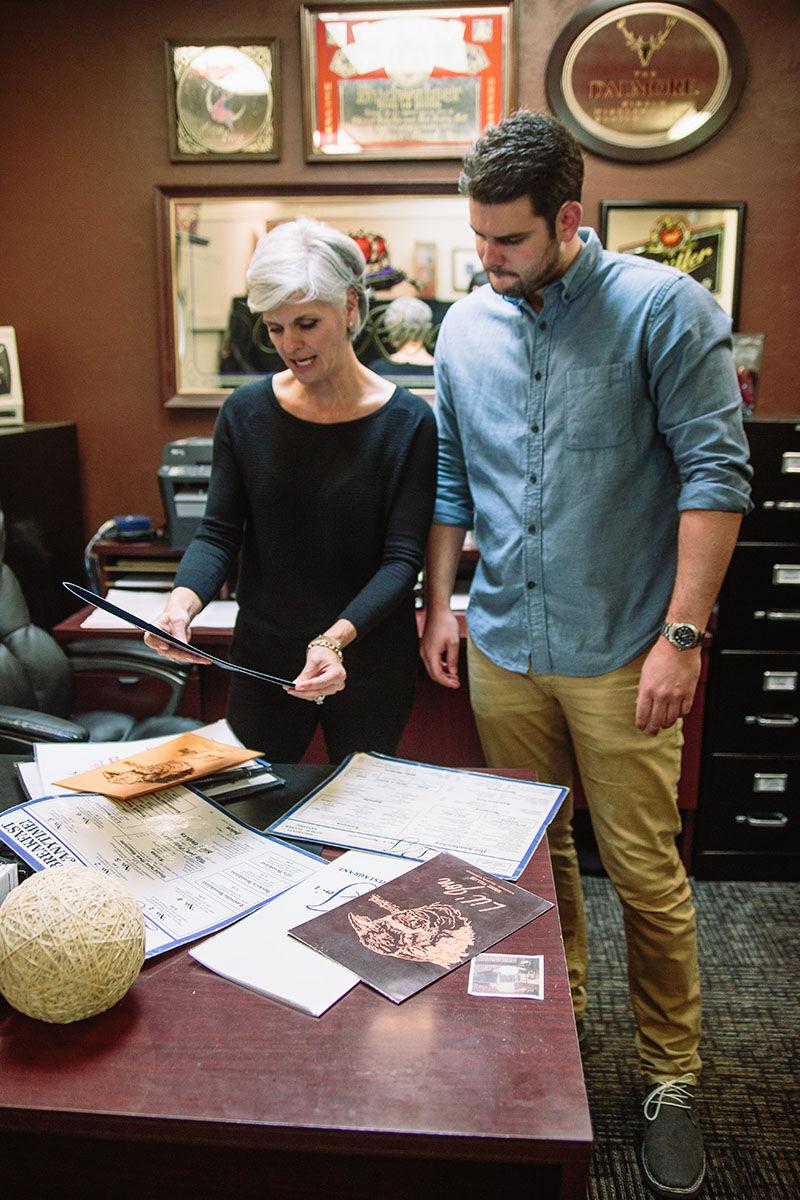 "It was tough," says Gina Sjolander. She, Jay, and their son, Parker, are in Lil' Jon's back office, a dowdy and windowless room packed with a heavy safe, accounting books, desks, delivery boxes, and mismatched chairs. Gina's eyes are red and glistening; tears streak her cheeks with each blink; and her voice is cracked and rasped as she recalls the trauma of that early morning. "It wasn't just us that it affected. It was all of our employees, all of our customers, the neighborhood. I think that's why we get so emotional."
Chatty up to this point, Jay Sjolander is suddenly quiet. His eyes, too, are glazed with tears, and there is a meaningful pause before he blinks and whispers, "It was just horrible. Horrible. We always knew that we were loved by the community, but …" He trails off for a beat. "Can we talk about something else?"
For those of a certain age, visiting Lil' Jon conjures simpler times. An aura of longevity quietly imbues everything, whether it's the Sjolander family history or your own memories of bygone restaurants you might have eaten at with your family when you were a kid. Chain restaurants can dress themselves in the cloak of a neighborhood diner, but Lil' Jon is the real deal.
Servers still clutch pads of order tickets and hand-write each customer's order. Those paper slips are pinned onto a ticket wheel, and cooks spin those wheels to start preparing orders. The aromas that pour out of the kitchen are familiar and hunger-triggering: salty bacon, slightly charred toast, peppered hash browns, buttermilk pancakes, and roasted coffee.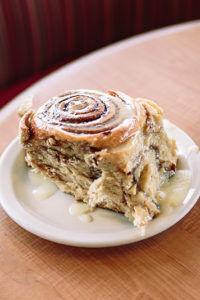 And then there are Lil Jon's cinnamon rolls. They are the size of antique jewel boxes and arrive at your table lathered in icing. The item is so popular with locals, it's often the reason first-time customers learn about Lil' Jon.
Lil' Jon's ambient noise is a familiar and comforting clamor: the clatter of silverware and thick ceramic plates as tables are set, dishes are stacked, and customers eat. The grind of a tall, stainless-steel milkshake machine. The squeezing wheeze of air as customers tuck themselves into vinyl booths to pore over laminated menus. A low rumble of ice cubes as they form and shift in an ice machine. As a capper to this tableau, a faded and hand-painted message that appeared on early menus now laces its way across a wall above the front bay of windows: Good morning and good day. We are glad you came our way. And for the pleasure of your presence, may we suggest the better the breakfast, the brighter the day.
The building that houses Lil' Jon wasn't always home to Lil' Jon. It formerly was Deb's Diner, opened in 1965 and part of a small chain of restaurants in Washington and Oregon. In 1967, Jay Sjolander's uncle, Jon, bought the Bellevue franchise and renamed it.
Sjolander family lore records that names were put into a hat, and one cousin, a fan of Robin Hood, wrote down the name Little John. As it happened, that name was chosen out of the hat, and the Sjolanders made some modifications. Even more curious and coincidental: Jon's aunt, Lilian, was known as "Lil" to friends and family.
For a diner as steady as Lil' Jon, its ownership is complicated. Jon Sjolander was the sole owner between 1967 and 1969, but eventually enlisted his brother, Alan Sjolander (Jay's father), to join him as a business partner in 1969. The next year, family friend Jack Dargitz bought out Jon Sjolander's interest in Lil' Jon. While Jon Sjolander pursued other restaurant ventures, Alan and Jack owned and operated Lil' Jon, and even operated two short-lived restaurants in Issaquah and White Center. Eventually, Alan bought the business, and the diner became solely Sjolander-owned.
Alan and his wife, Judy, were high school sweethearts who worked at the diner through the 1980s. Uncle Jon moved to Wenatchee. In December 2016, he died of cancer at age 72.
Jay began busing tables at Lil' Jon in 1977, at the age of 15, and learned the rest of the family business after he graduated high school. Gina was attending Bellevue Community College and working at a gift shop in Factoria when she met Jay in 1984. The gift shop's owners were Lil' Jon customers and introduced the two. The couple married in 1987. Jay and Gina Sjolander took ownership of the diner in 1992.
Their first son, Parker, was born in 1990. Another son, Connor, was born a year later, and a daughter, Danni, was born a year after that.
In the 1990s, Gina thought it made sense for her to learn the family business, too. Jay stayed home with the kids three days a week while Gina was trained by Lil' Jon staff on how to tend bar, wait on tables, and manage the business.
And though the Sjolanders don't own Lil' Jon's building or the land it sits on, they have chosen to stay in the same location and renew their lease over the span of 50 years.
Lil' Jon has been good to Jay and Gina Sjolander. All those orders of pancakes, hash browns, bacon, and eggs kept the cash register full and sent their kids to college. Jay and Gina live in Issaquah on property they own and share with Jay's parents, both in their late-70s.
Parker, 27, graduated from the University of Washington and is poised to be the next generation of Sjolanders to run Lil' Jon.
"Parker is the one putting in all the hours now," says Jay, 56, who works four days a week, mostly in the back office handling the finances. Gina, 52, also works part-time at the restaurant, advising Parker on business operations and occasionally working the dining room floor as a cashier and server when it's crowded.
Parker didn't draw the shortest straw. Nor was he mandatorily volunteered to take over the family business. Even with his parents sitting right next to him, Parker insists he likes catching up with customers, working alongside family, and managing a thriving business.
"There were times I hoped none of my kids would take it over because it's a difficult business," says Jay. "I would have been totally fine if Parker didn't want to take it over. Obviously, we could have hired somebody to do it. But it wouldn't be the same as Parker doing it. So, yes, it did work out well. But I don't think any of them felt like they had to work here."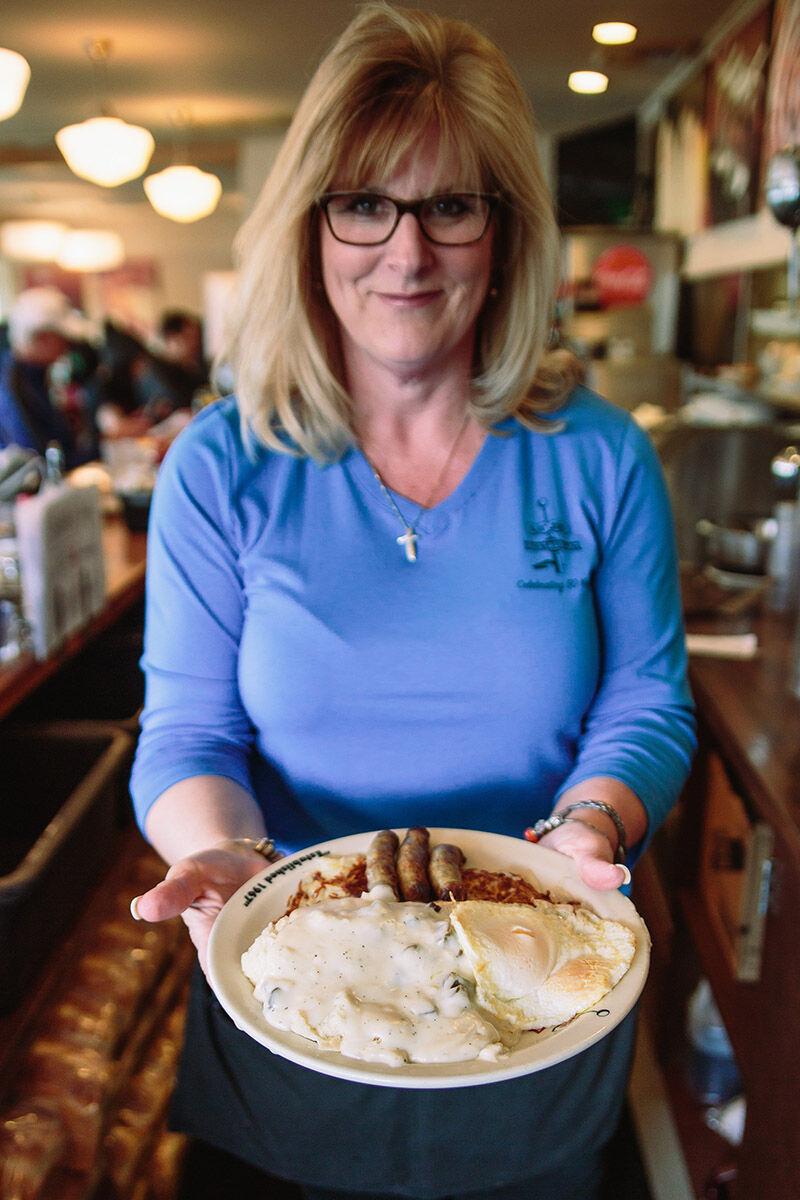 On a recent Friday afternoon, Amy Weisbrich, 55, and Tammy Rodgers, 51, end their shifts, pour their own cups of coffee, and retire to Lil' Jon's back office. Weisbrich counts her tips while both chat about the restaurant. Weisbrich's earliest Lil' Jon memory is of visiting with her parents when she was 5 years old and ordering a treat no longer available on the menu: a ham sandwich with lettuce and Lil' Jon special sauce (spoiler: it was tartar sauce).
Weisbrich is Jay Sjolander's sister, and she started busing tables at the diner when she was 15 years old. She went on to wait tables, tend bar, and manage the kitchen.
"I did take some breaks," says Weisbrich, a tall woman with blond hair and a relaxed demeanor that can make even the crankiest customers soften. "I was thinking about going to college, but I said, 'Well, I'm just going to take a year off.' Then I moved out on my own and was making good money working here. I like working with my family and seeing my family all the time."
Rodgers, a woman with a dry sense of humor, blames a good-looking guy for the reason she started working at Lil' Jon. As Rodgers recalls, it was 1982, and she was 15 years old. Jay asked Rodgers' mother and a Lil' Jon server, Becky Hassinger, if she thought Rodgers could bus tables and fill in for someone who called in sick. When Jay called her at home, Rodgers said she wasn't interested — until Jay mentioned the cutest guy working at Lil' Jon would pick her up and bring her to the restaurant. "He was the hottest thing in the world," recalls Rodgers. "He had a hot car, and he was hot. OK! That was the only thing that got me down here to work. Literally! He came in his car, and I was in heaven!"
Weisbrich's and Rodgers's names appear on a plaque that is mounted on a wall across from the cash register. It is festooned with the engraved names of employees who have worked at Lil' Jon for at least a decade. Most of the people named on the plaque still work at the diner. The food service industry may be notorious for its low wages, high turnover, and burned-out employees, but that isn't the case here. Many of Lil' Jon's waiters, cooks, bartenders, and bussers were hired 10, 20, and 30 years ago.
Rodgers's mother, Becky, worked at the diner for more than 40 years — an item on the menu is named after her (Becky's Breakfast: one egg, two strips of bacon or two sausages, and buttered toast for $5.75).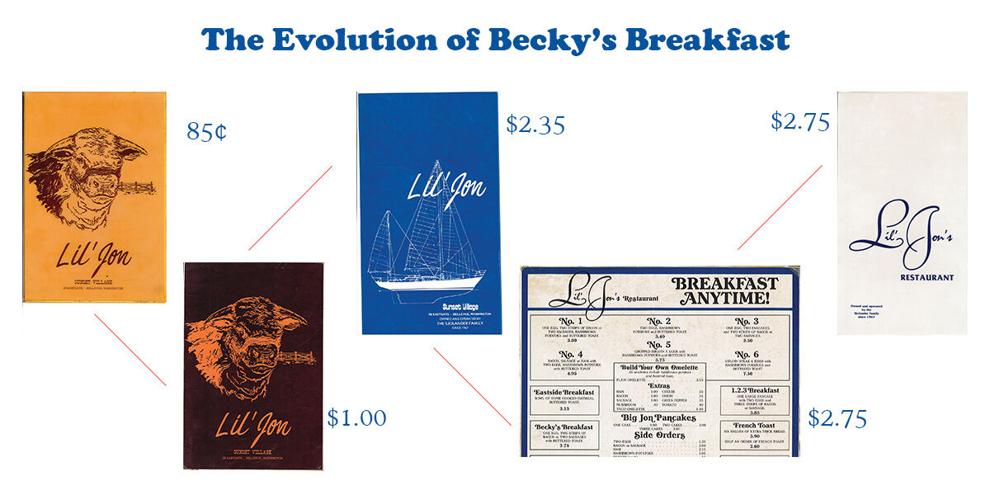 Pat Pollock began busing tables at Lil' Jon when he was 15 years old. Twenty years later, he's a server. His mom, Kathleen, applied for a job at Lil' Jon when she was pregnant with Pat.
The bar manager, Bryan Hong, 45, began busing tables at Lil' Jon when he was 15 years old.
Why do employees work at Lil' Jon for so long?
The diner is almost always busy, making it a great place to earn a living. Weisbrich will scribble through at least one book of order tickets in an eight-hour shift. There are 100 tickets in a book, and often more than one customer per ticket. It all adds up to a decent income in tips alone.
The Sjolanders have a reputation for being generous. Christmas comes with cash bonuses and gifts. Paid vacations are offered. Employees who work at Lil' Jon for a decade are rewarded with a dinner at an upscale restaurant. There are other forms of benevolence, what Weisbrich and Rodgers describe as helping out employees who might be going through difficult personal times. The generosity extends beyond family members and employees. Jay and Gina have been known to attend the funerals of long-time customers.
Lil' Jon is more than work, it's family.
Customer demographics have evolved along with the Eastside. Twenty or 30 years ago, construction workers crowded the booths and counter as more houses and office parks were built in the area. Once this construction plateaued, the weekday clientele shifted to families and office workers who lived and worked in those recently built houses and office parks. But the diner has always been popular with local police officers, teenagers, bus drivers, and seniors. Many local sports celebrities have been spotted eating here: Seahawks Russell Wilson and Kam Chancellor, Mariners broadcaster Rick Rizzs, NBA Hall of Famer Bill Russell. Jay recalls seeing Kiefer Sutherland eat at Lil' Jon while the movie The Vanishing was filmed in North Bend during the early 1990s.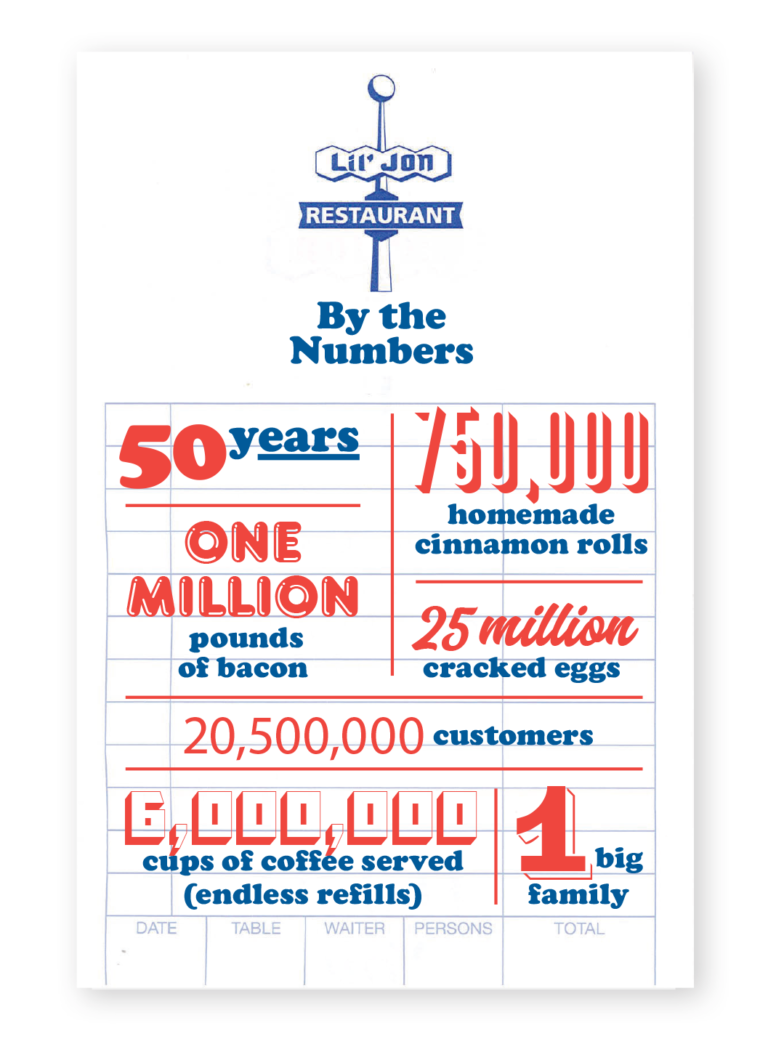 Weisbrich says some of her regulars come from as far away as New Jersey, New York, Holland, and London, stopping by when they are in town on vacation or business.
Every Friday morning for the past 30 years, a group of former executives from such major companies as Boeing and 3M have met at Lil' Jon to discuss politics and the state of the world. No one in this klatch is younger than 80 years old, and the group is known colloquially as "the board of directors." A group photo hangs on a wall at Lil' Jon.
One early afternoon, Jack Davis is perched at the counter at Lil' Jon and finishing his lunch. Davis is a steady customer ­— four days a week, twice a day, once in the morning, once in the afternoon.
"I'm too lazy to cook," Davis laughs.
Another customer at the counter, Lyric "Tug" Tugwell, 83, is finishing a plate of French toast. When the fire closed Lil' Jon, Tugwell ate breakfast at the Issaquah Café because it was closer to his home. When Lil' Jon re-opened, he drove the extra miles to eat again at his favorite diner. Tug began eating at the restaurant in 1966. He remembers the change of ownership from Deb's Diner to Lil' Jon. He saw Jay bus tables as a teenager. He recalls Parker visiting the diner as a small boy.
"Good food. Good service," says Tugwell. "No complaints."
How does a legacy business reopen following something as devastating as the fire at Lil' Jon?
If a business closes after 40-plus years, it usually means times have changed, customers moved on, or a need no longer exists. But Lil' Jon was still viable when it was gutted by fire. The family loved running it, and customers enjoyed eating there.
It took six months to rebuild Lil' Jon after the 2013 fire. On many occasions, Jay would stand in the dining area, which was still under construction, and ask himself whether customers would return. Longtime customers, in turn, would drive through the parking lot, stare at the darkened windows, and wonder whether Lil' Jon would reopen. Both missed each other and wondered whether it ever would be the same.
The answers came nine days before Christmas 2013, at the grand reopening.
Of the 46 people Lil' Jon employed at the time of the fire, all but one returned. Moreover, the Sjolanders' business insurance was so good (Jay's fear of a fire destroying the business had led him to pay extra money for better coverage) that every Lil' Jon employee never missed a paycheck while the business was closed.
On reopening day, longtime and loyal Lil' Jon customers ate for free. Lines were out the door and into the parking lot. Staff wore black T-shirts with white lettering: WELCOME BACK. "It was nonstop, even during the middle of the day," says Parker. "It was exhausting, but it was fun to see everybody … We didn't lose anybody." Parker adds proudly, "Everyone came back."
The Sjolanders believe Lil' Jon is better today than before the fire. The diner's old charm and character are preserved, but now with a fresh coat of paint and carefully restored booths, tables, and countertops. Cooks rave about the kitchen, which suffered the most damage and was completely renovated. If you haven't visited Lil' Jon in years, or didn't know it was nearly destroyed by fire, you would swear the restaurant hasn't changed.
Lil' Jon hardly missed a beat, and the Sjolander family is ready to usher in another 50 years of comfort food at its old Eastgate diner.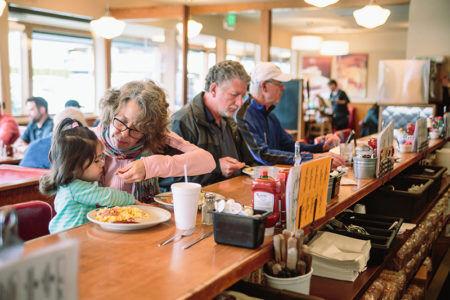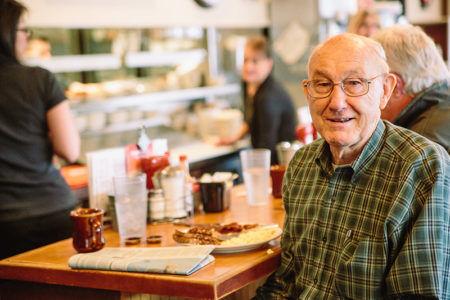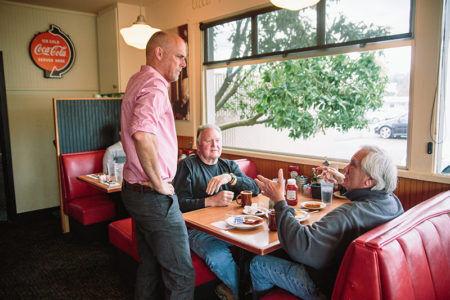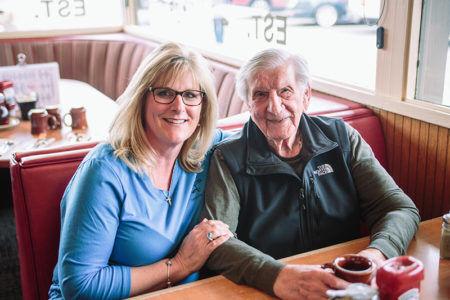 ---
This story originally ran in our sister publication, 425 Business magazine. Find more local business profiles at 425business.com.