"If you have a passion for something, just do it. Don't ever let anybody tell you that you can't. Do what my husband does: Put one foot in front of the other, and keep going in that direction every day." That's the resolution-worthy advice from restaurateur and real estate guru Randi Brazen as she describes her partner in business as well as in life, husband Joseph Brazen.
As 2018 begins, the Brazens takes their words to heart as they focus on Central Bar + Restaurant, which opened last fall, adding to the flourishing landscape of the Bellevue dining scene.
Known for Brazen Sotheby's International Realty, the couple had aspirations beyond real estate years before the Bellevue boom. "Real estate and the restaurant industry are centered around hospitality, and Joseph and I have always been extremely social," she said.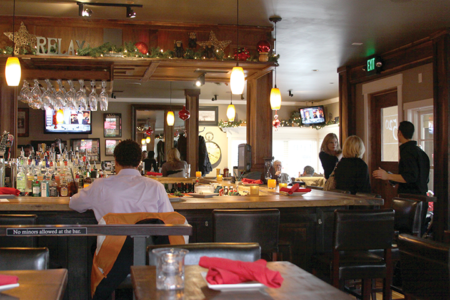 Rewind to over a decade ago when the Brazens owned a small building along Bellevue's quaint Main Street. "We were thinking, what would be the best use for it?" recalls Randi. "At the time, there weren't any fun, local bars or restaurants. I guess we were very naïve because we thought if it didn't work, we could just put a note on the door that said, 'Gone Fishing for the Day!' Randi laughs, but they were serious about diving headlong into an extensive renovation of the building. Joseph became an avid student of the process, learning what it takes to build out and run a restaurant, which became the much-beloved 520 Bar and Grill, celebrating its 12th anniversary this year.
Named after the real estate code for the region surrounding the three main freeways, 520 became a mainstay of locals, often thought of as the Eastside's own mini version of Cheers.
Three years ago, the Brazens were presented with a tempting blank canvas, a retail space in the not-yet-completed Lincoln Square Expansion. At the time, the ground hadn't been broken, but that real estate mentality, the ability to envision the manifestation of an idea, inspired Joseph and Randi to take on another restaurant project. "We were crazy enough to say yes!" says Randi.
"We wanted it to be a little sexier, a little more upscale," she says, describing the original concept. "It's a notch above 520; we wanted a social place where people could get together, share a great meal and a cocktail."
Walking into Central Bar + Restaurant is like stepping into a Golden Era Hollywood film. A centerpiece bar glows in a golden light, with shimmering glasses and bottles, reminiscent of an exclusive speakeasy from the 1930s.
The menu reflects Central's balance of sophistication with comfort, offering main courses like rack of lamb and a macadamia-encrusted halibut, right alongside familiar fare like cheddar bacon biscuits; fresh-baked soft pretzels; and a light, crispy fish and chips that is a must-have. Their British-born chef brought over his own recipe using traditional haddock, and it's been a guest favorite since opening day.
"I feel like we're building something for our family and our future."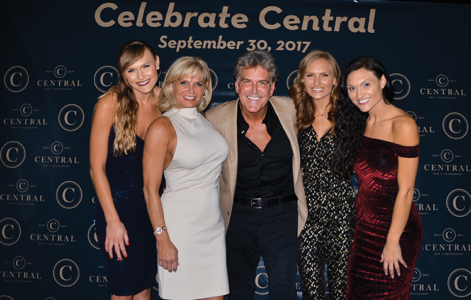 It was by no means an overnight transformation. The Brazens knew this would be a different set of challenges, and it was a team effort to make Central a reality. They trusted the expertise of head staff at 520 Bar and Grill to develop Central's workflow. The location started out as dauntingly bare concrete floors and walls. "We ordered our equipment and were laying it out before we had electricity," Randi said. "There was a day where my husband came in with his iPhone and painter's tape, and he measured out exactly where the bar was going to go, and the tables, with tape on the floor. When it got really dark, he used the flashlight on his phone and continued into the wee hours of the morning."
Randi cites locations in their travels that kindled Central's details: the delicate pattern of coin-sized tiles of the Ritz Carlton in Atlanta, and the carved, rounded corners of their bar. It was New York City's Hudson restaurant where she noted the importance of proper lighting. "I loved the amber colors because I think women look good in this color. Lighting is really important!"
The real estate sensibility lent itself to the restaurant's name, as Joseph considered its location in downtown Bellevue. The building was a center of growth and community, so the name "Central" seemed apropos.
Along with combining skillsets, the Brazens achieve the rare goal of being a family operation. Joseph and Randi work side by side with daughters Cody, Taylor, and Joey. For all their professional success, proud mom and dad are the roles Randi and Joseph value the most.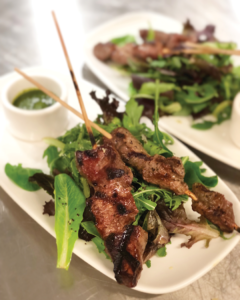 "I feel like we're building something for our family and our future," Randi said. "They're truly our best friends. You ask me who I want to do something with — it's my husband and my kids."
Joseph echoes his wife's sentiments. "It has been amazing to have our daughters graduate from UW, accept jobs out of state, then four years later all return home to Bellevue. Now my days are filled spending quality time with each daughter, working and growing our businesses together."
With a new year come renewed goals and energy. There's sincerity in wanting to trust one's instincts, something the Brazens fully believe in. Randi describes Central as "a work of love," and that could be said for the way they approach both work and family life, a resolution worth striving for.