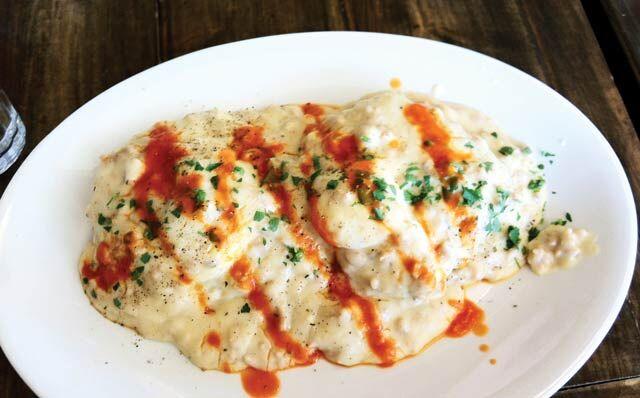 Burger Dip
You'll get the feel of a classic diner when you step into Woodinville Cafe, filled with railroad-themed memorabilia from a bygone era. Sit in one of the cushioned booths or at the bar on a swivel stool to order the burger dip, a combo of two diner staples — a French dip sandwich and a patty melt. They take a half-pound, charbroiled burger and layer it with bacon, melty Tillamook cheddar, and caramelized onions on a toasted hoagie roll. It's served with a cup of au jus, giving you the delicious flavor of a patty melt, and the savory soak of rich beef broth in every bite. Details: $11; Woodinville.
Wild Boar Chili Cheese Fries
Sure, you've had fries covered with chili and cheese, but wild boar chili? Don't let the exotic-sounding meat dissuade you from this beloved comfort food. Leaner than domestic pork, wild boar has a rich flavor that some describe as a cross between beef and pork, making it perfect for chili. The meat's distinct flavor stands out against the gooey melted cheese and salty, crisp fries. Details: $13; Duvall.
Biscuits and Gravy
A must-have on diner menus, biscuits and gravy date back to the post-Revolutionary War era, when supplies were limited, and people needed a hearty meal to power through the day. This American classic has continued its legacy onto huge breakfast platters at The Commons. The homemade chicken sausage gravy deliciously blankets flaky buttermilk biscuits and poached eggs. The quick drizzle of vinegary hot sauce cuts through the richness, making it hard not to sop up every drop of egg-biscuit-gravy goodness. Details: $12; Woodinville.
Meatloaf Sandwich
A longtime favorite on Hector's menu, their housemade meatloaf makes a sandwich out of the comfort food bliss. A thick slab of meatloaf, impossibly tender on the inside with a pan-seared crust on the outside, is sandwiched between toasted slices of wheat bread slathered with mayo and topped with tomato and lettuce. You can add cheese, bacon, mushrooms, or avocado, but the flavorful meatloaf is the true star. This doesn't feel like repurposed leftovers; it feels like a proper main course. Details: $13, $1 per add-on; Kirkland.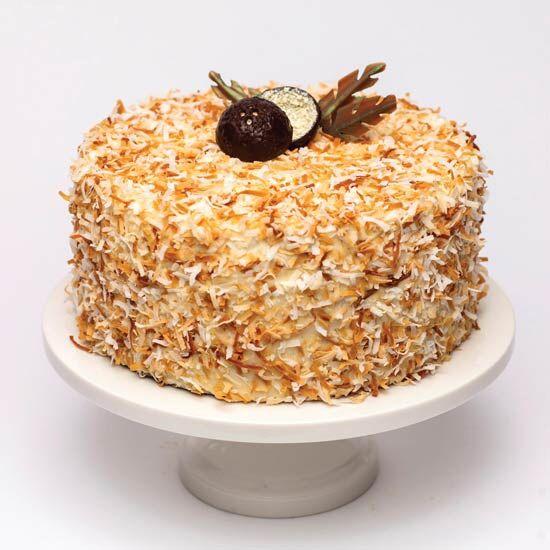 Shaved Coconut Cream Cake
Pomegranate Bistro
Pomegranate's coconut cream cake brings you right back to sweet childhood memories. It's composed of four layers of coconut butter cake with coconut cream filling, covered in cream cheese icing and toasted coconut shavings. An artful treat that combines the flavor of a coconut cream pie with a picture-perfect layered cake. Slice a giant piece — go ahead and treat that inner child. Details: Cake price ranges by size from $15-$45; Redmond.
Country Fried Chicken and Waffles
For those who have never had the Southern classic combining fried chicken and waffles, you're missing out! Served only on the weekend brunch menu, the balance of a savory, crispy-skinned chicken thigh atop a fluffy buttermilk waffle smeared with maple butter is the perfect marriage of salty and sweet. Made with the local, quality ingredients Local Burger is known for, it's the best excuse to indulge on a lazy Sunday morning. Details: $9; brunch menu available on weekends from 9 a.m.-3 p.m.; Bellevue.
French Dip Sandwich
For those not wanting to mess with a classic, get a proper French dip at Oxford Saloon, built in the 1900s in Snohomish's historic downtown neighborhood. This traditional sandwich is layered with 8 ounces of tender, thin-shaved beef and Swiss cheese in a French roll, served with au jus or barbecue sauce for dipping. Make sure to get a side of signature ranch bacon pasta salad. You'll enjoy the quirky décor of the saloon, filled with antique and odd collectibles (there's a giant suit of armor hanging from the ceiling), and keep an eye out for the resident ghost from the saloon's Wild West days. It supposedly haunts the women's restroom! Details: $12; Snohomish.