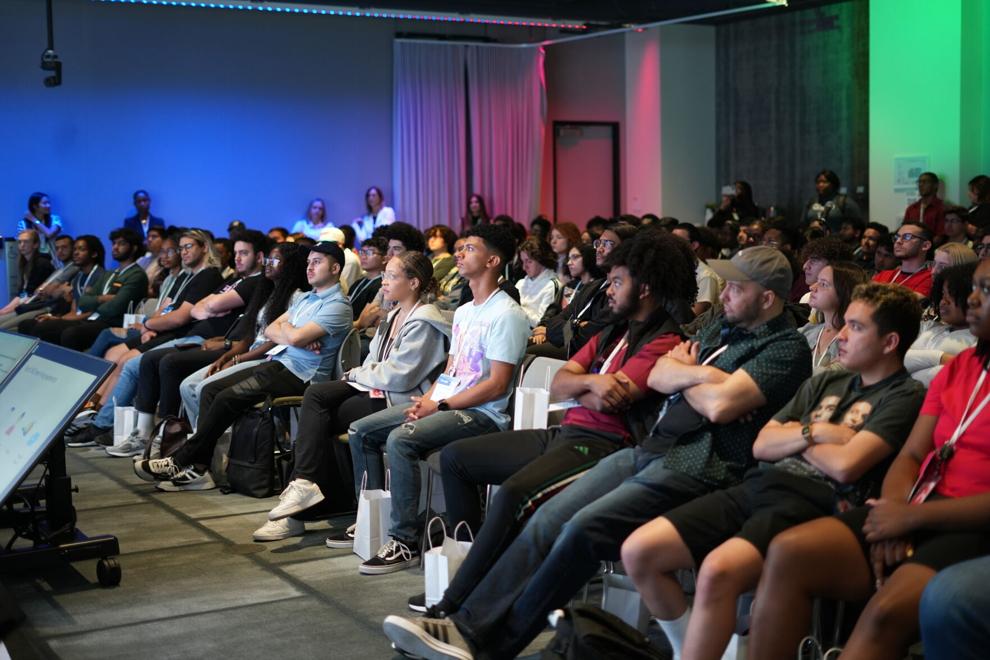 The seventh annual Google Tech Exchange cohort wrapped up in Seattle on Wednesday with a closing ceremony hosted at the company's South Lake Union campus.
The program is designed to prepare historically underrepresented groups in the tech industry — including Black, Latino, and Native students — for internships and full-time roles working in technology by providing computer-science skills and community through virtual classes, one-on-one mentoring with Googlers, career planning support, and milestone trips to Google offices.
This year, 180 students from Historically Black Colleges and Universities and Hispanic-Serving Institutions participated in the program, according to a news release.
More than 80% of students in this year's cohort voted on Seattle as their preferred location for the program finale, citing its position as a major tech hub. Google's Seattle area — which also includes offices in the Fremont area, Kirkland Urban and 6th Street in Kirkland — has the company's largest engineering hub outside of California's Bay Area. 
Google came to Washington in 2004.
According to research last year from Axios and Generation Lab, Seattle ranked the No. 1 most desired city for post-grads to live in.
Tech Exchange is a semester-long academic program for students majoring in computer science. Students learn applied computer science and problem-solving skills from Googlers and HBCU/HSI faculty and are paired with a mentor to help with professional development and building social capital and community.
This year's cohort includes students from 11 HBCUs and five HSIs, including students from Howard University, The University of Texas at El Paso, Morehouse College, Spelman College, and the University of Puerto Rico, Mayagüez. Among last year's cohort, 45% received a Google software-engineering internship offer for this upcoming summer, the release said.
Applications for the next Tech Exchange program will open later this fall.
"We're thrilled to see the continued growth of Tech Exchange since its launch six years ago," Ernest Holmes, Tech Exchange technical program manager, said in the release. "This year's cohort is the largest and most diverse to date, with 180 students from 11 HBCUs and five HSIs represented. We aim to ensure the students feel seen, supported, and engaged by the Google community. At the end of the program, students tell us they feel more confident in their abilities as programmers and that they have developed a deeper sense of belonging in the industry."
During their time in Seattle this week, the Tech Exchange cohort is engaging in technical workshops, including those involving Project Starline, Machine Learning/AI, and metaprogramming. Students also planned to attend a Seattle Sounders game, visit the Space Needle, and do a Lake Union boat cruise.