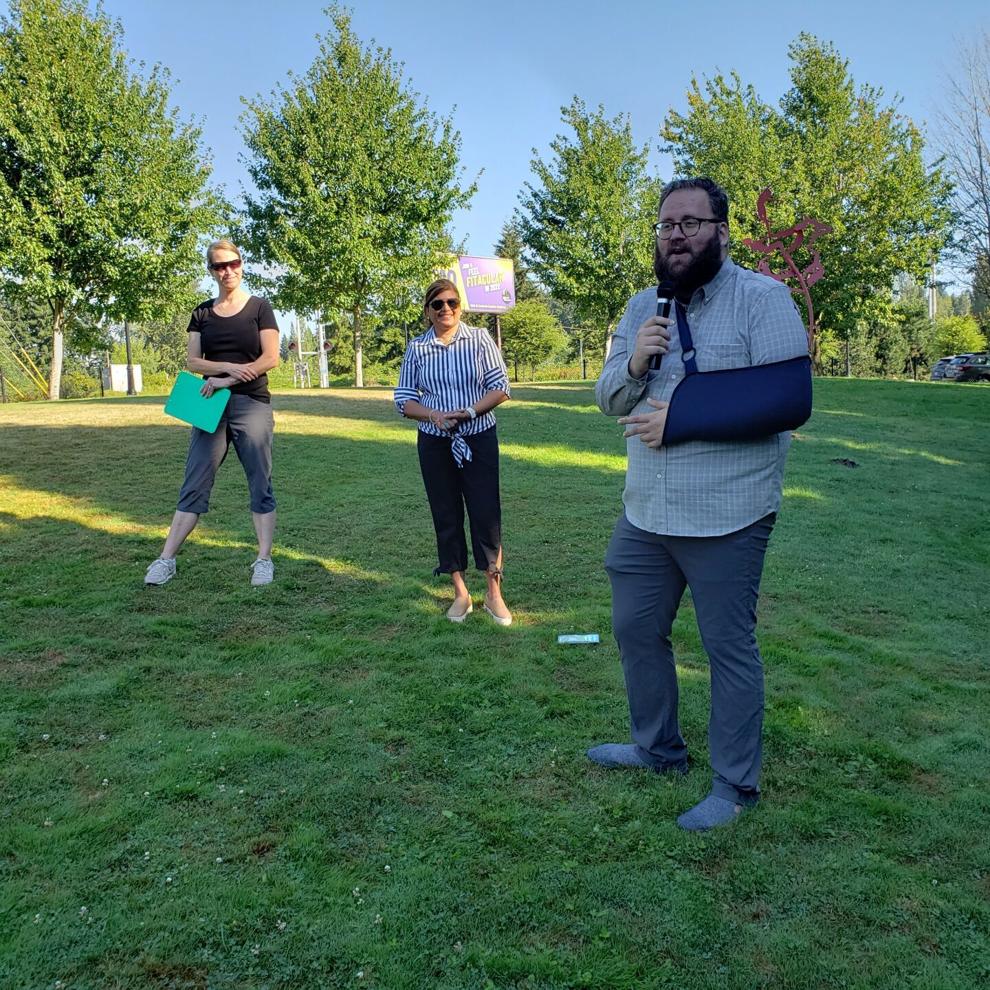 Community, connection, cooperation, equity, and sustainability were among the themes covered today at Wilmot Gateway Park in Woodinville, where the nonprofit Eastrail Partners celebrated $29 million committed earlier this year in the state transportation package for key projects along the emerging 42-mile Eastrail.
When fully completed, Eastrail will link Renton to Snohomish County via a pedestrian/bike trail. Many portions of the trail are completed, and others are yet to be built or connected to existing trail. The Washington Legislature last session approved $29 million for key Eastrail segments as part of the broader transportation package known as "Move Ahead Washington."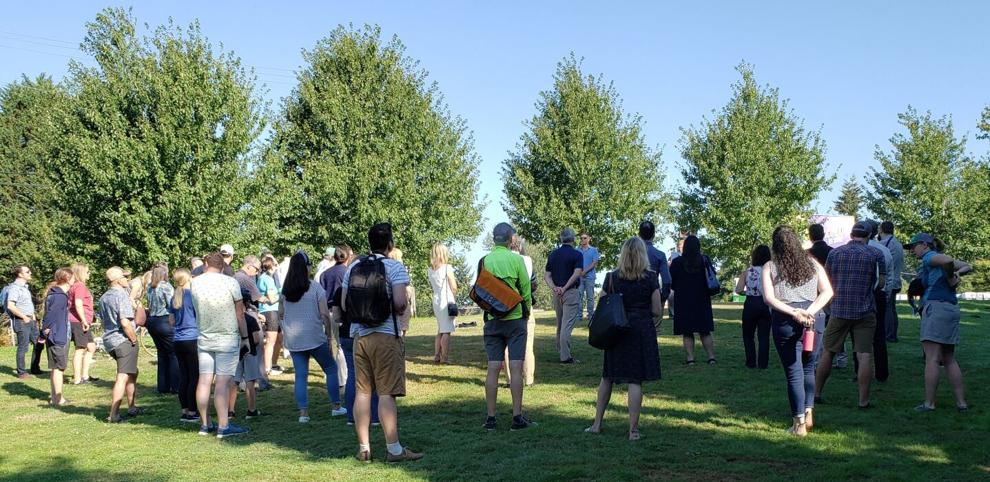 Eastrail Partners thanked state lawmakers today for their support. As gifts of appreciation, silver-painted railroad spikes removed from the trail's former railroad bed were gifted. The nonprofit also thanked various city, King County, Snohomish County, and nonprofit leaders for their support of Eastrail. After remarks from public officials and Eastrail Partners Executive Director Katherine Hollis, participants were invited to ride south from the park on the Sammamish River Trail to the newest section of Eastrail connecting Totem Lake to Woodinville wine country.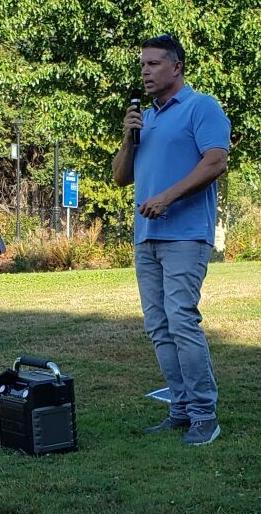 "It's so exciting after sitting in rooms, looking at sheets of paper for a long period of time, to actually be out here and see the concrete investments we're making in our community," Sen. Marko Liias, chair of the Senate Transportation Committee, told a throng of Eastrail supporters. "Honestly, when I took over the chair position, I did not realize how much Eastrail had brought communities together since the last time we worked on a transportation package in 2015."
Liias said each time he spoke with Senate members about priorities, "in every conversation on the Eastside, Eastrail came up. … It was really powerful to me to see your delegation stepping up in a coordinated way, not just to say, 'Hey, fund the project in my district,' but to say, 'Let's create a regional trail network so that people can connect from destination to destination.'"
State Rep. Jake Fey, chair of the House Transportation Committe, was dressed in riding gear for the morning's tour and complimented Liias for his partnership on "active transportation" in the budget.
"Most importantly, it looks like this will be, when completed, a great additional mode for people to get to work, to recreate, for kids to use, and I really compliment you on having such an outstanding effort to put this together," Fey told the dozens that gathered.
Playing off the day's bike theme, State Rep. Vandana Slatter said, "If this was a Tour de France ride, Sen. Liias and Rep. Fey were our drafters. We could not have done this without them in order to get the funding across the finish line."
Slatter said that when she thinks about the Eastrail corridor, accessibility, community, and connection come to mind. Eastrail is connecting communities, she said.
King County Councilmember Sarah Perry outlined key Eastrail projects the state money will help fund, including the steel bridge that crosses Interstate 90 in Bellevue, extending Eastrail south with connections to Gene Coulon Park and downtown Renton, and retrofitting a trestle over State Route 202 to connect the trail to downtown Woodinville and kickstart the section from Woodinville to Snohomish County.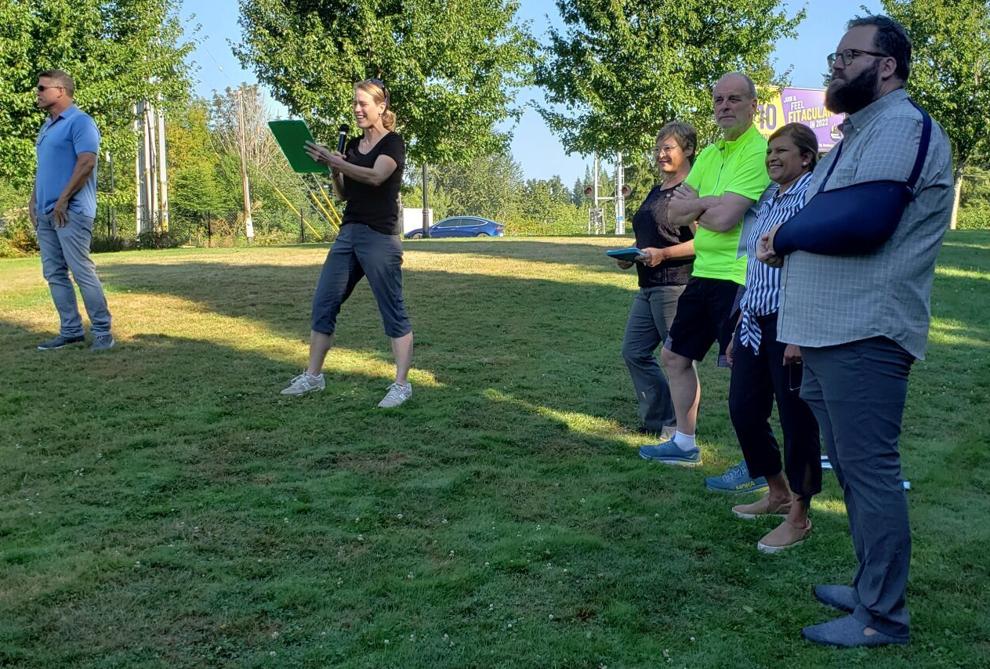 "This investment fosters community access, equity, and sustainability, and makes lives better throughout Eastrail corridor and our region, and we are deeply grateful," Perry said.
"An ambitious effort like the Eastrail doesn't just happen because of one entity or leader," Hollis said. "So much progress is being made because of partnerships and support at so many levels, and that's what we see here today."
That includes work across government, nonprofits, and the private sector, she said, also citing Eastrail contributions from companies likes of Amazon, Meta, REI, and others.
"This is how we get things done, in partnership," Hollis said.
State Rep. Bill Ramos, who was among lawmakers recognized for his support, said in a brief interview after the event that Eastrail's equity element was instrumental for him.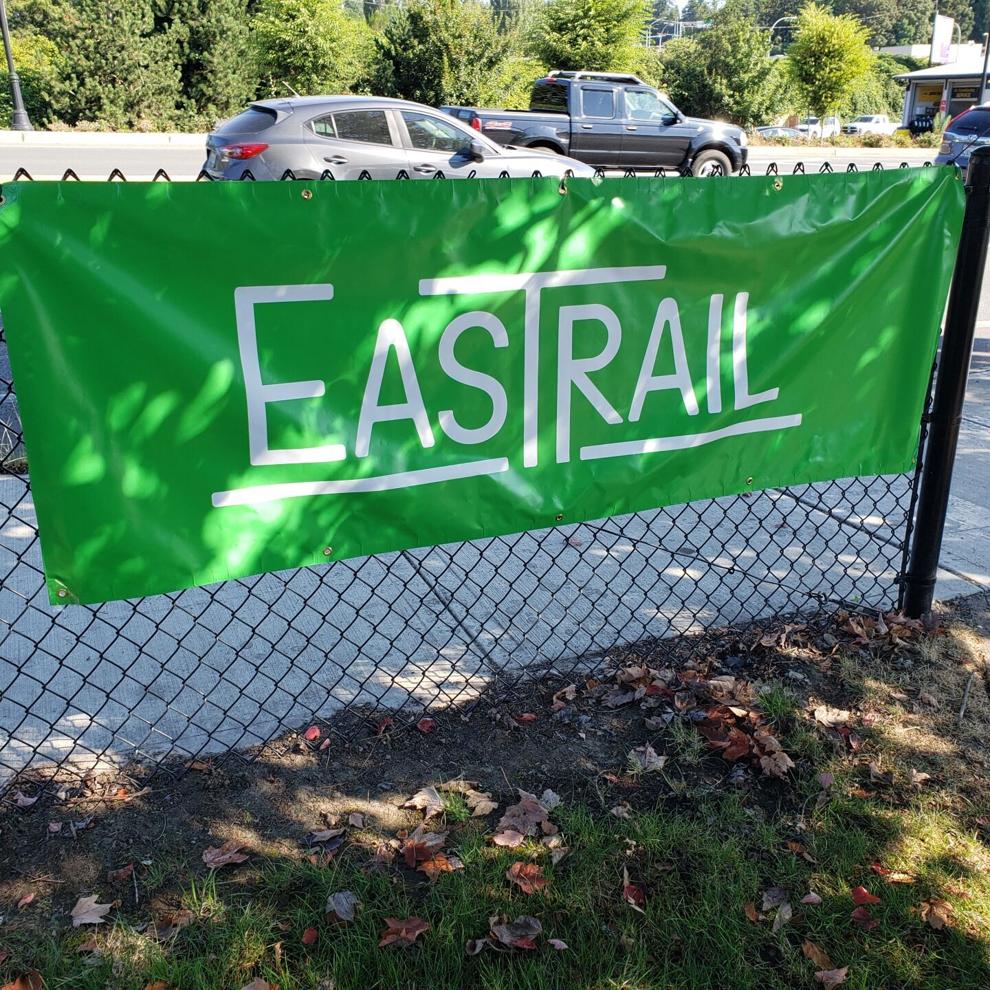 "This (project) is one of those that connects through all communities, regardless of where they're from, whether they're from low income, high income, whatever … and that's what we need to do in this world is connect all the different people that maybe wouldn't connect otherwise, but something brings them together so they can share their life story, they can understand each other, and then everybody works together better."
Added Ramos, "That equity piece is the most important thing of this because it covers such a spectrum of geography and communities."
Legislative funding is always a balancing act, he acknowledged, but Eastrail hits the mark in numerous areas.
"The sheer infrastructure piece, the carbon-reduction piece, and the community piece — it hits all those pieces so perfectly that that's just what we have to do," Ramos said.