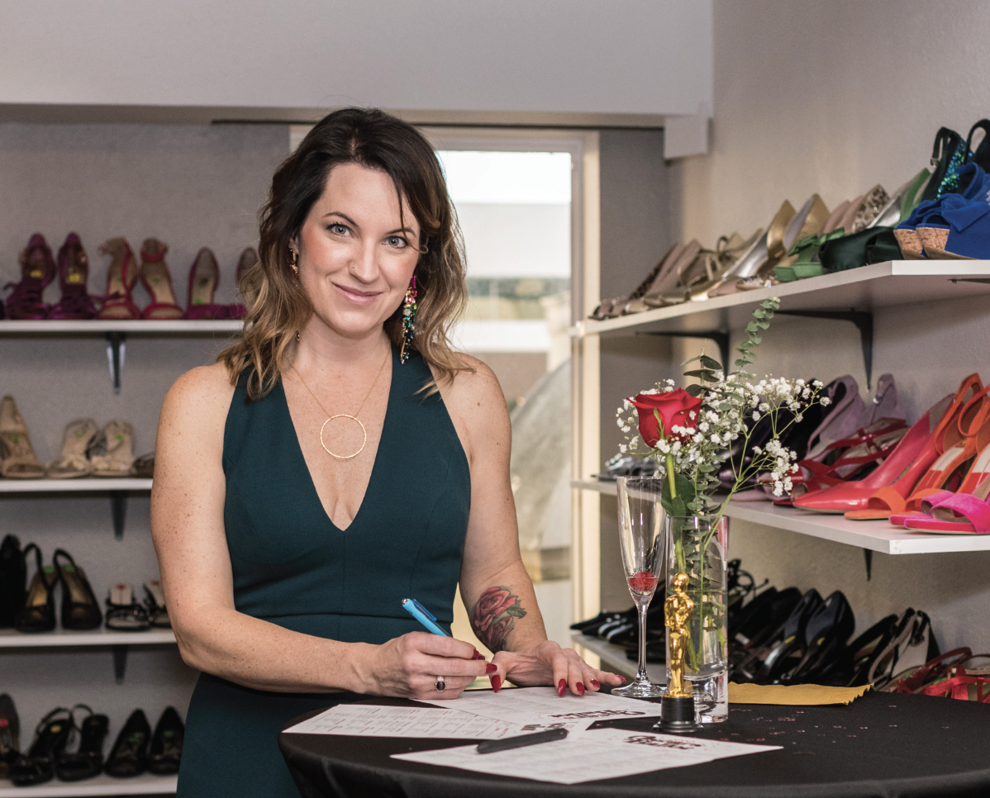 Ellen Young has shed many tears of joy in her role overseeing Ruby Room, a nonprofit that provides free formalwear and accessories to teens whose family incomes otherwise would prohibit them from dressing up for proms, graduations, quinceañeras, or other milestone events.
There was the mother in 2018 who brought her daughter to the Ruby Room boutique for a dress she could wear to senior prom and later for graduation. The daughter emerged from the fitting room. "She's standing in front of the mirror, and she looks stunning," Young recalled. Mom is admiring her daughter, "and the mom just broke down, and she's trying to hold it together in front of her daughter," said Young, who comforted and joined the mother in admiring her daughter's beauty and excitement.
As the daughter returned to the fitting room, Young and the mother stepped out of earshot, and the mom said, "'I just didn't know that I was going to make it to today or to see her in a dress,' and she shared with me that she was battling Stage 4 breast cancer," Young said. The mom said her family was planning to move to Chicago to join relatives who could care for her daughters as she received treatment for what Young believed was terminal cancer.
Young chokes up even five years later recalling the moment that mixed sadness and joy, but most tears shed at Ruby Room are joyous. They flow by making memories for hundreds of Washington kids each year to experience pinnacle events, no matter their financial means. For her work, Young is 425 magazine's 2023 Citizen of the Year, presented by Heritage Bank.
The Issaquah resident has overseen Ruby Room since 2016 and serves today as chair of its nine-person board, giving the nonprofit about 20 hours of her time a week while juggling a full-time job as operations manager at the Pension Real Estate Association Foundation, a nationally recognized organization advancing opportunities for women and people of color in the commercial real estate industry. Young hired a part-time manager for Ruby Room operations, allowing Young to focus on the bigger picture of the organization. She hopes the future includes more corporate partnerships and grantmaking to diversify revenue streams to fund the expansion of Ruby Room's current student internships into paid positions to provide economic value and job skills for youth from under-resourced communities.
Ruby Room operates on an annual budget of about $75,000, which covers rent for its Renton boutique, the part-time manager, and its care package program for youth. Young credits Ruby Room's dedicated board and the people and companies who volunteer time and donate clothing and accessories for helping it run so leanly.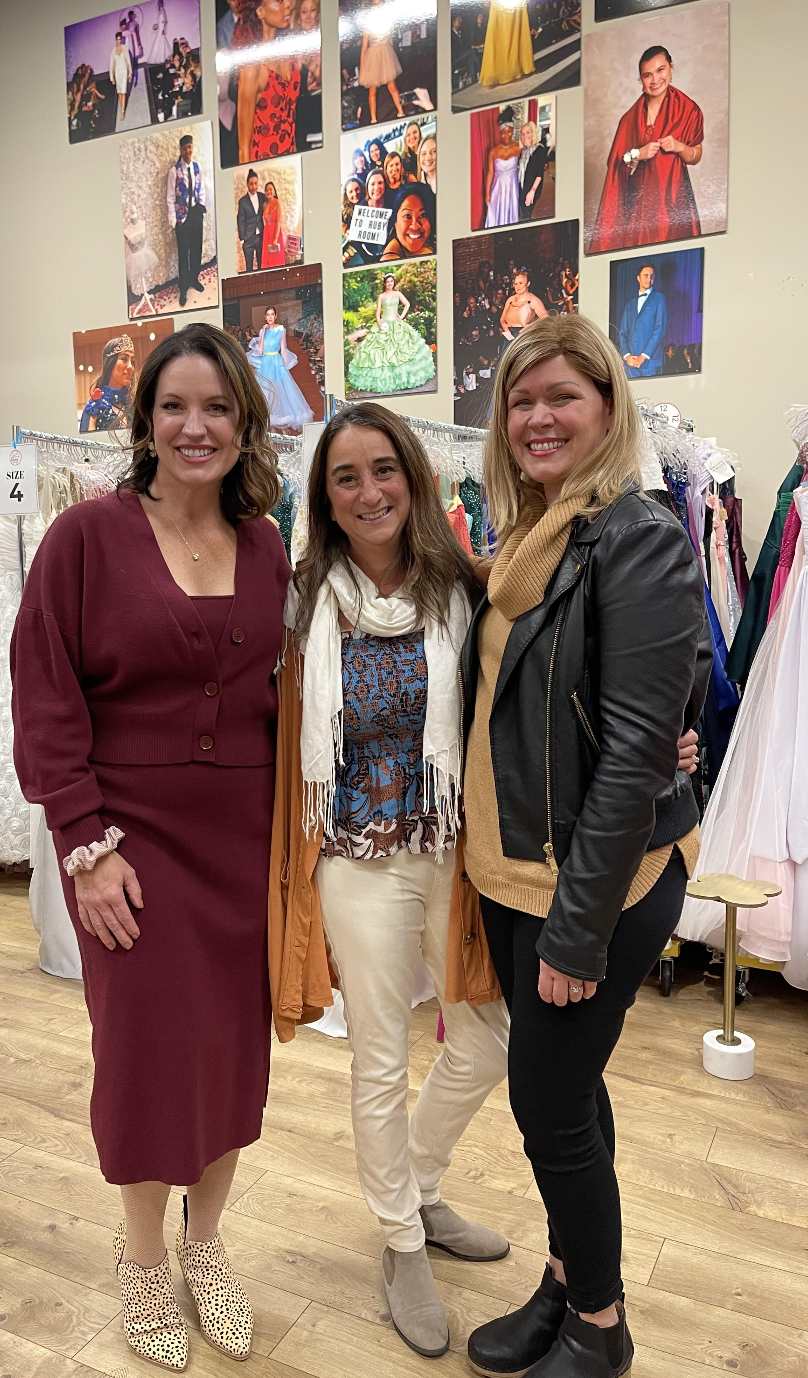 It accepts formalwear donations at its boutique and through supporter Bakker's Fine Dry Cleaning in Bellevue. Young hopes for more partnership dropoff sites to help Ruby Room build and maintain its inventory, exceeding 3,000 garments.
Its boutique is in a storefront at The Landing in Renton, where landlord Vestar provides reduced rent in what Young calls an amazing retail development that has increased traffic and awareness. Located at 827 N. 10th Place, Ruby Room is staffed from 2 p.m.–7 p.m. Wednesday, 10 a.m.–7 p.m. Friday, and 9 a.m.–7 p.m. Saturday. Customers are encouraged to call ahead for appointments at (425) 553-7116 to be fitted and ensure proper attention from staff.
Customers, largely on their schools' free- or reduced-price lunch program, are asked to bring their student ID and a letter from their school district confirming their meal program status. They typically range in age from 13 to 18, or eighth through 12th grade. They often are from single-parent families, or have parents who work seven days a week to make ends meet, Young said. Families typically come from within 30 miles of Renton, but also from the Puget Sound islands, throughout Western Washington, and even Central Washington.
"It's such a relief for a lot of families that we get to see here at the Ruby Room that their children get to have the same experiences as their peers," Young said. "Inclusivity is one of Ruby Room's guiding values; we want everyone to be included and to have the same experiences — and no matter what you're born into, they all deserve a chance."
That extends to gender identity, too. Ruby Room is judgment-free.
"We don't limit who can wear a dress and who can wear a tux," Young said. "You tell us that, and we're happy to style you accordingly." Ruby Room also offers free cosmetics, shoes, accessories, jewelry, handbags, and hygiene kits, thanks to generous donors, including Thrive Causemetics of Bellevue, Young said. Students who might never have worn a formal dress get lessons on how to sit in one, or how to walk in heels. Teens who've never worn a tux can learn how to tie a tie. No one leaves empty-handed or empty-hearted.
"What I think is very unique about the Ruby Room is that we're not just providing a dress, but we're providing an experience for these young people," Young said. "Our volunteers work one-on-one with the youth, so they are helping them in and out of the fitting room and this personal styling experience."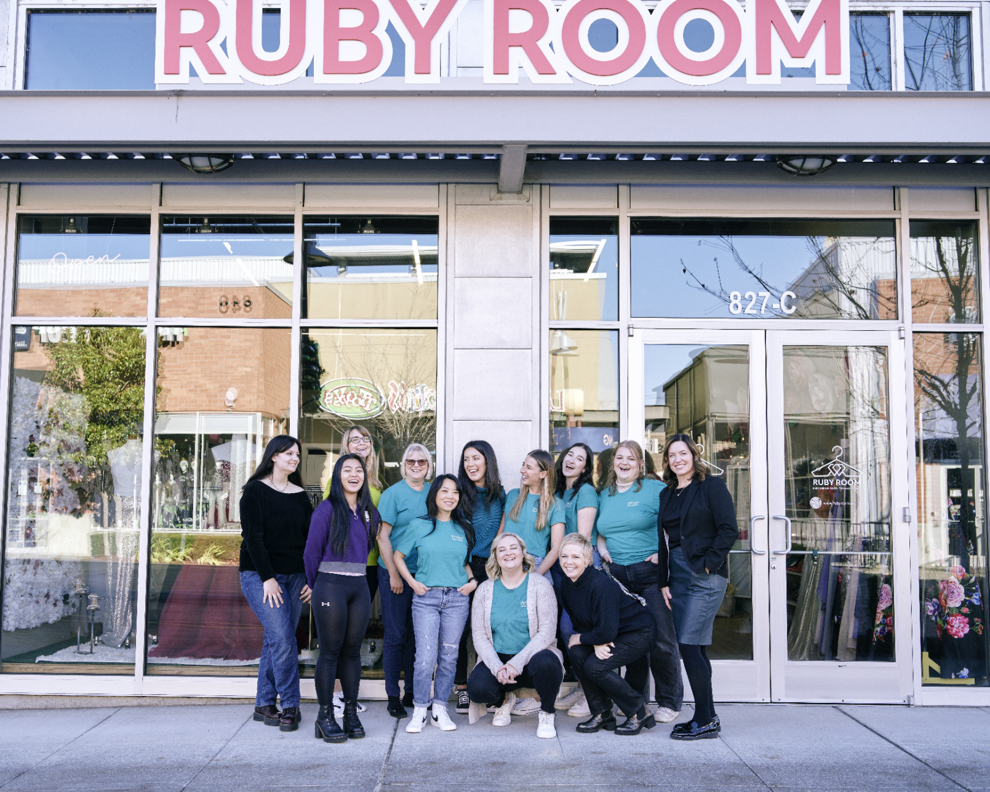 Kids keep the clothes as memories in their closet, or to share with a brother, sister, cousin, or friend — so they can be on the giving and receiving end, Young said. Donors are rewarded, too, knowing their garments are creating memories for someone else. "I always say there's demand on both sides of the dress," Young said.
Ruby Room is more than formalwear, though. Two other programs it offers are for foster youth: a care package program, called RubyRox Box, which is delivered twice annually, and a fashion workshop to provide opportunities for youth to buy clothes, get haircuts, and other efforts to help them be proud of how they look for school, jobs, and more. RubyRox Boxes include hygiene kits, gift cards for shoes or clothing, and other items to brighten their lives.
According to Ruby Room's website, the experience of a workshop includes a personal styling session with new clothes, shoes, and accessories that suit each child's needs, and a curriculum that engages young people in group exercises and creative projects that teach life skills.
Young understands foster kids and foster parenting intimately. Her aunts, with whom she spent summers in Missouri, were foster parents, and their foster kids were like cousins to Young. She knows the painful backstories many foster youths have and the challenges they face. But she also knows they just want to be kids like everyone else, and the RubyRox Boxes and workshops help them build their identities, from how they look, to their confidence in the broader world.
"Their clothing is their armor to protect them, to shield them through the day, and it'll give them an emotional response, too; hopefully, that's one of hope and confidence and joy," Young said.
She started the nonprofit F-factor (Fun, Fashion and Friends for Foster Children) in 2008 to empower foster youth through fashion, tapping her early cosmetology background to help youth build their images and confidence.
"I developed a fashion workshop program giving a purpose to the gifts of clothing. … If we have their attention and we're giving them clothes, how can we also improve their life? How can we improve their social and emotional welfare? And it's some of that skill development, providing haircuts, going through team-building exercises — our workshop format included all of those elements that would help them feel stronger, more positive, and … set out on a better note when they left the workshop."
The mission included elements of what Ruby Room was already doing. When Nyla Bitterman, who founded Ruby Room in 2002, was ready to pass on its legacy, she approached Young about merging F-factor into Ruby Room and taking over the organization. Young did that in 2016.
Foster kids and others whom Ruby Room impacts reinforce her belief in the human spirit and resiliency.
"When you're working in a nonprofit, seeing the challenges of our society that burden young people, you realize these kids don't want to be identified as statistics or to have their future predetermined," Young said. "They see themselves as capable and hopeful — ready to rise above. Ruby Room is a place that can provide a boost of hope and confidence through the power of fashion. In my years of this work, I learn a lot from the kids when it comes to resiliency and joy. I'm proud to be there to help them and their families along the way."