Emily Calkins of the King County Library System offers binge-able titles that will keep you enthralled through August. All KCLS libraries are now open for modified in-building services. Hours of operation vary by location. Check your library's hours here, and find more information about current library services here.
Clark and Division by Naomi Hirahara
After being incarcerated at Manzanar during World War II, 20-year-old Aki Ito and her parents relocate to Chicago. They're planning to join Aki's older sister, Rose, in a neighborhood of resettled Japanese Americans. The night before their arrival, Rose is hit by a train and killed. Officials rule her death a suicide, but Aki doesn't believe them. This gripping mystery weaves evocative details about post-internment life into a moving family story. Hirahara's novel is set in the Midwest, but its obvious ties to Seattle history make it an especially relevant read.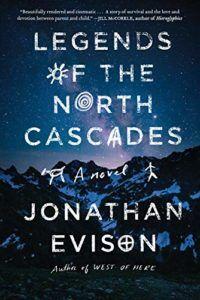 Legends of the North Cascades by Jonathan Evison
A struggling and widowed Iraq war veteran flees to a cave in the Cascades with his 7-year-old daughter. In a parallel timeline set during the Ice Age, the story also follows a young mother and her child in the same cave. Local author Evison conjures the grandeur of the landscape and the harrowing experiences of parent and child in both times.
Falling by T.J. Newman
Written by a former flight attendant, this unputdownable thriller has a heart-stopping premise. Midflight, a commercial pilot receives a picture of his bound and gagged family with a message: Crash the plane, and your family lives. Land the plane, and they die.
Emily Calkins is the readers' services program coordinator for KCLS, where she specializes in connecting readers with stories, authors, and each other. She also is the co-host of KCLS' podcast, The Desk Set. As a reader, she likes flawed characters, atmospheric world-building, and anything with a slow-burn romance.