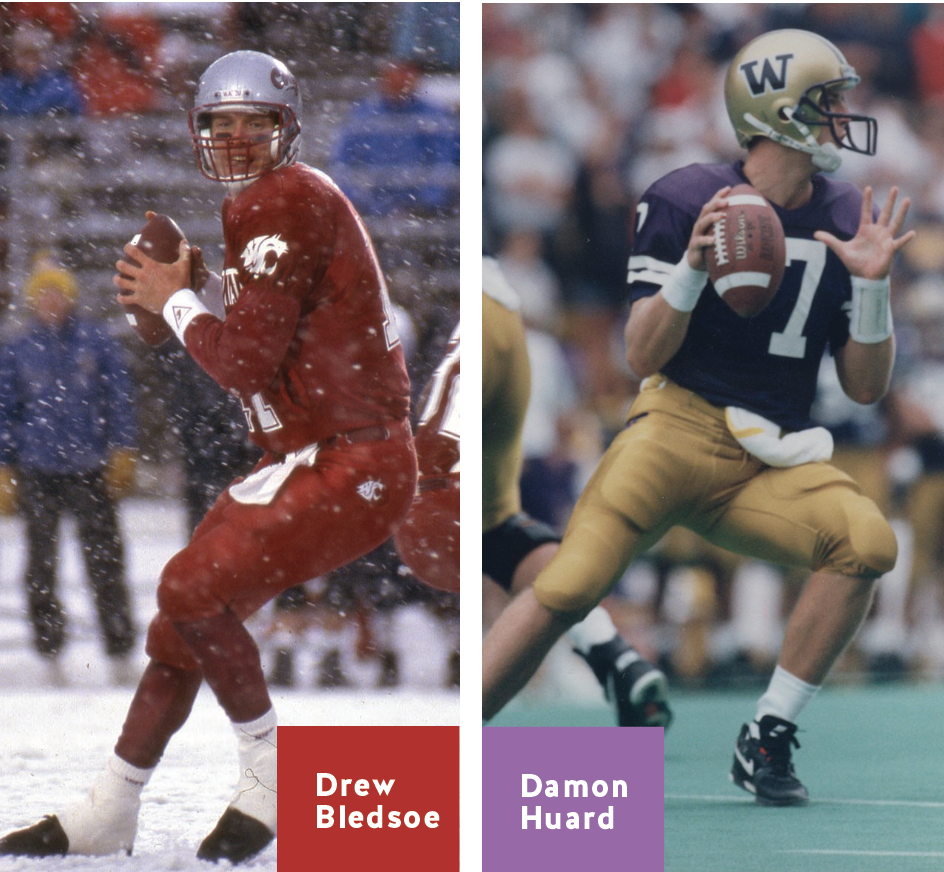 The Apple Cup dates back to 1900, but the rivalry became particularly juicy when Daniel's Broiler began hosting its now-annual Apple Cup Wine Dinner with Washington's two favorite quarterbacks-turned–winery owners. Now in its fourth year, the event brings WSU alum Drew Bledsoe and UW great Damon Huard together for a feast in which the two men's highly rated red wines are served the way they were intended: with thick steaks and all the fixins. In addition to Bledsoe's Doubleback wine and Huard's Passing Time, diners also can drink Double Time, a limited-edition joint venture between the two. As the dinner and game approach, here is our delicate bouquet of stats that show how these local legends stack up.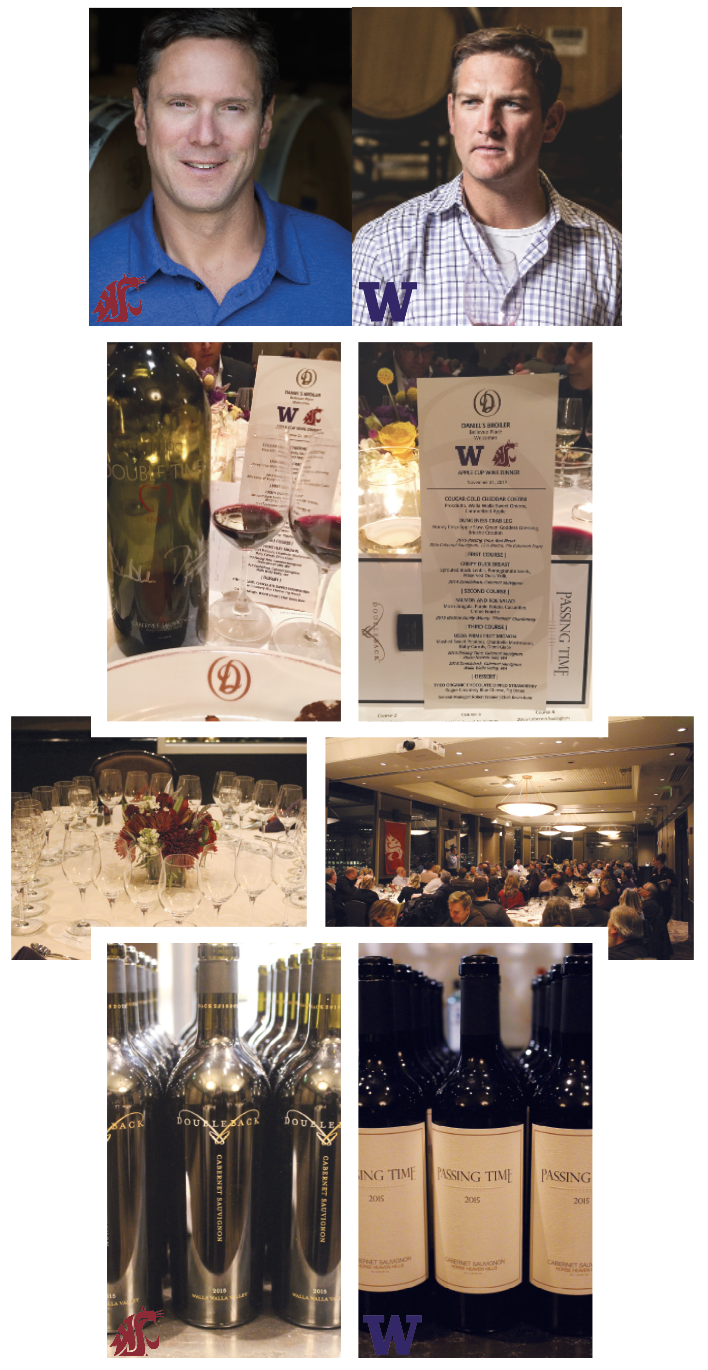 Vintage
Drew: Walla Walla High School, class of 1990
Damon: Puyallup High School, class of 1991
College
Drew: WSU: 1990-92 (went pro after junior year)
Damon: UW: 1991-95 (includes redshirt year, 1991)
Apple Cup Records
Drew: 1-2 (started 1990-92)
Damon: 2-1 (started 1993-95)
Notable Apple Cup Moments
Drew: Led Cougs 42-23 route in 1992 "Snow Bowl"
Damon: Set UW's then-record for career passing yards during UW's 33-30 win in 1995
Pro Career
Drew: 14 seasons: New England Patriots, Buffalo Bills, Dallas Cowboys
Damon: 12 seasons: Miami Dolphins, New England Patriots, Kansas City Chiefs (plus one season with Frankfurt Galaxy in NFL Europe)
NFL Accomplishments
Drew: 44,611 career passing yards, 251 TD passes, 98-95 team record in regular-season games started, 2 Super Bowl appearances, 1 Super Bowl win (2001, with Patriots, as backup to Tom Brady)
Damon: 6,303 passing yards, 33 TD passes, 64 games played (includes 27 starts and 15-12 team record as starter). 2 Super Bowl appearances/wins (both with Patriots as third-string QB behind Brady and Bledsoe in 2001, and as backup to Brady in 2003).
Winery
Drew: Doubleback
Damon: Passing Time (with NFL Hall of Famer Dan Marino and other partners)
Notable Wine Ratings
Drew: 91 points-Wine Enthusiast, 2015 Cabernet Sauvignon (Walla Walla Valley)
Damon: 94 points-Wine Enthusiast, 2016 Cabernet Sauvignon Horse Heaven Hills
Quirky Coincidence
Drew: Doubleback's winemaker, Josh McDaniels, has the same name as the Patriots' current offensive coordinator. This has reportedly led to comical Twitter exchanges between the winemaker and confused football fans.
Damon: Passing Time's winemaker, Chris Peterson, has the same name (spelled differently, though) as UW's current head coach, Chris Petersen.