The Seattle Asian Art Museum reopened to the public this month after being closed since February of 2017 due to issues relating to infrastructure, accessibility complications, and lack of program space.
Modernizing while simultaneously preserving the historic building, Seattle-based LMN Architects, along with landscape artist Walker Macy, did a beautiful job reviving the Art Deco style museum. Some of the new features include a beautiful new presentation of Asian art never seen before, a special exhibitions gallery, an Asian Paintings Conservation Center, a new education space, and numerous other amenities.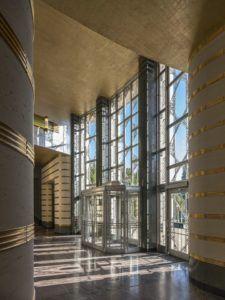 Over the past three years, SAM has put immense focus on reworking the exhibits for the reopening in a way that will influence and inspire visitors and their vision for Asian art. Continuing to feature pieces from the museum's permanent collection of Chinese, Korean, Japanese, Indian, Himalayan, and Southeast Asian art, the museum has also acquired ten new works of Asian art within the last year. With the reopening of the museum, SAM is looking to continue to focus on growing its collection of art centered around historic, modern, and contemporary Asian Pacific Islander as well as Southeast Asian art, specifically collecting different works created by local Asian Pacific Islander artists within the Seattle area.
Boundless: Stories of Asian Art was the museum's initial exhibit to be installed, featuring a collection spanning across 13 of the galleries. The exhibit is comprised of art connected to material life held within the northern wing galleries and art connected to spiritual life within the southern wings galleries. Be/longing: Contemporary Asian Art is an exhibition featured in the eastern wing of the building, exploring works from 12 featured artists portraying their diverse experiences as well as their unique Asian and international perspectives.
Other new features to look forward to with the new reopening of the museum include: the Fuller Garden Court's beautiful new LED-light canopy installation titled Gather, as well as the new Asian Paintings Conservation Center, the first of its kind in the western United States. The museum also features a newly renovated and expanded community learning gallery, where visitors K-12 can get creative and become artists themselves. Interactive experiences, smartphone-enabled multimedia tours, and in-gallery video content have also been integrated throughout the different galleries and educational spaces. A full list of the rest of the Seattle Asian Art Museum's highlights can be found here.
The museum is now operating at its regularly scheduled hours: Tuesday through Sunday from 10 a.m. to 5 p.m. and on Saturdays from 9 a.m. to 5 p.m. SAM will also be offering four new free days each month. Visit this website for more information on free days, ticket pricing, memberships, and more.