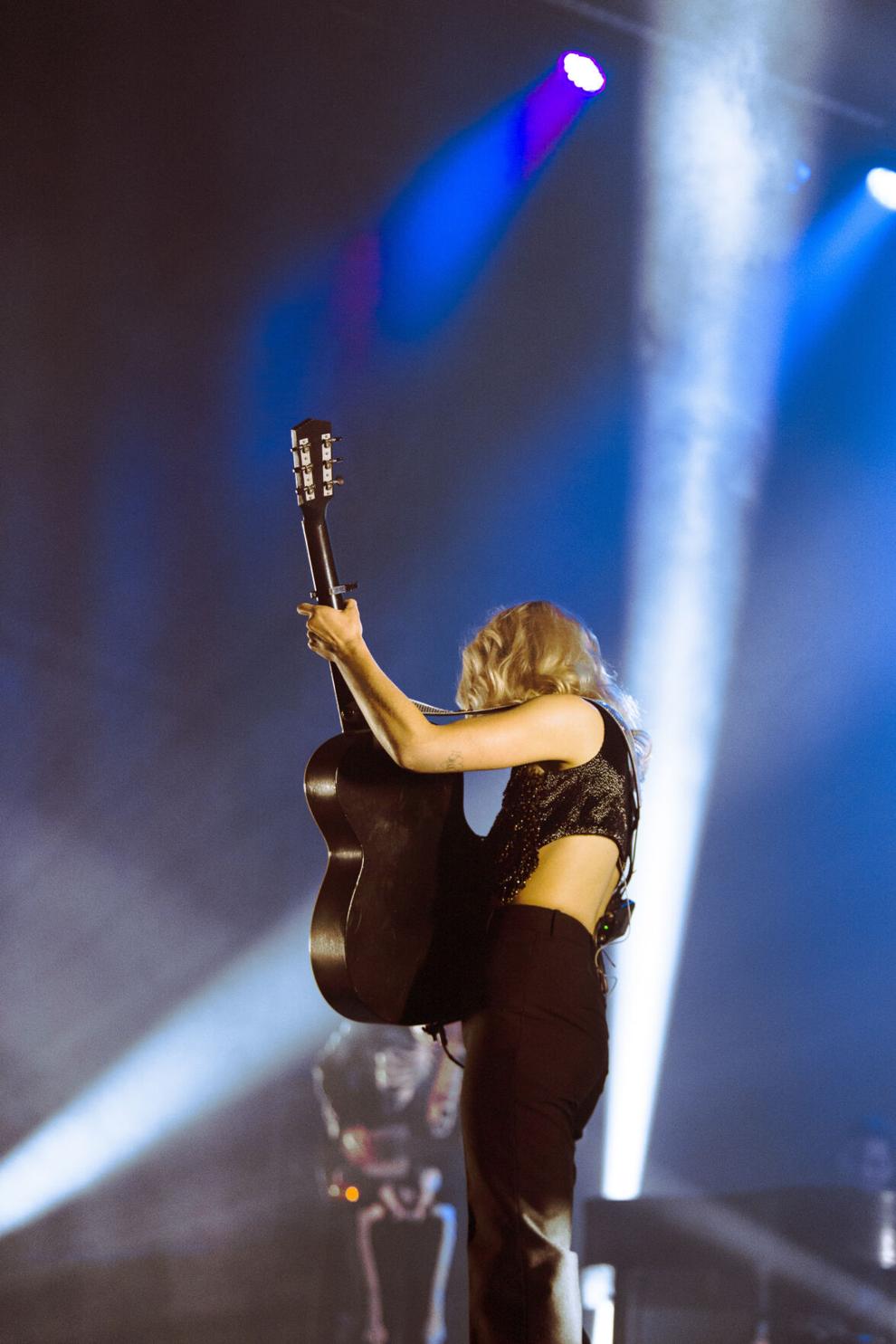 Phoebe Bridgers' sad, meditative music sounds best on days where the air is wet with rain and the clouds rumble. But it still sounded very good at Redmond's Marymoor Park Tuesday night, where her 8:15 p.m. set was ushered in by an obnoxiously nice summer day that wrapped up with a pink-and-orange sunset. Bridgers was here in support of Punisher (2020), the sophomore album that whisked her from an on-the-come-up singer-songwriter to full-fledged household name with appearances on Saturday Night Live and high-profile collaborations with the likes of Taylor Swift newly in her arsenal. (Bridgers is at Marymoor tonight, too, though that show, like this one, is sold out.)
I didn't poll my fellow concertgoers, but I'm sure I and most of the people in this majority hiply dressed 20-something crowd have similar relationships to Punisher. Released in June 2020, it became consoling in the dark, scary days of early quarantine, inadvertently given an even-greater resonance than it likely would have in an alternate timeline where the world's fate hadn't been hanging in the balance and we hadn't been spending inordinate amounts of time alone, lost in our heads. 
Spiritually descended from the open-wounded works of Nick Drake, Joni Mitchell, and longtime influence Elliott Smith, Punisher's startlingly frank, emotionally evocative lyrics immediately built what felt like a secret-whispered-in-the-ear sort of intimacy. It made you feel less alone by virtue of a candor so hyper-specific that, after enough listens, you might come to remember certain elements of Bridgers' past and worldview — the fire that destroyed her childhood home, her tetchy relationship with her ex-boyfriend (and now-drummer) Marshall Vore's mother, her hatred of Eric Clapton (even if it is admittedly sad that his baby died) — as if they were facts about a friend. There's also Bridgers' voice itself, so effortlessly pretty that it seemed to have a healing property. 
Bridgers' recreations Tuesday night of all of Punisher's songs — along with old favorites like "Motion Sickness," "Scott Street," "Funeral," and, for the encore, a stripped-back, fan-requested "Me & My Dog" from the too-short-lived Boygenius era — were few-hairs-out-of-place immaculate; they were tweaked only slightly by the occasional arhythmic line delivery or improvised high note or horn-section flourish. The ever-shifting visuals projected behind Bridgers were similarly stunning, most often an artificial starry night backgrounding drawings that looked like children's storybook illustrations gone to rot.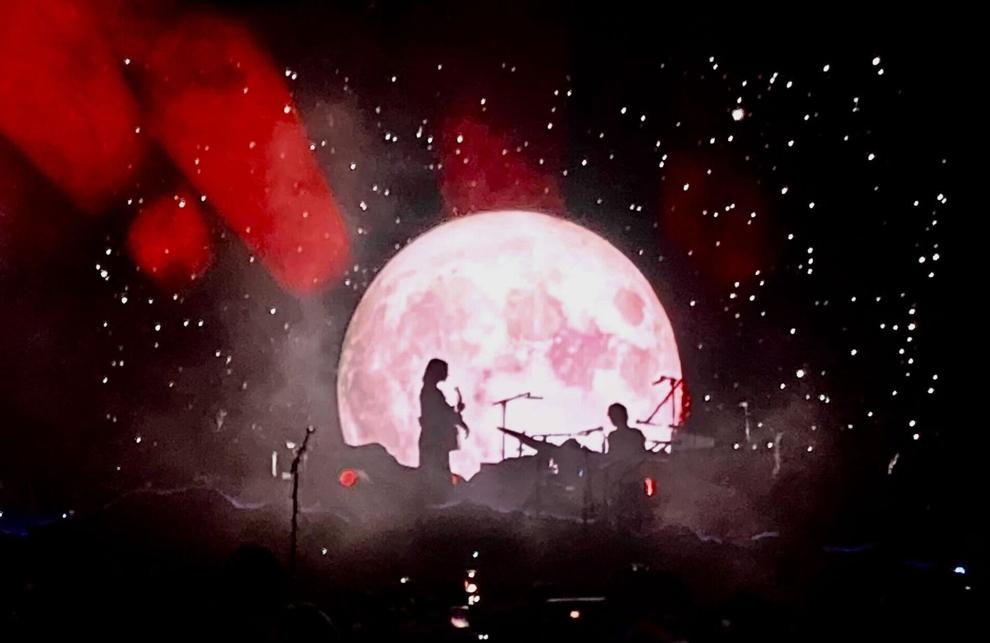 There's an almost dislocating quality to seeing Bridgers live. Though no fault of her own, these songs generate the kind of one-on-one sense of closeness done a disservice not just by a huge venue but also, expectedly, the unavoidable audience members who can't stifle a "wooo!" or an exchange of noisy laughter during a quiet moment or, like one couple standing next to me, spending about half a song figuring out how to get the girlfriend on top of the boyfriend's shoulders and how best to pose for the giggling friend taking a selfie with them to capture the act for Instagram. It's a given that no concert benefits from unwelcome intrusions like these. But nearly any interruption feels like the breaking of a spell, almost, when the music is as direct as Bridgers' is. 
Bridgers' songs don't often joke around, but between them she did. Poking fun at the gentleness of her work, she used the opening thuds of Disturbed's "Down with the Sickness" as her intro music, with the screen flashing her name in heavy-metal font before combusting. She and Vore lovingly sparred over who wrote the lyric about lost keys in "ICU," a song she'd had him introduce because it's about him. (One choice lyric he likelier didn't have a hand in: "If you're a work of art / I'm standing too close / I can see the brush strokes.") Of her opener, Christian Lee Hutson — whose music is a similar combination of pungent and lovely and whose first two albums she produced — Bridgers recalled finding him so funny the first time they met that it would be a shame if he made bad music. (Then she couldn't be friends with him.) And she dedicated "Kyoto," a track in part about her difficult relationship with her alcoholic father ("I'm gonna kill you / if you don't beat me to it") to all the dads in the audience. More seriously, she made a point to vocalize her support of abortion, shouting out the Albuquerque-based provider the Mariposa Fund as one organization to support. 
Bridgers' two albums don't have much of a natural crescendo — it's largely one ballad and then another, with a somewhat upbeat track or two sprinkled in to break things up. But Punisher has an intentionally thrilling climax in "I Know the End," which begins as quietly as the greater sum of her other songs before building into an explosion of Cobain-esque wails and blaring instruments. When I heard Punisher for the first time, I remember being most excited to hear this specific song — perhaps Bridgers' most cinematic track to date — live. In person, where she recommended the audience cathartically scream along with her, she maximized its storminess, the screen behind her fiery and the stage lights spewing volatile oranges and reds. (She didn't, however, smash her guitar against a monitor like she had performing the song on Saturday Night Live, a surprisingly controversial move notably earning the ire of David Crosby.)
I wonder how much of this finale's initial exhilaration remains for Bridgers, who has just three dates left on what's been a long and I'm sure grueling international tour. But for me, and probably many others, it had a full-circle moment's significance seeing officially played in full an album so indivisible from a time where the possibility felt faint. I hope for her sake and ours a less eventful next album cycle.