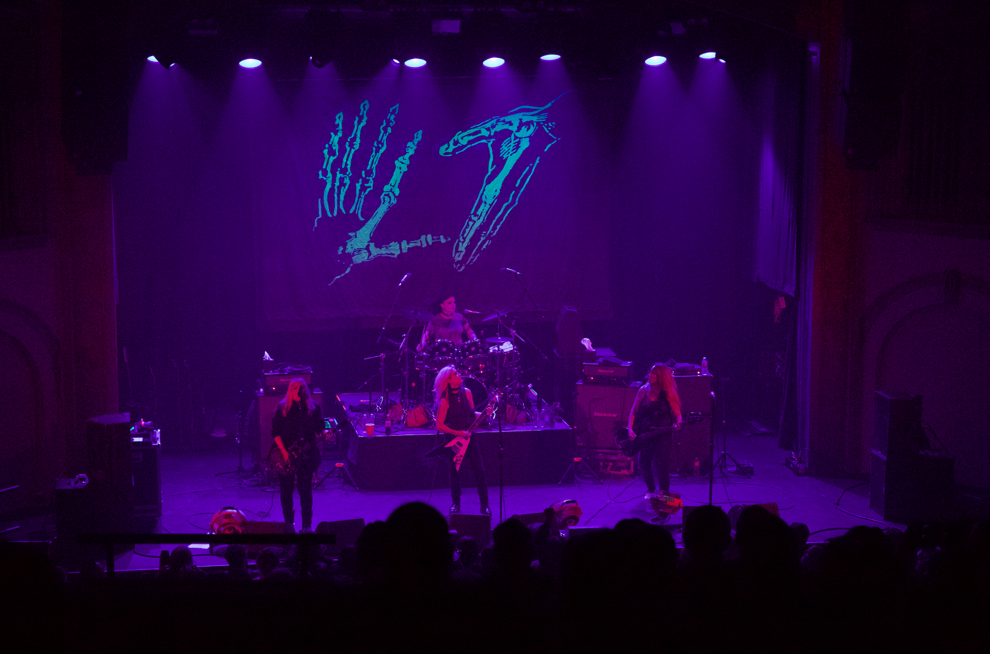 L7 once called the masses asses. Except for a few people by me committed to vindicating that declaration — the couple of statue-still and expressionless guys puzzlingly planted in the front row, the giggling friends who at one point chucked a cocktail-dampened tampon at one-time used-tampon chucker-slash-frontwoman Donita Sparks — the multigenerational audience at the band's sold-out show at the Neptune Sunday made a pretty good argument against the flippant generality for the night. As this happy mass screamed back lyrics and headbanged and thrashed during the band's thrilling 90-ish-minute-long show, I doubted anyone there would have bat an eye if an extra few sheets further thickened the multipage setlist.
L7's current tour commemorates the 30th anniversary of its seminal third album. Co-produced with Butch Vig, Bricks Are Heavy marked both the group's biggest commercial success and cemented its frequent (and mocked by Sparks mid-concert) categorization as a core grunge band, despite forming a few years earlier than the period's mostly-agreed-upon golden era; hailing from Los Angeles rather than the Pacific Northwest; and, most obviously, having a spiky and driving sound more redolent of, say, Motörhead than most of what their peers were offering. (Simple designations are understandable, though, when you've bumped elbows with the likes of Nirvana, Hole, and Pearl Jam at their peaks and you don't seem out of place when joining forces.) 
Bricks Are Heavy still hits the ear as L7 at its best and most distilled. Given a motor by Dee Plakas' unrelenting drumming, the band's forceful sound would nicely soundtrack spitting and fuming and glass-breaking regardless of what it had to literally say. But L7's incisiveness as musicians and lyricists (Sparks, guitarist Suzi Gardner, and bassist Jennifer Finch trade frontwoman duties) happen to be made equal, with Bricks Are Heavy in particular memorably harboring darkly funny contempt for myopic patriotism and political apathy and misogynists who move through life with insufferable entitlement. Much of L7's music has an infectious laughing-through-the-pain quality. Some of the band's most interesting moments have come from that pain threatening to eclipse, or flat-out eclipsing, the group's trademark nail-tough aesthetic. That friction was increasingly tested and refined with every post-Bricks Are Heavy album; the band got better and better at demonstrating the obvious but so often deemphasized truth that toughness and vulnerability aren't mutually exclusive. Its latest, 2019's Scatter the Rats, was an apex.
Most anniversary tours have a cash-in's distinctively suspect scent. This one, though, feels like a hard-won, well-earned celebration of an enduring act that just couldn't resist coming back to b—ch. (After more than a decade broken up, its members estranged in the interim, the band reunited for good in 2014.) L7 has found new vitality in a long-time-coming second act, which got a solid thesis statement in Scatter the Rats. Though long-awaited comeback albums generally struggle to either capture a heyday or persuasively make the case for an exciting new direction, the band's requisite post-hiatus LP thankfully clarified that no one in the group had devolved into the artistic laziness or comfortable caricature often associated with so-called legacy acts.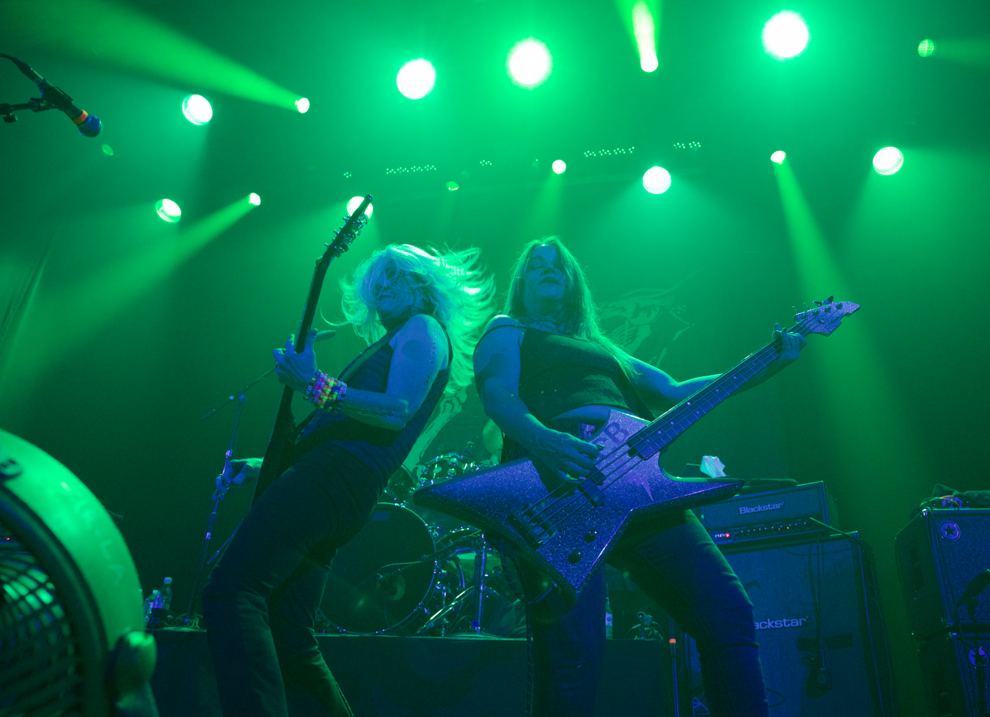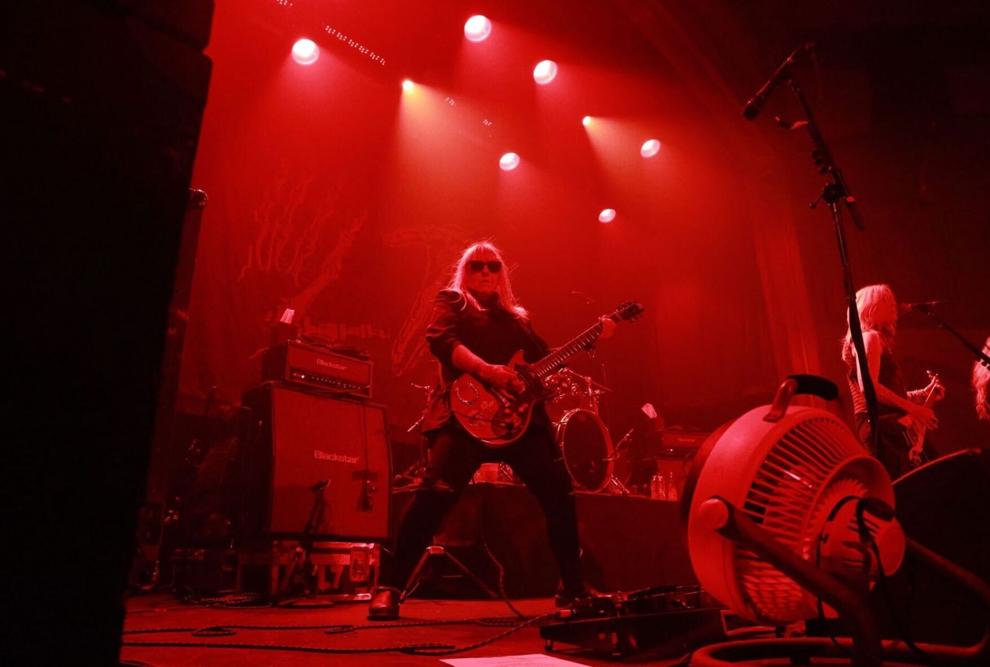 Some of that album — including choice picks like "Stadium West" and "Fighting the Crave" — got its due during the latter half of Sunday's show, exploding in a way the studio versions don't by virtue of a recording booth's airtightness. But before the evening could reach that second chapter, L7 ran through Bricks Are Heavy top to bottom with the spiritedness of a band who can rest assured most of the audience is there because they love the album as much as they do. Some doubt about that was jokingly cast by the obviously burned-before Sparks when it came time for the band's biggest hit, "Pretend We're Dead": "If anyone dares to leave after this song, we will hunt you f—king down," she warned with a signature gold-toothed smile. But with this particular crowd, a premature departure likelier would have instead come post-"Sh-tlist." The audience was so ecstatic about hearing it live that the majority of the singing-along — especially when the track's iconic "you made my sh-tlist!" pronouncement arrived — came with the kind of perfectly synced en-masse finger-pointing suggesting choreography.
As someone who until now hadn't seen the band live, part of the fun of the concert was seeing which other songs the Seattle crowd would be most partial to. The appreciation for Gardner's closing yowl on "Monster" proved so boisterous that Gardner, whose stage persona radiates the kind of imposing cool encapsulated by a time-tested habit of wearing sunglasses on stage, temporarily dropped her placidness to show that she was genuinely moved. And when fire engine red-haired Finch rechanneled the indignation of "Everglade," the audience was more than game to join in her ire. 
For Sparks, wrapping up Bricks Are Heavy for the night was a relief. Its first and last songs, "Wargasm" and "This Ain't Pleasure," are the band's hardest to play, and with them and their much-anticipated-by-the-crowd album-mates checked off, it was finally time to "loosen up a bit — the pressure's off," she cracked. Ushered in by a rollicking version of "Andres" that moved one young male attendee to successfully crowdsurf, part two of the show was a grab bag of L7's greatest "hits" and cuts so deep that even the downtempo "Nonexistent Patricia," from 1997's underrated The Beauty Process: Triple Platinum, was trotted out, aided by a couple "beatniks" with acoustic instruments Sparks joked about grabbing from Capitol Hill. Even if Sparks didn't grant my wish that she would whip out the Micro Jammers toy guitar cleverly utilized for the song's preposterously complex solo, it was still a particular treat hearing "Drama," another Beauty Process favorite. Ditto for "Fast and Frightening," the ferocious Smell the Magic (1990) centerpiece that closed the show with the force of a final explosion.
Seattle holds a special place in L7's collective heart. This city was, for one thing, among this tour's first to have a sold-out date. But the band also signed to its legendary Sub Pop label in 1990, about a year after it almost broke up. It didn't have to be stated at the show that L7 holds a special place in Seattle's heart, too. But it nonetheless got some additional confirmation when Finch took a poll mid-concert to gauge how many people in this audience were also here in 1992. Before she and her bandmates could dwell too long in any sentimental feelings potentially conjured by the scores of shooting-up hands, Finch went for a laugh by replying with a deadpan "Me, too," and started the next song.